I was invited to experience the magic upon the Disney Dream Cruise courtesy of Disney Cruise Line. All opinions are my own! #DisneyDream
Prepare for Pirate Night on your next Disney Cruise with these 8 helpful tips to make sure your family gets the most out of biggest celebration at sea!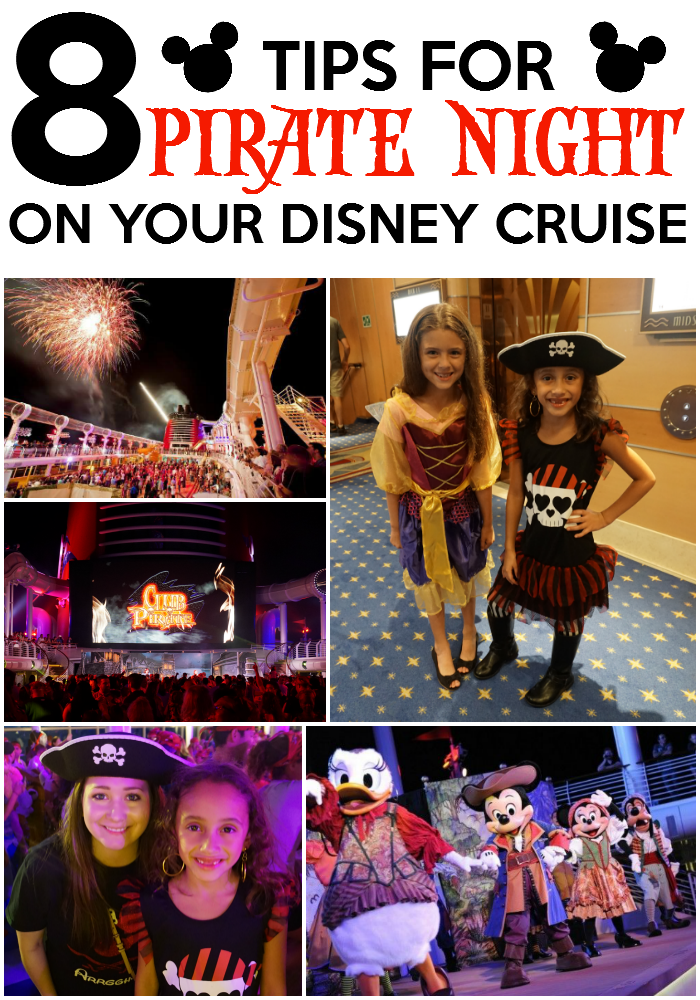 Three weeks ago today, we packed our bags and boarded the breath-taking Disney Dream for an enchanted weekend full of magic, Mickey, and many memories. In my previous post, I shared 10 Reasons To Sail On The Disney Dream, highlighting in detail our favorite parts of the cruise itself. Pirate night was one of them! On each of the four Disney cruise line ships (Dream, Magic, Fantasy, & Wonder) there is a themed pirate night in which guests and crew turn into swashbuckling buccaneers. In proper Disney form, they truly go ALL out for these festivities. From the giant turkey legs to the brilliant firework show, it's a night FULL of fun for all ages.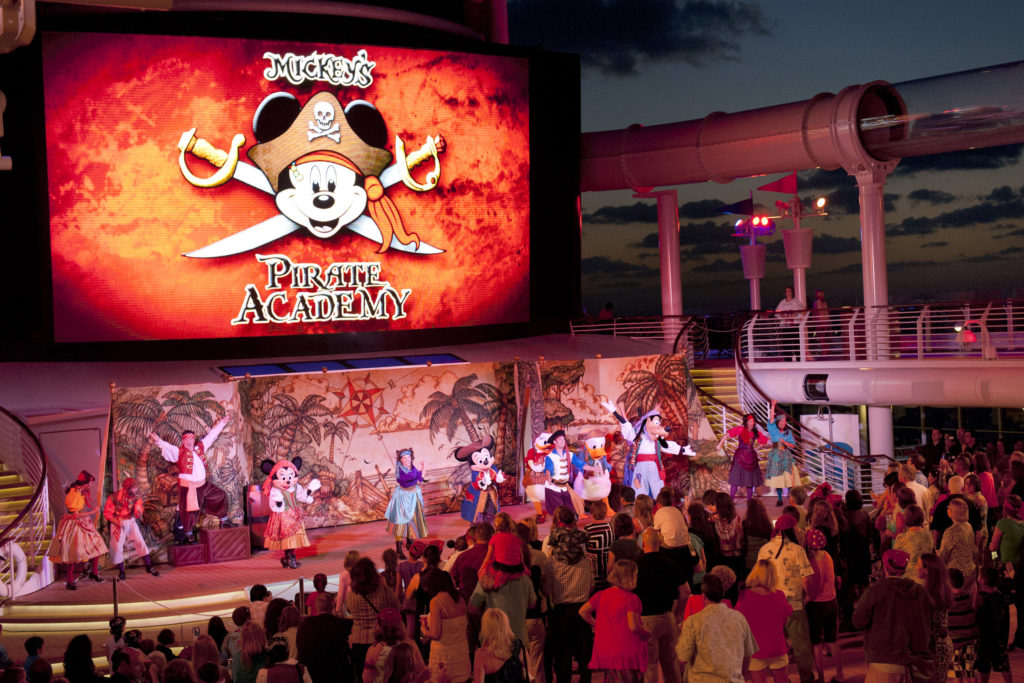 Are you ready to set sail on the open seas with Mickey and his crew? Here are 8 tips for Pirate Night that will help you create memories and magic with your family!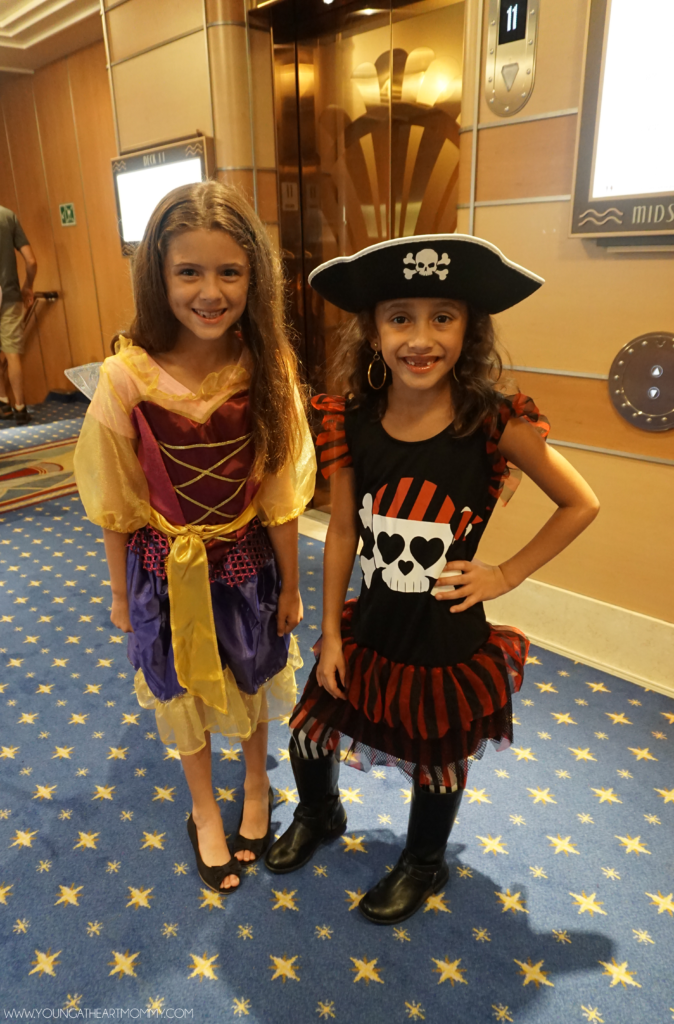 BRING YOUR PIRATE GEAR
Before the festivities begin, leave the landlubber life behind and transform into an authentic buccaneer! Expect the majority of your shipmates to be in costume because this is considered a huge celebration on all of the Disney cruise ships. Whether you're sporting a satin sash or ruffled shirt, everyone is encouraged to let their inner pirate out.
Depending on when you're traveling, the best time to buy a pirate costume is right after Halloween. If your cruise is scheduled far enough in advance, take advantage of sales after the holiday. You can purchase costumes and accessories for the entire family at a great price. While it's practical to bring your own pirate attire, don't worry if you forgot to pack your suede vest and lucky eye patch. Themed merchandise is sold on board in the gift shops and in the afternoon your stateroom attendant will leave a Disney pirate bandana for each member of your party.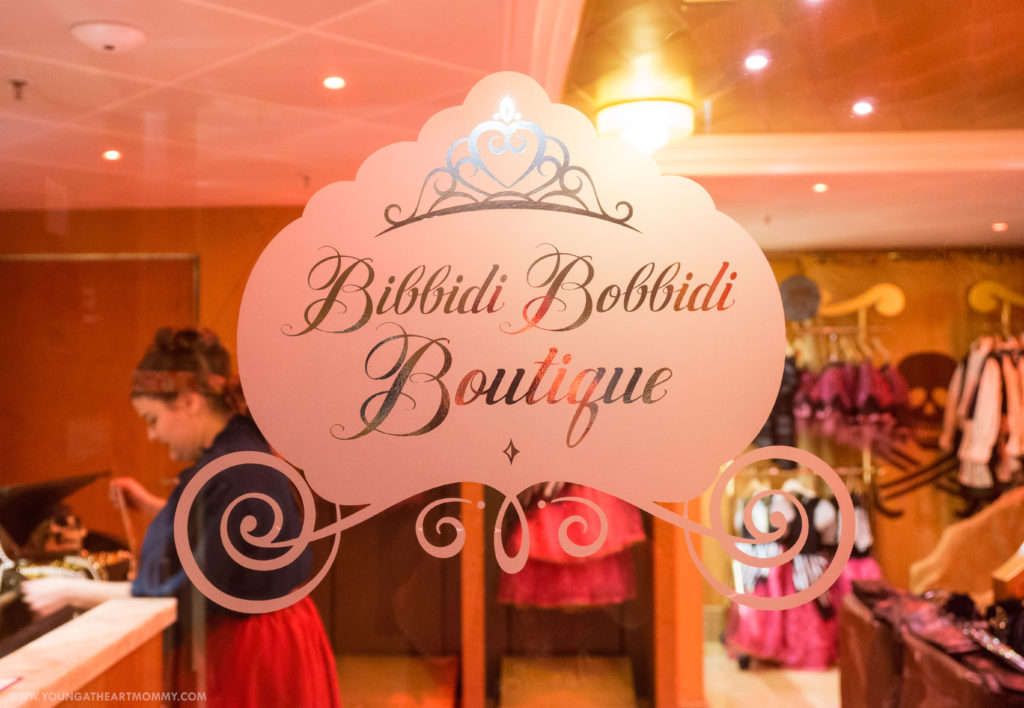 VISIT THE PIRATE'S LEAGUE

On Pirate Night, the Bibbidi Bobbidi Boutique is open for magical makeovers and pirate transformations. Here, your kiddos can jump right on into the pirate life with a little help from the salon crew. Beards and bandanas, swords and scars, classic hoop earrings and black eye patches—they're all applied with the savvy of a veteran pirate who shares first-hand tales of the sea.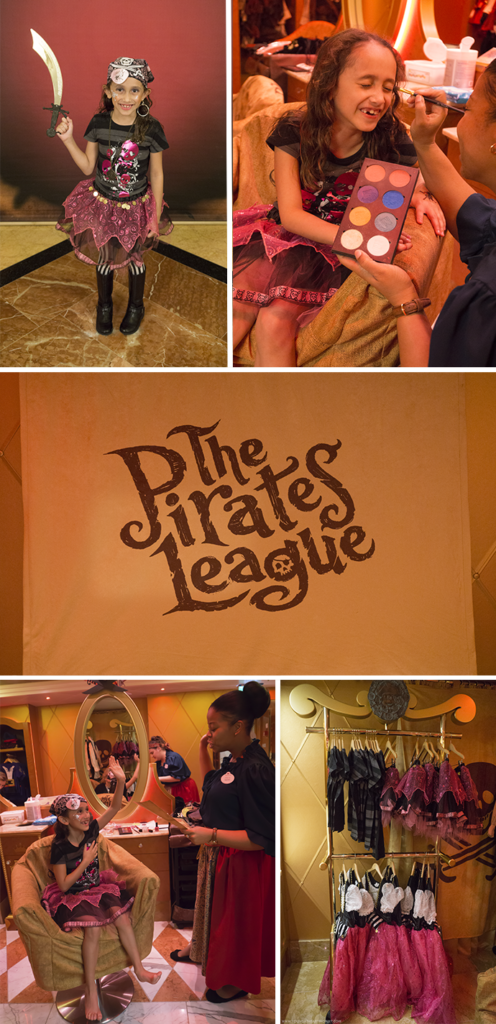 New buccaneers are sworn in with a sacred pirate oath in which they have to leave their former identities behind before being let loose to enjoy the pirate themed activities on board. There are several different packages available, from the First Mate to Deluxe Maiden. It is advised that you make an appointment for a timber-shivering transformation ahead of time since it can get busy the night of. To find out more about the Pirate's League, check out 6 Reasons To Visit The Pirate's League On Your Disney Cruise!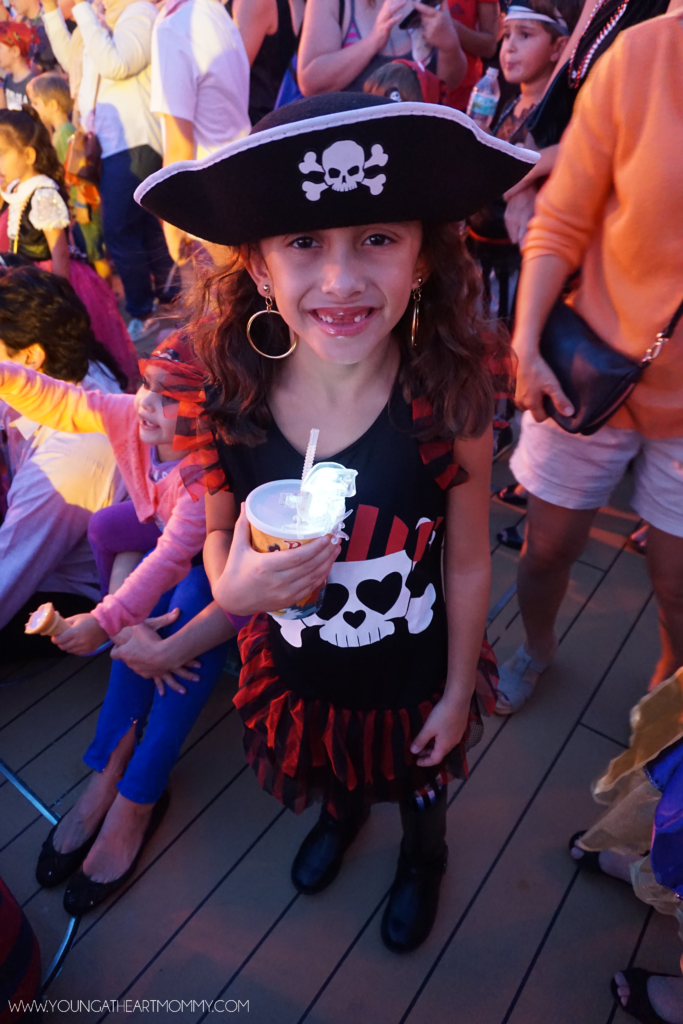 FILE ON DECK EARLY

This is the most important piece of advice that every sea dog should know and while it seems like a no brainer, you'd be surprised how quickly you become occupied with all of the other activities taking place beforehand. On Pirate Night it's best to plan accordingly. There is so much to see! Guests will gather on the top deck for games, a dance party with Mickey's crew, and an epic showdown with a band of pirate thieves. There are also pirate themed activities throughout the entire day, from the kid's clubs to a game show designed for savvy scallywags.
Keep in mind that the main event takes place after second seating (8:15 p.m dinnertime) so you can head back to your rooms and get dressed without a rush. Do give yourself enough time to prepare for the Buccaneer Blast Fireworks & scour the deck for a good watch post. Skip the elevator and take the stairs. Mid-ship marks the spot and it's a show you do not want to miss!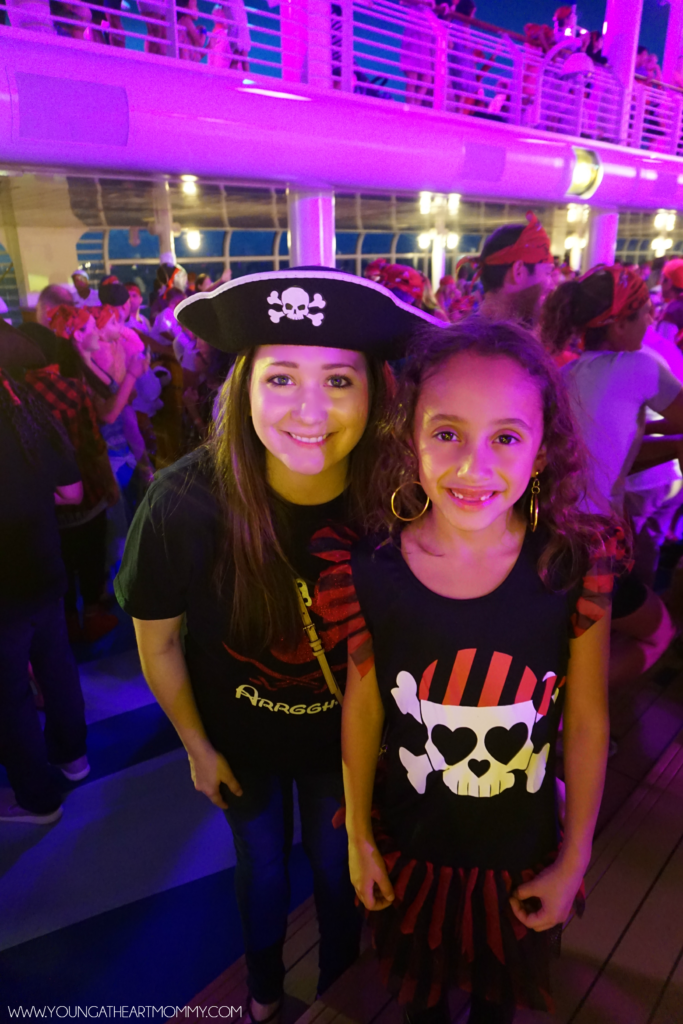 FUEL UP ON BUCCANEER GRUB

All that fun is sure to work up your appetite and the late-night buffet has a smorgasbord of snacks to nibble on. Indulge in a mouth-watering giant turkey leg or satisfy your sweet tooth with a plate of crepes.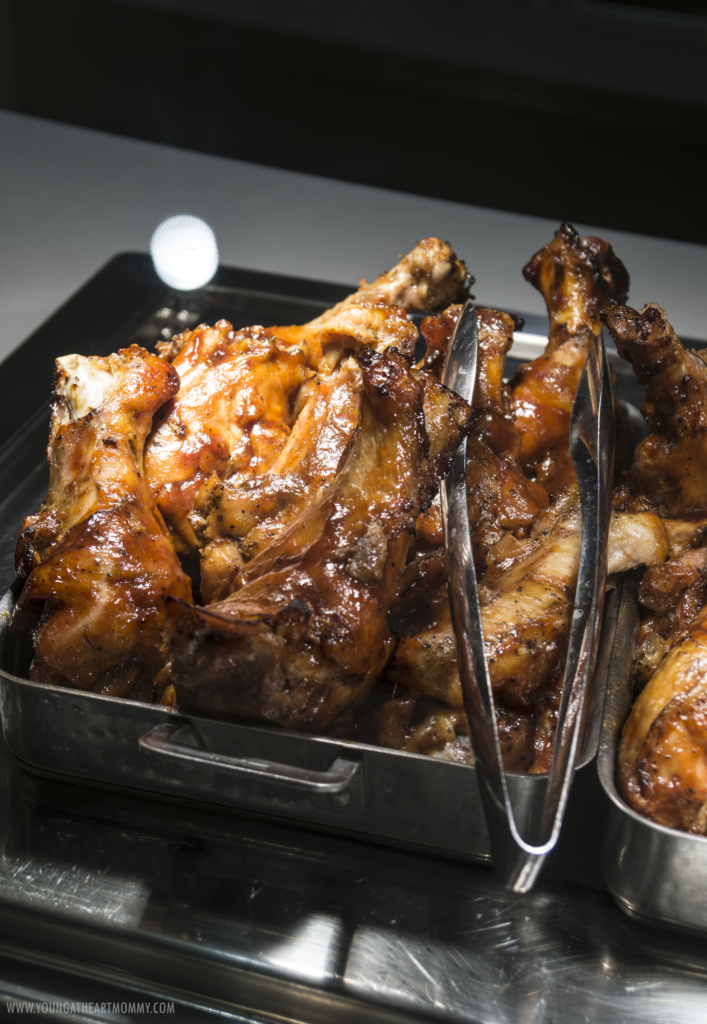 Even if you're not hungry, take a walk around Cabanas. It's typically open between 10:30-11:00 P.M , right after the big firework celebration. You'll encounter staff dressed like pirates and also special scallywag details added to the buffet line.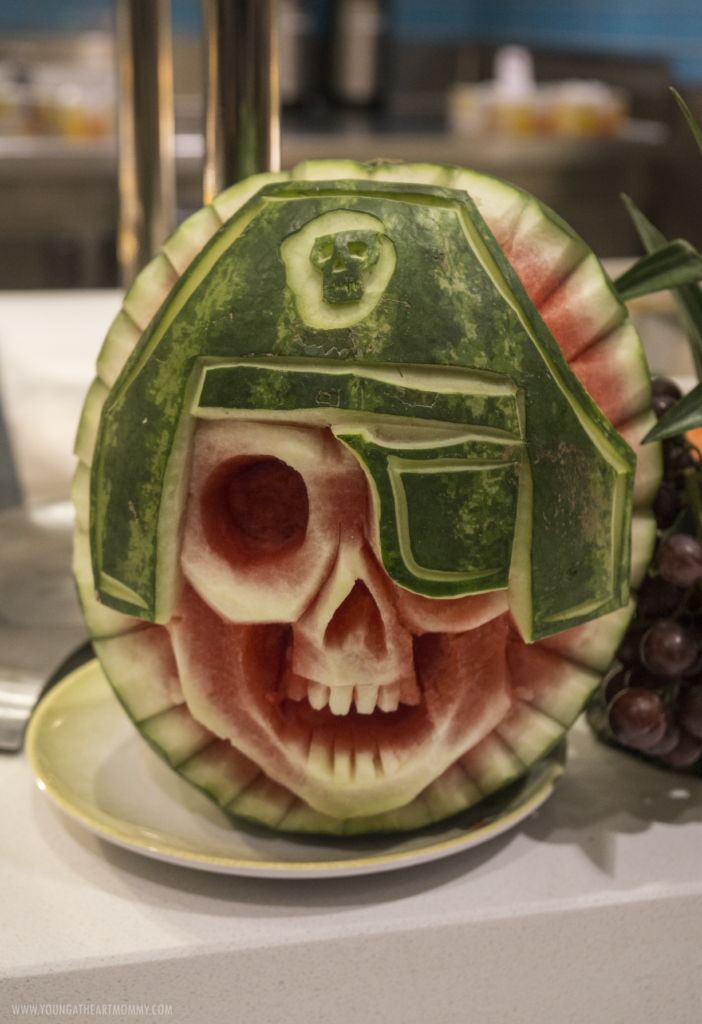 Don't forget, you can still order milk and cookies from room service when you return to your cabin. That was the highlight of many evenings during our vacation. Gotta love the free room service for late night munchies!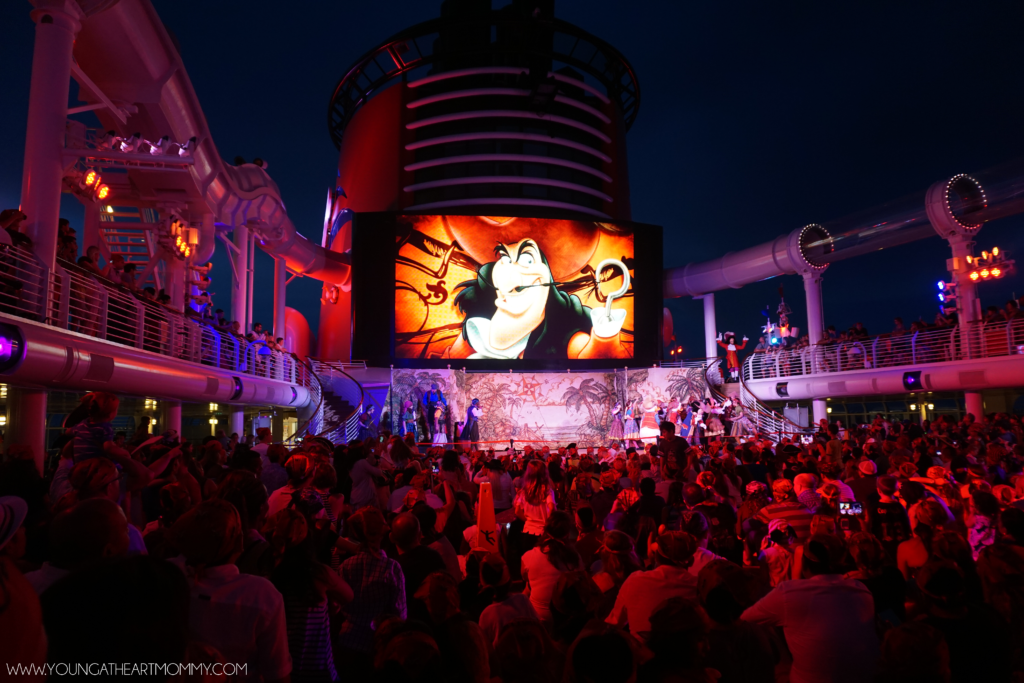 GRAB A FAMILY PHOTO WITH YOUR FAVORITE PIRATE

Pirate Night is prime time for photo opps with characters! Snap a selfie with Jack Sparrow himself, Captain Hook, Pirate Mickey, or one of his loyal shipmates decked out in sea rover gear. Surprisingly, the lines are pretty short for a meet and greet so there is plenty of time to capture your memories before the big show.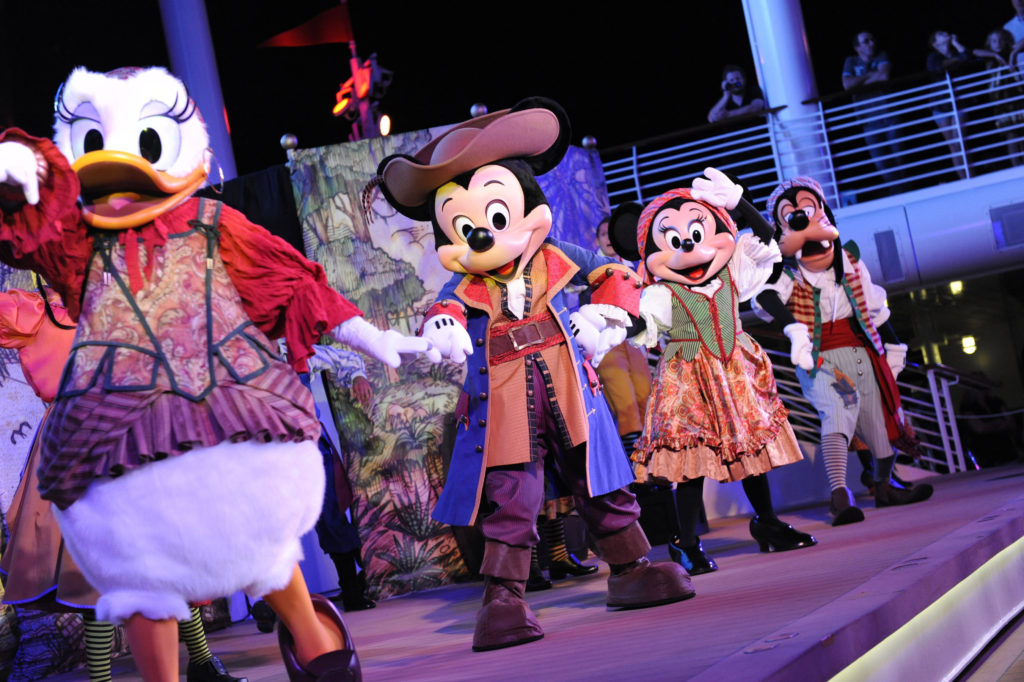 STAY FOR THE WHOLE SHOW

The entire night is jammed packed with action, adventure, and pirate antics that you do not want to miss. After a long day at port, the kids may be exhausted from the sun and excitement. I recommend letting them nap before dinner so they have a little pep in their step before the fun begins. The interactive show is sure to get them moving, grooving, and eventually dancing when "Club Pirate" begins. The whole show is worth staying for and it actually goes rather quickly with so much going on around you.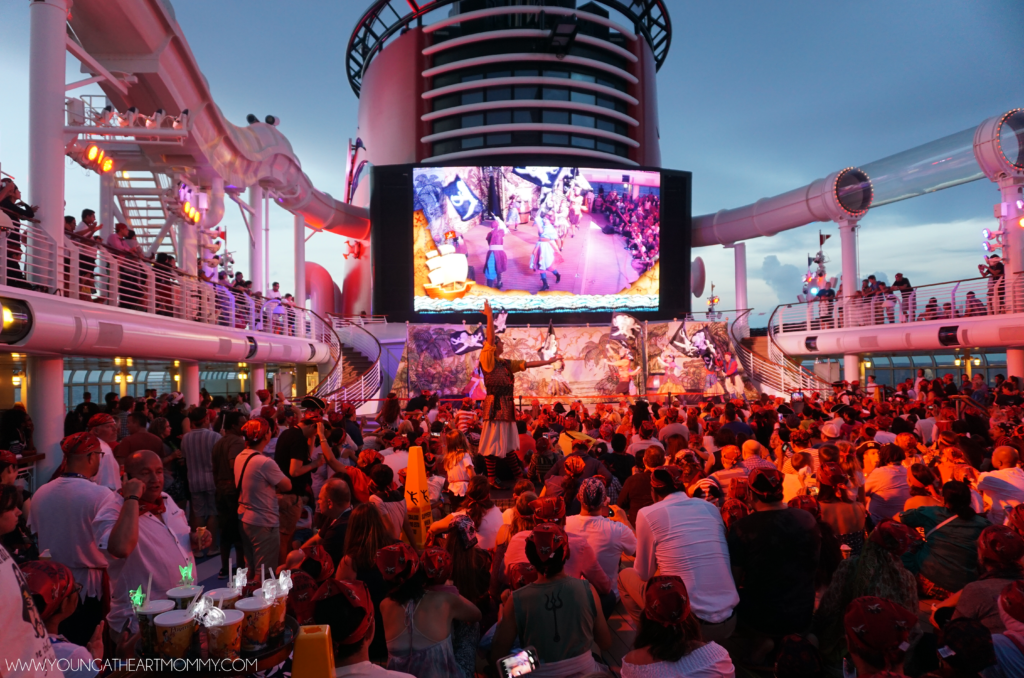 DON'T MISS THE FIREWORKS

The BEST part of the Pirate Night bash? The Buccaneer's Blast firework show, of course! As part of the celebration, watch the night sky explode with streams of bright lights and dazzling colors. With more "bang" than ever before, this pyrotechnic spectacular is choreographed to a dramatic score featuring songs from the popular "Pirates of the Caribbean" movies. Disney always finds a way to make every money magical and they really upped the ante on this one!
Arriving to the show early will make it easier to get a good standing view of the extravaganza but you can always bring towels to sit on the deck. Truthfully, every view is a good view. It was packed when we arrived so we had to wiggle our way into the crowd, but the fireworks are so bright and beautiful that you can enjoy them from any angle.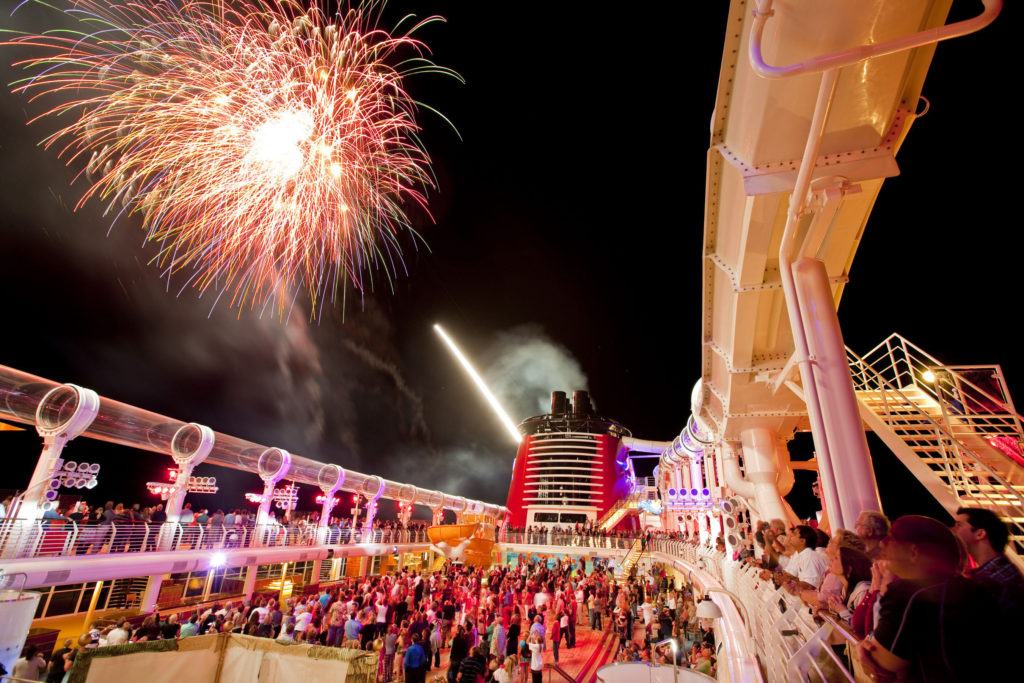 DANCE LIKE A SWASHBUCKLIN' SCALLYWAG

Break out your best moves and end the night at "Club Pirate," a dance party for all ages. At this time, the deck begins to clear out enough to where you don't feel like someone's going to grab your precious "booty" when you start movin' and groovin'. Enjoy the vibrant light show, live music from the guest DJ, and grab a cocktail of the day to loosen up your boot strings. The kids seemed to really enjoy this portion of the festivities and I loved seeing them dressed up in their pirate apparel!
Mickey's Pirates in the Caribbean Party was one of our absolute favorite parts of the Disney Dream cruise. This family friendly celebration turned out to be a blast. Not to mention, ALL of us managed to get through the night without having to walk the plank or give up any loot.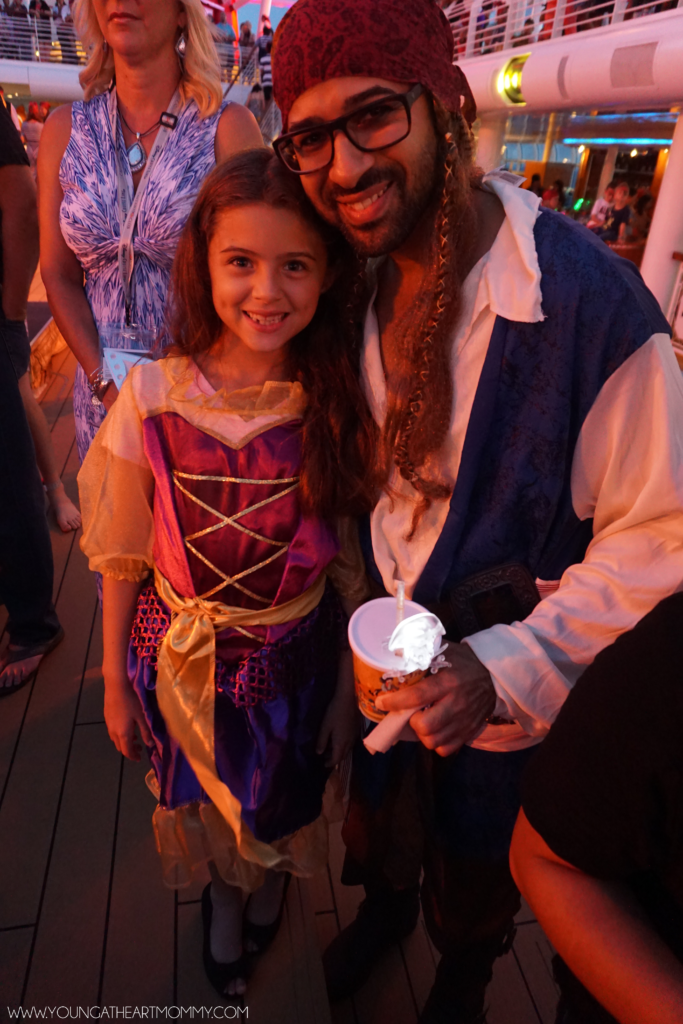 If you're planning on sailing with your family on any of the Disney cruise ships, keeps these 8 tips in mind. I am confident they will make your night just as spectacular as ours was!
Looking for more Disney magic? Check out the first segment of this series where I share 10 Reasons To Sail On The Disney Dream!
Save
Save
Save
Save
Save
Save
Save
Save
Save
Save
Save
Save
Save
Save
Save
Save
Save
Save
Save
Save
Save
Save
Save
Save
Save
Save
Save
Save
Save
Save
Save
Save