When Christmas shopping begins, the first thing most parents aim to tackle is TOYS! I think we can all agree that crossing off our children's list before others takes a huge weight off our shoulders. For me it is very hard to focus on other family members and friends when all I am thinking about is, "I need to get that Doc Mcstuffin doll before it's gone!" This season kids are definitely the top priority and going on the hunt for the perfect toy is even more important. Every child has at least one toy they are dying to have and it's up to us to make sure we get our hands on them! According to the "Jolly Toys Survey" given to multi cultural families, 91% of Hispanic parents agree that it is more important to buy toys for kids versus gifts for the adults in the family. While it is important to give everyone in my family a wonderful Christmas, I do admit to focusing more on my little girl before anyone else.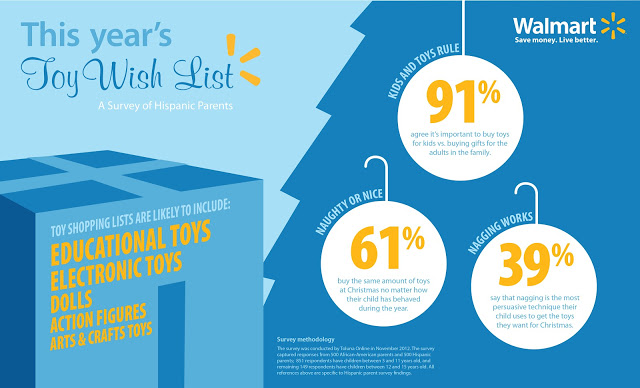 The survey also showed that

most Hispanic parents' shopping lists are likely to include educational toys, electronic toys, dolls, actions figures, and arts & crafts. I feel like all I have bought this year are Disney Princess dolls and play sets. This is the price I pay for having my own little princess who demands all things girly! I really do enjoy doing my shopping at Walmart because they have exclusive bundles and many toys that are hard to find elsewhere. When Black Friday arrived, I was able to cross off over half of Toodie's list because of the

bargains and sales.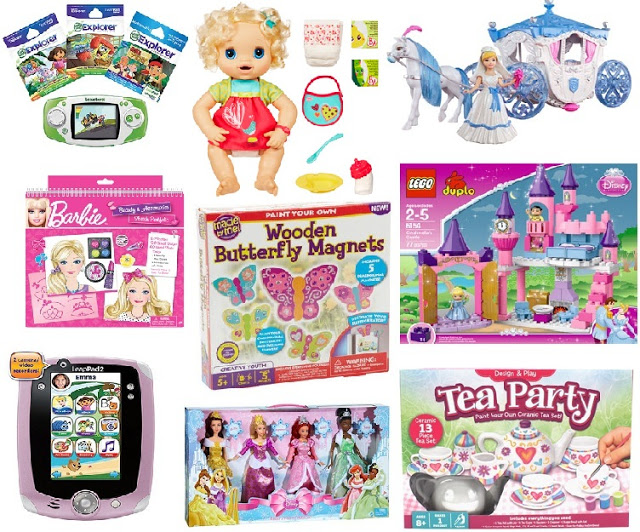 With Walmart continuously offering a wide variety of toys for all ages and genders, shopping has become much easier for moms like me. This time of year allows me to get not only my Christmas shopping done but also my daughter's upcoming birthday in the beginning of February. Each year I take advantage of the low prices and get everything I need at once. Before rationing out the holiday and birthday presents, I make sure to choose one special gift that Toodie is allowed to open on Christmas Eve. Half of parents normally wait until Christmas Day to open gifts, but in our family we stick to tradition. Since I was a little girl each person in our family is given one small gift to open the night before. We all sit around the tree, enjoy holiday treats, and spend time together. This is just our way of pumping up the excitement of Christmas morning and a huge delicious brunch made by gr

andma

! Does your family have any fun traditions you have kept thr

ough the years or maybe started on your own? I would LOVE to read them!
Enter below

i

f you would like to win a $25 Walmart GC to shop their everyday low prices and HUGE toy selectio

n!
Disclosure: Compensation was provided by Walmart via GolinHarris. The opinions expressed herein are those of the author and are not indicative of the opinions or positions of Walmart. Now you can fulfill your child's entire wish list through low prices and additional savings. Visit http://www.walmart.com for more information on holiday shopping this season.