This shop has been compensated by Collective Bias, Inc. and its advertiser. All opinions are mine alone. #snacktalk #CollectiveBias
Celebrate your favorite team with these REESE'S Peanut Butter Basketball Cupcakes!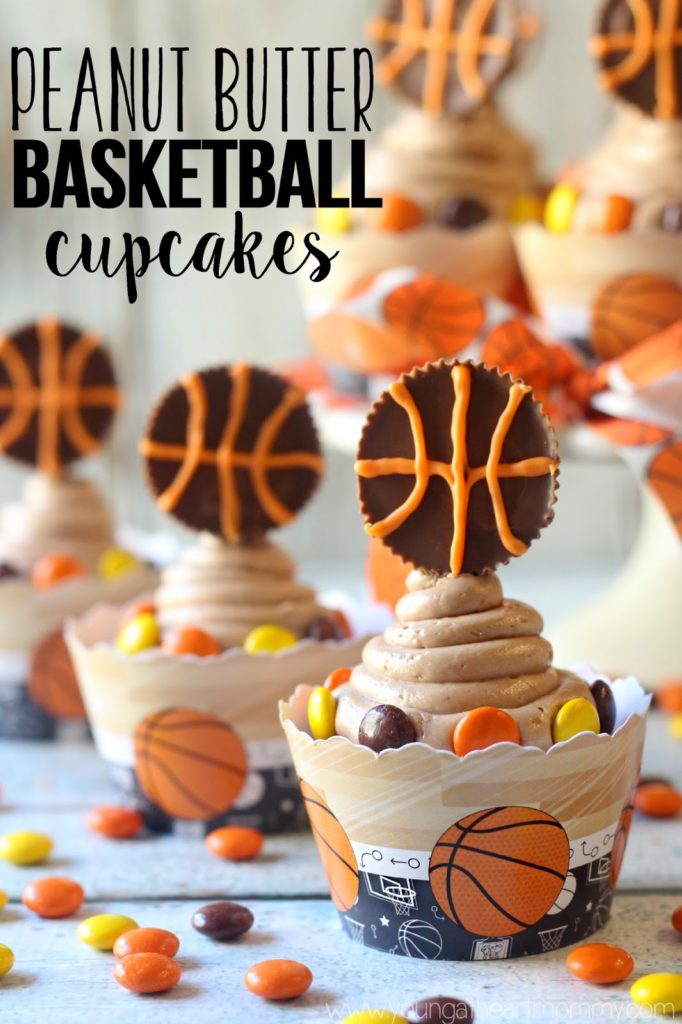 Game day grub has been a popular topic on the blog lately and now that we're in the middle of basketball season I have an excuse to create another festive treat to please my favorite fans. After preparing this savory dip I needed something sweet to counteract those spicy flavors. Creamy peanut butter and milk chocolate is one of my favorite combinations. Truthfully, you can't really go wrong with these two on their own or together. You can create so many different desserts with these two classic ingredients but my favorite would be using them to spruce up a good ol' cupcake.
With that being said, it was time to go big or go home. I chose going big because that's just what winners do. I began by constructing this ideal peanut buttery utopia of a cupcake in my head. That's when it hit me. This cupcake needed to be REESE'S from the ground up. From the cake itself to the frosting – this was going to be an explosion of peanut butter and chocolate. So, are you ready for a fantastic party in your mouth? Take a look at exactly how I made this divine treat!
For the cupcakes I used a box of REESE'S Peanut Butter & Chocolate mix. Once baked and cooled, I filled the centers with the creamy peanut butter included.
I found these adorable basketball themed cupcake wrappers from Big Dot Of Happiness and they were just what I needed to tie this treat together.
Back in February I fell in love with making my own butter cream from scratch. I must have made this recipe a handful of times afterwards. Since then I haven't even looked at a pre-made frosting mix. This time I wanted to incorporate the rich REESE'S Spread because it had chocolate and peanut butter mixed together. It's very simple to make and turns out decadent every time.
Ingredients:
1/2 cup unsalted butter

5 cups powdered sugar

2/3 REESE'S Peanut Butter Chocolate Spread
*All ingredients should be at room temperature for best results and easy mixing.
Directions:
In a large bowl or stand mixer beat butter and cream cheese together until creamy. Pour in powdered sugar little by little until blended well with other ingredients. Add in peanut butter/chocolate and continue to mix until consistency is smooth.

When frosting the tops of your cupcakes make sure to give it a peak or a little leverage. This will make it easier to hold the basketball peanut butter cup up and conceal the stick.
Since you can never have too much peanut butter I added some REESE'S PIECES candy to the frosting. You can also crunch them up and sprinkle them on top for texture.
To make the cupcake toppers attach large REESE'S peanut butter cups to short cake pop sticks. For best results allow the chocolate to chill in the refrigerator for 5-10 minutes beforehand. This ensures that the peanut butter is slightly firm and will not split when the stick is being pushed in.
Turn these into basketballs by using orange candy melts or frosting. I recommend the candy melts because the chocolate hardens and frosting can get a bit messy during this step. Using a decorating bag and narrow piping tip draw the lines on the peanut butter cups and allow to set for a few minutes.
Carefully slide the ends of the sticks into the center of the frosting and there you have it – REESE'S Peanut Butter Basketball Cupcakes!
These are such a fun festive treat for the month of March and basketball season. Peanut butter and chocolate is always a popular duo for satisfying a sweet tooth while cheering on your favorite team.
Do you have a delicious dessert you whip up for the big game? For all of you peanut butter lovers and sweet treat creators REESE'S has launched the Snack Talk Challenge for you to showcase your skills in the kitchen. Your recipe could be featured on CBS, Walmart.com, and www.ReeseSnackTalk.com. Follow @ReesesPBCups2Make on Twitter and share your best REESE'S recipe with #SnackTalk #ChallengeEntry. Enter your winning recipe here. For more information and a variety of REESE'S products check the Snack Talk displays at your local Walmart.
What's your favorite way to enjoy a REESE'S peanut butter cup?