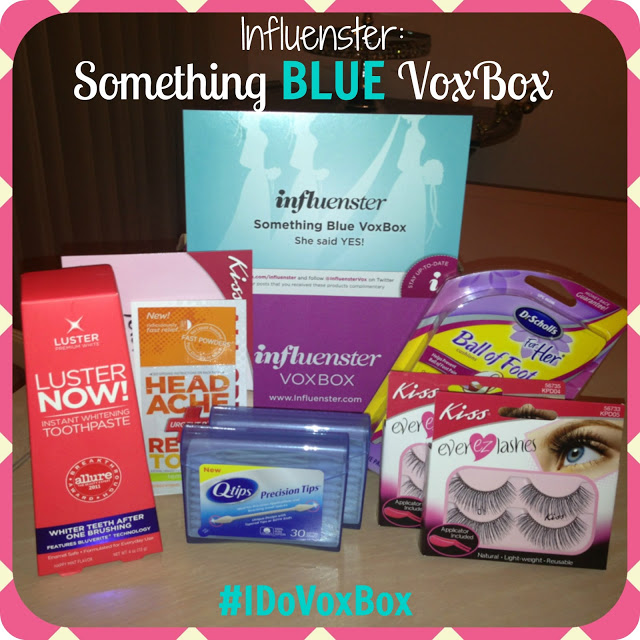 Summer is finally here. While I hate the heat and humidity, there is one thing that gets me excited about this time of year-weddings! Influenster couldn't have sent me a more perfect box this season. The Something Blue voxbox came with everything needed to attend a Summer time wedding whether you are a guest, part of the bridal party, or the bride herself! Here is a closer look of all that came inside and my first impressions of each product. Getting ready for your big day or attending a close friend's wedding? Take a look at all of these awesome goodies that are sure to make the occasion less stressful and more enjoyable.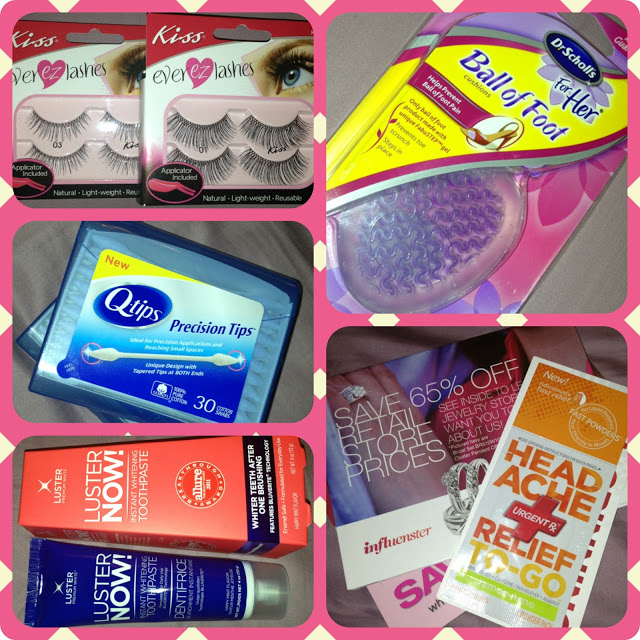 Luster NOW! Instant Whitening Toothpaste:
This instant whitening toothpaste brightens your teeth with its minty blue formula. It's gentle enough to use on your teeth everyday and whitens instantly. I love whitening toothpaste so when I saw this inside of my box I couldn't wait to get brushing. The vibrant blue color reminds me the Shimmer Lights shampoo and conditioner to keep your highlights bright. I never thought the same concept would transfer over to toothpaste! Pretty neat and so far I am pleased with the results. After about a week my teeth are brighter and much more shiny. I can't wait to see the long term results if I continue using it regularly. Also, for those of you with sensitive teeth this toothpaste doesn't irritate your gums!

Q-TIPS Precision Tips:
These q-tips have pointed tips at both ends and are made from 100% pure cotton. Each little case comes with 30 q-tips and is small in enough to fit within your purse or clutch. I love these babies! I use them every single day to touch up my makeup, mostly my eyeliner. Since the ends have a precision point, they fit into smaller spaces without smudging your makeup. They can also be used to clean up your manicure or pedicure.

Dr. Scholl's For Her Ball of Foot Cushions:
These comfy cushions are engineered to prevent ball of foot pain in ANY woman's shoe. You no longer have to sacrifice fashion for comfort! The cushioning absorbs shock and the slim design prevents feet from sliding forward. Unlike others, they actually stay in place and don't move around after vigorous walking. I never thought that walking in heels could be considered comfortable, but these cushions make it more bearable. At the end of a long day my feet aren't sore and I am not dying to take a hot bath!
Urgent RX Fast Powders:
Before receiving my voxbox I had no idea what this product was. These credit-card sized packets contain a fast acting flavored powder medication that provides immediate relief. I thought it was a powder formula that needed to be added to water, BUT no liquid is required! You just pour the packet into your mouth and wait for it to kick in. It comes in several fruity flavors and is slim enough to fit into your purse. I haven't had to use my pack yet but I think it will come in handy Monday morning after one of those LONG weekends.
MyTrio Rings:
At MyTrioRings.com you will find pages upon pages of beautiful weddings rings for him and her. The Trio ring sets contain the three matching rings needed for a traditional wedding. These include the engagement ring, bride's ring, and groom's ring! Buying a wedding ring can be expensive, especially when you have to purchase all three around the same time. MyTrioRings has a huge selection and variety of diamonds for up to 65% retail price. They also ship free! Their rings are absolutely gorgeous and affordable.
Kiss everEZlashes:
Last but surely not least is my favorite product in the Something Blue voxbox. Kiss falsie eyelashes are my new- go-to, gotta have, gimme that pop- in my morning routine! I never ever thought I would love falsie eyelashes as much as I do now. Kiss has completely changed my opinion and views on these little guys. I have been wearing them just about every single day whether I am going to work or out with friends. I have received so many compliments and no one has ever even asked if they were fake. I found that cutting them in half and placing them near the ends of the eyes really can change the over all look of your makeup. The halves also make the lashes more wearable during the week. Love these! I could ramble on all day about them but I will save that for my Kiss everEZlashes post!


I hope that you enjoyed a sneak peek at my Something Blue voxbox from Influenster. Keep an eye out for more detailed reviews covering each individual product. Don't forget to get social and follow Influenster on Facebook and Twitter. Here you will find program updates and a first look at the upcoming boxes!
Disclaimer: I received the products in this post compliments of Influenster for purposes of this review, however all opinions are my own.