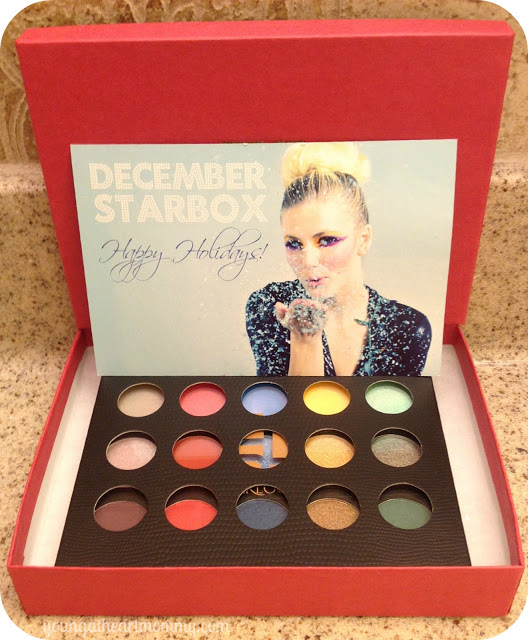 We're wrapping up the end of the year and Starlooks has provided me one of their top notch boxes to r

eview

again. The anticipated December Starbox included a 15 shade eyeshadow pallete that is valued at $99! This was a nice surprise c

onsidering

I only expect a few new makeup products to try each month. The 15 full size colors are exclusive to this pallette ONLY and are not available individually. While I was provided this box to facilitate this review, I feel that it is totally worth the $15 each month. Based on December alone, you cannot beat getting a complete eyeshadow pallete with a variety of colors for the price. The pans are good size and the eyeshadow is dense. If used correctly it will last you a long time and there are endless looks you can achie

v

e with such fun colors.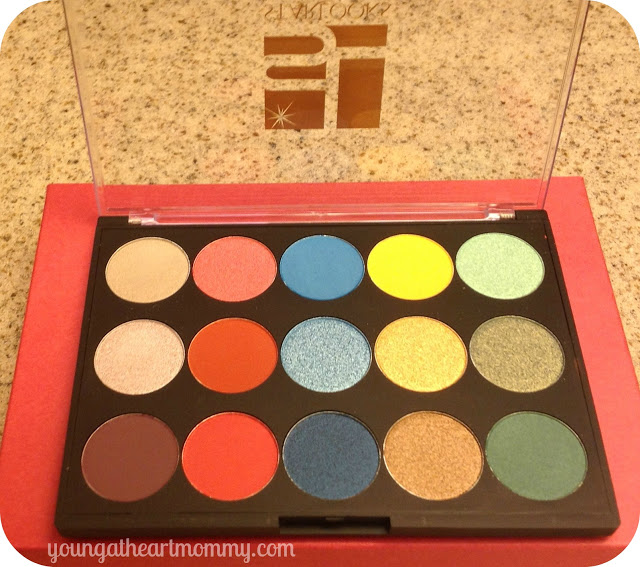 You can see in the photo below that I swatched a few of the colors that stood out to me the most. At first glance,

it appears

the color spectrum resembles all of the twinkling lights you may find on a Christmas Tree. This is where Starlooks found their inspiration this month. These eyeshadows are very pigmented and the color payoff is incredible. This palette contains shimmery and matte colors
in which you can create a unique look for the holidays. The colors are bold, vibrant, and very easy to blend. I have reviewed several of their eyeshadows before and have always been impressed with the quality

.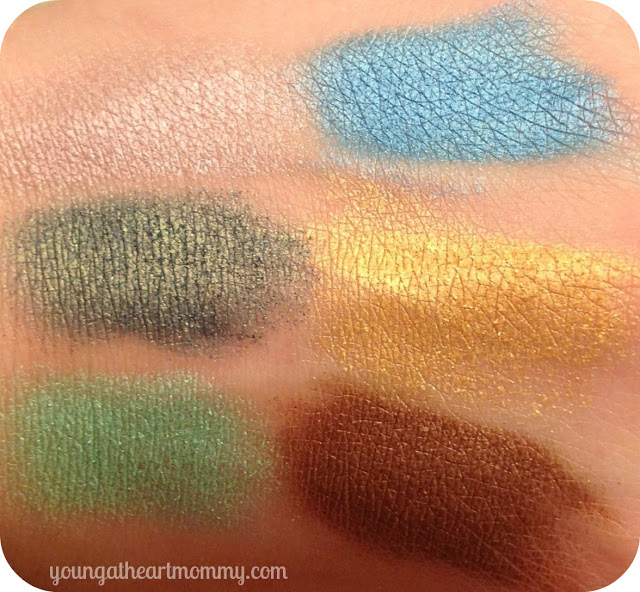 If you are scared of color or feel that this pallette is way over the top, you are wrong! I am normally very conservative with my makeup and stick to

neutrals

on a daily basis. When I first opened my Starbox I wasn't sure how m

uch use I would really get out of it.

But in playing with the shades I found that you can apply these with a light hand or even wet to create more depth. They are easy to build and also blend out for a softer look. You can

even use them to line the eyes!
If you love makeup

and trying new products,

you can become a member of Starbox for only $15 a month. Your box with include 3-4 full size beauty products with a minimum value of $

35!
For more information on the Starbox visit the Starlooks website
. You can also follow along on Twitter and Facebook
to interact with other Starbox fans

.
Disclosure: I received the products above from Starlooks for my consideration and to share my honest opinion and experience. I am under no obligation to post a positive review on them. I will not be compensated for this post. As always, opinion are my own!