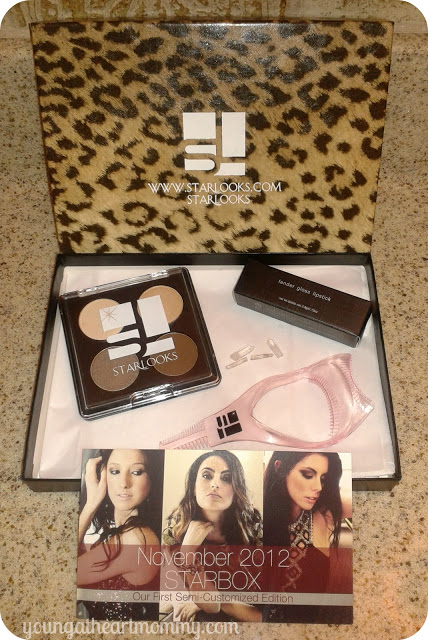 Hello beauty fans. The November Starbox is here! After being impressed with last month

AND the month before

…. I was ready to get this baby open! This month it is all about achieving a "Prime Look." This is a look that every face can pull off and the products within each box will compliment individual skin tones. The November box is the first to be semi-customizable and Starlooks did their best to make sure that each subscriber would get products they could not only use, but love. I really didn't know if the box I received was for a "light" skin tone but when I saw the products I was VERY happy.

Taking my fair complexion into consideration, neutral colors will always be my thing! I love wearing shimmery cream, brown, taupe, and grey eyeshadows. They seem to compliment my skin tone and blue eyes at the same time. I was happy to receive this specific pallete because I would wear all of these shades of a daily basis. The colors inside are Please Me, Rusting, Almond, and Ominous. They are soft and pigmented making it easy to build the color regardless of what kind of look I am going for. This is the kind of quad that every girly could use in their purse. It isn't limited to only shimmer or matte shades, but includes both! With these silky shadows it is easy to create a beautiful look. While my palette did arrive in one piece, the only negative I found was that the individual pans were loose. Nothing a little bit of hot glue couldn't handle, but it would be nice if they were magnetic like others I have purchased.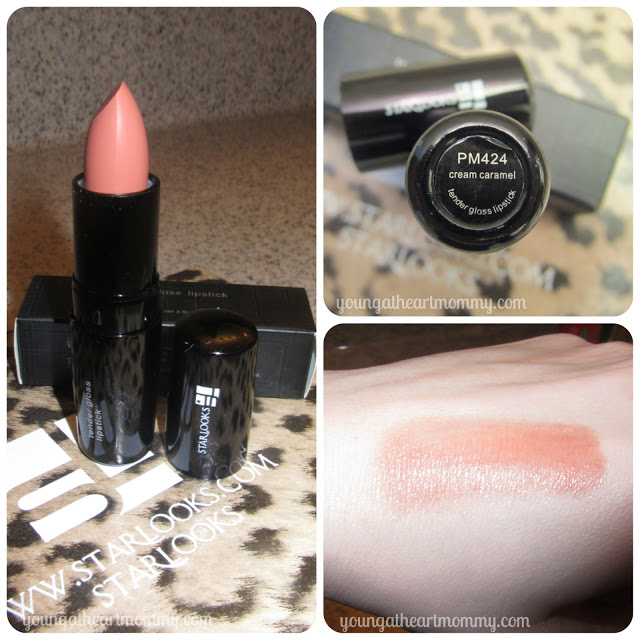 For the lips, I was sent a tender gloss lipstick in the color Cream Caramel. Since lipsticks can sometimes be drying, I have always preferred those combined with gloss because they are creamier. This lipstick is very moisturizing and the color is suitable for day and night. It gives a very natural look with a ton of shine. It comes off very sheer but the color is buildable and can be worn over a darker lip if desired. I have been using it on its own every single day since I received my Starbox! This has probably been my favorite product received so far.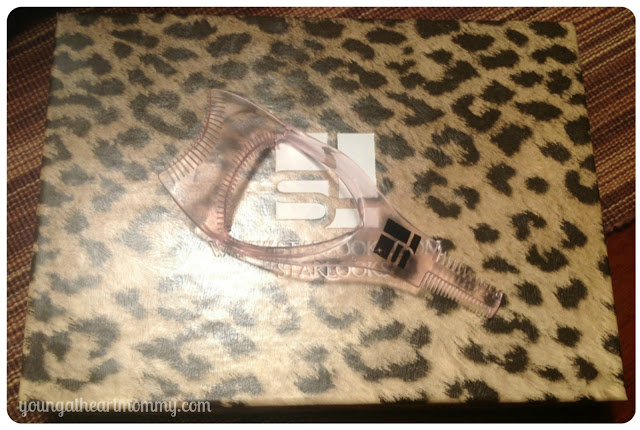 As a surprise in this month's Starbox, there was an extra contraption included! I must admit I had no idea what this unique looking thing-a-majig was at first. But after taking a closer look I knew that it had to be something used around the eyes given the shape. This 3 in 1 mascara guide and applicator prevents smudging and promotes full lashes without making a mess. Even though I have been wearing mascara for years now, I still have those days where I manage to smear it all over and under my eye. The worst is having perfect eyeshadow and getting mascara on it. Then comes the damp cotton swab and 10 minutes later you realize you have to re-do the whole eye! I am excited to have a tool like this to try because it can be used on the bottom and top lashes. The end also includes two combs to smooth out clumps and lengthen.
November's Starbox was great and December will be even better. Next month's box will be a $99 value for only $15. It will include their 15 pan eyeshadow palette! Check back soon for more photos, and the unveiling of this special offer.
For more information on the Starbox visit the Starlooks website. You can also follow along on Twitter and Facebook to interact with other Starbox fans.
Disclosure: I received the products above from Starlooks for my consideration and to share my honest opinion and experience. I am under no obligation to post a positive review on them. I will not be compensated for this post. As always, opinion are my own!