They say that diamonds are a girl's best friend, but for some of us nail polish is the equivalent! As a girly girl who loves makeup, clothing, and getting glam- I can't be without a good nail polish. I know I am not the only one out there so that is why I am introducing you to Julep!
There are many reasons Julep stands out from the rest. All of the Julep nail colors are "4-free" which means they do not contain the carcinogens, formaldehyde resin, toluene, or DBP. Through numerous amount of testing in their own Julep Nail Parlors, they have been able to create a chip resistant and long lasting formula.
Their polish goes on smooth and dries quickly, leaving your nails sleek and refined. In participation with the Julep VIP program, I had the opportunity to try one of their introductory boxes and share my experience with you. There is also a special surprise for my readers at the end!

The first step to becoming a Julep Maven is taking their style quiz which helps them choose which colors are right for you and your personality. These style profiles include American Beauty, Boho Glam, Bombshell, Classic With A Twist, and IT Girl. You have the option of ordering the box that is chosen for you or take a chance and dabble around. It's always fun to explore the different sides of your personality! Regardless of which fun profile you choose, each box will contain at least two beautiful polishes and other Julep favorites chosen for you. Your box will ship within three business days. Now you must play the waiting game. But don't worry, their boxes ship super fast and will be in your mailbox in no time. Welcome to the world of Julep nail polish addiction. You won't be able to stop with just one .. two.. or even three!

For each two mavens you refer, you get one month free!
Enjoy 20% OFF all products in the Maven Boutique along with free shipping.

Each month you have the option to add extra products to your box starting at just $4.99.

As a Julep member you will be charged on the 27th of each month, the same day boxes start shipping.

Options! On the 20th of each month Julep will send you a preview email of your upcoming Maven box. If you love it then your box will be on the way. If you don't, feel free to skip the month. You can also send the box to a friend.
Be the first to try new colors and products. There are TONS to choose from! Julep is not limited to nail polish. They also sell products such as lip balm, pedi creme, mascara, and much more.

Exchanges and returns are quick, painless, & fuss free.

There is no limit to the amount of boxes you can skip. You will not be charged for those you decide to pass on and cancellation is always available.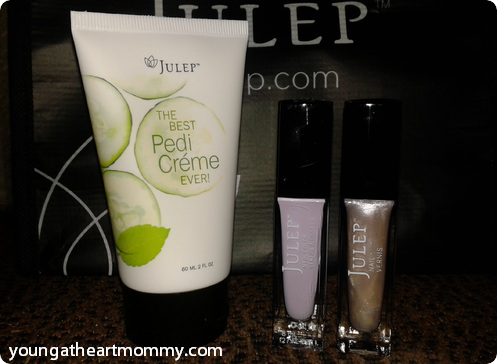 The subscription box that I chose to review is called American Beauty. I had five choices but I felt like the colors in this set were more "me." Inside was Julep's infamous pedi creme along with two girly polishes, Renee and Emma. Renee is described as being a Spring lilac creme while Renee is soft seashell pink shimmer. Both colors are very light and feminine which is typically what I prefer to wear everyday. Unless I am going out on the weekend I like to keep my nails versatile and a color that will blend with just about any outfit. Both shades are beautiful in the bottle and even prettier on the nails!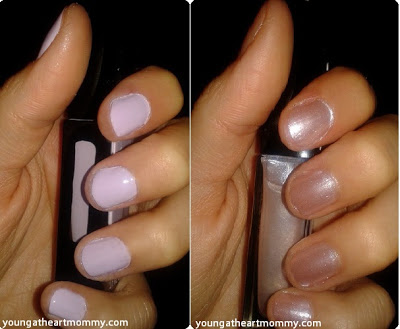 I liked that one was a creamy color and the other was a shimmer. Renee was very easy to apply and it only took two coats to get that nice lilac color to pay off. I can't wait to wear this color during Spring because it's that perfect pastel. Also, I typically lean towards purple polishes so this is what triggered me to go with American Beauty. Emma was a lot more sheer than I expected. It took about 4-5 coats for me to get it to show up as much as I wanted. The color is more of a pink champagne and gorgeous in the sunlight. It sparkles on its own and would make a nice top coat for a pink or mauve polish. I was VERY happy with my selection. On top of the two polishes, the Best Pedi Creme Ever was an appreciated add on. It contains shea butter and coconut oil to keep the skin moisturized and silky smooth before or after your pedicure. LOVE this stuff!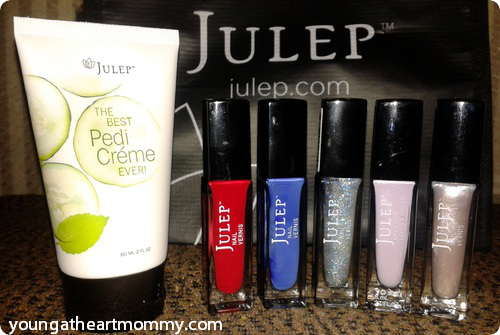 Julep continues to impress me with each polish and product I use. Every time I go into Sephora I have to keep myself away from their nail polish section. Their sleek packaging is eye catching and their selection of colors is incredible. If you have not entered the world of Julep, I suggest giving them a try!
Using the promo code YOUNGATHEARTMOMMY will also get you your first Julep Maven box for just a PENNY!

Here is my favorite part. Only lucky Young At Heart Mommy reader will have the chance to win their very own Julep box. Enter below through the rafflecopter form and good luck. All entries will be verified.
Disclosure: I received the products above in participation with the Julep VIP Blogger Program for my consideration and to share my honest opinion and experience. I am under no obligation to post a positive review on them. I will not be compensated for this review. As always, opinion are my own!