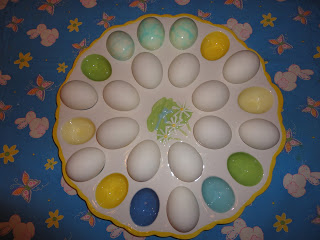 Easter weekend has finally arrived. Time to dye your eggs, plan your Easter egg hunt, and prepare the baskets with goodies! Toodie and I always look forward to coloring our eggs and decorating them together. I had all of the eggs boiled and ready to go so we could get started right after dinner. As you can see from the pictures Toodie was prepared in her apron and ready to get those eggs colored!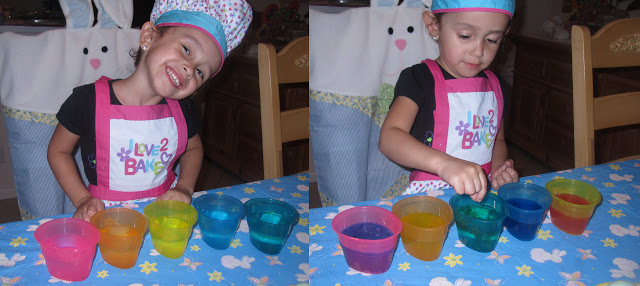 Everything was fine and dandy until we went to take the eggs out of the coloring cups. Instead of having a vibrant beautiful hue to them, they were covered in a thick stringy sludge. It was almost like we dipped them in slime. I'm not sure what in the heck happened to our delightful coloring experience but it was not good! None of the color was eve sticking to the eggs. It seemed like the longer we left them in, the more gooey slime coated them. It was disappointing and frustrating considering we have used the same brand every single year with no problems.Guess we're going to have to start from scratch on Sunday.

Regardless of the mishap Toodie enjoyed eating the eggs and soon forgot about the not so pretty outcome! Has anyone else had this problem before? Maybe I had a bad batch of color tablets.