I feel like I have really been on a roll with the crafts lately! I guess I can thank the wonderful world of Pinterest for that. Here we have what I like to call the "Colorful Tissue Paper Easter Egg." I found a similar idea online and decided to add my own twist to it. The best part of this Easter time craft is you don't really need much. All of the supplies you can get from just about any craft store, Walmart, or Target. You will need a large sheet of white poster board, Elmer's glue stick or liquid, hole punch, ribbon, colorful tissue paper squares, and glitter ( which is optional).

If you are like me and NOT a Picasso then I suggest you find some sort of Easter egg outline to trace. Luckily I had a felt Easter Egg chair cover on hand that my mom had purchased last year. I went ahead and roughly traced it, cutting out the Easter Egg shape. Remember, it really does not have to be perfect because most of the edges will be camouflaged by the tissue paper. Next you go ahead and cover small areas with the glue stick so they can stick the tissue paper squares on. We did it in sections because Toodie liked to take short breaks here and there. When the egg is finished and covered you can punch two small holes in the top so you can string the ribbon through. This will allow you to hang up your masterpiece when finished. Since Toodie is just like her mommy and loves sparkle, we had to add some glitter!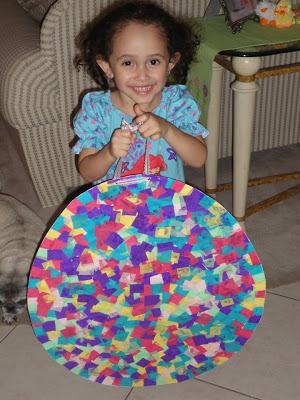 The only thing I would probably do differently with this craft is to cut out a smaller egg. As you can see from the picture this thing was huge! Half way through I could tell Toodie was getting tired so we took a break and came back later to finish. If you have more than one child than the larger egg would probably be a great craft for them to work on together. The next day we decided to make mini eggs to give to family members and it was a much smoother process. Even though it took longer than expected I have to say that when finished it did make a beautiful front door decoration for everyone to enjoy.