To all of my monthly subscription box lovers

,

let me introduce you to the Green Grab Bag! As part of this eco friendly program each month you will get at least 6 beauty samples that are natural, organic, and vegan. These samples will include skin or hair products, makeup, fragrances, and more. Unlike many of the subscription programs floating around, the Green Grab Bag is known for keeping their service 100% natural. Not only are their products organic, BUT their packaging is even eco-friendly! This includes their bag, shredded filler paper, tape, and even their wrapping materials. It's refreshing to see a company that is truly devoted to providing the greenest of the green!
I have read a numerous amount of positive reviews on the Green Grab Bag and was thrilled when given the opportunity to experience it myself.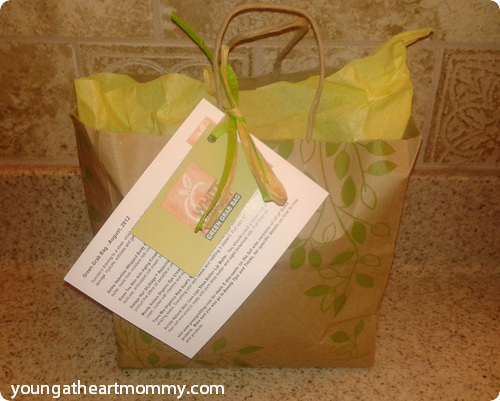 The August edition of the Green Grab Bag embraces the end of Summer and the beginning of Fall. The samples provided are meant to assist in hydrating, exfoliating, and replenishing for a fresh fall look. In my bag I received six different generous sized samples. Taking a quick look at everything, most of these products remind me of things I would find in my local Whole Foods or natural food store in their cosmetic section.
Selma Valentines Whipped Body Butter: soothe dry skin with this decadent body butter, made from moisture rich coconut oil.
Green Tea Skin Anti-Aging Cream: it's never too late to reverse & repair, and this multi-use, antioxident rich cream does the trick on face, neck, hand and eye areas.
Emtage Hair SILKtage Rejuvenating Serum: turn your dry, parched hair into silk with this amazing product that offers 30 benefits in one bottle.
Moody Sisters Organic Eye Cream: fight those fine lines and deflate those bags with this luxurious cream, loaded with vitamins and essentials oils. Great for nails and cuticles too.
Tierra Mia Organics Raw Goat Milk Soap: baby and nourish your skin with one of these delicious smelling soaps. Everything your skin needs and nothing it doesn't.
Scrubz Natural Skin Care Lipz Shea Butter Lip Balm: you should crack a smile, not your lips. Keep them soft and smooch ready with pure shea butter and eight botanical oils.
I can't say that there was one sample that I did not enjoy using from this bag. My favorite product was the whipped body butter because it smelled amazing and was the perfect size to keep in my purse. Even the eye cream has become a staple in my nightly routine. Green Grab bag allows you to try new products and their deluxe samples can even be used more than once. This is a great way to try before you buy. The upcoming September Green Grab Bag is currently being curated by the Whole Body Department of Whole Foods Market. It's going to feature deluxe samples of some of their most popular national brands that are being hand selected for next month's bag. With that being said, you will not want to miss out on September!

If you are interested in subscribing to Green Grab Bag, they offer two different subscription options. You can pay $15 a month or you can purchase their yearly membership with a 20% discount attached. If you are someone that enjoys trying natural, organic, and vegan products then this program is something you will probably enjoy. For more information you can visit the Green Grab Bag website
or stop by their Facebook to see what other fans are saying about their experience!
Disclosure: I received the products above from Green Grab Bag for my consideration and to share my honest opinion and experience. I am under no obligation to post a positive review on them. I will not be compensated for this review. As always, opinion are my own!