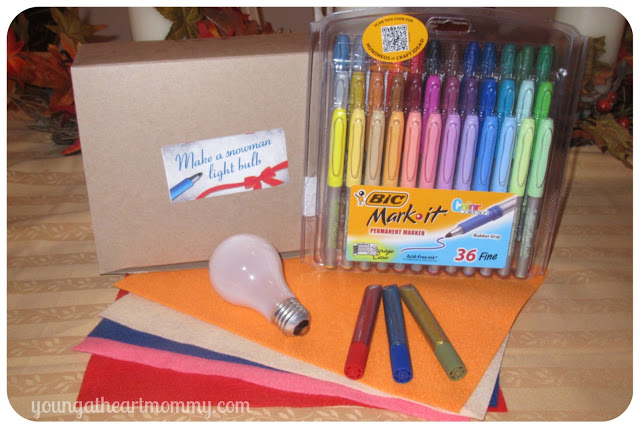 I am still in awe that the month of November has come and gone. It seems like only yesterday I was taking my little girl to pick out her Halloween costume and now we are weeks away from Christmas! On top of all the fun decorations and yummy baked treats, this season wouldn't be the same without a craft to get into the holiday spirit. Toodie and I have always enjoyed doing crafts together and this year we had a little help from BIC Mark-It Permanent Markers. As a Smiley 360 blogger I was sent a package containing everything needed to make a Lightbulb Snowman. Of course, the supplies featured the Bic Mark-It Permanent Marker pack containing an assortment of 36 viv

id

colors! These are also non toxic so there is no worrying about any smelly fumes that

most permanent markers tend to have.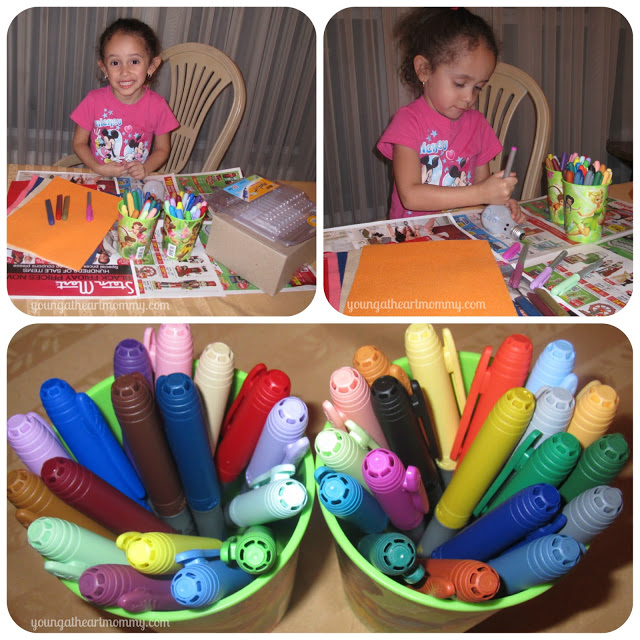 In addition to the huge pack of colorful markers there were other materials inside that helped to bring our snowman friend to life. These included a single white light bulb, several pieces of colored felt, and three glitter glue pens. The BIC Mark-It Markers were the perfect tool for this type of craft and I imagine many others in the future. With the tips being fine and precise, Toodie had more control over the designs she was drawing. I worried that her determination to use every single color within 5 minutes would cause a mess, smearing all over the lightbulb and her hands. But to my surprise and relief, there was no smudging. These markers dry

immediately

when applied which makes them even more appealing. This holiday craft was a

no mess success!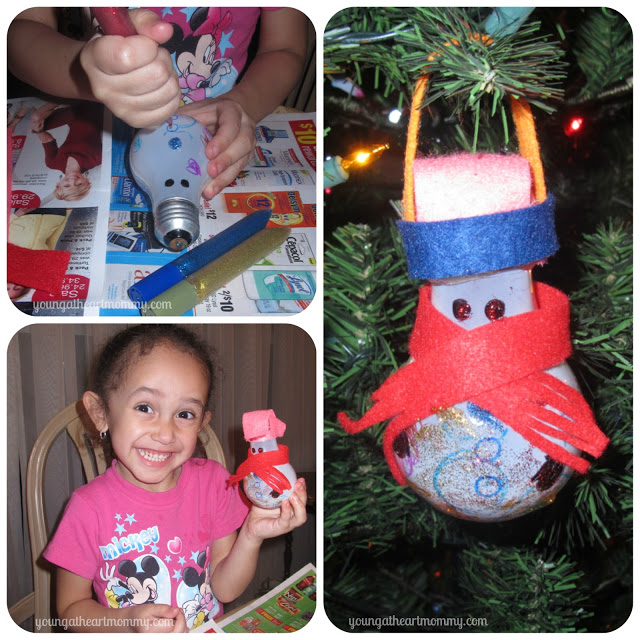 The BIC Mark-It Permanent Markers sure do make crafting

and projects much easier. Did I mention cleaner? No messy hands, table, or clothing. I can see these being a "permanent" part of our craft bin
. These markers are also great for
writing cards, lunchbox notes, scrap booking, and
just plain DOODLIN
G! With their soft grip and smooth packaging they can be comfortably use
d by little han
ds. These would make a nice gift for any teacher d
uring the holiday season
. I know my daughter's classroom would have a b
last with these. I can't wait to see what we can do next wit

h them

!
For more information on BIC Mark-It Permanent Markers and other fun holiday themed projects, you can visit their website
an become a fan on Facebook.

You can enter to win your own 36 pack of BIC Mark-It Permanent Markers by entering through the rafflecopter form

below.
Disclosure: As a Smiley 360 blogger, I received the products above for my consideration and to share my honest opinion of my experience. I am under no obligation to post a positive review on them. I will not be compensated for this post. As always, opinion are my own!