When Toodie was a baby it felt like every other day I was doing a new load of laundry. From messy throw up moments to leaky diapers, there was always a hamper full of dirty linens that needed a thorough cleaning. At the time, Toodie had a very mild case of eczema and very

sensitive

skin to go along with it. I had to be careful what kind of laundry detergent I used to wash her bedding and clothing. This meant purchasing a mild soap that would not

irritate

her skin. Even though I used a leading brand

sold in most stores

, I always found that it never did a very good job

of getting the stains out completely. I also thought it was my only option. But today, there is a better alternative on the market.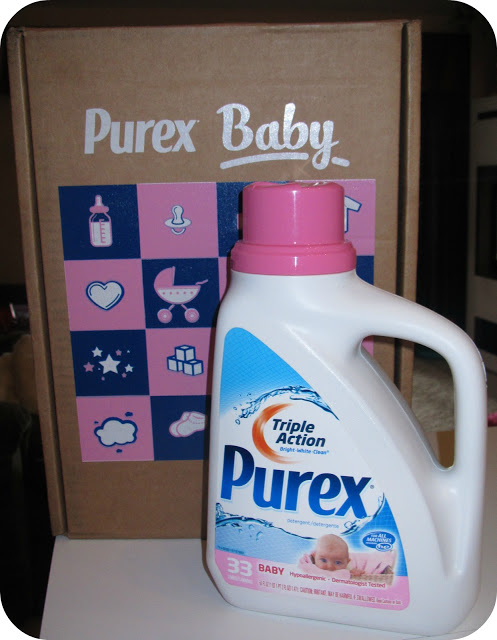 Purex Baby laundry detergent is dermatologist tested and guarantees the removal of stubborn stains without hurting your delicate clothing. It also specially formulated to be gentle on your little one's

sensitive

skin. Like all Purex detergents, it is suitable for all washing machines from high efficiency to your traditional top loaders. Something that stood out to me about this

detergent

is that it will not affect any flame resistant clothing that you may have for your child. It is made to keep them smelling fresh, clean, and comfortable on your child's skin. I have been using Purex Baby for a week now and am pleased with the results. Using it

mostly for my toddler's clothing, each time I remove them from the dryer a cloud of freshness
greets me. The scent alone is incredible and I have even begun washing my own sheets with this! Stains that I thought would never come out, disappeared within one wash. Every parent could benefit from using Purex Baby whether you have a child with

sensitive

skin, allergies, or are just looking for a wonderful smelling detergent for the family.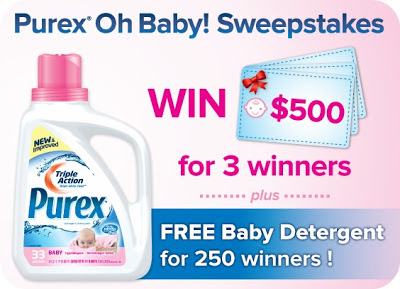 Purex has just launched th

eir

Oh Baby! Sweepstakes where three lucky winners will receive the grand prize of $500! An additional 250 winners will also win a bottle of Free Purex Baby

detergent

. This contest will end January 23, 2013 and is o

pen to entrants 18 years of age and over.
As a Purex Insider, I was provided with three FREE products coupons for my loyal readers. If you would like the chance to win a bottle of Purex Baby detergent you can enter through the

rafflecopter

form below. Three will win!
Disclosure: Purex provided me with a sample of Purex Baby detergent in exchange for a product review. As always, all opinions are my own!