This week a package with two essential cleaning products arrived at my doorstep. As a Purex Insider I was sent two bottles of Soft Scrub's All Purpose & Bath and Bowl Cleaners. Both of these Soft Scrub total products have their patented trigger that allows you to clean with either a fine mist or a thick foam. It even sprays upside down allowing you to get into those hard to reach places while cleaning. While you are getting your surfaces clean you are also deodorizing the area keeping all lingering smells away. You can now replace you arsenal of cleaning tools with one of these powerful products.
There are many things I love about both of these products but the feature I most appreciate is that they can be used effectively upside down. Whether I am cleaning the toilet bowl, sink, microwave, or little nooks- there is nothing that I hate more than nothing come out of the bottle! Using the Soft Scrub Total All Purpose Cleaner saves me time and a headache when cleaning thoroughly. When I use Soft Scrub I have the confidence that the areas I am cleaning are not only being disinfected properly but they are left smelling fresh without chemical odors. As a mom of a toddler, there are always spills and sticky areas scattered around our home. With the All Purpose cleaner I can eliminate them within seconds. The same goes for the bathtub. Toodie loves her night time baths and I am constantly making sure the tub is clean and germ free. After using the Bath & Bowl cleaner, I noticed a visible difference and the dreadful "ring around the tub" from constant bubble baths was gone!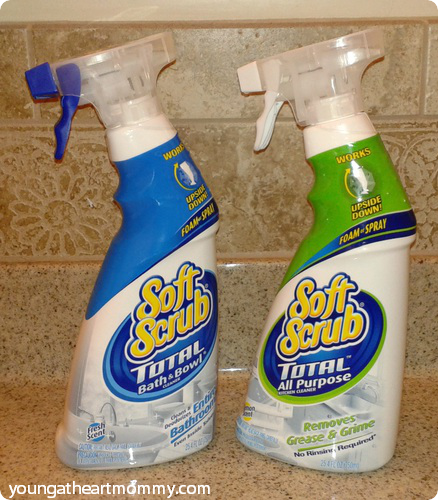 Right now Soft Scrub is holding a sweepstakes with $3,000 in prizes! One lucky winner will win $1,000 and 50 additional winners with win $40 each. Each $40 winner will receive one $20 Gift Card for a tough home improvement and another $20 Gift Card for a little bit of pampering. Fill out the easy form and within seconds you will be entered to win. What are you waiting for? Head on over!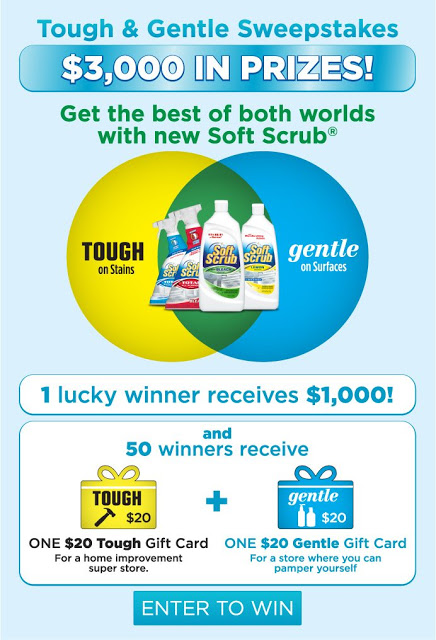 One of the benefits of being a Purex Insider is that I get to give away (3) FREE Soft Scrub Product coupons to my readers! Enter through the rafflecopter form below and you could be one of three lucky winners.
Disclosure: I received the products above from Purex Insiders for my consideration and to share my honest opinion and experience. I am under no obligation to post a positive review on them. I will not be compensated for this review. As always, opinion are my own!