This is a sponsored post in collaboration with Regency Centers and Country Walk Plaza.
Football season is back! These FAN-tastic Miami Dolphins Football Cakesicles are sure to make you the MVP of your game day celebration.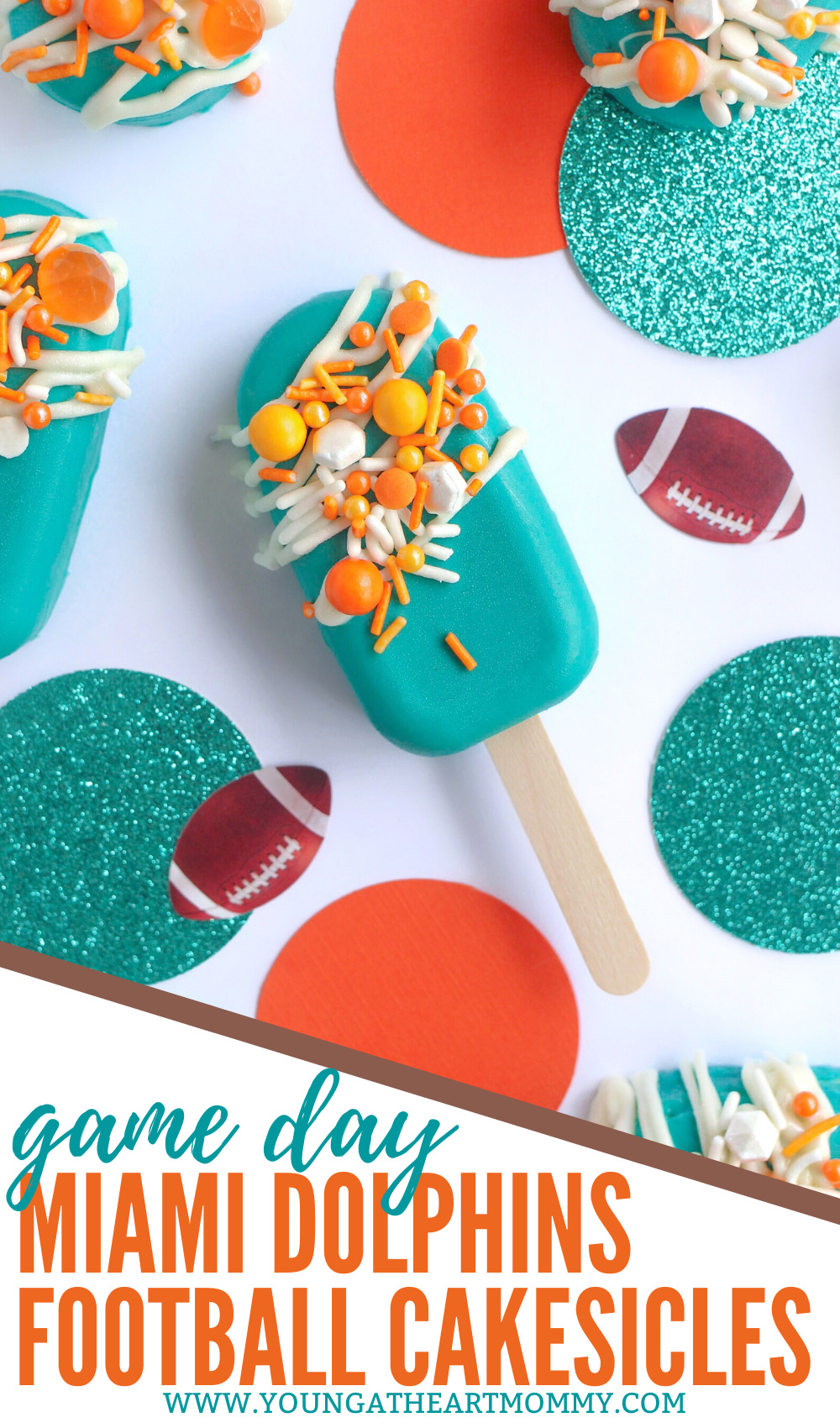 FOOTBALL CAKESICLES
Whether you're planning a shindig with friends or looking for a unique treat to impress fellow fans, football cakesicles are a winner. These skewed treats are festive, fun, and just as sweet as scoring a big WIN. It's time to take your Ultimate Tailgate Takeout up a notch!
Cakesicles are the latest and greatest foodie trend. They are a neat twist on the traditional cake pop. Can you really go wrong with crumbled cake and frosting, packed neatly into a shell of chocolate? I think not! While it's always exciting to see two teams face off during a big game, feeding guests stationed in front of your television is equally important. Savory appetizers are usually my favorite thing to make when entertaining, but this year I am switching things up a bit with dessert, first. You guys knows how I feel about my confectionary creations!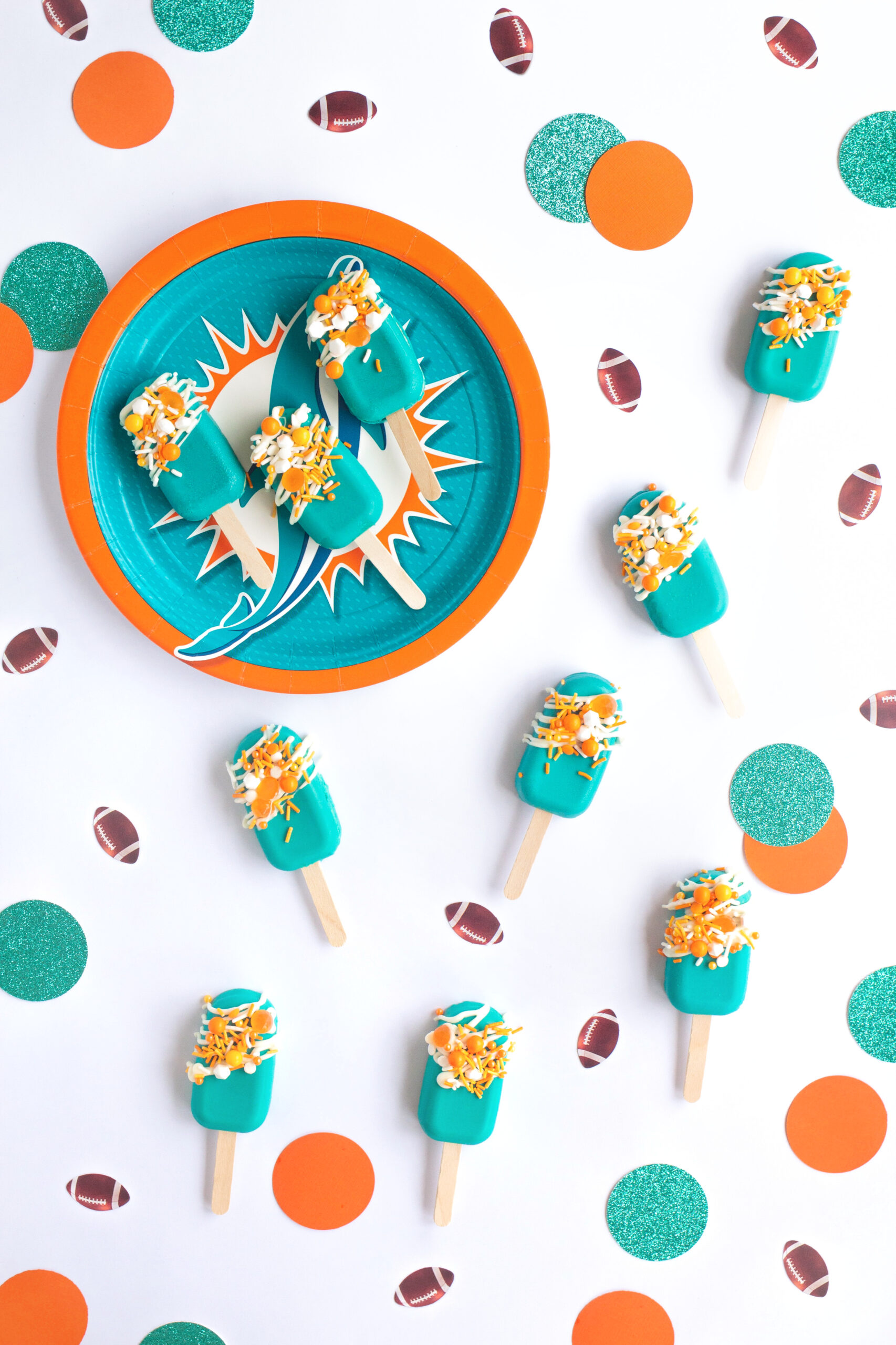 HOW TO MAKE "CAKESICLES"
As a native Floridian, I am always rooting for the Miami Dolphins. Since they're playing the Jacksonville Jaguars tonight, I decided to tailor these treats to support my squad! However, football cakesicles are customizable so the colors and decorations can be changed to represent your favorite team. I picked up the majority of the ingredients at my local Publix in Country Walk Plaza, but you can find similar items at any Regency Centers grocer.
To make these football themed cakesicles you will need:
silicone Cakesicle mold

wooden Cakesicle sticks

Nestlé T

oll House Premier White Morsels

Wilton Turquoise candy melts

various colors of Wilton candy melts (depending on the team)

Pillsbury Cake Mix Moist Supreme Classic White

Pillsbury Creamy Supreme Vanilla

Frosting

sprinkles

piping bag and thin tip for decorating

CAKESICLE FILLING
For the filling, I keep it simple by using a box of white cake mix and tub of store-bought frosting. Once the cake is baked and cooled, transfer pieces to a large bowl. Use your clean hands or a fork to break it into crumbles. Add in the frosting, a few tablespoons at a time. A little goes a long way. If you add too much frosting, the cake tends to become mushy. This leads to a soggy cakesicle that won't hold its shape. Once the mixture is moist and pliable, you can set it to the side and begin working on the candy coating.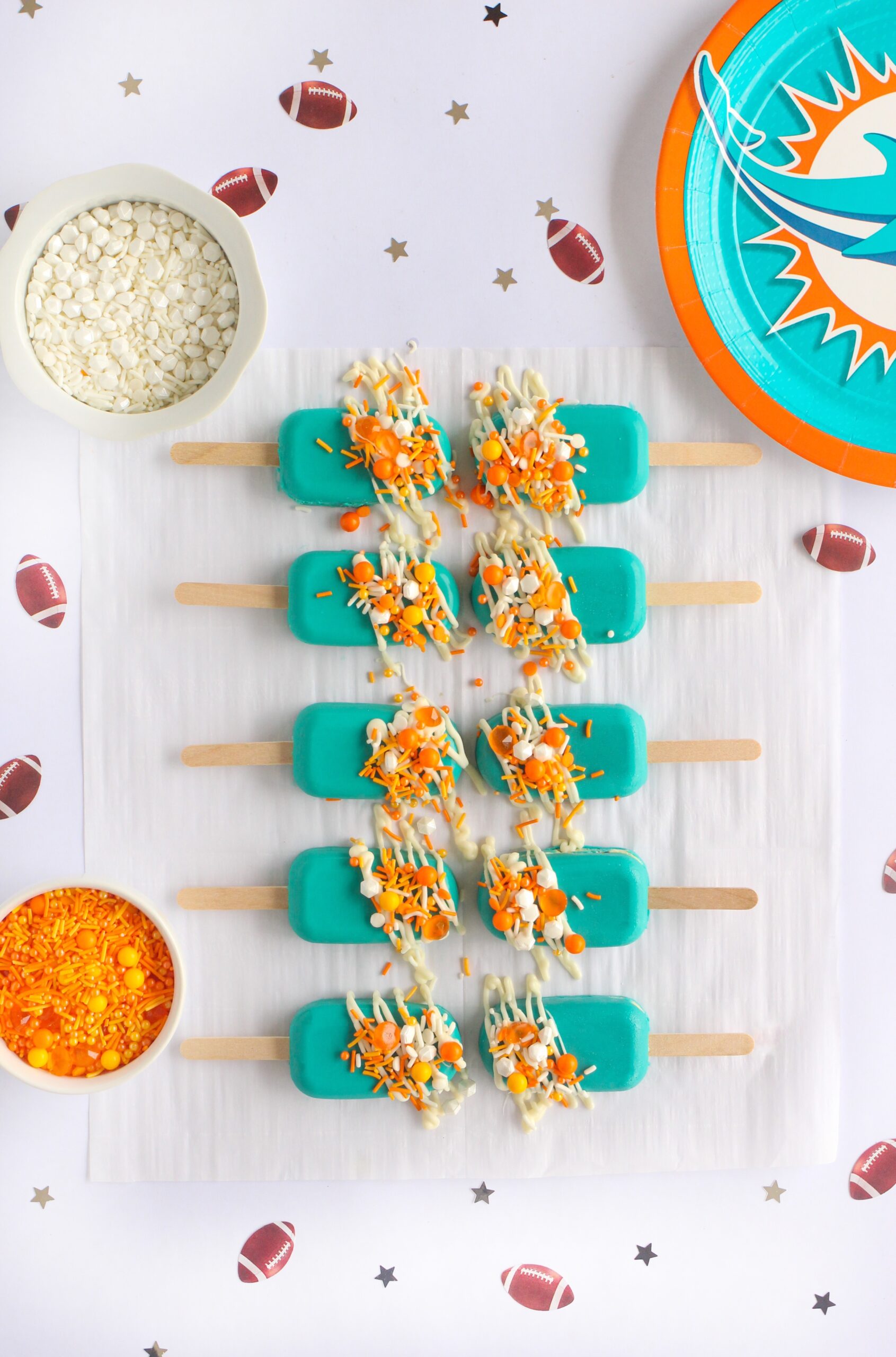 CASTING THE CAKESICLES
Next, the candy coating! This casting technique is much easier than dipping because you are using a mold to create the desired popsicle shape. However, this part can be tricky. In a microwave safe bowl, heat chocolate (color of your choice) in 60 second intervals and stir constantly in between each. If the chocolate is too thick, add a tsp. of vegetable oil.
Scoop 2 tbsp. of melted chocolate into each cavity of the silicone cakesicle mold. Use a small pastry brush to coat the sides with a thick layer of chocolate to prevent cracking. Insert sticks into the bottom slits of the mold, about halfway through the cakesicle. This will remove chocolate blocking the opening. Pop mold into the freezer for about 5-10 minutes. Once removed, take a look at the edges. If the chocolate appears thin, add another dollop inside and spread over areas that need to be touched up. Place back in the freezer to harden.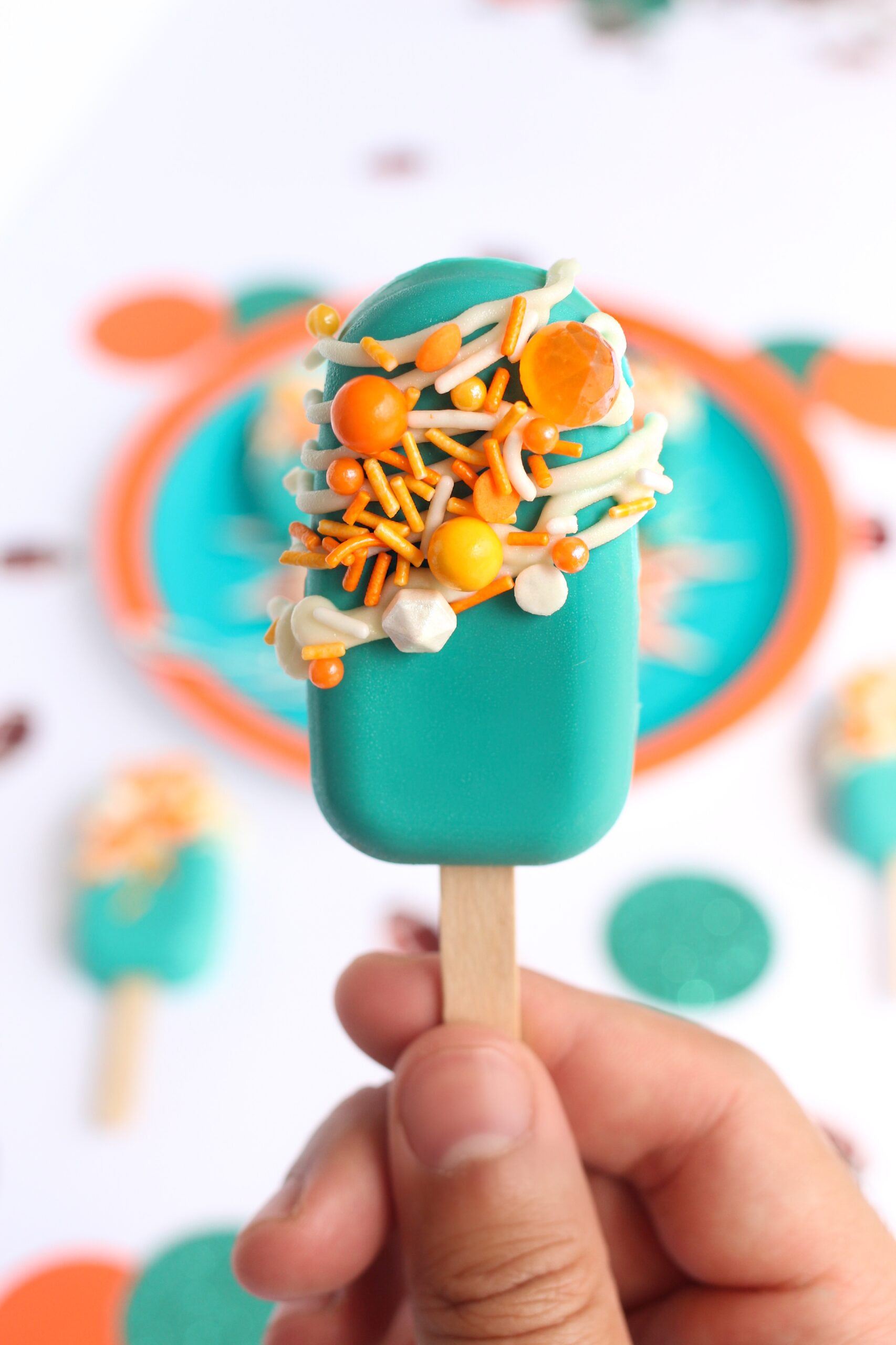 Slide sticks out of the mold and fill each cavity with 2 tbsp. of dough. Depending on how thick your chocolate shell is, you may need to adjust this amount. Use your fingers to gently press the mixture into each nook and cranny. Leave enough room for the top coat. Insert sticks in gently. Pack the mixture firmly in the center to make sure the cake adheres to the stick.
If necessary, heat up remaining chocolate again until creamy and smooth. Add a dollop of melted chocolate and spread evenly to seal each cakesicle. A rubber spatula is the perfect tool to remove excess chocolate and level them off. Allow to harden in the refrigerator or freezer before popping them out of the mold.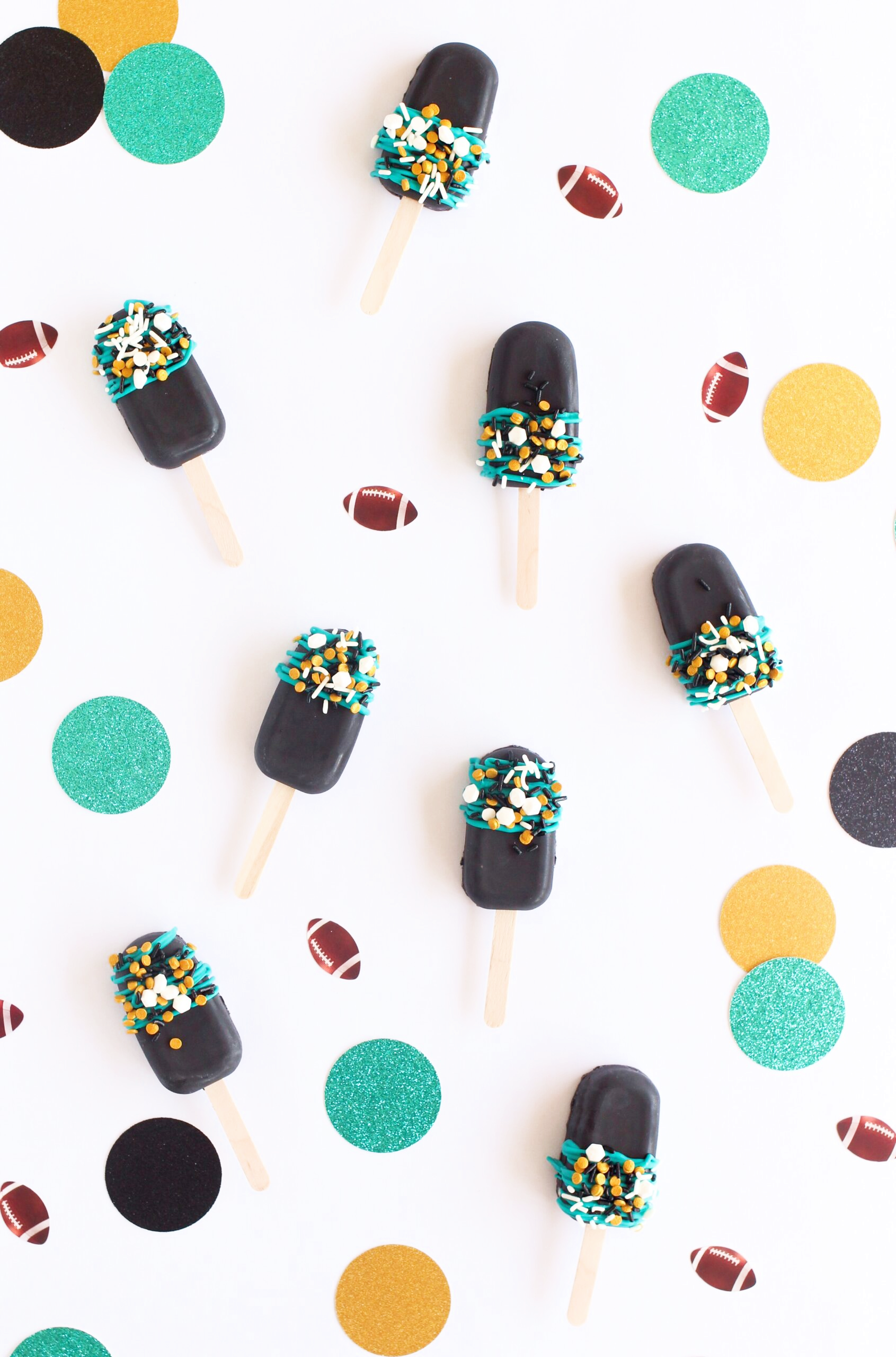 CAKESICLE DECORATING
Heat additional candy melts in a microwave safe bowl in 60 second intervals, repeating the same process used to form the outter cakesicle shell. Transfer chocolate to a piping bag with a thin tip or just use a small plastic bag and snip one of the ends off. Drizzle chocolate generously, creating patterns or designs as you go. Top off with sprinkles.
For a fun spin on things, create cakesicles for both teams playing! This battle of the treats will keep things interesting and encourage a little friendly competition.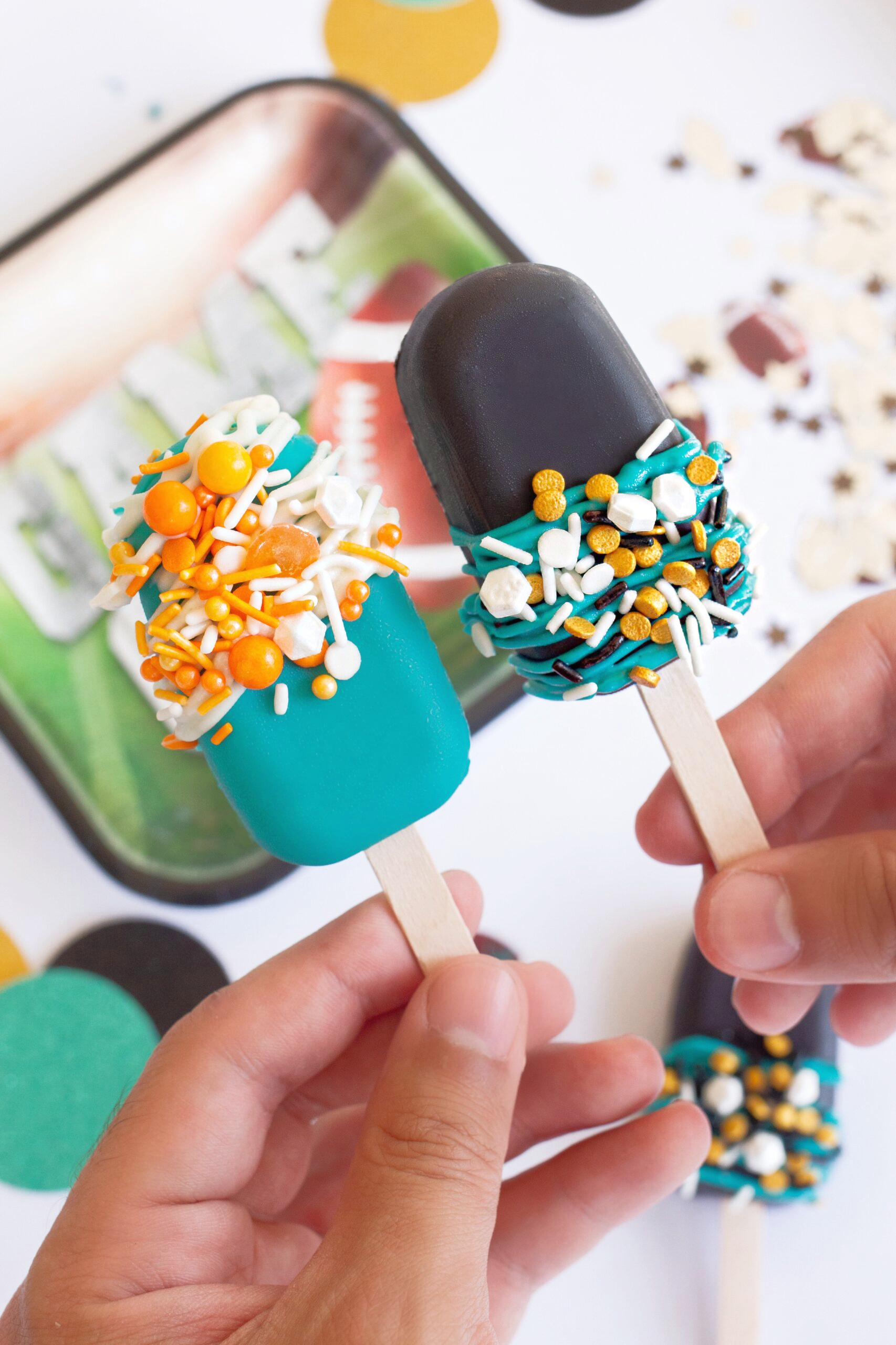 THE ULTIMATE TAILGATE TREAT
As you navigate how to celebrate you favorite team this season, just remember that cheering from the couch is just as fun as being on the sidelines! Social distancing doesn't have to put a damper on the excitement. Host a watch party with your closest buds, immediate family, or four-legged friends. From chicken wings and chips, to fresh fruit and veggie trays, Publix has everything one needs to kick-off the football season. In addition, Regency Centers is giving one lucky fan a $500 gift card to host the Ultimate Tailgate Takeout! Enter now through October 16, 2020.