Add a little FUN to your holiday feast with these No Bake Thanksgiving Turkey Cakes! They'll be the cutest treat on the kid's dessert table this year.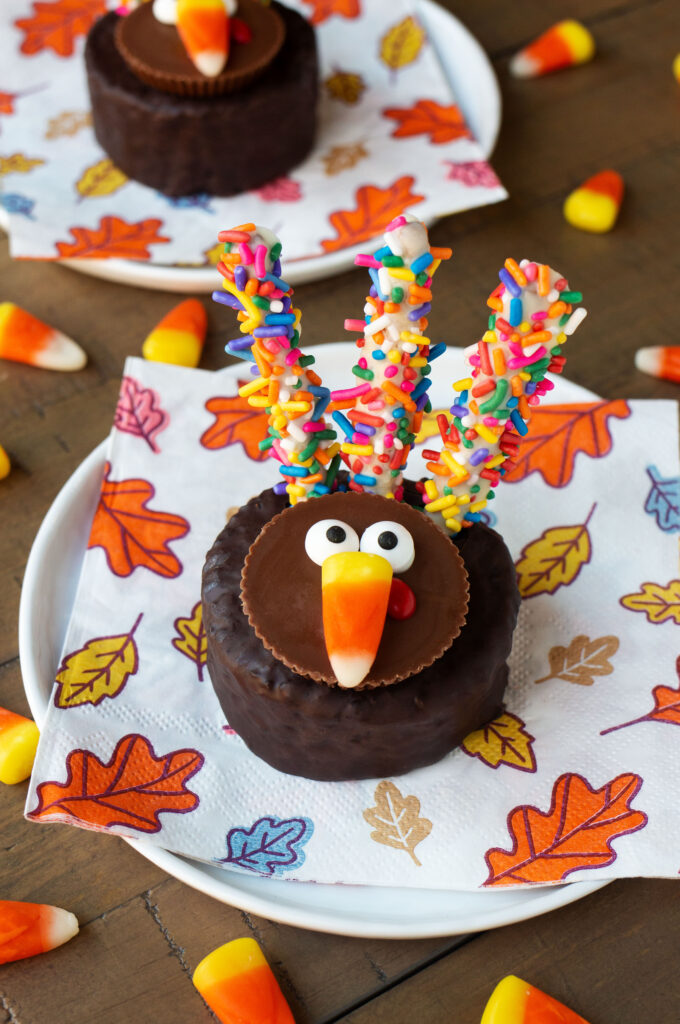 Gobble until you wobble friends! Thanksgiving is nearly here. I can practically smell that deliciously seasoned bird already. Get out your favorite pair of leggings and prepare for the feast that awaits. Soon it will be time to eat, drink, and wear those stretchy pants with pride. I'm super excited for the festivities to come because Turkey Day always includes a handful of my favorite things – food, family, friends, napping, and binge watching Christmas movies on Netflix. Who else lives for National Lampoon's Christmas Vacation? It only proves that a season full of chaos and shenanigans can lead to quite the magical holiday.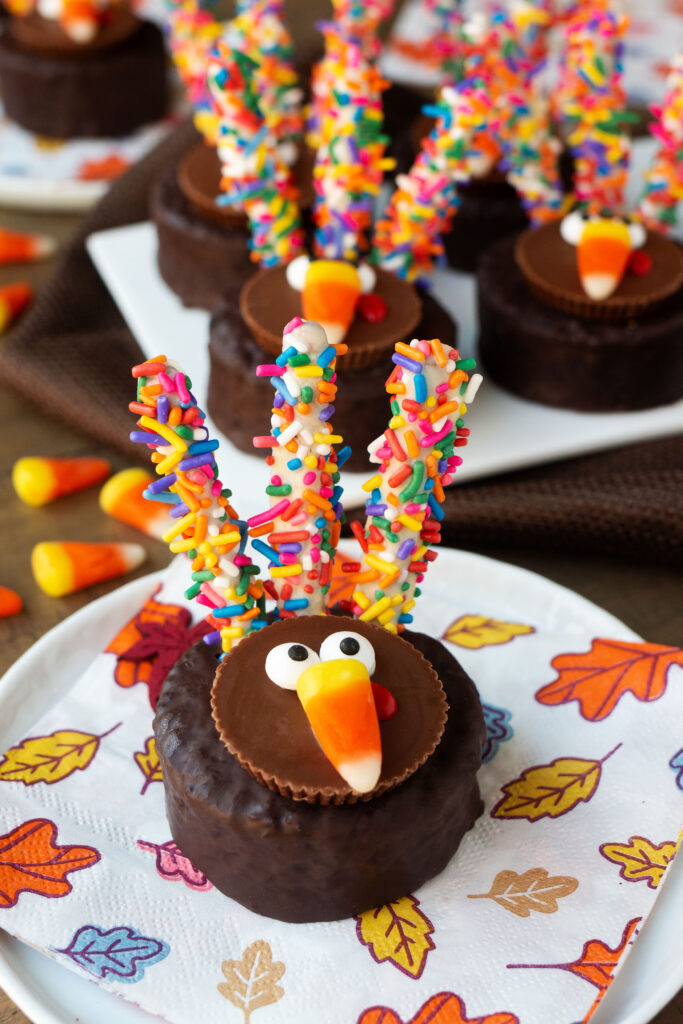 This year I decided to whip up something fun for the whole family to enjoy after our big dinner. These No-Bake Thanksgiving Turkey Cakes are adorable. The feathers are made from mini pretzel sticks dipped in chocolate and coated with colorful sprinkles! Without a doubt, the little turkeys in your life are sure to be delighted by this easy treat.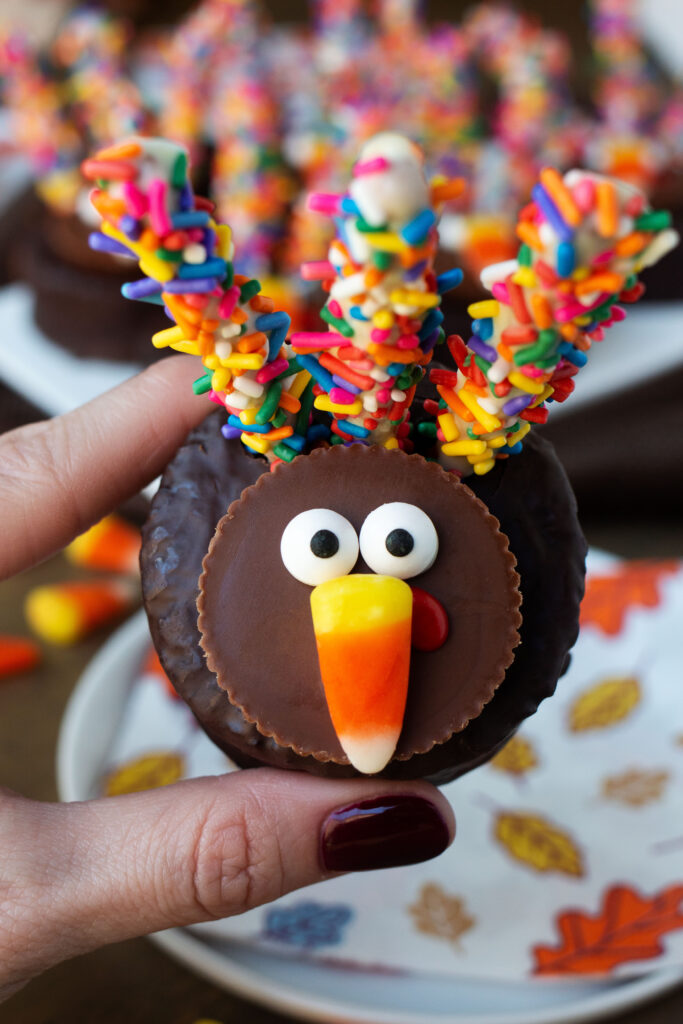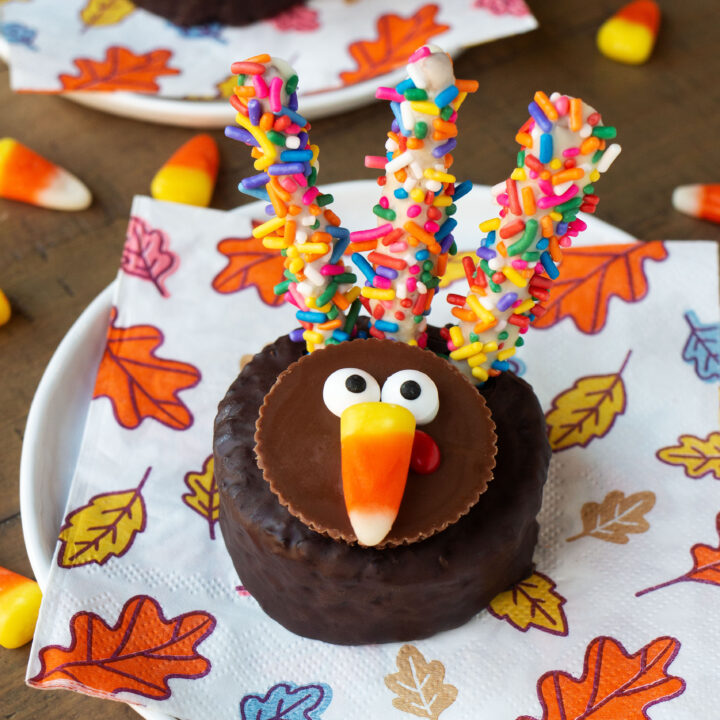 No Bake Thanksgiving Turkey Cakes With Pretzel Stick Feathers
Yield: 10 Mini Turkey Cakes

Prep Time: 20 minutes

Total Time: 20 minutes

Gobble until you wobble friends! These No-Bake Thanksgiving Turkey Cakes can be made within minutes and are a super fun way to celebrate the holiday.
Ingredients
1 box of Hostess Ding Dongs
10 Reese's Thins Peanut Butter Milk Chocolate Cups
Candy Corn
Candy eyeballs
Colorful sprinkles or jimmies
White chocolate
Mini pretzel sticks
Betty Crocker™ Decorating Cookie Icing in the color Red
Instructions
Line a baking sheet with a piece of wax paper or Silpat non-stick silicone mat.
Melt down the white chocolate in a microwave safe bowl. Heat 1/2 cup of morsels or wafers in 60 second increments, stopping to stir in between to ensure that it does not burn. Quickly dip pretzels into chocolate until 2/3 of stick is evenly coated. Allow the excess to run off.
Place dipped pretzels on waxed paper lined baking sheet. Sprinkle with colorful jimmies. Place in the refrigerator for 10-15 minutes to cool and harden.
Unwrap individually wrapped Ding Dongs. Carefully insert three decorated pretzel sticks into the back of the cake so they are fanning out to mimic feathers.
Use a small dab of melted chocolate from earlier to attach the peanut butter cup in the center, two edible eyes on top, and the candy corn beak.
Lastly, use the red cookie icing to pipe a small waddle next to the candy corn beak.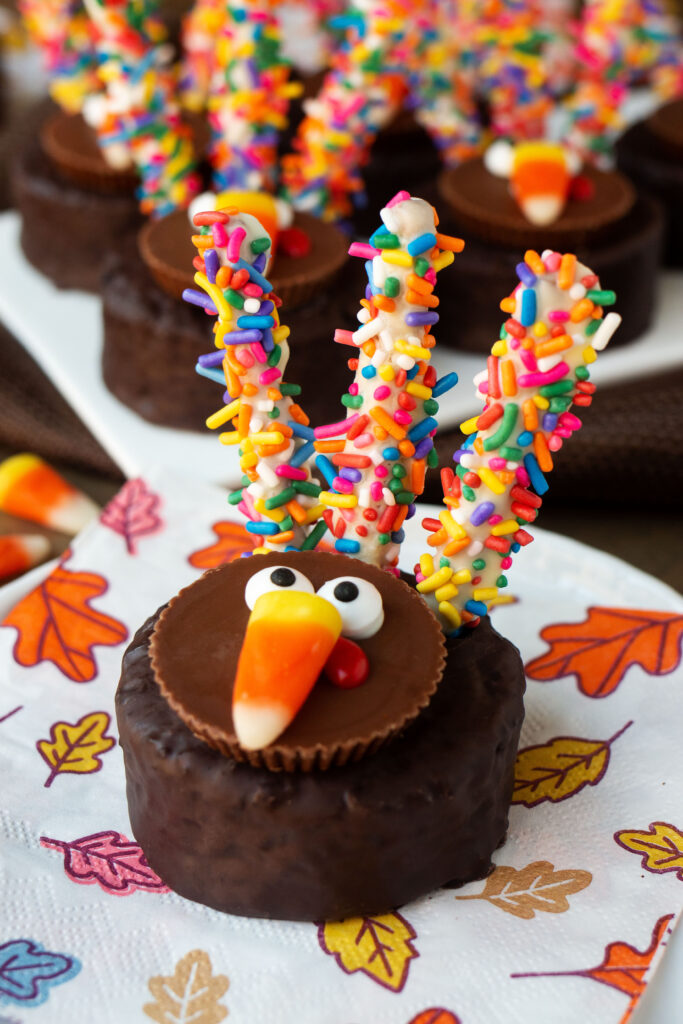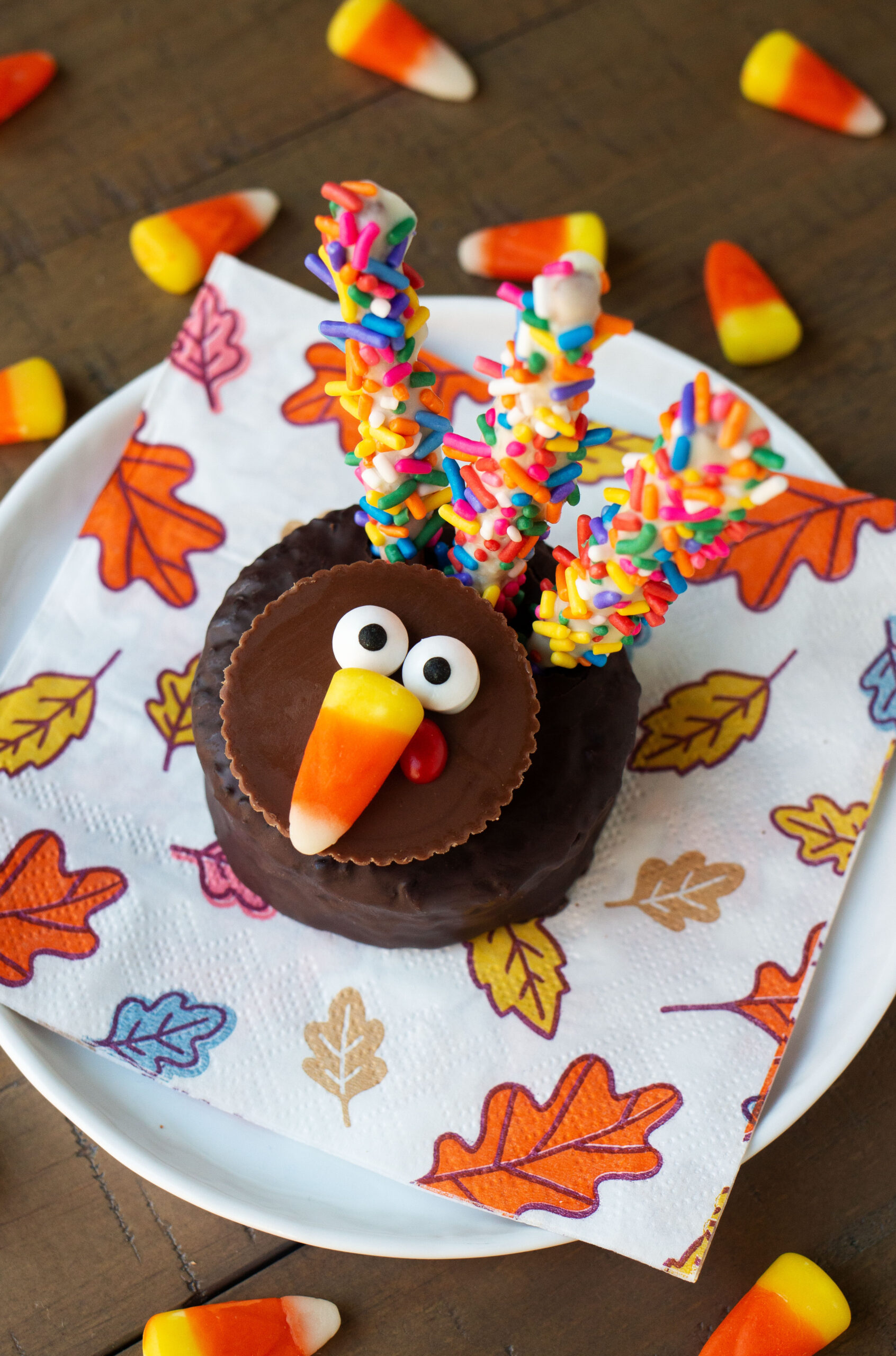 Looking for even more adorable Thanksgiving treats to jazz up the dessert table? Check out these Fruity Feathered Turkey Cookies, too!