These clever treats will give everyone something extra to be thankful for this year!
Thanksgiving is a short two weeks away so it's time to focus on all things turkey and since my mom has the actual bird under control, I decided to make fun treats for the kiddos to enjoy. This year our traditional Thanksgiving dinner will include family and friends. I'm so excited that one of my closest friends and her family will be joining us. It makes the day even more exciting because we've been attached at the hip for the last year now and our daughters are best of friends as well. I can't wait to see their faces light up when they find these adorable Fruity Feathered Turkey Cookies sitting on their plates. They're the perfect addition to the dessert table and also make for a cute place setting. I just love the colorful feathers made out of fruit roll-ups.
Materials:
Pillsbury Simply…® Peanut Butter Cookies

REESE'S Peanut Butter Cups

Multicolored Fruit Roll-Ups

Edible candy googly eyes

Small beak shaped candies ( Candy Corn, Mike & Ike, Jellybean etc. )

Vanilla frosting

sharp scissors
Directions:
1. Following the directions on the back of the Pillsbury Simply…® Peanut Butter Cookies package, line up pre-packaged cookie dough pieces on a baking sheet. Bake for 15-17 minutes, remove, and allow to cool before assembly.

2. Unwrap multiple packs of fruit rolls ups. Use a pair of sharp scissors to cut out the turkey's feathers. Sharp scissors are necessary because the fruit roll up is very pliable and it can be difficult to work with once it's been warmed up in your fingers. The faster you cut those feathers, the better! If the fruit roll up becomes too soft or floppy, toss them in the refrigerator for 7–8 minutes.

3. Fan out 4-5 fruity feathers onto the cookies. The stickiness of the fruit roll-up itself will make them adhere to the surface. If not, step 4 will solve any loose-feather issues you may encounter.


4. Spread a small amount of frosting on the back of the Reese's peanut butter cups. Place the cups where the bottom of the feathers meet.


5. Attach eyeballs and beak with an additional dab of frosting. Gobble, gobble. You've got yourself a cute little turkey!

These Fruity Feathered Turkey Cookies have me so excited for Thanksgiving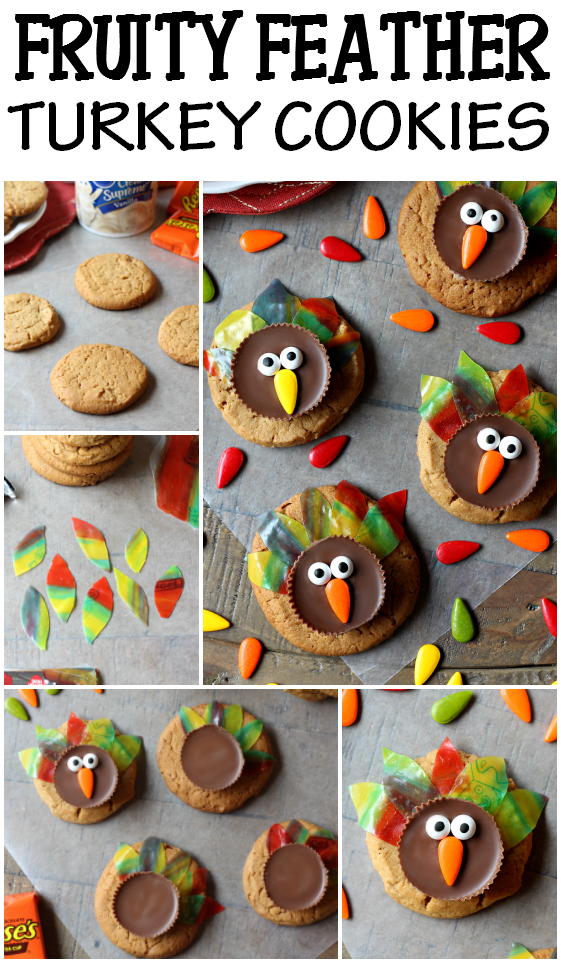 What's your favorite part of the holiday?

Save