This shop has been compensated by Collective Bias, Inc. and its advertiser. All opinions are mine alone. #CraftAmazing #CollectiveBias
Each year I try to make the holidays even more memorable and magical than the last. Christmas is my favorite time of year. I love spending time with family, decorating the tree, wrapping gifts, baking goodies, and admiring the lights strung throughout the neighborhood. But the best part of the holidays? Creating new traditions to share with my daughter. From exchanging mother/daughter ornaments to building a candy encrusted gingerbread house together, I am a firm believer that you can never have to many traditions to build upon. That's why we need one more festive addition to our holiday routine! We're making our own Advent calendar with glittery ornament pouches because it's one creative method to count down the days until Santa's arrival. I don't know why it took me so long to craft my own but I absolutely adore the concept of getting a special surprise each day in the month of December. It makes it even more exciting for Toodie and myself as we inch closer to the big day.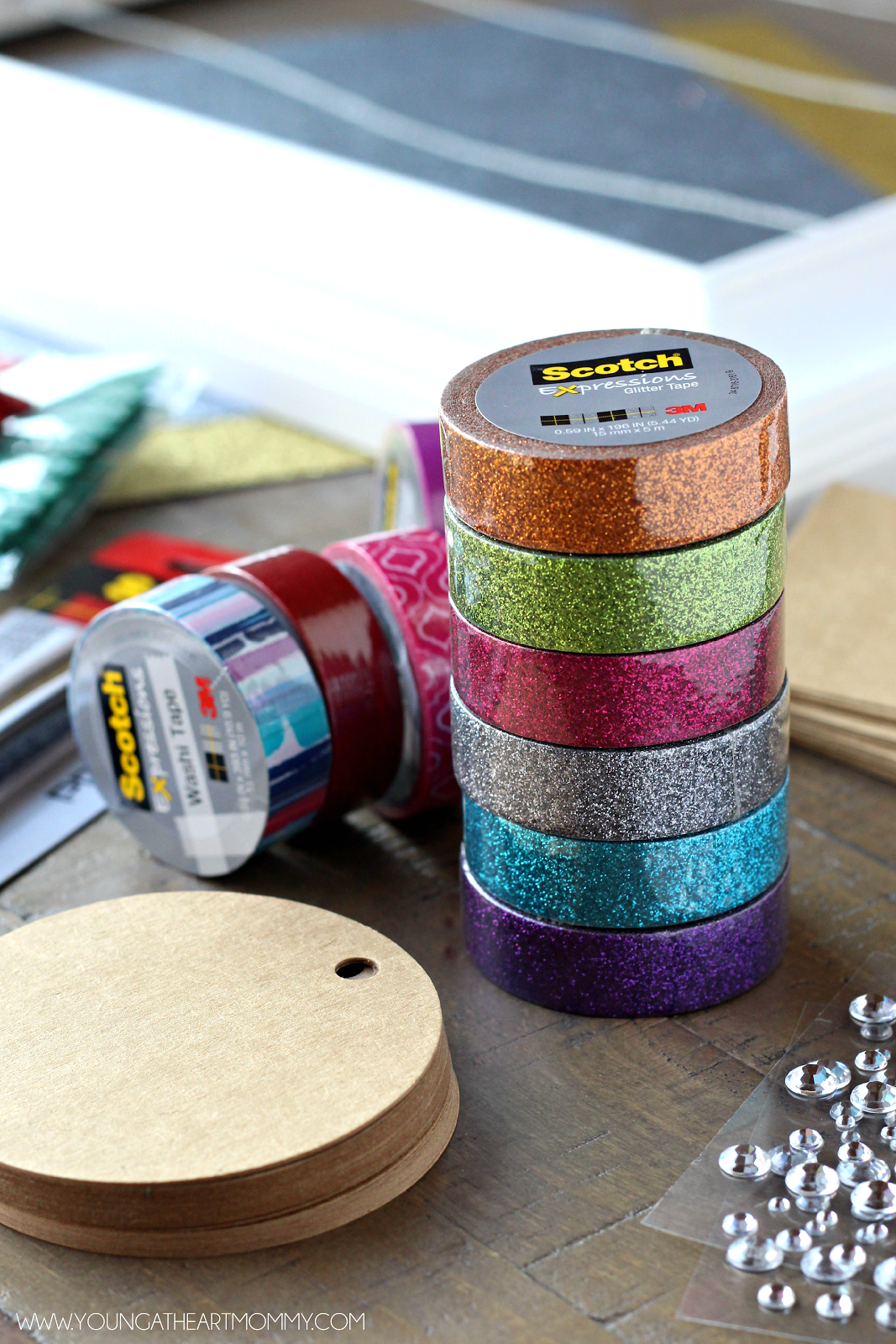 This year my traditional Christmas decor received an upgrade. I decided to keep the majority of the red and green inside the holiday bins while introducing something more modern. As a result, this Advent calendar turned out to be anything but conventional and is going to compliment my idea of a "Colorful Christmas" perfectly. The combination of bright blue, green, purple, pink, and orange hues has begun to grow on me. It's festive, fun, and cheerful. Add a little glitter in the mix and you have yourself a beautiful color palette to work with.

Using my new obsession, Scotch® Expressions Tapes, I gave the Advent calendar a burst of color it needed to blend in seamlessly with its surrounding decor. There were so many colors and patterns to choose from but I immediately gravitated towards the ones with glitter. Not surprising right? I even bought a few extra rolls because they're easy to work with and will be great for future projects. With a perfect combination of versatility, function & fun, Scotch® Expressions Tapes turn everyday projects into simply inspired creations.
To make your own countdown calendar you will need a large picture frame with horizontal wiring, sheets of clear rhinestones, several Scotch® Expressions Tapes, a Scotch® Create Utility Knife (keep an eye out for the new packaging!), gold card stock, paper pouches, small clothespins, and a glue gun to hold all this seasonal fun together. For the actual ornament itself you can cut out the 25 circles from card stock by hand or use a circle punch. I happened to find a pack of paper ornament cut-outs that were the ideal size for this project but they are not necessary. You can easily trace a circle onto the paper and cut them out.

To begin, layer the paper circles with different colors or patterns of washi tape. You can form a variety of designs but I chose to place each down in a horizontal striped pattern. Once the circle is entirely covered, flip it over so you can see the back of the excess tape and trim it away with the utility knife. This will allow you to get a close cut and maintain the round shape of the ornament.

Cut out the tops of the ornaments from gold or silver card stock. Attach to the back with a dab of hot glue. Add rhinestone gems to every other line for even more sparkle. If gems do not adhere to the tape, a little bit of glue will hold them in place.

Once your ornaments are bedazzled, glue them onto small paper bags or pouches. In the corner of each bag place a number. This will correspond with each day the bag is to be opened. Label all the way until Day 25, Christmas!
Inside each bag place small toys, candy, trinkets, stickers, or other goodies that your child will enjoy. For the last day you can even place Santa's key inside. Your child can leave this key outside to welcome Santa and give him a means of entry if you don't have a fireplace! Of course, this is not a real key to your home but rather a keepsake that you can find at many retailers around the holidays.

Before hanging your treat-filled bags, add an extra pop of color to the picture frame by gluing bright colored ornaments or decorations to the corners.
Attach the bags to the wiring by using small clothespins or clips and your Advent calendar is ready for countdown!
Looking for even more holiday crafting inspiration? Be sure to check out these additional amazing craft ideas with Scotch® Brand products. You can find a variety of products from the Scotch® Expressions and Scotch® Create lines in the scrapbook section at your local Walmart. With so many colors and patterns to choose from, now is the time to stock up for holiday projects! I know that I will be putting my collection to good use in the month of December and the coming new year. Their versatility makes them a craft closet essential. From masking tape to spray adhesives and everything in between. No matter the task, there's a Scotch® Brand product to match.
How do you envision these products helping you with your craft ideas?