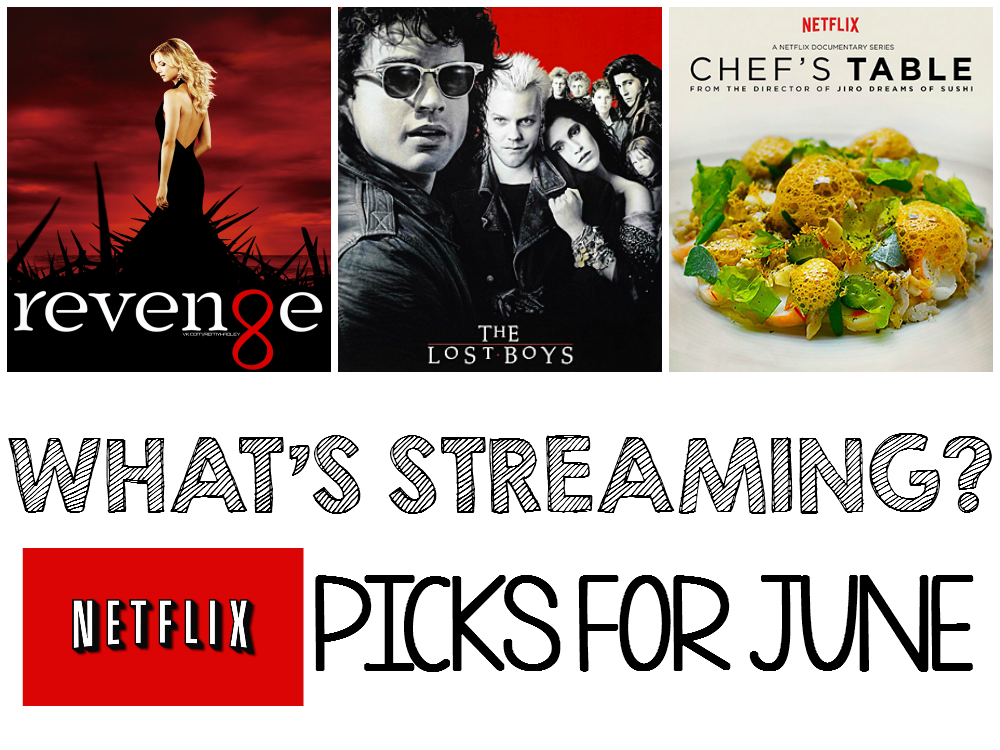 Last year I intended on starting my "What's Streaming" series to share my favorite monthly picks on Netflix. Life got a little hectic but now I am back and ready to tell you about what I can't stop watching and why. If you read my previous post regarding my Netflix addiction than you probably already know how much I adore the freedom to stream at my leisure. So, let's dive on it. Here is what I have been loving this month, new and old.

Side note- I am still waiting for someone to convince me to give Orange Is The New Black another chance. I only got through the first episode and didn't make it back. Please tell me this show gets better so I can understand what all you fanatics are talking about!
Chef's Table: Where are all my foodies? This one is just for you. ""Chef's Table"" offers viewers the opportunity to go inside the lives and kitchens of six of the world's most renowned, international culinary talents. Each of the six episodes features an acclaimed chef from different parts of the world. I found it fascinating. You not only get a look at each chef's personal style and vision but are also given the opportunity to learn more about what goes into creating their plates. As someone who loves to bake and cook (for the most part) I have really been enjoying this series.
Revenge: This show. So many emotions. This is the one and only series I ever developed and emotional attachment to. I know that may sound incredibly bizarre but it was hard not to. It took me months to even watch the first episode after it was recommended to me by a co-worker. Once I did, I couldn't stop watching. By that, I mean I stayed up until 8 am one morning to finish the first season. I kid you not. I promise you this is a show worth watching.
Revenge tells the story of Emily Thorne, a young woman who is walking on the path of vengeance and retribution. As the newest member of The Hamptons she has many secrets and also an agenda to deliver on revenge on those who wronged her family. Years before her family was torn apart by the rich socialites that turned their backs on her father. As a result he was framed for a horrific crime and sent to prison. If you ever wondered what it's like to live the rich and glamorous lifestyle than you may find this series extremely interesting. It's not all glam, fancy parties, and fast cars. The rich have their secrets and Emily is determined to make sure they pay for them.

The Lost Boys: a cult classic. To this day The Lost Boys remains one of my favorite movies in the horror genre and trust me, that is saying a lot. As a horror movie junkie I think I have seen just about every worthwhile main stream and indie film released. This flick follows two brothers that move with their mother to a small town in California. Soon after, they come in contact with a local gang of vampires led by Kiefer Sutherland and learn that little town holds a deep dark secret. It's not your new-age vampire movie so don't expect Edward Cullen to pop out of the bushes with his glittery complexion. Instead, you'll get your fair share of red eyes, sharp fangs, and grotesque transformations. Bonus? Corey Feldman AND Corey Haim are in this movie! I just became a 13 year old girl again..
Nightcrawler: Initially I was only interested in seeing this because of my love for Jake Gyllenhaal but that quickly changed once I started watching. This movie is centered around an amateur cameraman who is desperate for work and develops an in interest in L.A crime journalism. He joins the dangerous world of filming car crashes, fires, murder, and other shocking footage. He gets so enthralled in the hunt that he eventually becomes the star of his own story in the process. An interesting look into the mind of a sociopath to say the least.
So, what are you watching this month on Netflix?
Any shows that I must start watching immediately?
Orange Is The New Black: love or hate?