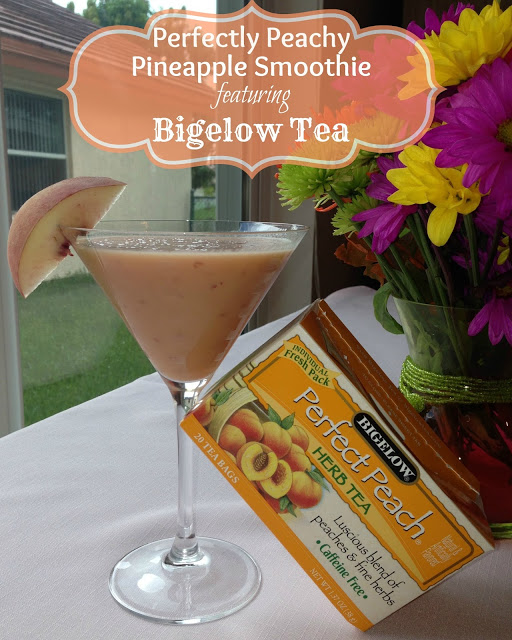 Before the year began I had a solid list of resolutions and changes that I vowed to stick to, no matter how tough the temptation. One of these being my love, addiction, and urge to drink the fizzy beverage known as soda. Does anyone really stick to their resolutions and promises for more than a few weeks, maybe even days? I know what you're thinking, it's almost impossible to keep the willpower going strong! For me it was easier said than done. While I never paid attention to the unhealthy affects of soda, I came to realize that there were other options that would quench my thirst without harming my body. This is why I started drinking tea, hot and cold. Whether it's fruit flavored or green, the brand that I prefer is Bigelow Tea.

My daughter and I both drink tea regularly to wind down, relax, and create fun recipes. Bigelow Tea isn't limited to being served in the traditional tea cup. In fact, my favorite use for it is in my morning smoothies. It's the perfect way to begin the day and the vast selection of flavors have inspired me to create delicious concoctions from scratch. Soda? What's that? There's a new sheriff in town and his name is Bigelow!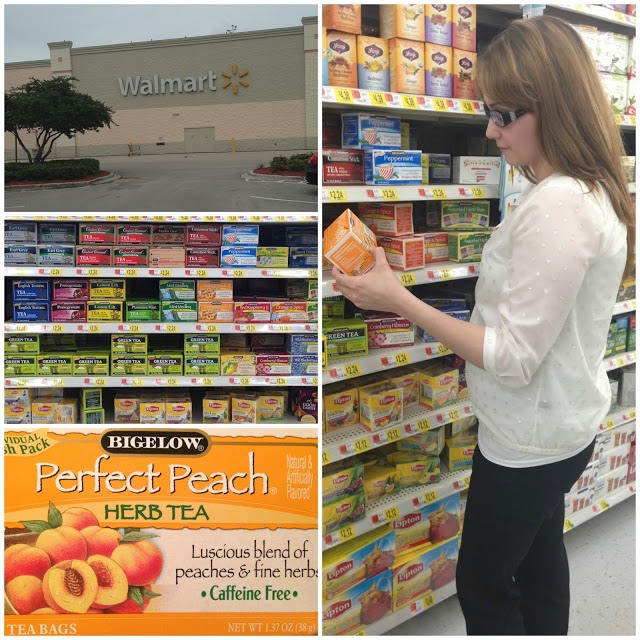 Now that we are settled in the new school year routine, I finally have the time to explore different options for breakfast. The early mornings can be hectic around here. It's hard enough to get my four year old out of bed on top of getting her to eat! I started to realize that we were all tired of the same old eggs, bacon, and toast routine. Using Bigelow Tea I discovered a fun way to get the nutrients in while offering a fresh option for breakfast time. I headed to Walmart to pick up everything I needed to create what I like to call, the "Perfectly Peachy Pineapple Smoothie."
While I knew I was going to need various ingredients such as yogurt and fresh fruit, I was most excited to explore the Bigelow Tea flavors offered. There were so many to choose from and I couldn't help but notice the one flavor I grew up with, Orange & Spice. It brought back all of those warm fuzzy memories of comfort when I was in bed with the seasonal sniffles. I saw several flavors I recognized but an even wider selection of those I had never heard of. I decided that Perfect Peach would be the "perfect" foundation to my homemade smoothie. One down, two more flavors to decide on! You can get a closer look at my full shopping trip by taking a peek at my Google + album.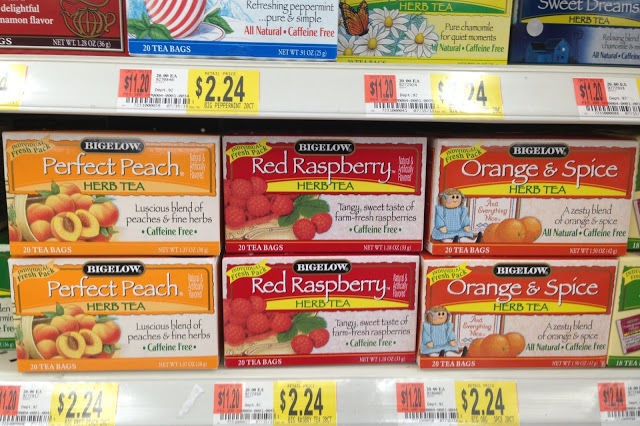 When looking through the brands and flavors there was a noticeable difference in the prices and quantities sold. At $2.24 a pack there wasn't much competition or need to pick up any other brand around. For under $3, the box of Bigelow Tea had 20 individual tea bags inside! It was just a coincidence that all three of the flavors I was shopping for were right next to one another. I decided to go with the classic Orange & Spice along with two flavors I never tried, Red Raspberry and Perfect Peach. In my eyes you can never have too much tea in the house this time of year.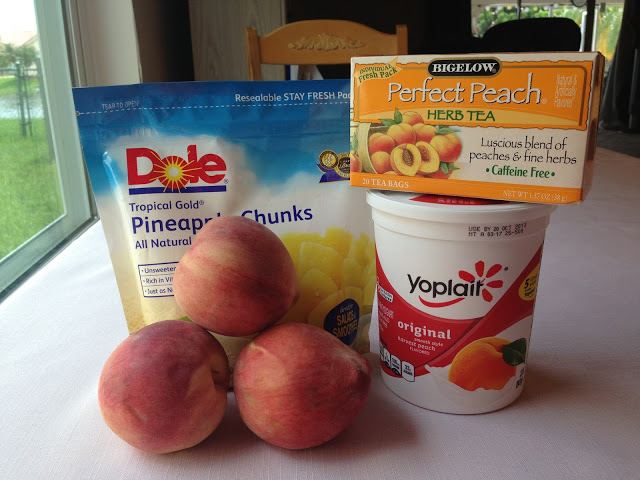 Perfectly Peachy Pineapple Smoothie
Ingredients:
5 Bigelow Perfect Peach tea bags

1 cup of peach yogurt

2 whole peaches chopped into smaller pieces

1 cup of frozen pineapple chunks
Preparation:

Brew your Perfect Peach tea by boiling 3/4 cup of water and adding in your 5 tea bags. Allow the tea to steep until the flavor is to your liking. You want the peach flavor to be

noticeable

but not so strong that it will overpower the other ingredients.
Chop up one cup of fresh peaches. Depending on the size of your peaches, you may need 2-3 to complete the recipe.
Place brewed tea in the refrigerator to cool. Prepare 1 cup of frozen pineapples, 1 cup of peach yogurt, and your chopped up peaches. Place all ingredients in the blender, adding your tea last.
Blend all ingredients together until fruit is broken down and the

consistency

is thick and creamy.
Top your glass with a peach wedge and enjoy!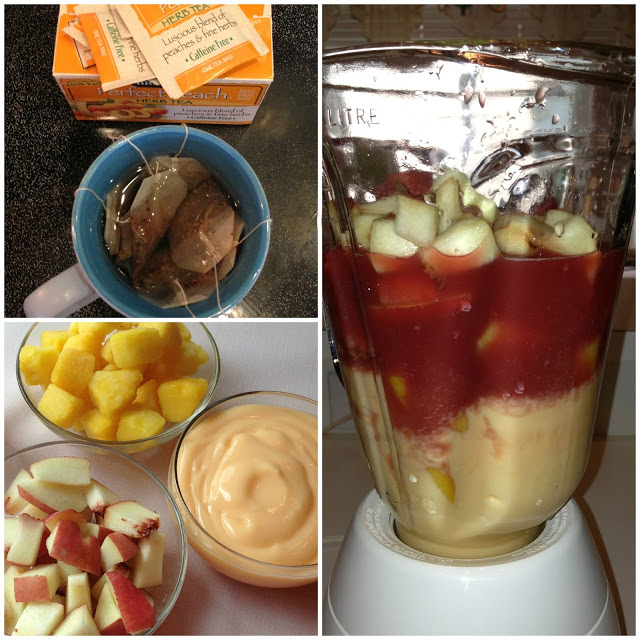 The Perfectly Peachy Pineapple Smoothie is a much healthier option compared to coffee, soda, and even processed fruit juice. With the variety of flavors available you can create your own recipes for any time of the day. This fruity concoction can even be enjoyed as a mid-day pick me up or a post workout treat. The best part is you don't have to worry about crashing hours later or losing energy. The fruit adds natural sweetness and the tea promotes digestive health. It's also rich in antioxidants which are very good for your body. Smoothies are just another way to enjoy your favorite freshly brewed tea. There are many other things you can incorporate tea into including popsicles, iced tea, and jello wigglers. The possibilities are endless so don't be afraid to introduce your favorite tea into everyday recipes your family loves!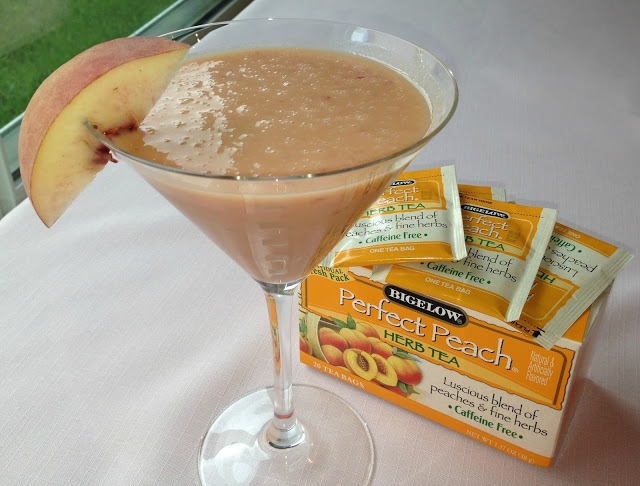 For more information, recipes, and coupons you can visit the official Bigelow Tea website here. Also, get social by following along on Twitter and liking their page on Facebook. Have your own creative way of enjoying Bigelow Tea? Please share below in the comments as I am always looking for new recipes to try!