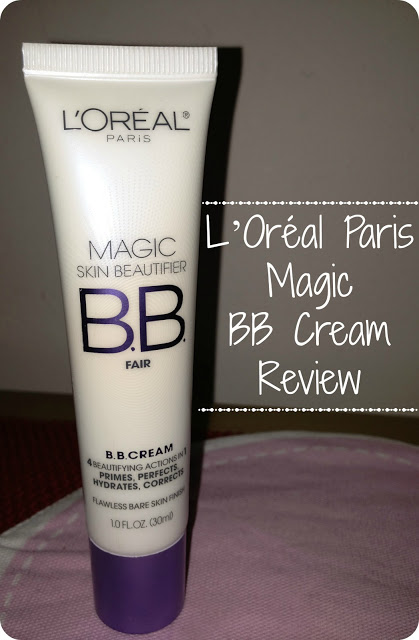 In the past year BB creams have quickly taken over the cosmetic world, giving beauty junkies a unique alternative to a flawless complexion. Originating in Asia, these beauty balms have made their mark and are now available in the United States. Many popular high end and drugstore brands have created their own formulas that are comparable to those sold overseas. Like many others, L'Oréal Paris has created the Magic Skin Beautifier BB Cream. It is currently available in four shades- Fair, Light, Medium, and Deep. This can be found in the cosmetic section of most major drugstores. Since BB creams are supposed to act as an "all in one" product, I was intrigued to see the results. This on in particular primes the skin for smooth texture, perfects any imperfections, hydrates for all day moisture, and corrects skin for an everyday healthy complexion. Who wouldn't want to skip a good three or four steps in their beauty routine for one product that does it all?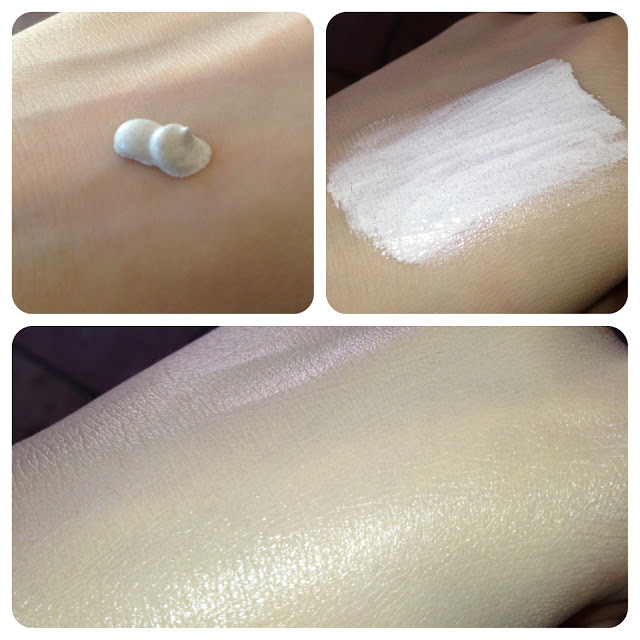 The L'Oréal Magic BB Cream formula comes out very white, almost opaque. The more you dispense, the whiter is appears on the skin before blended. Taking a closer look, you can see the grayish "beautifying beads" which are described to be "encapsulated pigments infused in an ultra light lotion with antioxidant Vitamins C & E." These small beads are barely noticeable when applying the product to the skin. They did not feel rough or harsh, and quickly dissolved as I rubbed it in. As it adjusted to the chemicals in my skin, the finish became soft and I couldn't even tell that I had makeup on. After using this product for a couple of weeks, I have discovered there are many things I like and do not like.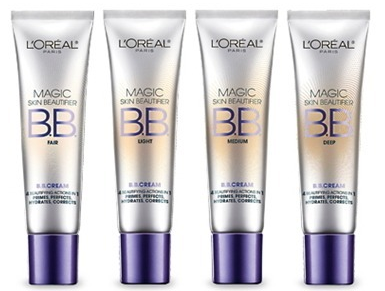 The Good:
There are a few things I really do like about this product. For one, the finish is matte. It doesn't leave your skin shiny, oily, or "dewy" looking. This is great for those hot days where the humidity slaps you right in the face as soon as you walk out of the door. You don't have to worry about the makeup sliding off of your face and becoming an oily mess by lunch time. For two, it is lightweight. This is a key factor that I look for when purchasing any type of face product. I don't like to feel like I am wearing a mask or my skin is dying for air! Even though it may not be as heavy as others, the coverage is impressive. A little bit goes a long way and covers redness, blemishes, and discoloration. For three, I didn't have to use concealer afterwards. My dark circles disappeared and my overall complexion was flawless. Last but not least, it blends easily. Since it is a self adjusting formula, you can blend the product out until it suites your skin tone. But if you apply too much, you will most likely have a hard time getting it to look natural. Remember, a little does go a long way and you don't want this settling into any fine lines or wrinkles if it can be avoided.

The Bad:

This product does NOT offer the traditional benefits that many BB creams are known to have. There is no SPF which is a huge let down. There is also no added moisture which would make it un-appealing to those with dry skin. After using it for about a week, I noticed I really had to slap on the moisturizer prior to applying. I don't even have dry skin and my face began to look flaky in certain areas after consistant use. It was almost like the BB cream was pulling the moisture from my skin! This wasn't an attractive look as you can imagine. I also observed that it does in fact oxidize. Prior to using, I had read several reviews in which people raved about how this product would not make you look like a giant oompa loompa after an hour. WRONG! I am as a fair as you can get, and after 30 minutes I looked a shade darker than my normal complexion. The only way to fix this was to dust on some translucent powder and blot the heck out of my face. This just seems like too much work to me and unfortunately I was already using their lightest shade.

Final Verdict:

I wouldn't jump to say that I completely hated this product. It's true, for the first week I loved it. It cut down my getting ready time and allowed me to skip the extra step of concealing. In the mornings I could moisturize, blend the BB cream in, and walk out the door with a fresh face. It did a nice job of substituting my full coverage foundation. Everything looked great until the formula turned orange and left my looking like I had attempted a horrible spray tan. As a drug store product, you can't beat the price and it also delivers what it promises. I know it is hard for fair girls like myself to find a BB cream that will satisfy all our needs. With this in mind I am not giving up on this product. I hope that by some chance they may expand their color choices, add SPF, and work out the kinks in the formula.



If you are interested in learning more about the L'Oreal Paris Magic Skin Beautifier BB Cream, you can visit their website. Also, follow along Facebook and Twitter for product updates and promotions.

Disclosure: I received a complimentary product from SheSpeaks/L'Oréal to facilitate this review.