UNREAL candy started with a simple idea: Junk food doesn't need to be full of junk! Most of us think, candy is just candy, it's all the same. Do we really have any idea what we are putting in our mouths or our bodies? Sure it tastes great, but what it is made of may not be that appealing. I had no idea until I did my UNREAL research and saw the facts in front of me.

UNREAL candy contains less sugar and is also made with more cacao, real caramel, peanuts, protein, and fiber. It also is free of many thing that are found in our everyday candy selection..
NO Corn Syrup

NO Partially Hydrogented Oils

NO Artificial Ingredients

NO GMO's

NO Preservatives

LOW Glycemic Index
UNREAL candy provides a healthier option for consumers and removes the "junk" from junk food. Their mission is to prove that candy can still be delicious without having all of the unhealthy elements added. There are five different types of candy available: candy coated chocolates with or without peanuts, peanut butter cups, and caramel & nougat bars with or without peanuts. When you open the candy for yourself, you will notice the concept of each is very similar alternative to popular brands on the market.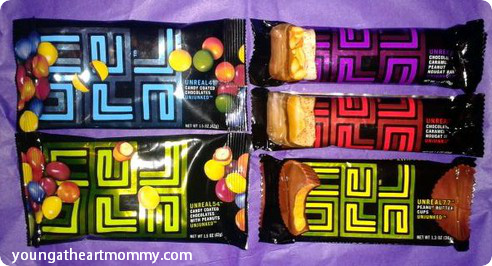 Since I was selected to participate in the Bzzagent UNREAL Candy campaign, I was provided with several coupons to try them for myself & to share with others. I headed to my local CVS to pick up one of each and begin my comparison. While UNREAL candy is new on the market, I have found that it is even less expensive than the name brands we are used to seeing. Not only are you purchasing candy that is free of yucky ingredients, but you are saving money doing so. It just goes to show that making a healthy change, even small one, doesn't have to hurt your wallet.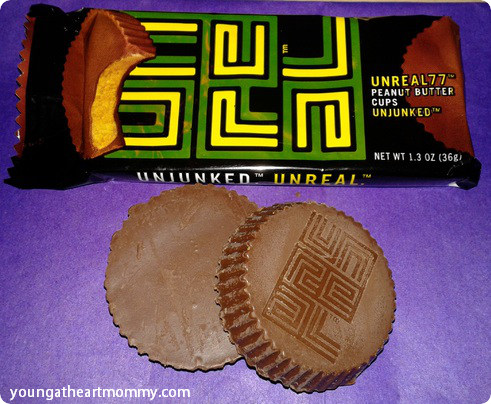 The peanut butter cups have the perfect amount of peanut butter and chocolate. Comparible to the popular Reese cups, you can definitely tell the peanut butter inside of the UNREAL candy was better quality. It was less salty, and more rich in flavor. There is even the UNREAL logo on the bottom!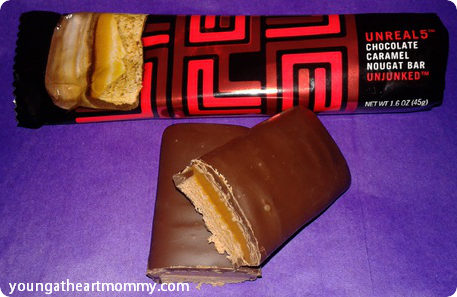 The caramel and nougat bar was my FAVORITE! It tasted exactly like a Milky Way but the caramel inside was even better. It has it's own unique flavor while still being creamy and smooth. This one was yummy. I wish I had another..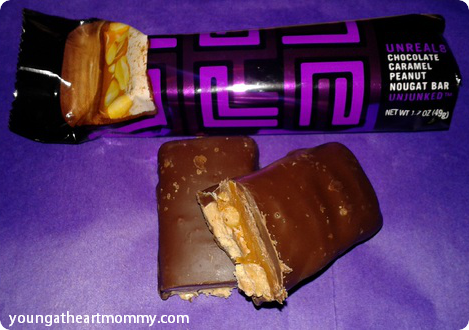 The next caramel and nougat bar contained peanuts. Remind you of a Snickers bar? It's pretty close and even better. It has twice the amount of peanuts making the candy more dense. Once again, the decadent caramel adds a chewy texture.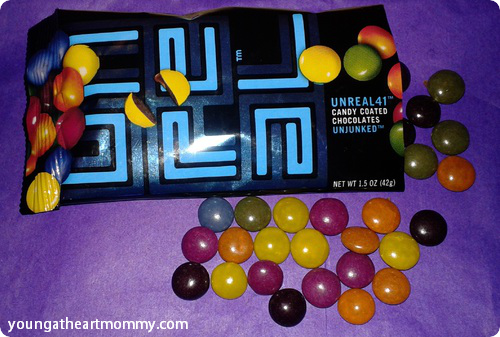 The candy coated chocolates are just like M&M's without the artificial coloring among other things. The colors are natural and bit more dull. These we're my second favorite because of the cocoa boost. I loved the natural milk chocolate flavor. The outside coating is crunchy and they melt in your mouth.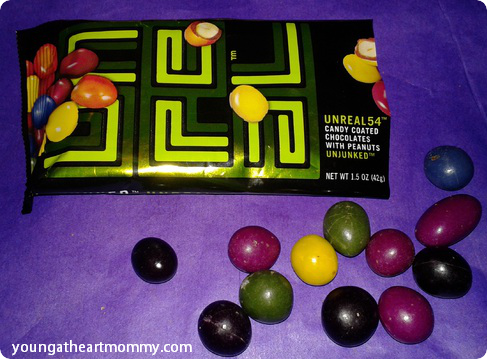 Much like the plain coated chocolates, these have a generous sized peanut inside.The peanut is surrounded by the creamy milk chocolate, with an extra crunch!
I enjoyed all the UNREAL candy selections and am happy that I found healthier alternatives to a few of my favorite candy bars. The packaging is eye catching and stands out next to the competing brands. With Halloween right around the corner, I would love to see mini versions of each to hand out!
Disclosure: I received the products above from Bzzagent for my consideration and to share my honest opinion and experience. I am under no obligation to post a positive review on them. I will not be compensated for this review. As always, opinion are my own!