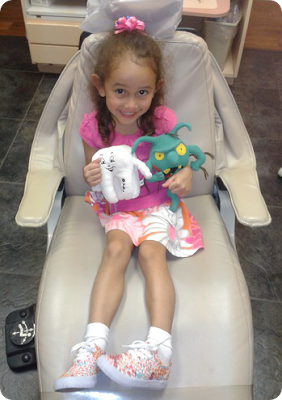 Today was Toodie's first day at the dentist. When I called to make her appointment they told me that I should bring her in to look around and meet the staff before any procedures were done. This was to ensure that she felt comfortable and understood what going to the dentist was all about. I can't blame them for this idea, I mean some adults are even terrified to go to the dentist! This being said, I took them up on the offer and we headed there after school today. Toodie was nervous and kept telling me she didn't "like this place." Once we got into our own room, she spent about 10 minutes looking at EVERYTHING and asking tons of questions. The dental assistant brought Toodie two soft plushies to play with while waiting. One was a clean happy tooth and the other was an angry sugar bug! These lightened the mood and I could tell that Toodie was becoming a little more relaxed about the whole "dentist" idea.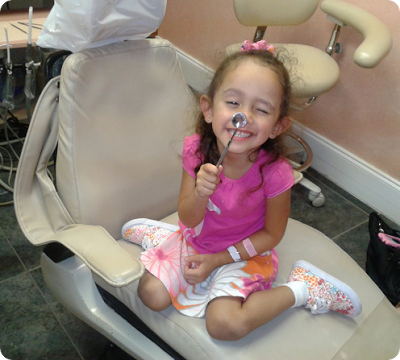 Toodie was VERY curious about all the tools laying around the room. When the dentist entered he handed her the tiny mirror and told her to look inside. She had to be a silly goon and use her squinty eyes.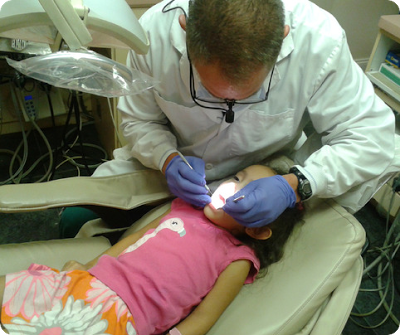 I wasn't too sure what to expect from our first visit. They told me it was primarily to get her comfortable with the dentist and her surroundings. If there is anything I did know, it was that she was going to LOVE him. He has been our family dentist for years and is one of the most friendly people I have ever met. After a few tickles, jokes, and silly gestures..Toodie plopped in the chair for her teeth count! Boy, did she warm up to him quickly. I thought this was going to be the hard part. Instead it was smooth and painless.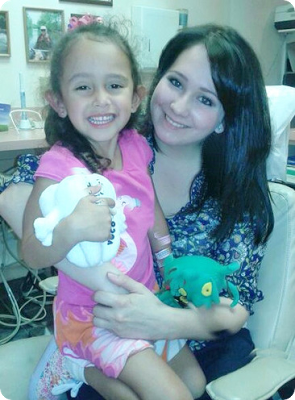 We chatted with the dentist for a bit and learned that Toodie's bite is a little off causing her jawline to be crooked. Being the paranoid, over-protective, worried Mom that I am I freaked out a little. I expected this because I can tell in photos that her smile is not even. But they re-assured me that this is very common and can be fixed when she turns 6. It was soon time to go, and that mean one thing – a trip to the treasure chest! The best part about going to the dentist is picking out a surprise. This was more of a treasure drawer but it was packed with a bunch of toys, stickers, pencils, and other trinkets. I think this is every kid's favorite part of visiting the dentist. Toodie went straight for the stickers. I knew these would be stuck on our tile floors hours later!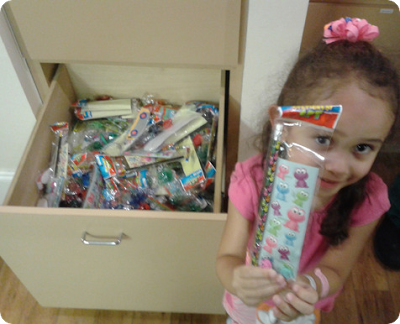 .
Leaving happy as can be, Toodie had a pleasant first trip to the dentist. In a month we will return for her first teeth cleaning. I was very happy that they suggested bringing her in for a "meet & great" prior to her actual appointment. This got all of her jitters and fears out. Now she sees that the dentist is a positive experience! I don't think I will be pulling any teeth to get her to go the next time 🙂