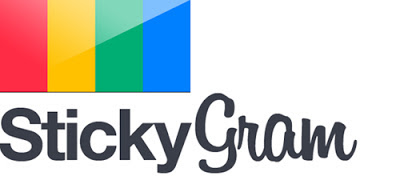 Unless you are a martian or living under a rock, you have probably heard of the ever so popular Instagram application. If you are the owner of an Apple or Android device then you may use the app frequently, observed a friend using it, or can't live without it. I admit, I fall into the last category. The category that includes those that can't go a day without uploading a photo or five! The day I found out that Apple decided to offer it in the Android marketplace, I eagerly waited until it was available for download. It was the one application that made me regret getting rid of my iPhone and purchasing an alternative. Now Instagram has spread its wings allowing non-Apple users to jump into the world of quick photo filtering and sharing. Instagram has become my primary social outlet to capture memories and moments. Even though it's quick and easy, there is one thing I always find myself saying- "I WISH I could print these photos!" Well now it's possible with a little assistance from a company known as StickyGram. Even better than photos, they allow you to turn your favorite Instagram snapshots into mini

magnets.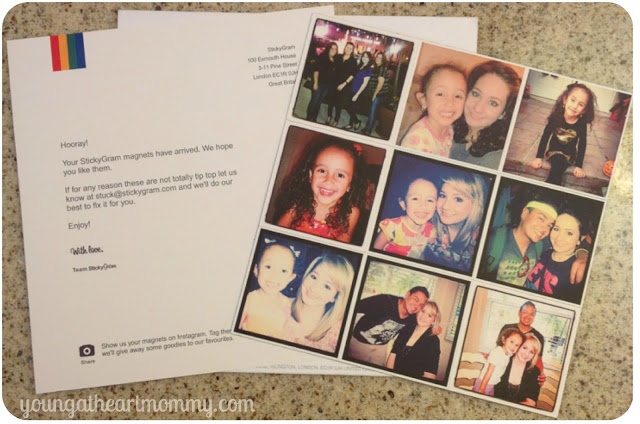 Using the StickyGram website to create your personalized magnets only takes a few short steps. All you need to begin is an active Instagram account full of fun photos, or at least 9 that you really love. Once your profile is connected you will have the option to select nine

of them

to be turned into magnents. You can create as many sheets with as many different shots as you would like. An in

dividual

sheet costs $14.99 with

free shipping worldwide.
Each StickyGram is 50mm x 50mm which is approximately the same size as they appear on your iPhone or Android mobile dev

ice

. The photo quality will

also

be identical to the original photo taken. Since each sheet is inspected by a StickyGram member, you don't have to worry about receiving any duds or p

oorly

processed images.

My pack of StickyGram magnets only took a few days to arrive. When we returned from our Disney vacation they were on the table waiting for me! The sheet came in a durable white envelope with each photo side by side in the shape of a giant square. They were easy to separate but also connected well enough that you could keep them together if you desired a larger sized magnet. When pulled apart, each magnet was flexible but still sturdy. There was no peeling at the edges, cracks in the photo paper, or tearing. The images were crisp and clear just like I imagined them to be. They looked exactly how they did on my phone! I am very pleased with my order and excited to have a new way to preserve my favorite digital images.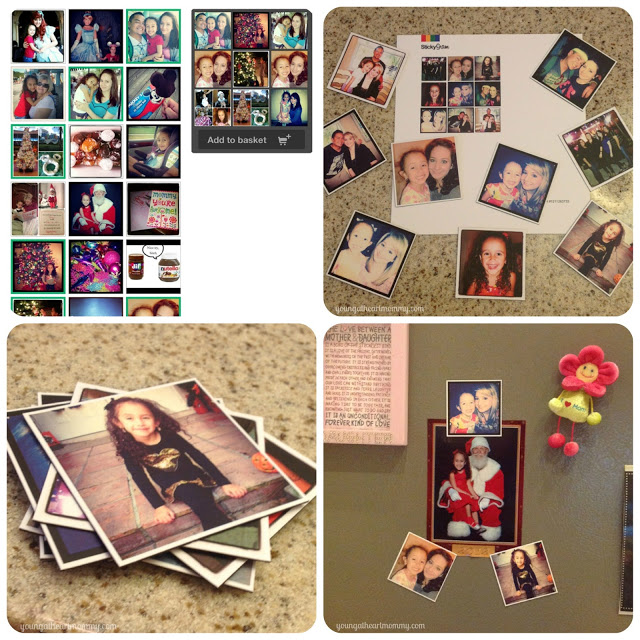 Counting down the days until Christmas, I am sure all of us are on the hunt for unique stocking stuffers this year. Stickygrams are adorable, miniature, and sure to put a smile on anyone's face! Feeling creative? You can even use the magnets as gift tags on holiday presents. By printing out a sheet with photos of friends and family, you can give them a little something special to go with their gift.
To learn more about StickyGram magnets check out their website
. For news and special offers you can also follow along on Twitter and like them on Facebook.
Disclosure: I received the product above for my consideration and to share my honest opinion and experience. I am under no obligation to post a positive review on them. I will not be compensated for this post. As always, opinion are my own!