Sometimes being a mom can keep me busy, and at times too busy to grab a normal meal. Recently I have turned to eating healthy snacks that contain at least protein and fruit so I have energy even on the go. One of my favorite things to munch on and keep in my purse is the ever-so famous AND yummy Larabar. Larabar products are delicious,satisfying, and most importantly CLEAN!
Larabar believes that the foundation of a sound mind, body and spirit is derived from what you eat. There is no better support system than an ingredient in it's natural state. Their bars are not only made with fruits, nuts, and spices but they are also free of any unwanted additives, food colorings, or preservatives. While some Larabars contain 5 ingredients, you will notice others will only contain a simple 2. No added sugar, just natural sweetness from the whole ingredients they are made from.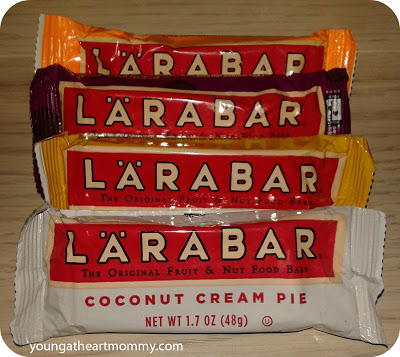 There are SO many flavors of Larabars to choose from. When asked what kind I would like to sample, I knew immediately I had to try the Coconut Cream pie! When it comes to coconut I love anything and everything that contains even a hint. That being said, this was the first one I tried. I really really liked the flavor of the bar along with the texture. I found it to be dense and filling. The coconut was not too over powering either. I think this is going to be my favorite..actually I know so!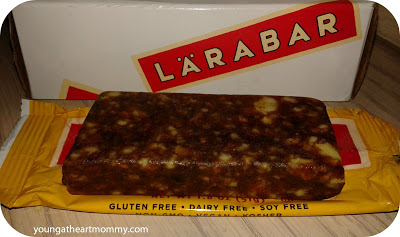 Larabar also sent me three other flavors- Banana Nut Bread, Chocolate Chip Cherry Torte, and Fruit & Nut. The Chocolate Chip Cherry Torte was immediately snatched by Toodie who consumed it within minutes of opening. I think she thought it was a treat because she kept telling me she loved the chocolate bar! If a three year old will eat these it just goes to show how good they really do taste. The last sample they sent was Fruit & Nut which I have conveniently stashed in my purse for running errands and a healthy snack for the movies.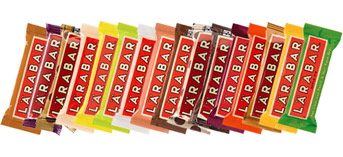 If you would like the chance to win a variety of delicious Larabars then enter through the rafflecopter below!
Disclosure: I received this product from LARABAR for my consideration and to share my honest opinion and experience. I am under no obligation to post a positive review on them. I will not be compensated for this review. As always, opinion are my own!