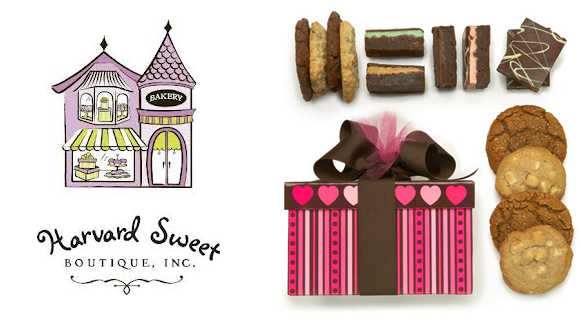 I have a weakness for sweets and gourmet treats! When it comes to gift giving and treating myself, I can't think of anything more indulging than an assortment of handmade goodies. When asked to review the Harvard Sweet Boutique I couldn't wait to receive my package and get to sampling. Not only did everything taste delicious, but my cravings were satisfied! Started in 2007 by Susan George, the Harvard Sweet Boutique is responsible for creating treats from scratch and fresh ingredients. Each product is handmade and contains natural ingrediants including high quality flour, cocoa butter, pure vanilla extract, and grade A butter.
The Harvard Sweet Boutique has done a fabulous job of turning your typical sweet gift into a whimsical, unique, and memorable experience. We all enjoy receiving flowers, teddy bears, and gift boxes of goodies. But isn't it exciting when something different arrives at our doorstep? The thing that I love the most about Harvard Sweet Boutique is their adorable packaging. Each order comes in a quirky gift box with a bright colored bow. Every box has a different pattern and set of vibrant colors. This makes the whole gift process even more fun! You can also choose with box you would like at the checkout process. This ensures dad or your husband won't end up with a hot pink box and polka dot bow. In the picture below you can see many of the different options they offer. Picking out the packaging is just as exciting as what is inside! Many other sweet boutiques and online retailers don't offer this option. I love that you have that extra say in personalizing your gift even further than just a card. Plus the gift box is so nice it can be saved and reused for other occasions.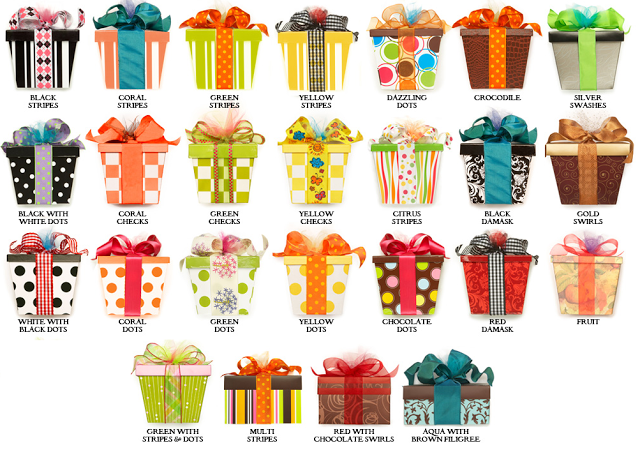 Now let's get into the good stuff! Harvard Sweet Boutique has a variety of gourmet brownies, cookies, bars, and toffee. They even have choices within their low carbohydrate and gluten free section. There is something for everyone. Build a gift for your boss, create a care package for your child in college, or just send a surprise to a friend. You name it, they offer it! After tasting these treats you may end up sending on to yourself, just because. No matter what the occasion is you can choose between the different treats, levels of pricing, and flavors within the products. There are goodies with oatmeal, coconut, fruit, caramel, nuts, chocolate, and toffee. Talk about accommodating! This is a sweet tooth's paradise. My favorite treat ended up being the Buttercrunch cookies. They were chewy and packed with chunks of toffee. I have never tasted anything like them. The creaminess and buttery flavor made them very unique and addicting!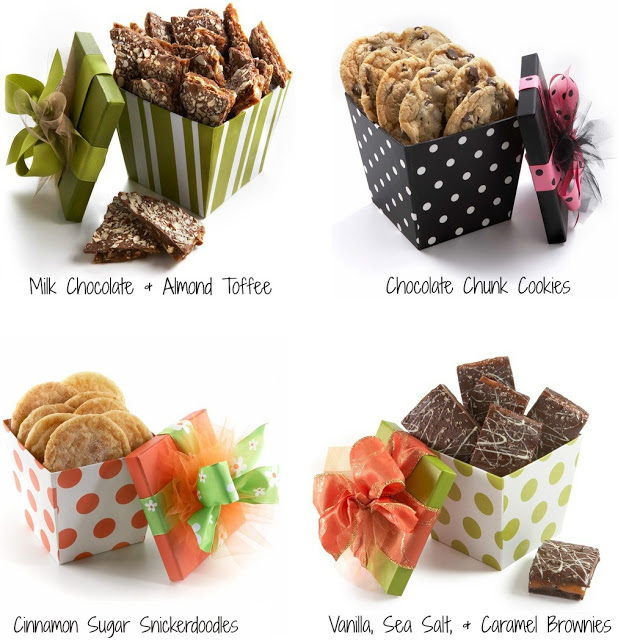 Whether you are giving a gift for a special occasion or just treating yourself, Harvard Sweet Boutique has a lot to offer. I am looking forward to using them for the holidays and the many birthdays I have marked on my calendar. If you are interested in learning more about the Harvard Sweet Boutique be sure to stop by their website! Also, connect with them on Facebook and Twitter.

A special thanks to the Harvard Sweet Boutique for providing me with as assortment of gourmet treats to try!
Disclosure: I was provided with my own sweet treats from Harvard Sweet Boutique to facilitate this review. All opinions are my own and I will not be compensated for this post.