Cool down this summer with a heavenly slice of Reese's Ice Cream Cake topped with the CUTEST peanut butter flowers. This dreamy dessert is just what you need to satisfy your sweet tooth during National Ice Cream Month in July. It combines creamy chocolate ice cream and layers of decadent Reese's peanut butter with Reese's Peanut Butter Cups throughout. I dare you to name a better duo! This conversation is sponsored by I love Ice Cream Cakes. All opinions are my own.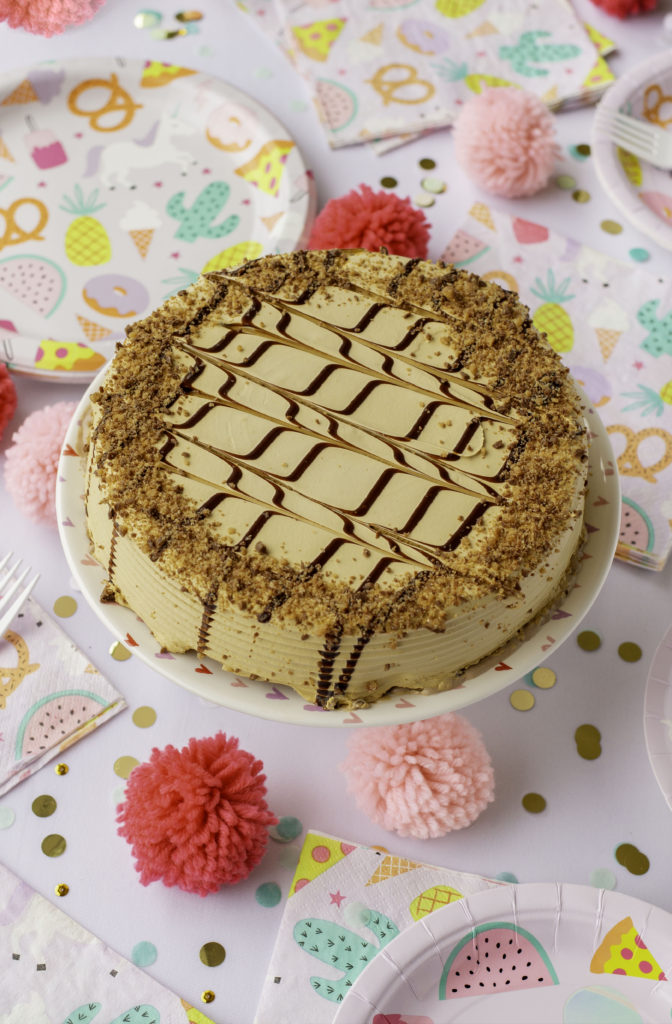 School's out and the long days of sunshine are upon us. Summer is an exciting time of year, especially for children who won't miss homework and being dragged out the bed during the wee hours of the morning. Parents should be celebrating too! We finally get to hit the pause button on packing lunches and pretending to know how to do 4th grade Math without using Google. Hallelujah! Here in Florida we're always looking for new ways to keep the break fun and beat the heat.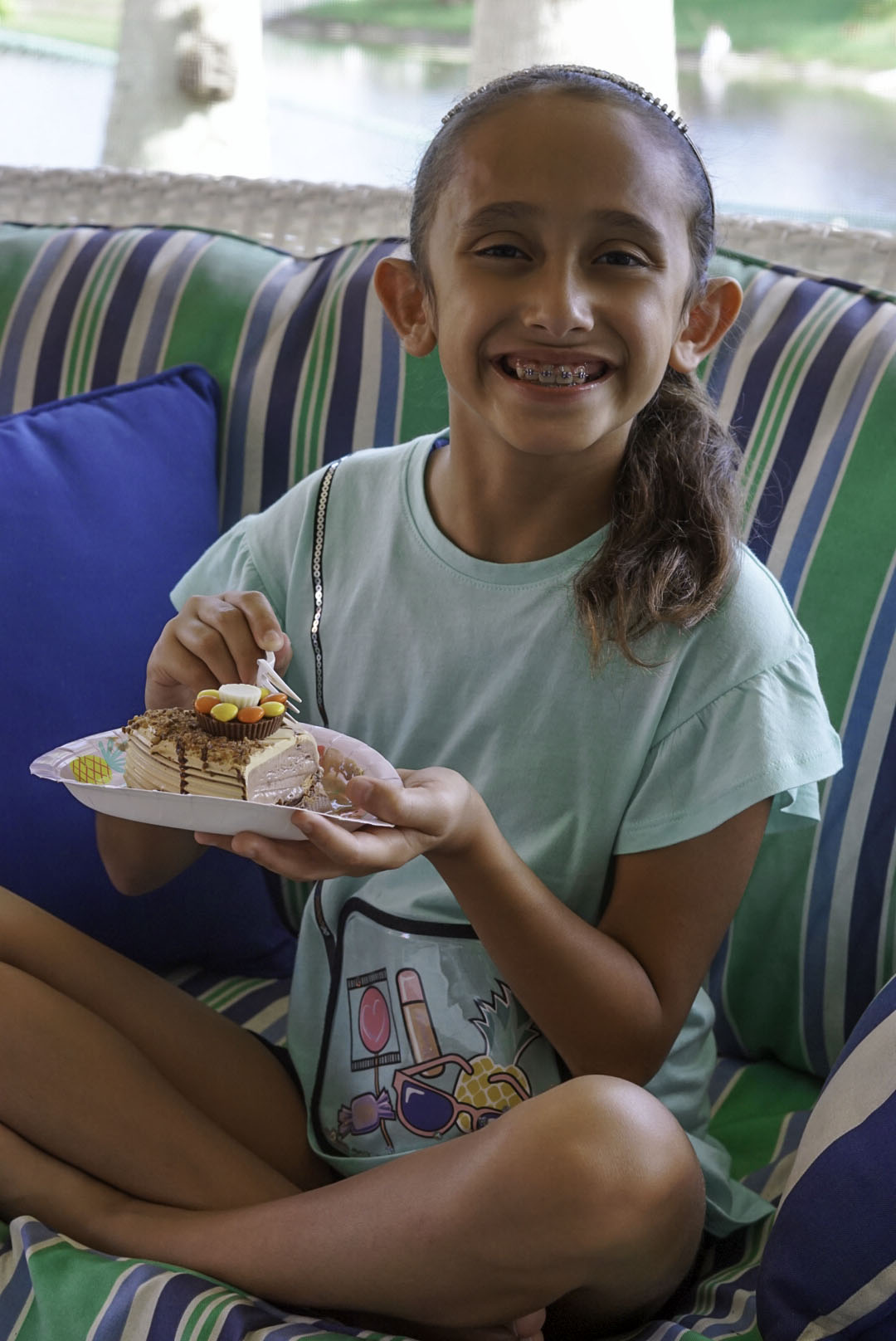 During the week Toodie is busy at camp, embarking on adventures with her "squad" which leaves her completely exhausted by the afternoon when she returns home. Although, I'm NOT complaining one bit. I on the other hand don't have an abundance of free time for the much needed relaxation I crave! If it were up to me, I'd be basted with tanning oil, marinating by the pool until I resembled a crisp potato chip. A mom can dream. Regardless, I always find a way to celebrate summer. It just so happens that National Ice Cream Month falls smack in the middle of it so there is no excuse not to SCREAM FOR ICE CREAM…CAKE!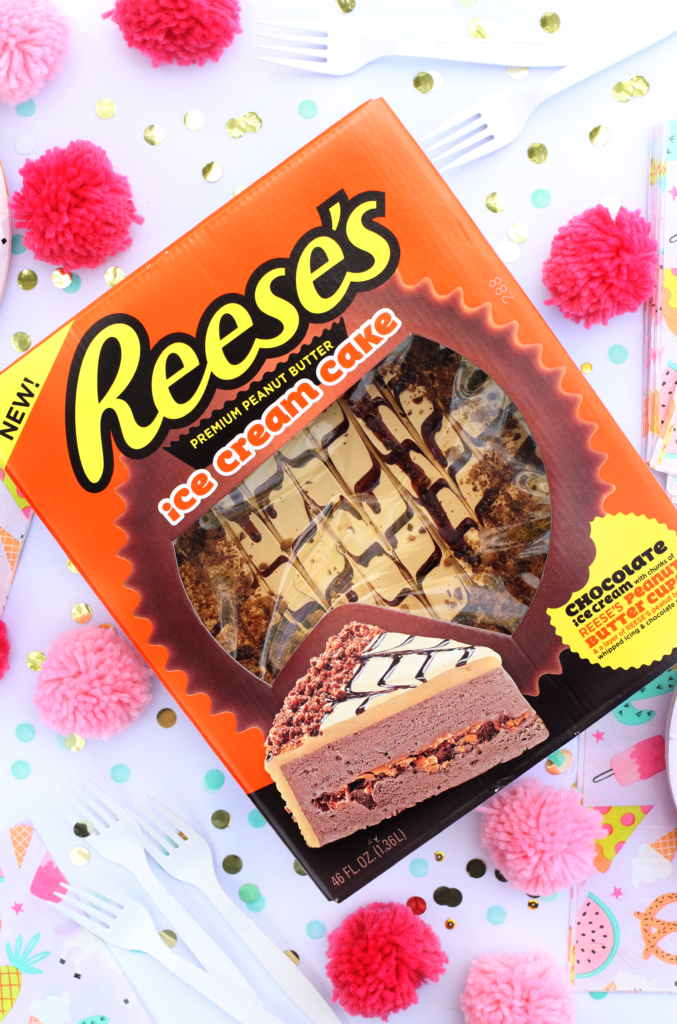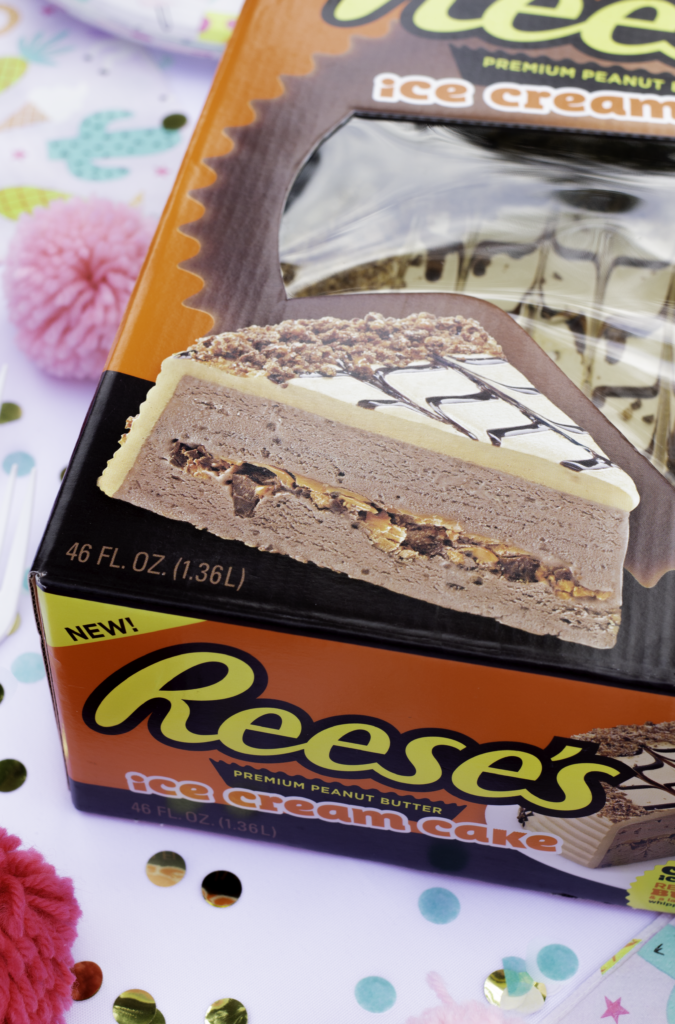 You know what the BEST part about ice cream cake is besides it being creamy, cold, and delicious all year round? No oven is required to prepare this sweet treat. With summer in session, the last thing I want to be doing is baking or prepping desserts. It's way too hot for that!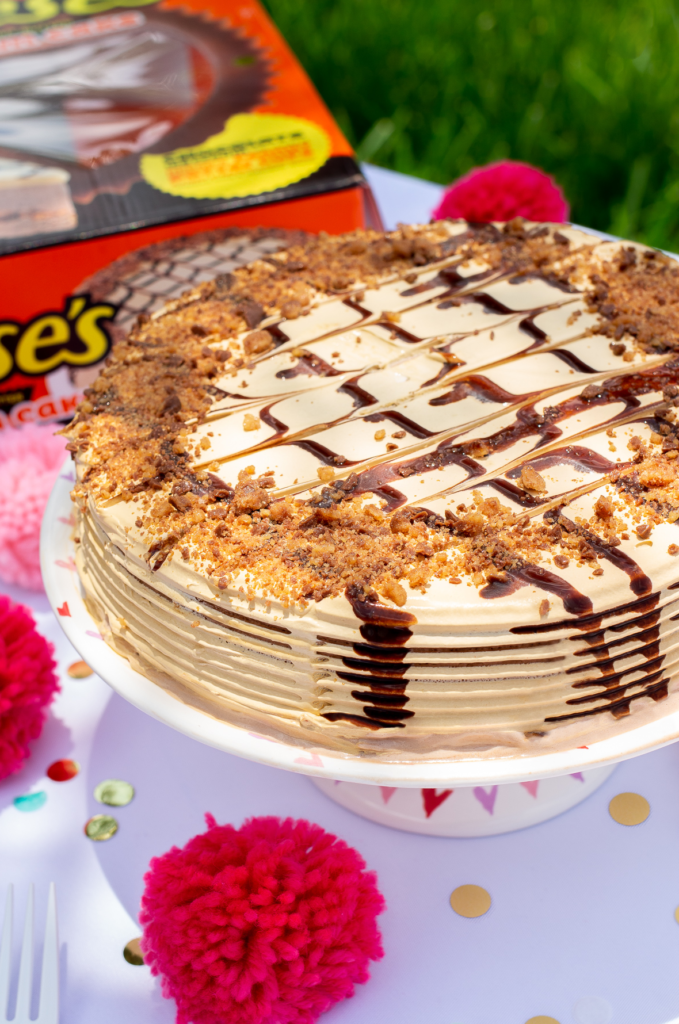 While strolling through Publix during my routine grocery shopping, I spotted the NEW Reese's Ice Cream Cake in the freezer case in the bakery dept. It combines two of my favorite things – Peanut Butter and Chocolate! Who doesn't love these two paired together? It's a winning combo that the entire family loves.
It was also the inspiration for my Reese's Peanut Butter Cup Flowers which give this dessert a sweet summertime feel. They're super easy to make! All you need is a package of classic Reese's Peanut Butter Cups, Reese's Pieces Candy, and Reese's Mini Peanut Butter Cups in White Chocolate. I used melted chocolate morsels to adhere the candy flower petals and mini peanut butter cup in the center. Once assembled, pop them in the fridge for a good 15 minutes and decorate your ice cream cake for extra yummy-ness!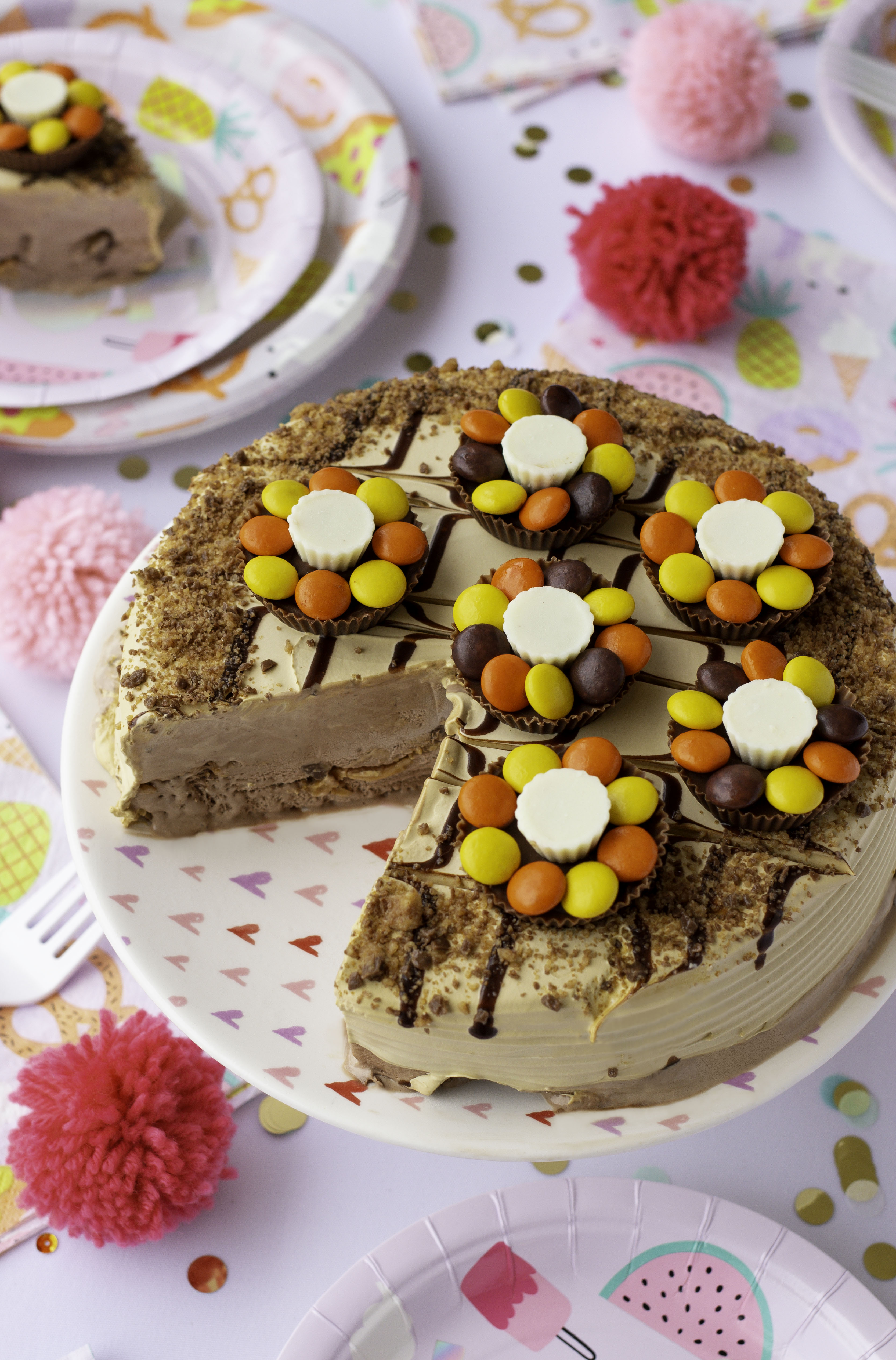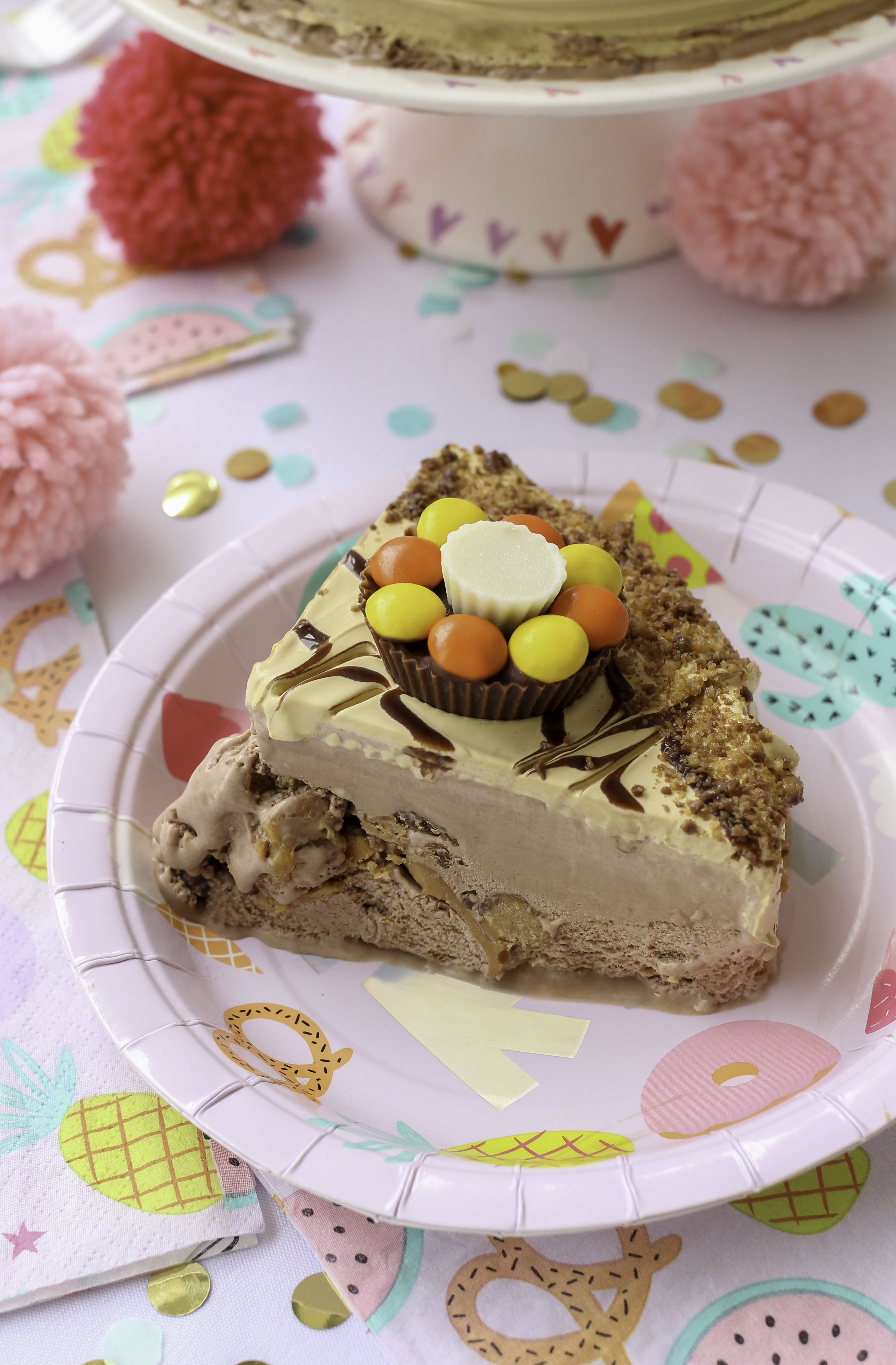 Make this delightful dessert the center of your summer celebration! The Reese's Ice Cream Cake is made of creamy chocolate ice cream, chunks of real Reese's Peanut Butter Cups, a layer of Reese's peanut butter AND whipped icing. Not to mention, it's also topped with a drizzle of HERSHEY'S chocolate syrup. A cake from I Love Ice Cream Cakes is guaranteed to bring a smile to someone's face. Whether it's to recognize a special birthday or cool down the crowds at a backyard bash, this festive treat is perfect for all ages to enjoy.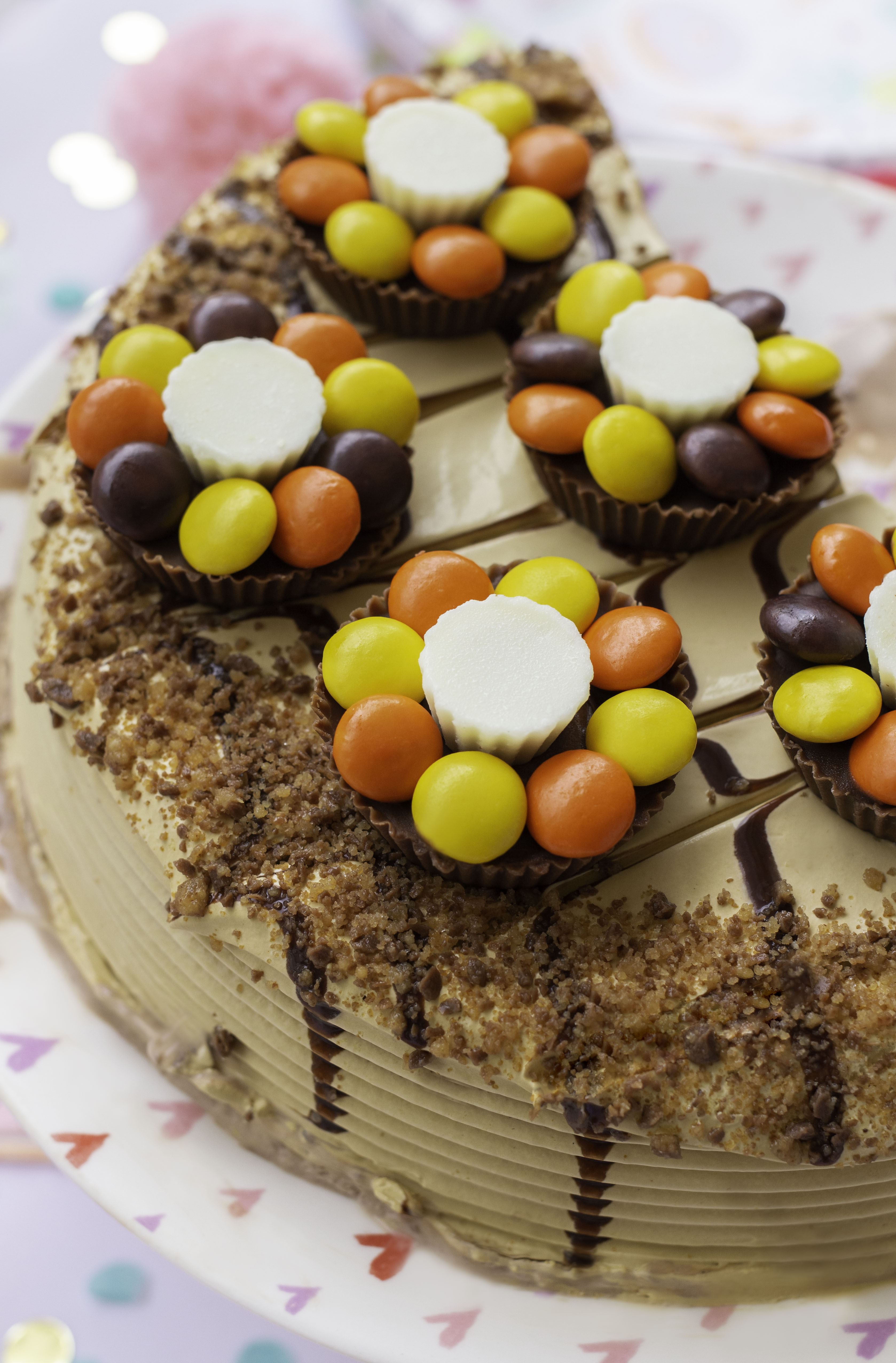 You can find this Reese's Ice Cream Cake along with a variety of others at ShopRite, Publix, Safeway Eastern, Price Rite, Tops, Giant Martin's, Giant Landover, Food Lion and additional retailers. It's also available on Amazon Fresh for delivery! But before you walk out the door to get your ice cream fix, join the Crunchie Club for savings and the ability to earn rewards. You'll score a $5 printable coupon just for signing up.

For sweet ideas and inspiration, follow I Love Ice Cream cakes on Instagram and Facebook!