Rudolph the Red-Nosed Reindeer has never looked so cute! Your kids will LOVE making Santa's sidekick out of Rice Krispies®.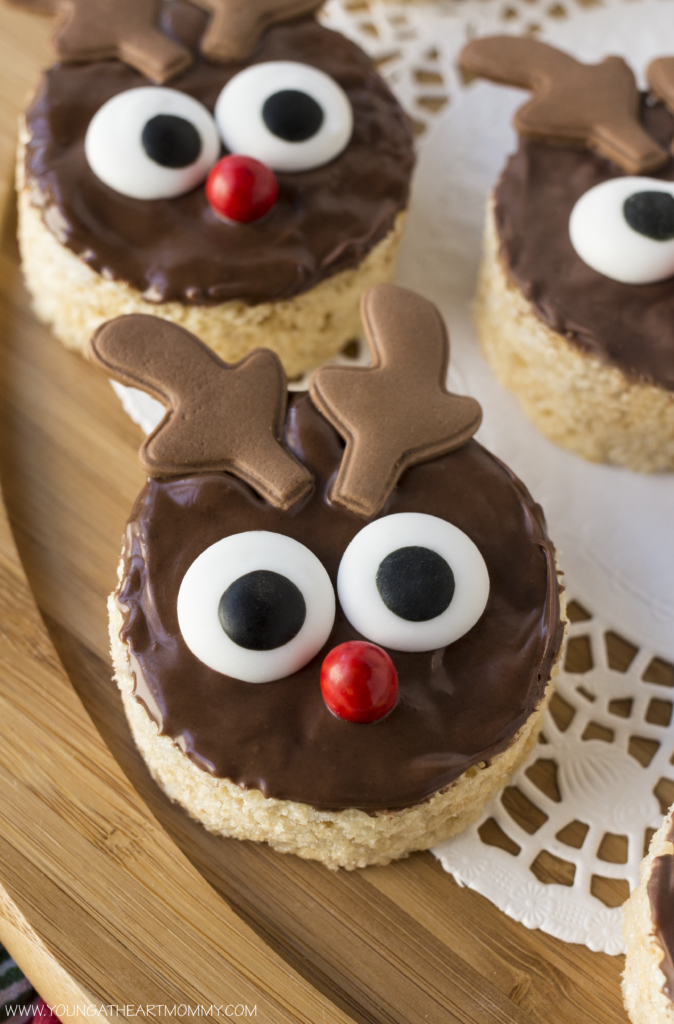 It's beginning to look a lot like Christmas. Santa and his trusty reindeer will be arriving in less than two weeks. You know, those jingle-bell ringing creatures that pull his sleigh so he can deliver toys to everyone on the "nice" list. They work very hard on Christmas Eve and are often forgotten since Santa's jolly personality overshadows their presence. Let's not leave out the four-legged furry guys this season. They help make the magic happen. One in particular has a big red shiny nose that's hard to miss. The most famous reindeer of all – RUDOLPH! Outcast turned hero, these adorable Rudolph Rice Krispies® Treats celebrate his transformation.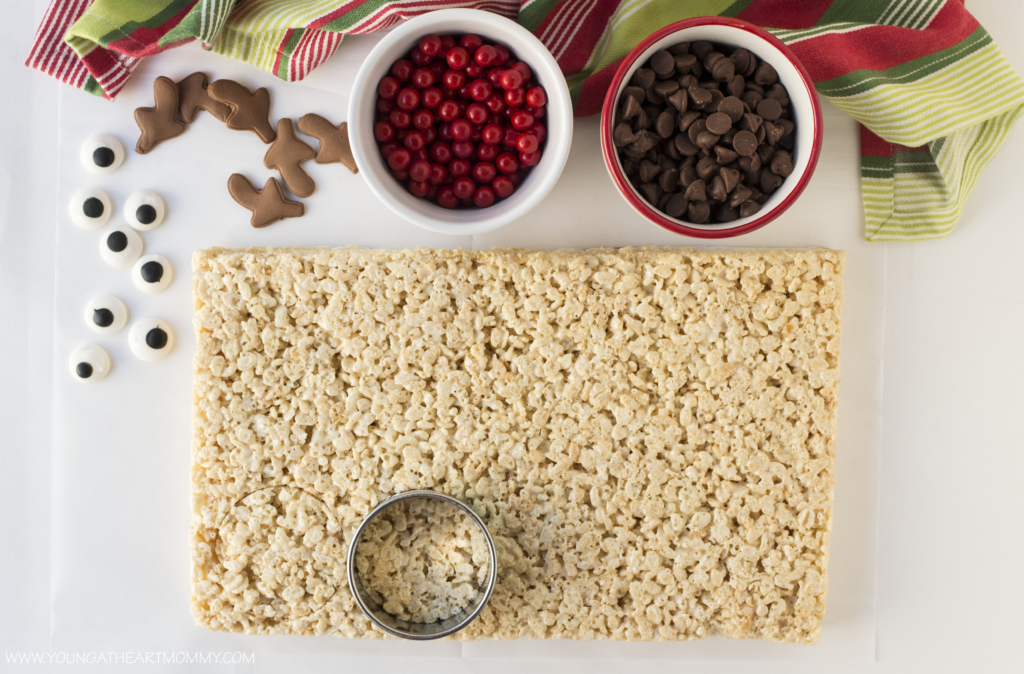 Supplies Needed:
Kellogg's® Rice Krispies® Treats Original Treat Sheet

2.5 inch round cookie cutter

red Sixlets chocolate candies

Wilton Reindeer Cookie decorating kit (eyes & antlers used)

milk chocolate morsels
Directions:
Use a round cookie cutter to cut out circular shaped treats from Rice Krispies® sheet. Half a sheet makes around 10. Start on the edge and continue along the side of the sheet, ensuring you use all possible space.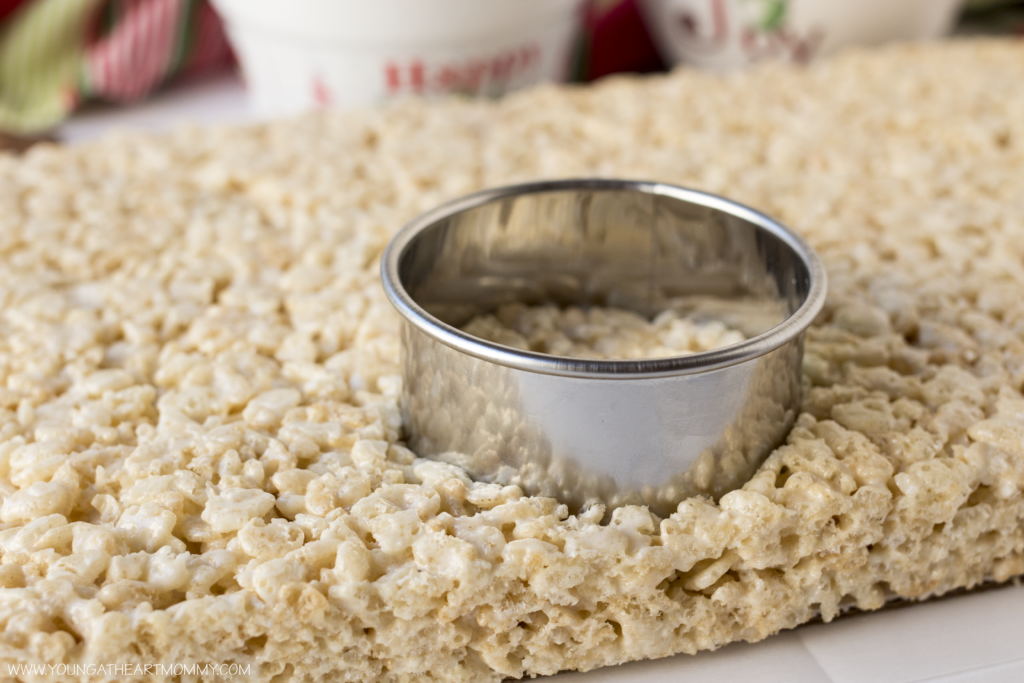 Press cutter down firmly and spin a few times so it doesn't get stuck on the bottom. This will give you a clean circle and it should pop right out without any tears to the treat itself.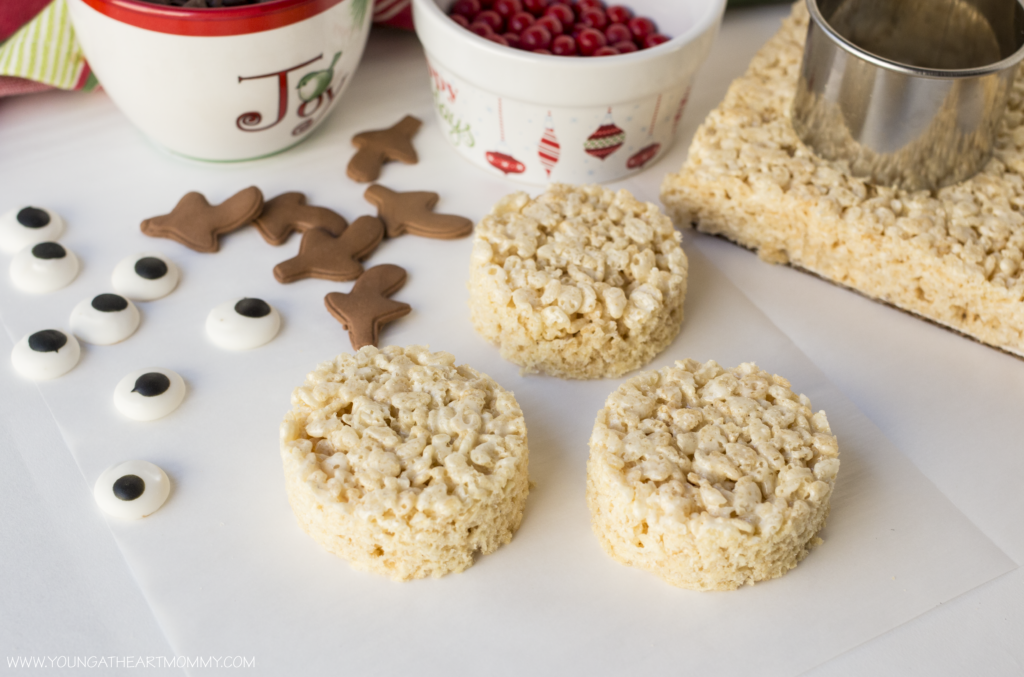 In a microwave safe bowl, heat 1 cup of milk chocolate morsels in 60 second intervals. Using a rubber spatula, stir constantly in between each. If chocolate is too thick or difficult to work with, add a tsp. of vegetable oil. Mix thoroughly. This will give your reindeer treats a glossy finish which making the chocolate easy to spread over top.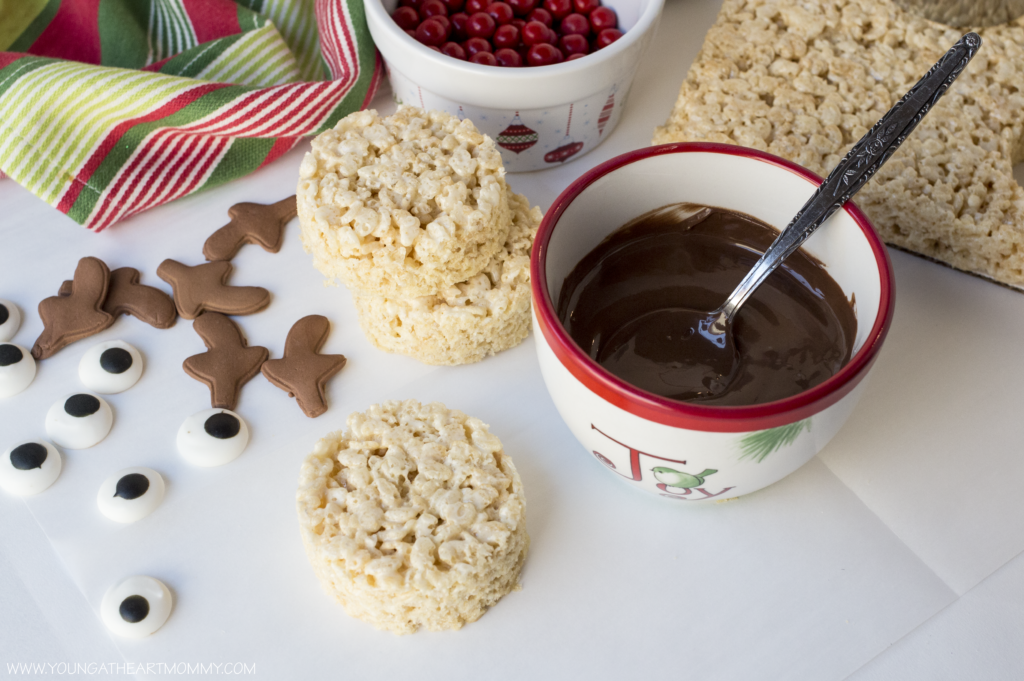 Add a generous dollop of chocolate on top of each treat. Use the back of a spoon or small icing spatula to smooth out the surface.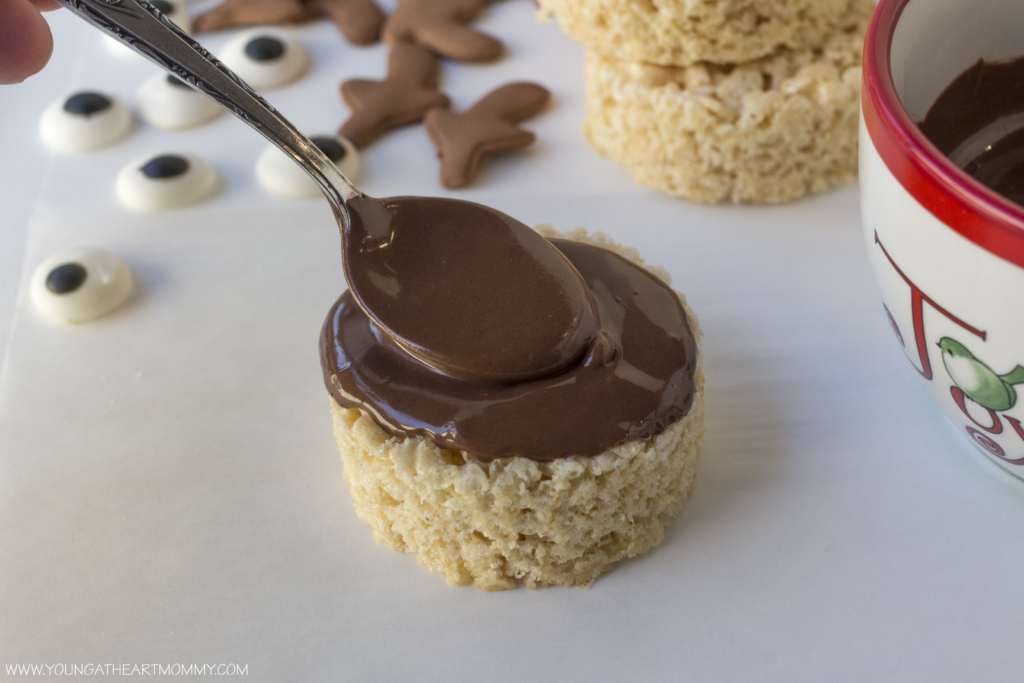 Add candy eyeballs and antlers to each. Don't forget the magical red nose! What would Rudolph be without one of those?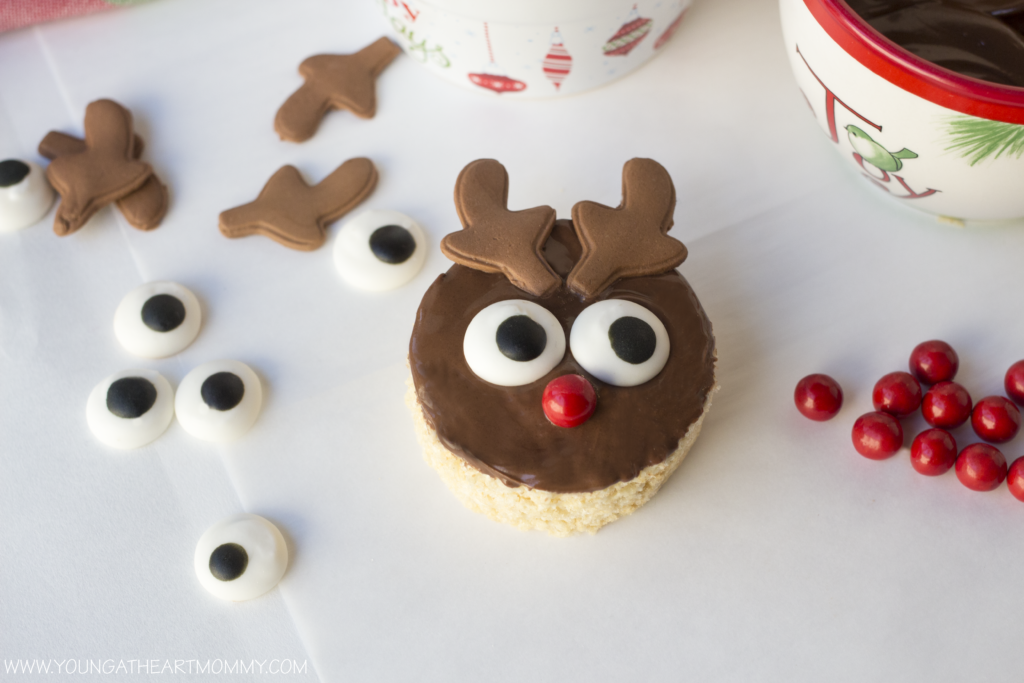 Allow these little guys to set for about 5-10 minutes or until the chocolate has firmed up. Aren't they cute? I'm all about bringing the magic of Christmas to life and those Rice Krispies® Treat sheets are so good to have on hand during the holidays. You can turn them into just about anything with a cookie cutter.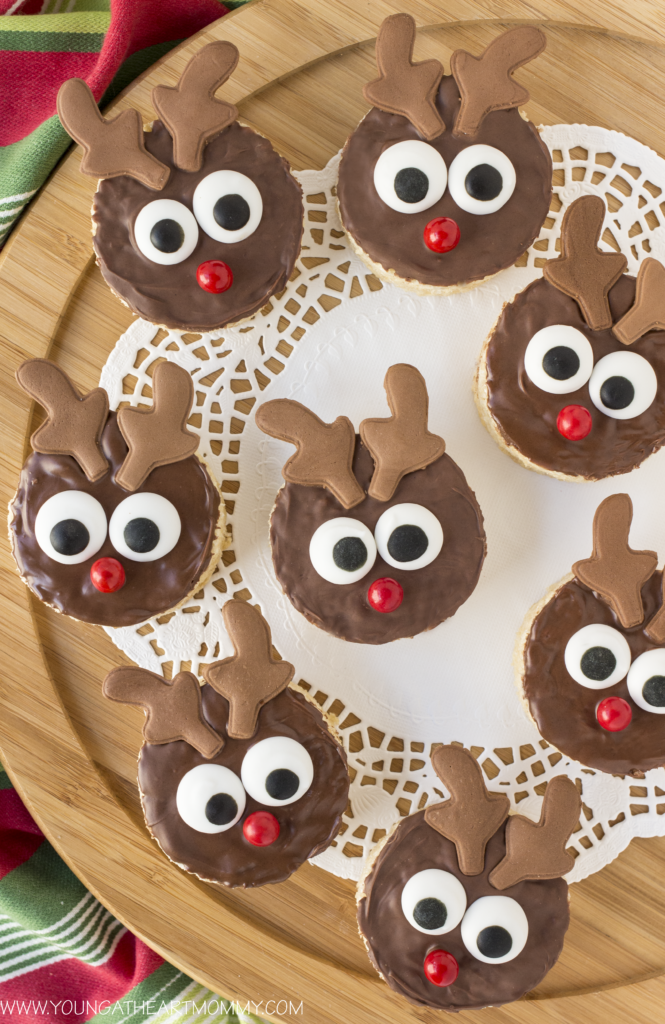 This time of year is so much fun and I can't get over how simple these were to put together. I have to make them again this weekend for Toodie's holiday party with her friends. The kids are going to get a kick out of edible reindeer treats and I think Santa may like them too. After all, how many chocolate chip cookies can he really eat in one night? Let's give him something to talk about on his sleigh ride home! I bet they pair perfectly with a tall glass of cold milk.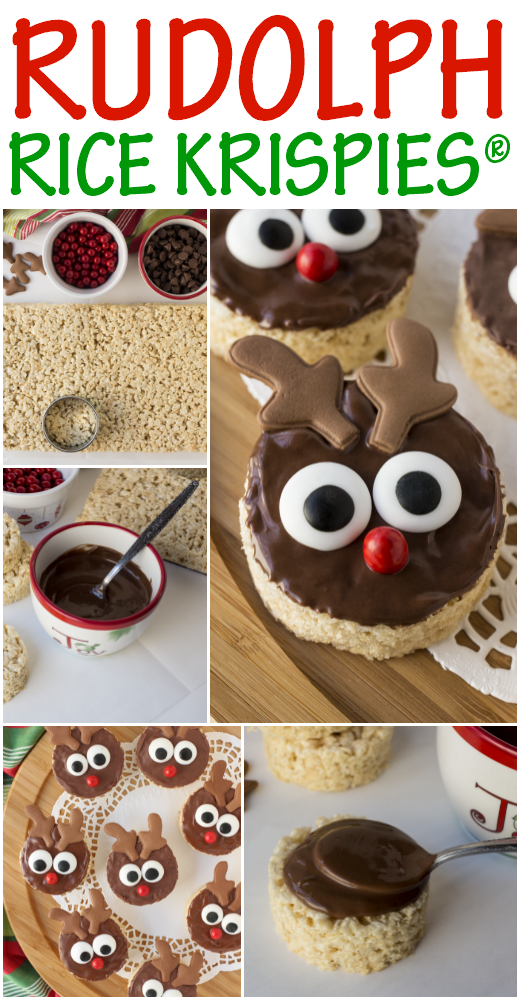 Are you making any kid-friendly treats this season?