Let the Hatchimal hunting begin! The HOTTEST toy of the year has us all on edge as we scour nearby retailers in hopes of bringing one home to our kiddos.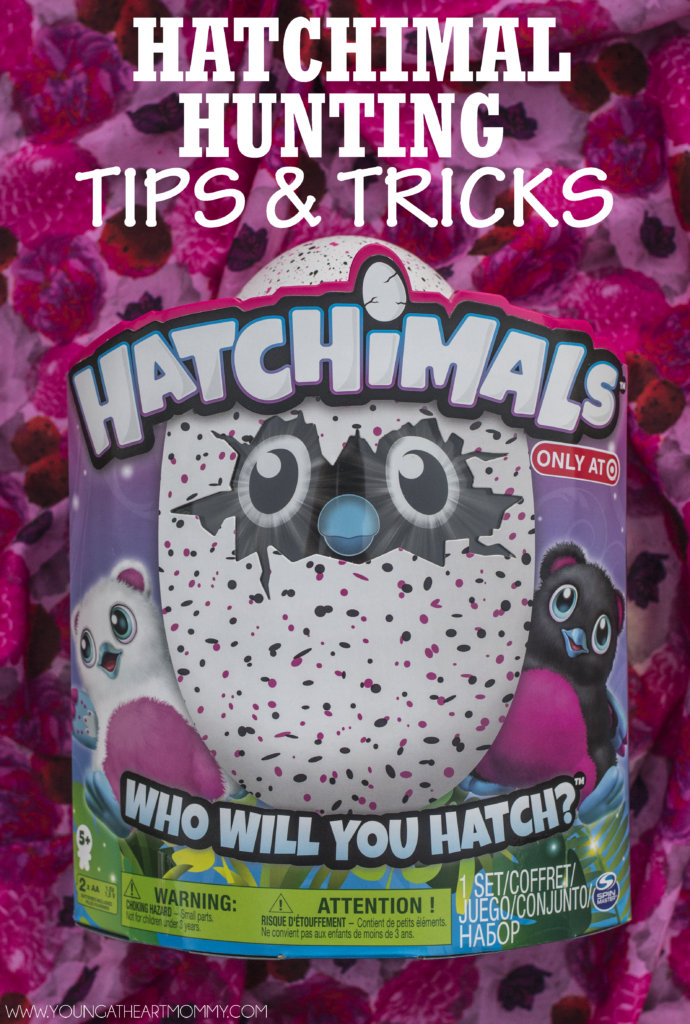 As the hunt for the year's hottest toy continues, many parents have been left wondering how in the world they can locate a Hatchimal before Christmas arrives! Black Friday is just a few days away and everyone is dying to get their hands on one of these furry creatures. Virtually everyone appears to be sold out, even SpinMaster, the creators. Today was the first and only time I have ever woken up before sunrise to stand in line for a toy. After a few days of research and planning, I was able to get the adorable Bearakeet, exclusively sold at Target. You can too! Here are some really helpful tips and tricks I used to score my daughter a Hatchimal just in time for Christmas, without the fuss. Grab a pen & paper, cup of coffee, and let's get hunting.


CALL AHEAD + ASK THE RIGHT QUESTIONS
While the majority of retailers have instructed their employees to not share if they have Hatchimals in stock, call ahead of time and ask about that store's specific process for getting one. Each location does things differently and from experience, I suggest dedicating your efforts to the one that uses a ticket or voucher system in which you are guaranteed to get the toy you have been standing in line three hours for. Remember, you are not the only one looking for these things and you would be surprised how many people show up 5-10 minutes before they open the door, ready to make a mad dash.
Today at the Target store I visited, the overnight manager came outside around 6:00 A.M to hand us our tickets. She instructed us that we were able to go back to our cars and even leave, as long as we were back at 8:00 A.M when the store opened. This made the entire ordeal stress free and there were absolutely no issues with anyone fighting to get one. With only six available, the tickets went quickly but everyone was respectful. Surprisingly, a few people didn't come back so their Hatchimals were offered to others next in line. Do yourself the favor and make a quick phone call before even attempting to hunt! Trust me, it will save you time and also the headache.
CHECK THE STORE'S STOCK ONLINE

There are various sites floating around in which you can check the stock of Hatchimals at retailers like Target, Walmart, Toys R Us, and more. The one I have found to be most reliable is BrickSeek.com. Here you can select a retailer and enter the DPCI or SKU number along with your zip code to locate them in your area. The DPCI is basically a UPC like code in which Target uses to track their inventory, just like a SKU at Walmart. Since my main focus has been locating the Hatchimals at Target, I have compiled five DPCI codes you can use to locate them. This was a huge contributing factor as to how I was able to get mine.

086-08-0899 Bearakeet
086–08-0395 Pink/Teal
086-08-0897 Pink/Red
086-08-0898 Blue/Green
086-08-0396 Blue/Purple
Also, a huge tip I received for searching at Target was to check their website between 3 – 5 A.m every morning. This is when they appear to be updating their inventory information. Sometimes it's also sooner, right before they close and as they are preparing to replenish shelves overnight. I suggest taking a look around 11:00 P.M and again in the early morning. Even if they are not putting them out before they close, as I have heard some stores do, you will at least know it's worth going there in the morning to wait in line. Remember, enter your zip code in the store locator so you are able to see all locations within the vicinity.
BE PREPARED, PATIENT, & DON'T GIVE UP
Hunting for Hatchimals is no easy task but that doesn't mean you won't be able to get one before the holidays. Trust me, if I can find one on my first try, you can too. Give yourself enough time to plan and develop a strategy. Don't just run out to every store and stand in line for five hours, not even knowing if they have them in stock! I've heard horror stories of this happening to many people and in the end, it's just discouraging. Most stores will not be receiving large shipments and most of the time they will only get between 2-6, sometimes 10 if lucky. As I shared earlier, things happen and not everyone may return to redeem their ticket. You could get lucky by waiting around, even if you appear to be last in line.
USE A COUPON IF YOU CAN

Right now you can download the Target Wishlist app to receive 10% off any toy on your child's holiday wish list. Once installed, add your child's basic information along with every Hatchimal on the site. Pull the coupon up on your phone when making the purchase in store and you'll save a few extra dollars!
Have you been able to get a Hatchimal this year?