Make these sweet & salty Caramel Pretzel Pumpkin Patch Bites for Halloween or to satisfy your sweet tooth this fall season.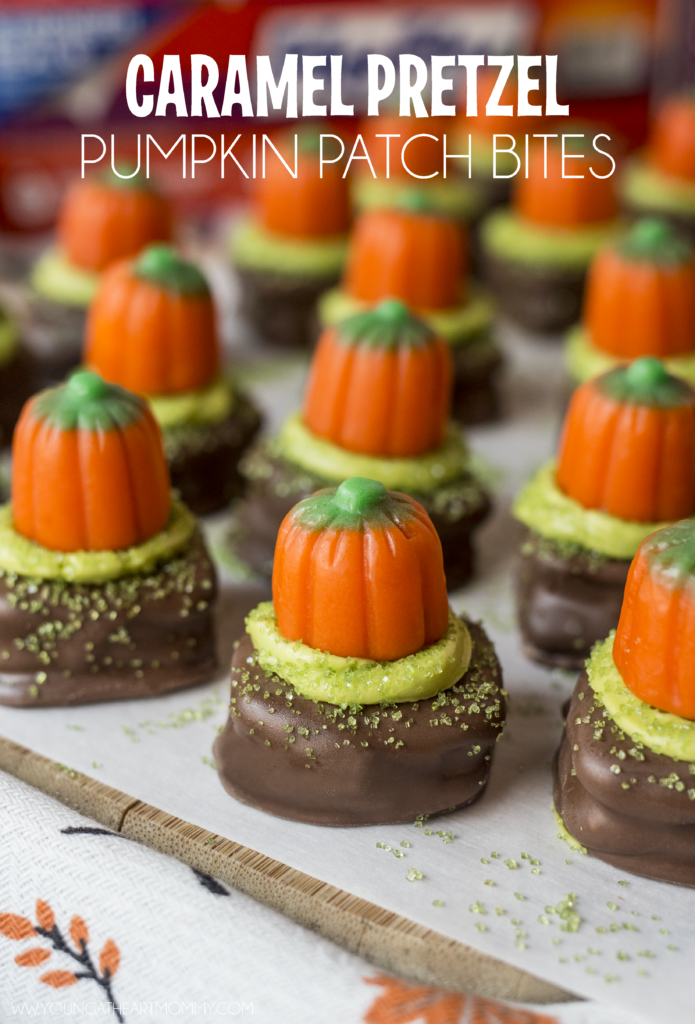 It's finally feelin' like fall. My absolute favorite time of year is here and even though it's also hurricane season, the weather has actually been really nice lately. While the transition from summer to fall may be off to a slow start, this morning I woke up to the long-awaited crisp breeze that signified its arrival. What a nice change of pace! It's a rare occurrence to walk outside and not be sticky or sweaty within minutes. Even though the hot humid days linger around, I'm the typical Floridian that's hopeful snowfall will arrive at any moment. One can dream, right? Well, until then I suppose it's best to enjoy fall in the sunshine state and all its glory, which is exactly what we've been doing.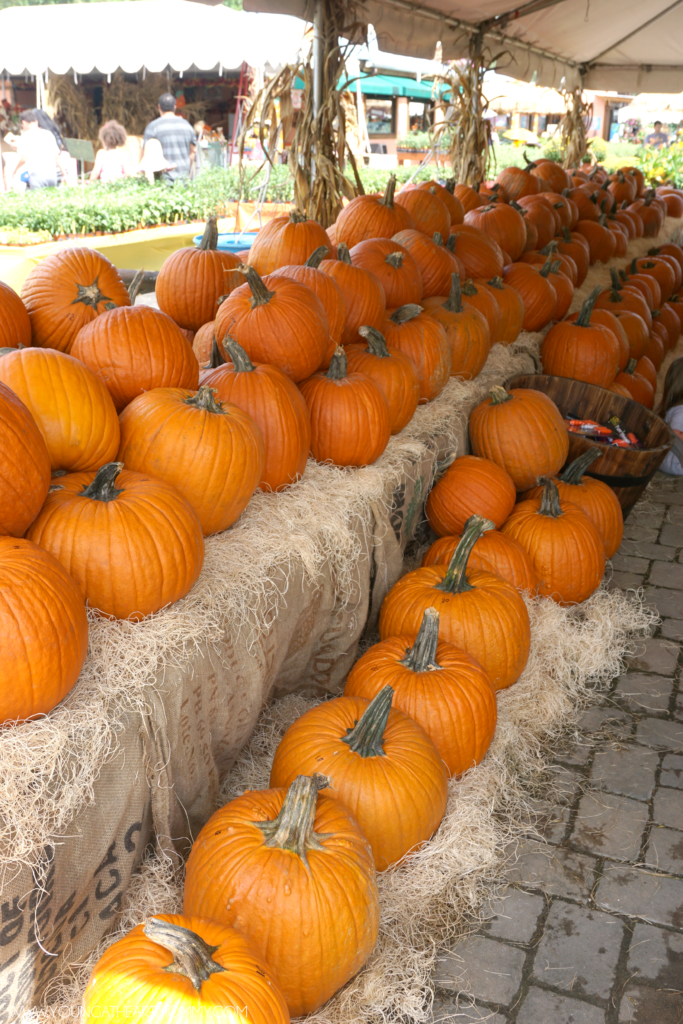 Last week we visited the nearby pumpkin patch to grab a frosty apple cider, check out the lumpy bumpy gourds, and admire all of the gorgeous flowers blooming. We've been going to the same farmer's market since Toodie was 6 months old which is why picking the perfect pumpkin has become one of our family traditions. It also gets us excited for all of the other fun activities that come with the month of October – hay rides, trick-or-treating, spooky movie marathons, caramel covered apples, and making festive treats like these Caramel Pretzel Pumpkin Patch Bites!

These little nuggets are pure bliss- sweet, salty, coated in milk chocolate, and topped with a marshmallow creme pumpkin. Trust me, you're going to need to make a big batch of these this season.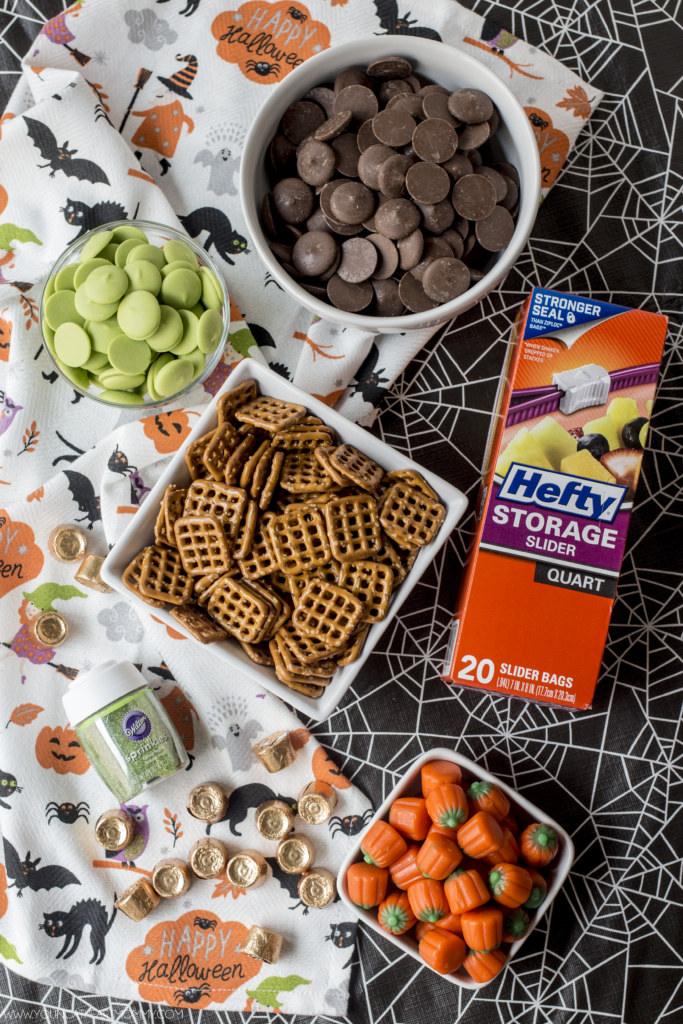 What You Need:
pretzel snaps

ROLO chocolate covered caramels

candy corn pumpkins

milk chocolate candy melts

vibrant green candy melts

green decorating sugar or sprinkles

parchment paper
Directions:
Pre-heat oven to 200°F. Line a cookie sheet with parchment paper and add a single layer of pretzel snaps in multiple rows. Place one ROLO candy in the center of each pretzel snap and bake in the oven for 6-7 minutes or until chocolate begins to soften.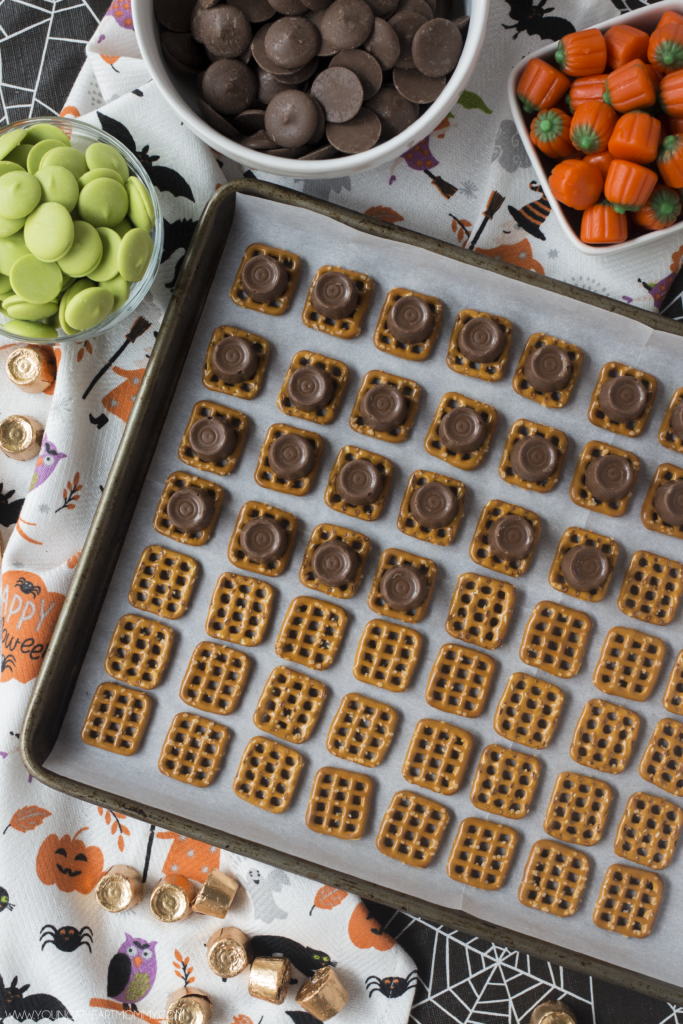 Remove from the oven and top with another pretzel snap while chocolate is still soft. Gently push pretzel down to sandwich the melted ROLO between the two snaps. Carefully transfer to a large plate or place baking sheet in the fridge for about 5-10 minutes to firm up.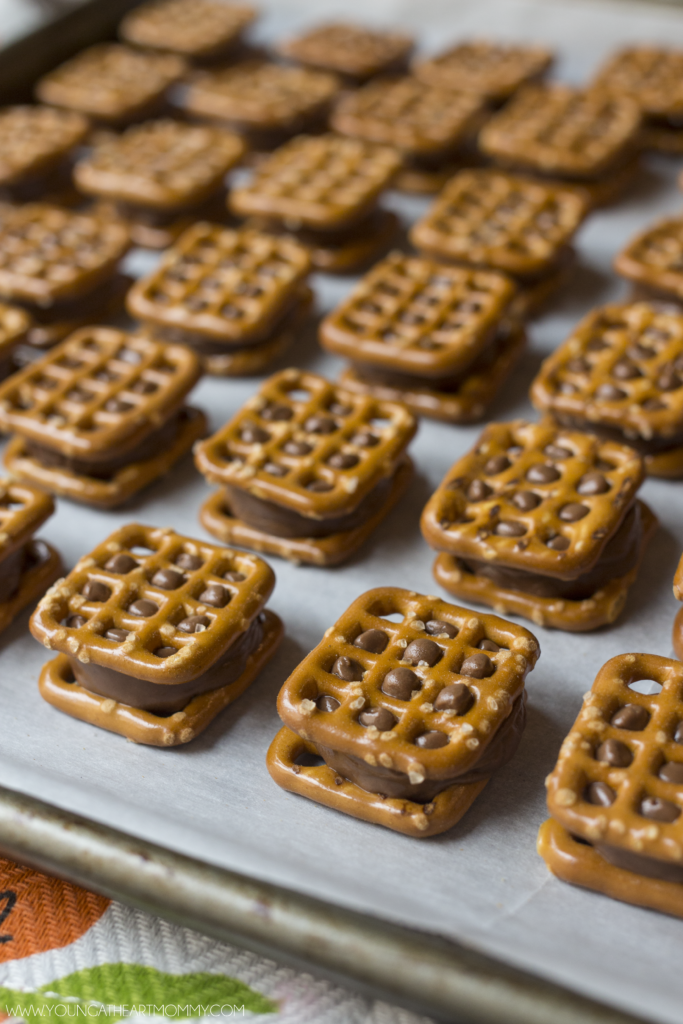 In a microwave safe bowl, heat milk chocolate discs in 60 second intervals and stir constantly in between each. If the chocolate is too thick, add a tsp. of vegetable or coconut oil to it. This will thin it out and provide a smooth finish for coating the pretzel bites.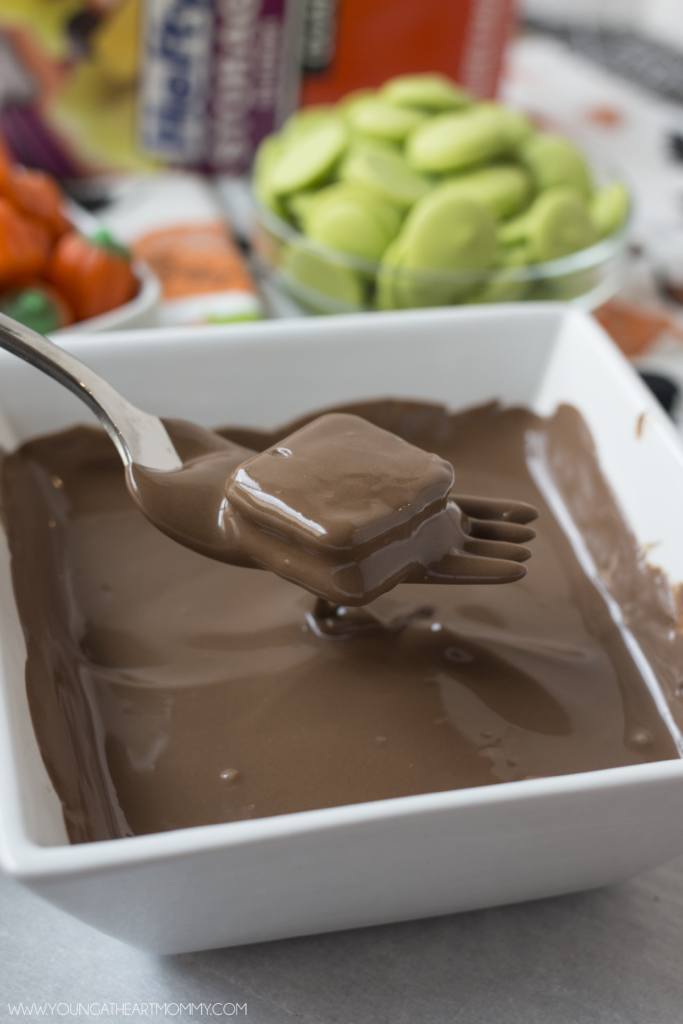 Dip each individual pretzel sandwich into the melted chocolate, making sure all sides are coated. Using a fork will allow the excess chocolate to drip off. Transfer to a clean sheet of parchment paper and again, place in the refrigerator for 5-10 to harden before decorating.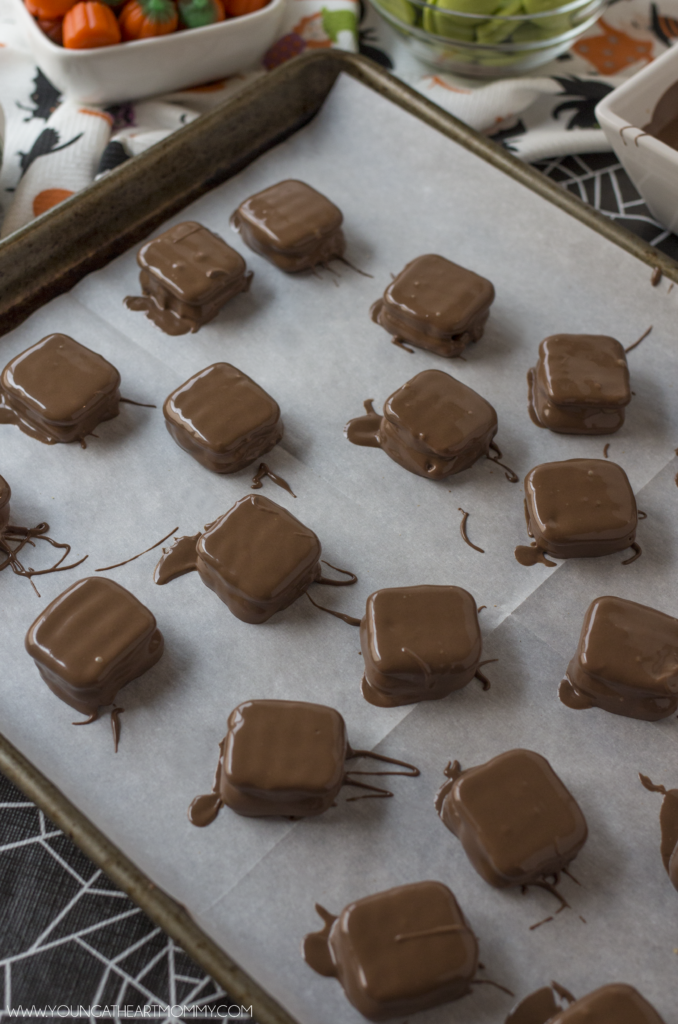 In a clean microwave safe bowl, heat green chocolate discs in 60 second intervals while stirring constantly in between. Scoop melted chocolate into a quart sized Hefty® Slider Bag, pushing the majority to one corner. Snip the tip and pipe a quarter sized amount of chocolate onto each pretzel sandwich.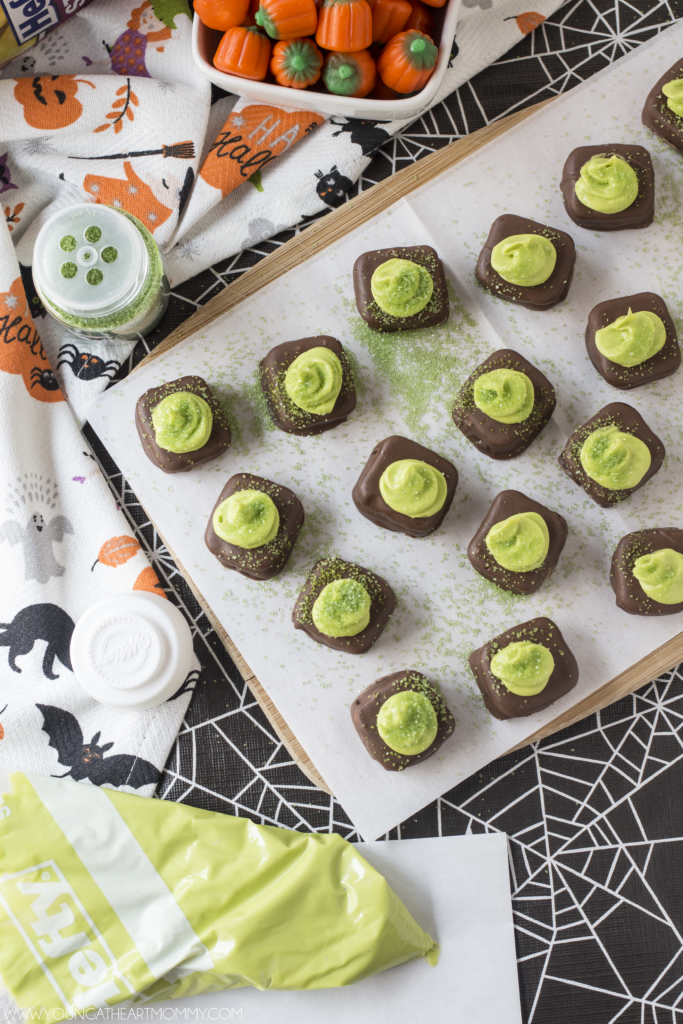 Immediately top with colored sugar and a candy corn pumpkin.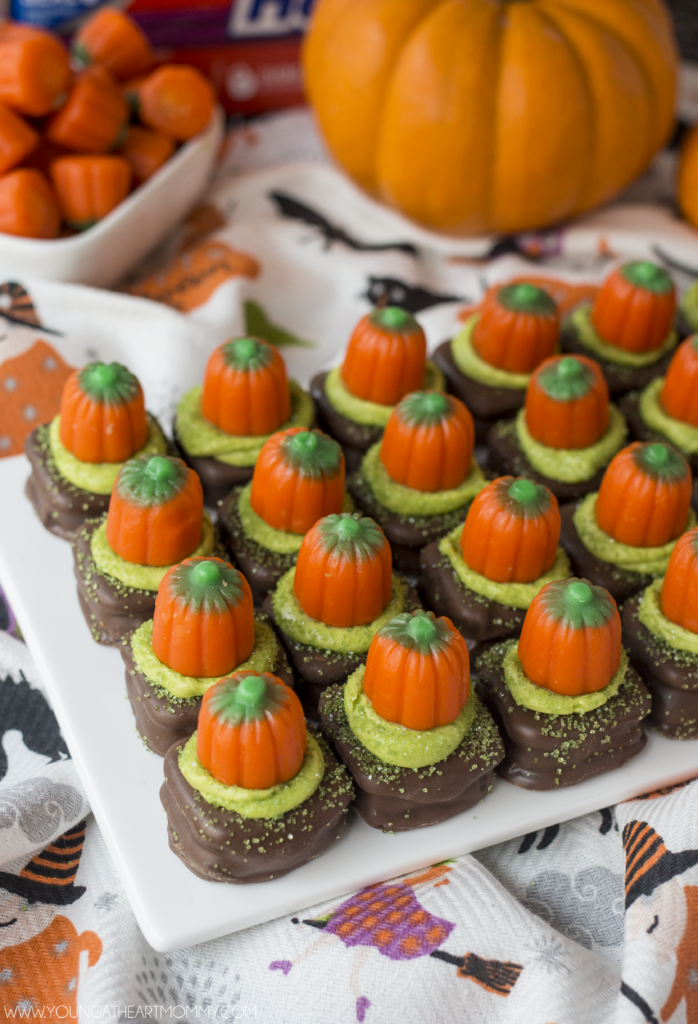 Almost too cute to eat but nearly impossible to resist, especially with those addicting marshmallow creme pumpkins on top. They're my weakness every Halloween!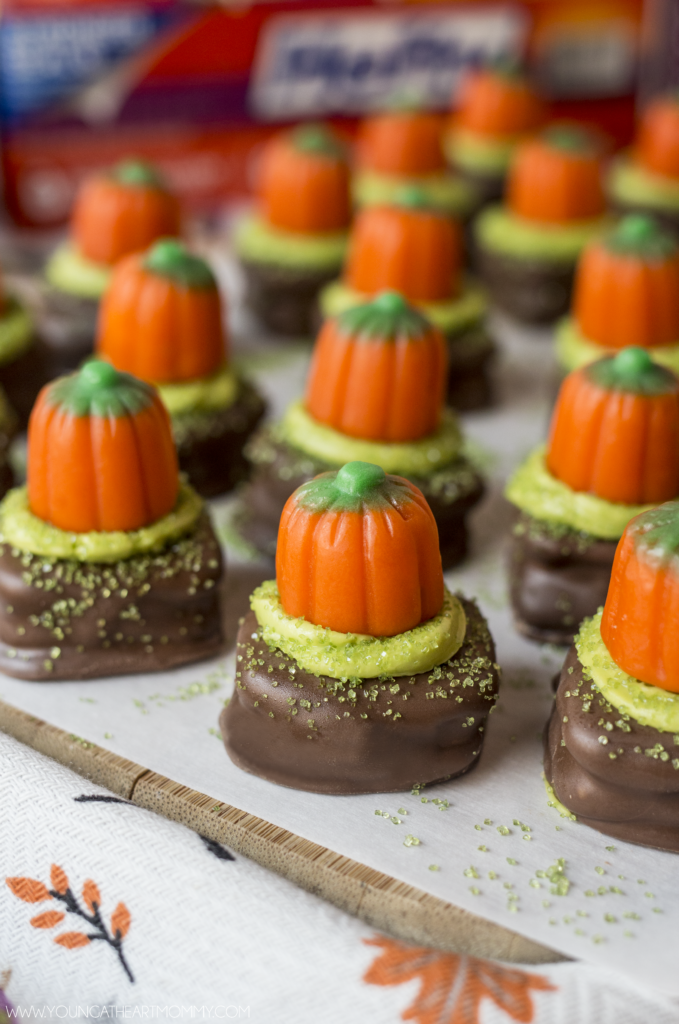 As someone who is constantly in the kitchen – baking, making, and creating – I've discovered a lot of nifty tricks to help things flow efficiently. Not only do Hefty® Slider Bags keep my ingredients fresh, they're also perfect for decorating. It's one of the oldest tricks in the book but you'd be surprised how many people don't think to use the plastic baggies for anything other than storage. Before I started blogging and even knew what a piping bag was, they were my go-to for adding a little pizazz to my cupcakes. You can use them for just about anything and everything. They're also strong and dependable thanks to the MaxLock® track design. I don't know about you, but we go through A LOT of plastic bags on a weekly basis. These are much more affordable and dependable compared to Ziploc® bags of the same size. Check out these cool ideas for even more inspiration!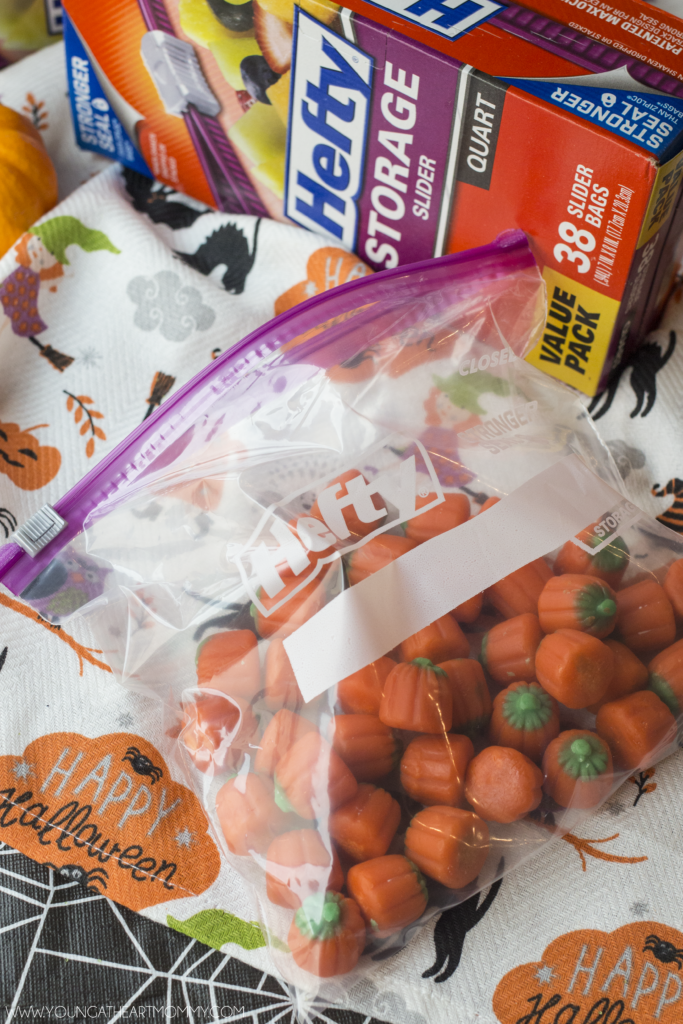 You can pick up all the ingredients for your Caramel Pretzel Pumpkin Patch Bites, including the Hefty® Slider Bags, at your local Walmart. Before heading out, don't forget to download the Ibotta app! You can earn a $1.00 rebate by purchasing any three packages.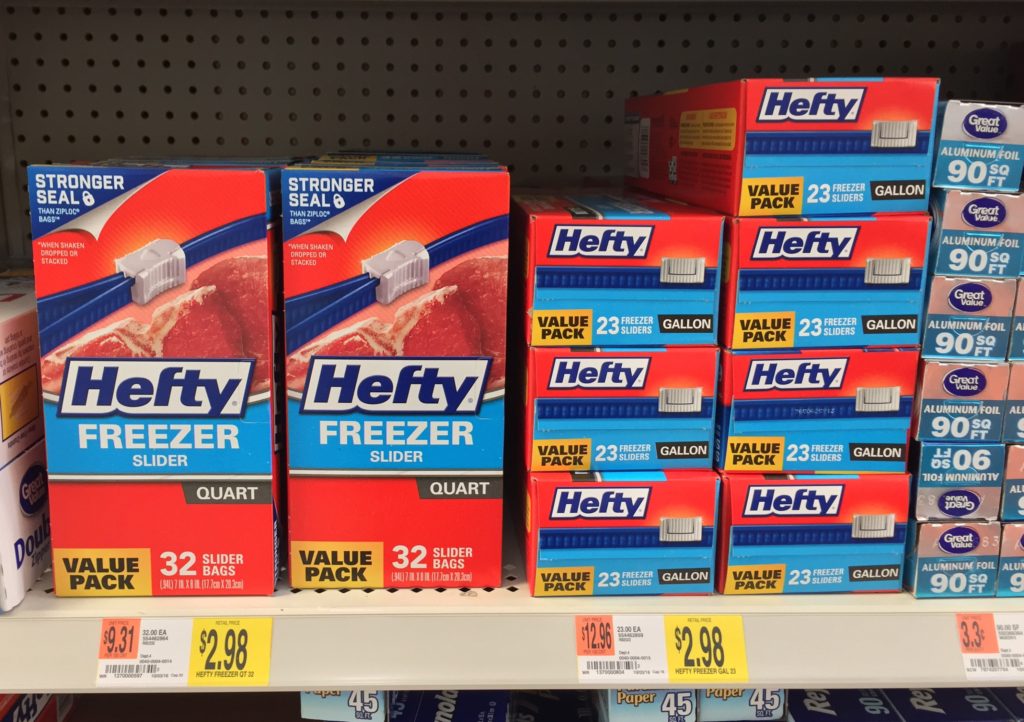 What kind of treats are you making this fall?
Save
Save
Save
Save
Save
Save
Save