As a member of the Starbucks Coffee Blogger Community I received samples to facilitate this post. As always, all opinions are my own!

Take a step back from scheduled summertime activities and treat yourself to a freshly brewed cup of TAZO® Chai Tea paired with a stack of Cinnamon Cookie Cream Sandwiches.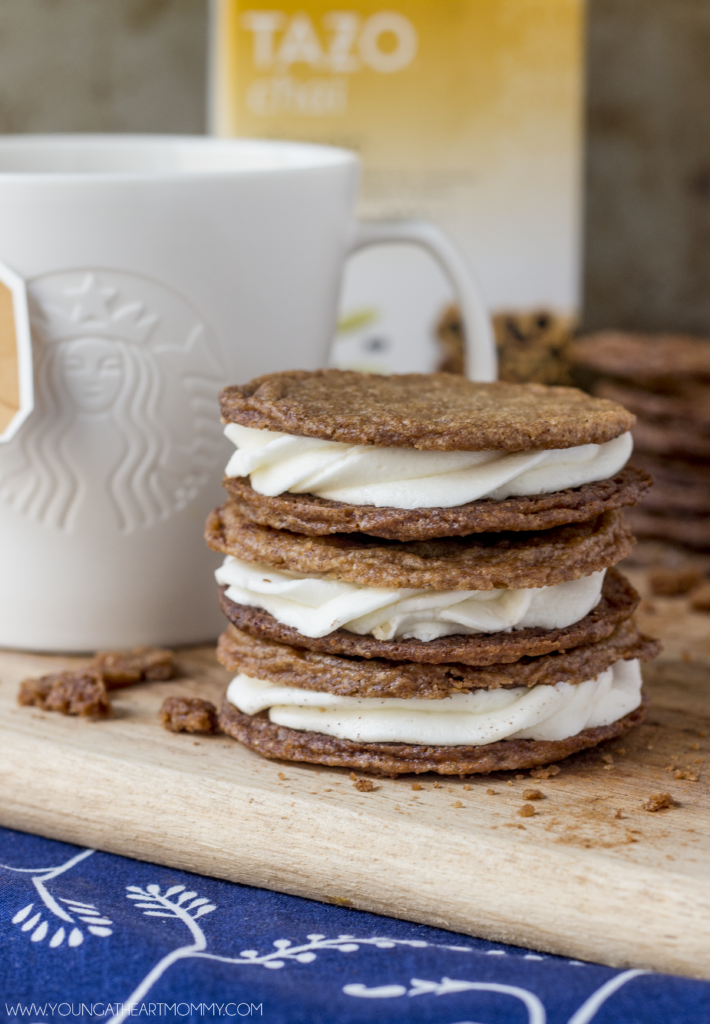 I'm having a hard time accepting that summer is quickly coming to an end. Where in the world has the time gone? In a blink of an eye we went from shopping for pool noodles to tackling the second grade supply list. I would appreciate a "re-do" but I know summer is always a bittersweet hiatus away from reality. The past 12 weeks have been brutal for me. In between entertaining Toodie with fun activities and attempting to master the world of Business Calculus, I have had zero time to unwind or decompress. Last Thursday I took my last final for the semester and it felt so good walking out of that classroom. Another one bites the dust and after many nights of caffeine induced study sessions, I can breathe again! Well, at least for a few weeks before a new set of classes begins. Until then I have been taking some "me" time, dusted the cobwebs off my KitchenAid, and indulged in a sweet treat I have been eager to share.

Cinnamon Cookie Cream Sandwiches are crunchy, a little chewy, and filled with just the right amount of sweet cream. They pair perfectly with the TAZO® Chai Tea the Starbucks® team sent me in my last box of goodies.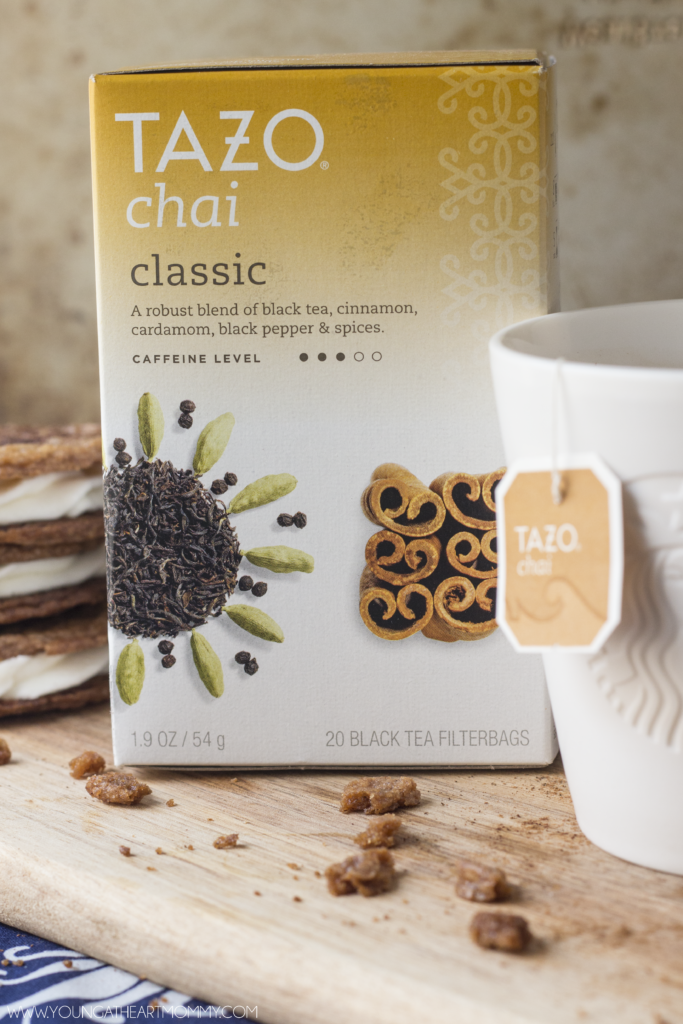 To make these super simple cream-filled sandwiches, you'll first need to whip up a batch of Padma Lakshmi's Cinnamon Spice Cookies. Not only is she an expert in good eats but you may recognize her as the host of Top Chef, one of my all time favorite reality cooking competitions! While tea goes well with just about anything, she recommends these crunchy cookies because they're perfect for dunking. You can follow the recipe as is but I recommend rolling the dough into 1/2 inch balls as opposed to 1 inch. The cookies spread quickly in the oven and altering this step will create the ideal size.

To create the cream filling you will need the following ingredients:
2 1/2 cups of confectioners' powdered sugar

3/4 cup of salted butter (softened)

1 tbsp. milk

1 tsp. vanilla extract
Directions:
Beat softened butter on medium speed for 5-6 minutes, or until light and fluffy. Reduce speed and begin adding in powdered sugar. Continue mixing until ingredients are blended. Add in milk and vanilla extract. Mix on medium-high speed for an additional 5-6 minutes. Scoop or pipe cream in between two cookies.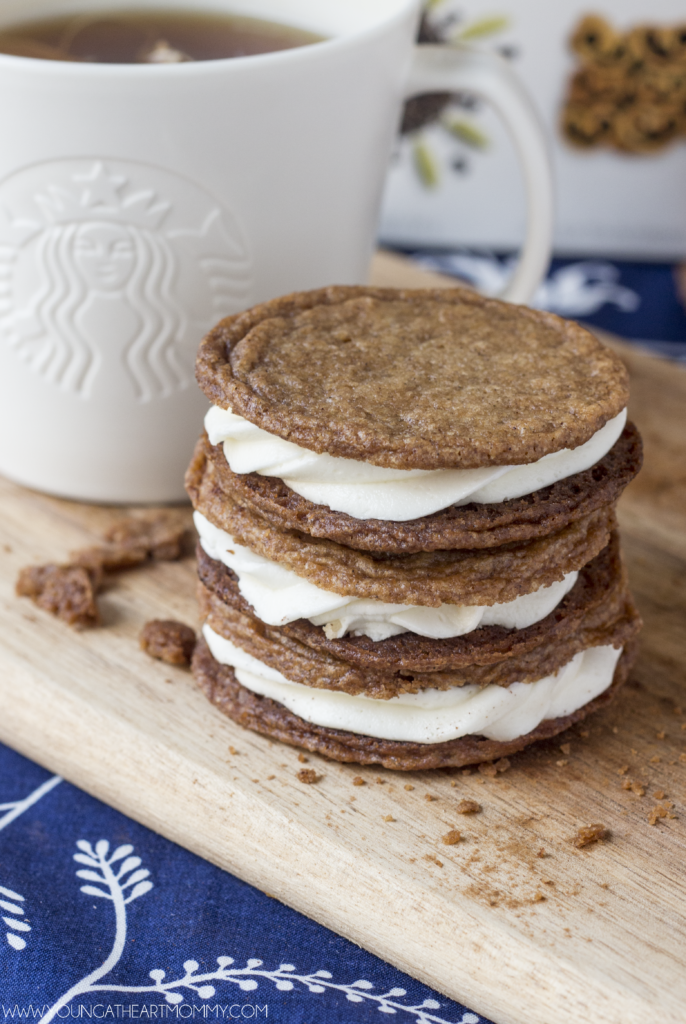 If TAZO® Chai Tea isn't your thing or you prefer a cold drink instead, Starbucks® has you covered with their bottled coffee beverages. Sometimes it's just easier to grab a Starbucks® Black Iced Coffee right out of the fridge instead of waiting patiently for a pot to brew. Available in both sweetened and unsweetened varieties, each is made with their medium roast sourced from Latin America. You can never go wrong with a classic that can be taken on the go. I can't even count the number of times these bottles of pick-me-up helped me stay awake to study for an exam or finish a paper. While the taste may be one that is acquired, there is nothing like a black coffee full of flavor.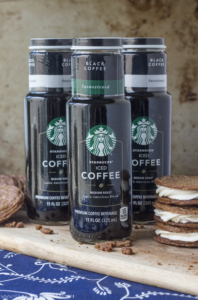 Starbucks® has quite a few tasty drinks available this summer so it won't be a challenge to find the right one to compliment these sweet cookie sandwiches. When the sun is out and the temperature peaks, I always go for the freshly chilled Iced Espresso Classics. Caramel Macchiato is a must-have! I love how I can enjoy my favorite Starbucks® beverages from the comfort of home. Don't you?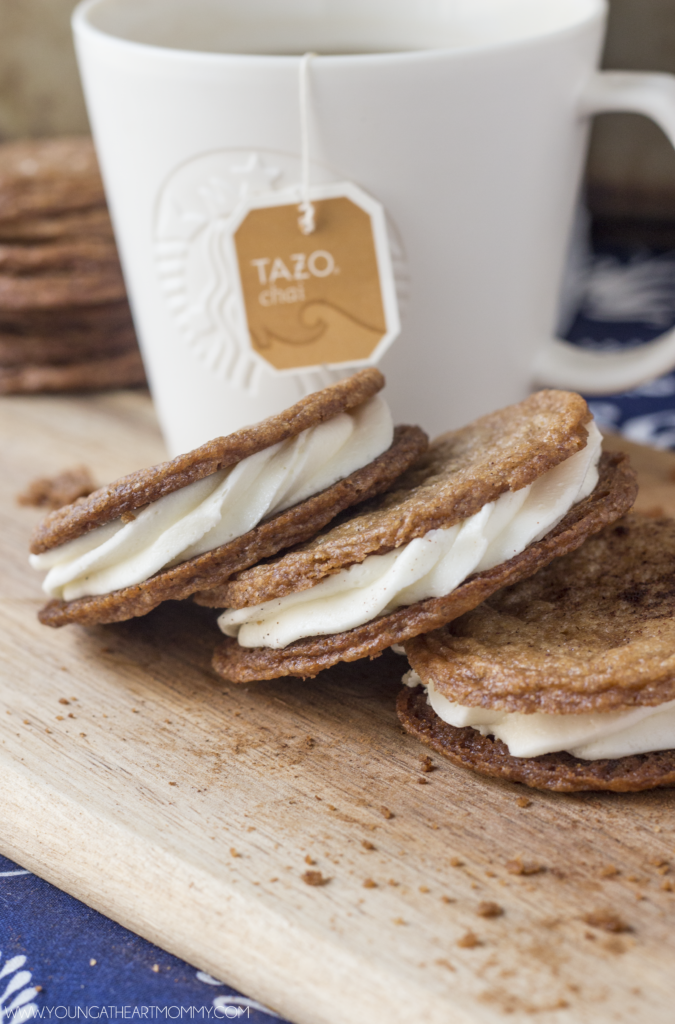 What's your favorite Starbucks® beverage to kick back and relax with during the summer?
Save
Save
Save
Save
Save
Save
Save
Save
Save
Save
Save
Save
Save
Save
Save
Save
Save
Save
Save
Save
Save
Save