Surprise the father or grandfather in your life with a creative Father's Day gift box to say thank you for all that they do. A "Sweet Stache" of their favorite treats is sure to make them smile.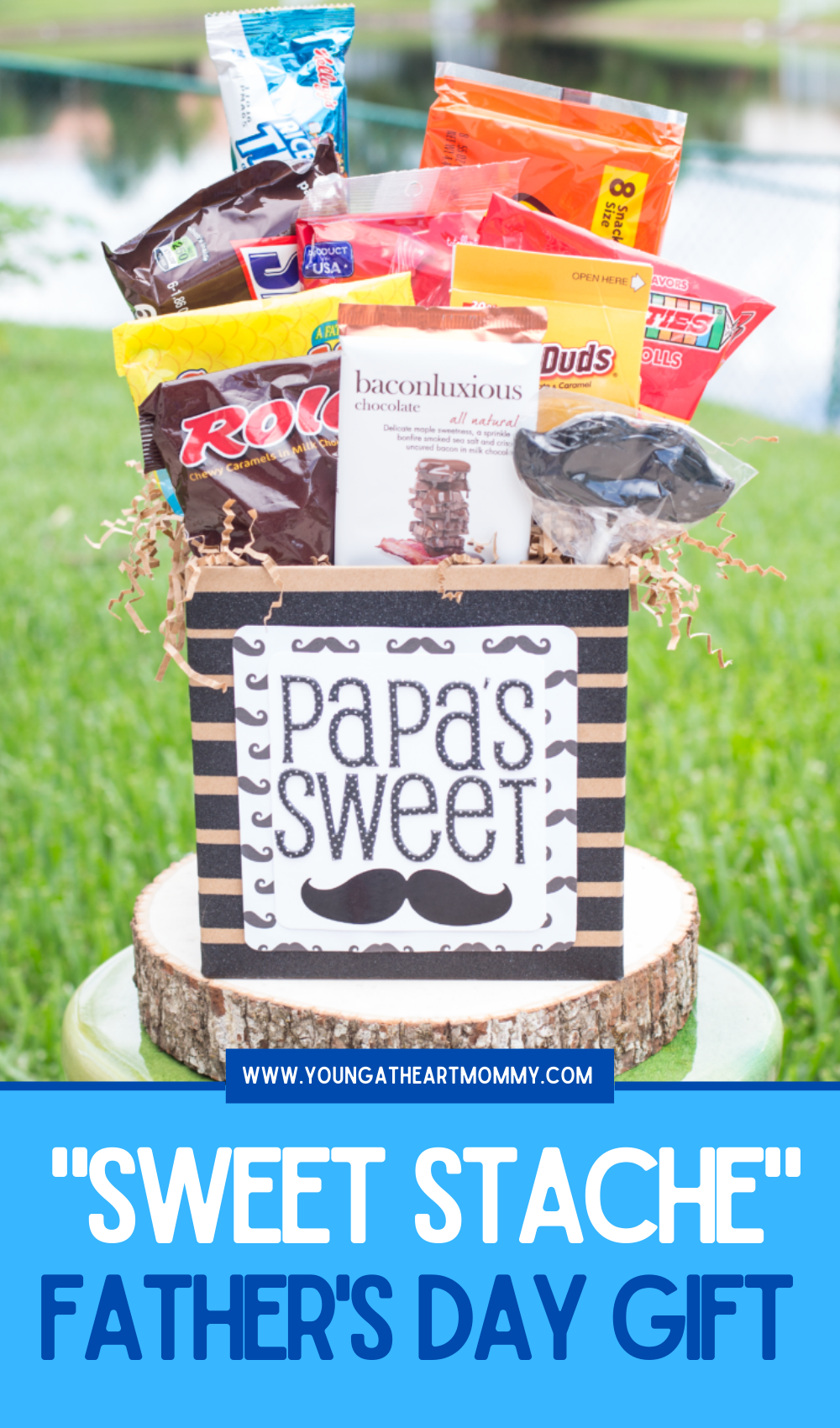 Father's Day will be here before you know it and if you're still stuck on which "World's Greatest Dad" mug to get, it's best to shift your gifting strategy from the traditional to the unexpected. You can make dad feel extra special with a thoughtful present made at home. After all, receiving a pack of socks or set of tools can be awfully mundane. Exhausted the same ol' ideas year after year? Then it's time to think outside of the box and fill it with dad's favorite sweet treats instead!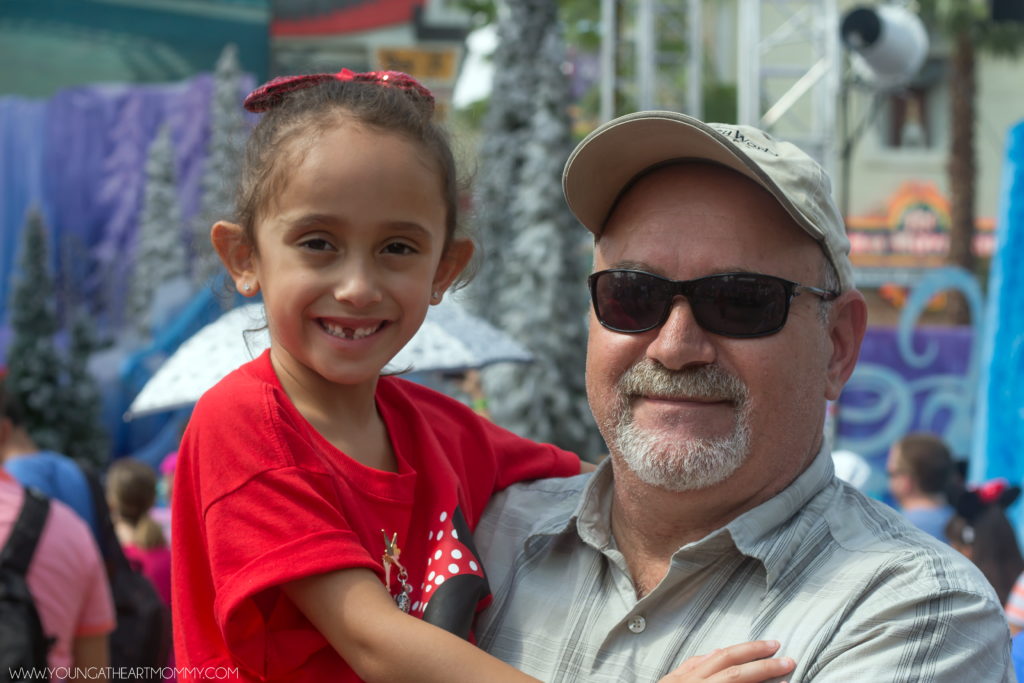 FATHER'S DAY GIFT BOX
While Father's Day is typically focused on celebrating dad, we can't forget about all of those amazing grandpas out there! Toodie has an incredibly special bond with her papa. It reminds me so much of the close relationship I had with my own at her age. Even though he is not my biological father, he has been in our lives for many years and has done a phenomenal job of filling those shoes. She truly adores him.
There is nothing like the love of a grandparent and we are both very blessed to have such a kindhearted human being in our lives. I don't know anyone else that would spend hours making paper airplanes or voluntarily listen to the Frozen soundtrack on repeat just to make my little one smile. He is more than deserving of a personal "Sweet Stache" Father's Day gift box.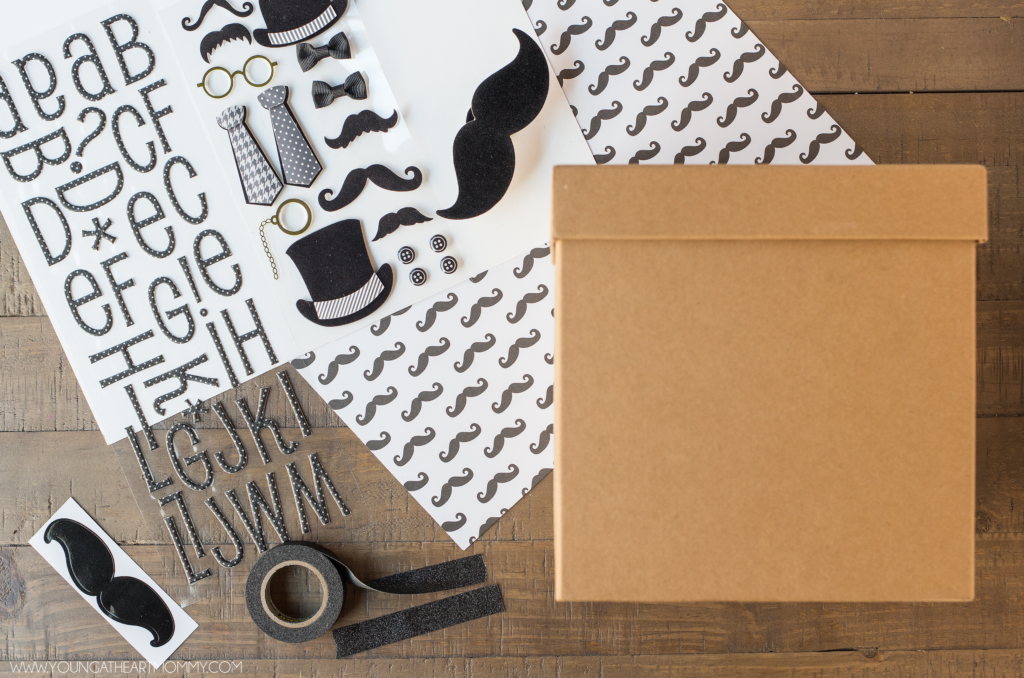 HOW TO MAKE A "SWEET STACHE"
To get started on your Father's Day gift box, gather your supplies:
square gift box (found at Target)

black glittered washi tape

decorative adhesive letters

mustache scrapbook paper (Michael's Craft Store)

white card stock paper


mustache stickers

brown crinkle cut filler paper

glue gun, pencil, ruler, and corner rounder (optional)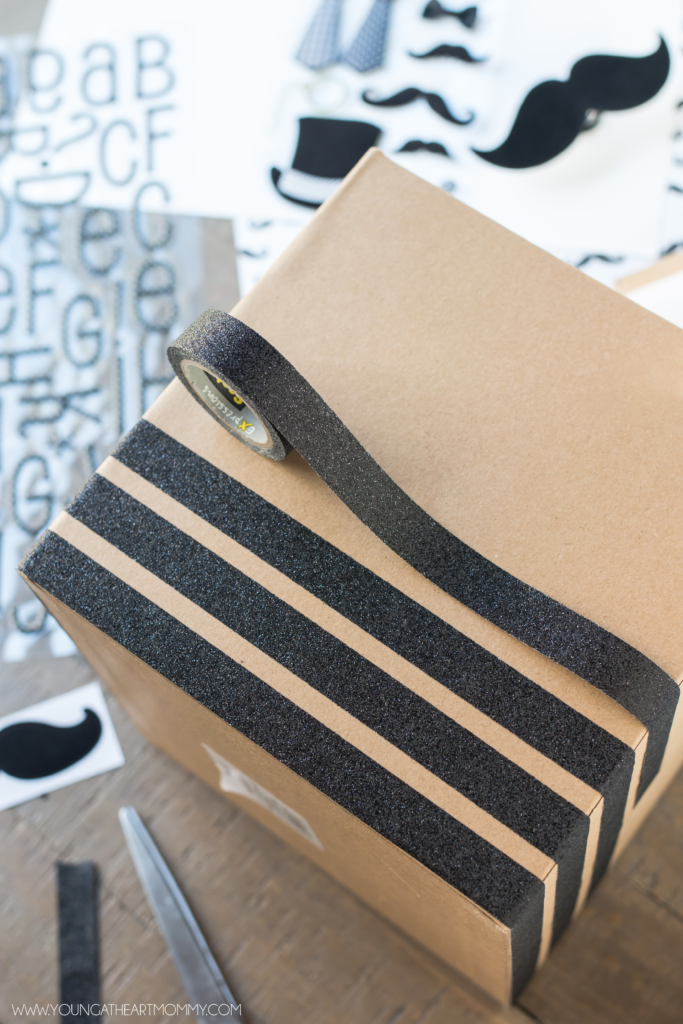 Begin by wrapping the washi tape around the gift box, creating a stripe like pattern. If you have a hard time getting the ends to stick to one another, a dab of hot glue will do the trick. Often, the glittered washi tape has a hard time sticking to itself so don't be surprised if the the ends do flip up.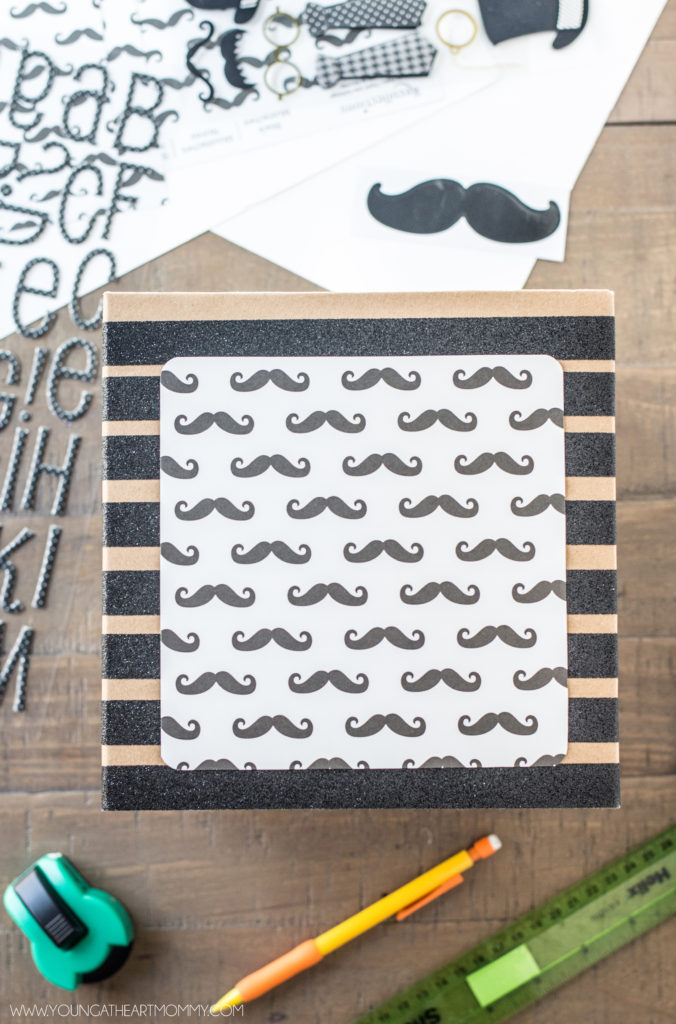 Cut two squares out of the mustache paper. The size will vary depending on the size of the box you have chosen to use. This box was roughly 7″ X 7″ so I made my squares 5-1/2″ X 5-1/2″. I also used the corner rounder to smooth out the edges for a finished look. This is optional.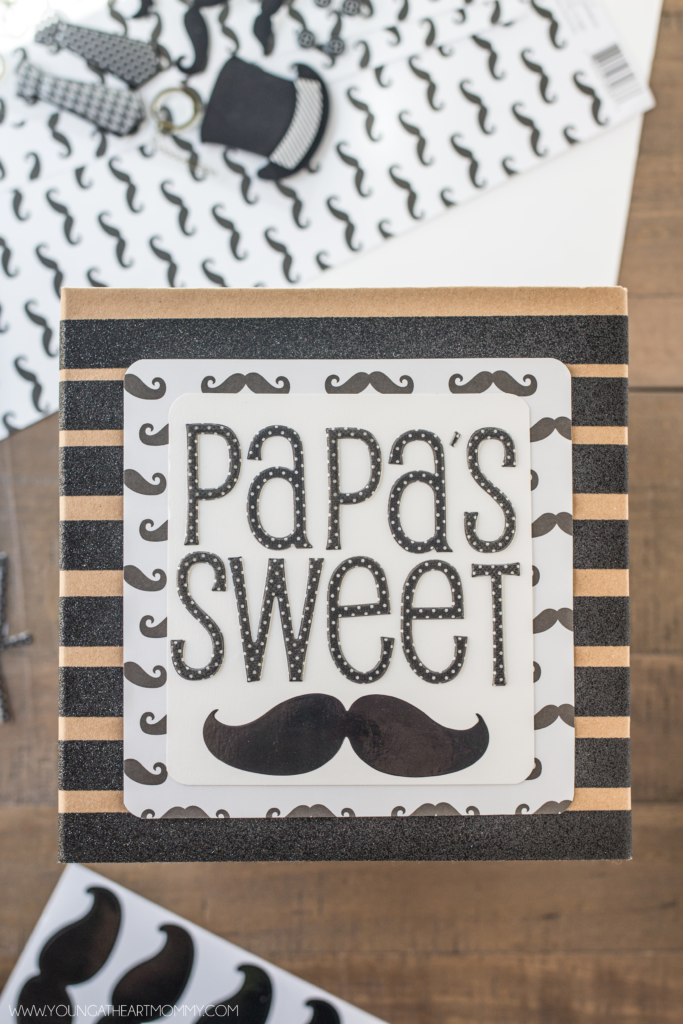 Now cut a smaller square out of your white card stock paper. Again, the size will vary. For reference, I made this square 4-1/2″ x 4-1/2″. Use glue to attach the white square in the center of one of the mustache squares to create a layered look. Also, add your "Sweet Stache" message by applying the adhesive letters and mustache sticker.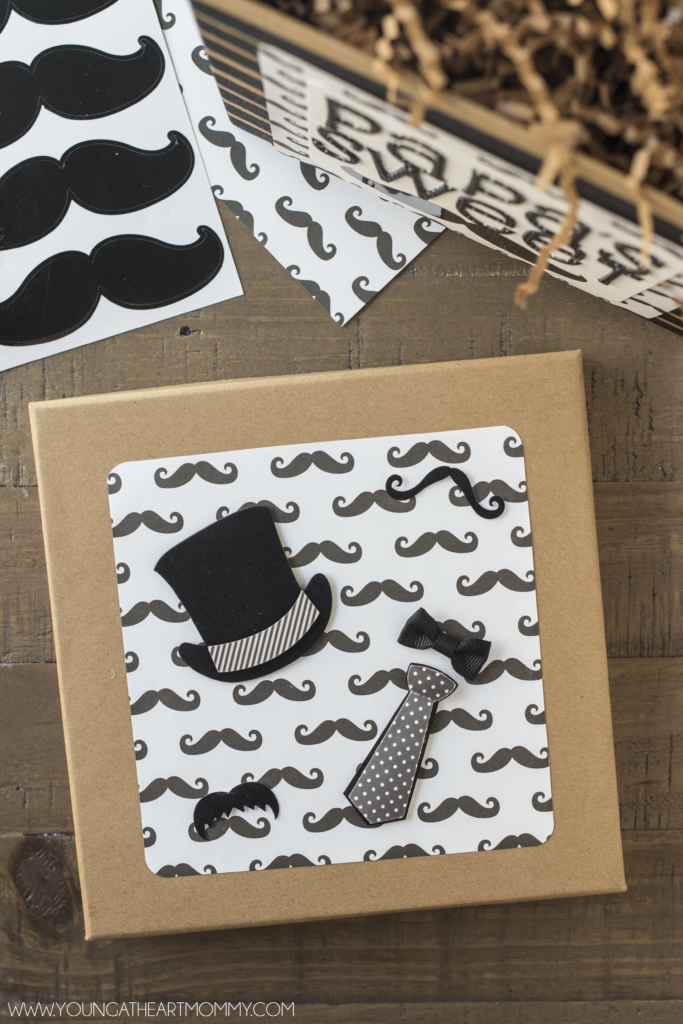 The second mustache paper square should be attached to the lid. Decorate with mustache or masculine stickers that suit dad's personality. Stuff the gift box with shredded filler and candy. He can re-use the box and re-fill with more treats in the future. It will also be an adorable addition to his desk or work space!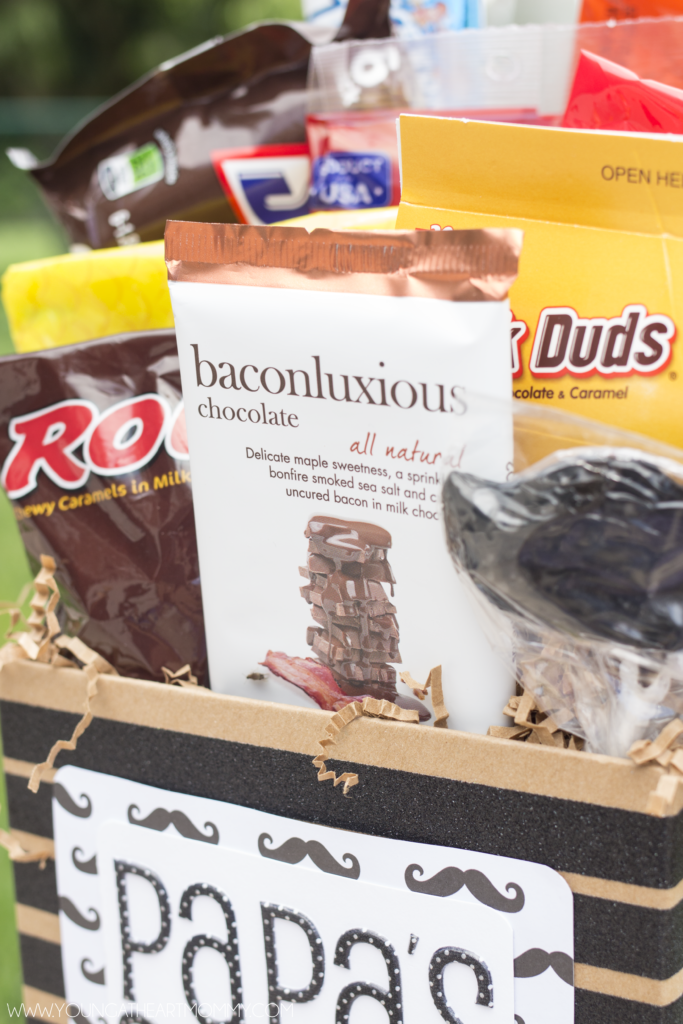 What kind of homemade gifts have you made for that special dad or grandfather in your life?