This Mother's Day show your love and gratitude with a homemade gift made from the heart. This Tissue Paper Flower Bouquet Canvas is colorful, creative, and doesn't have to be watered!

Everyone has a story. While some stories are easier to tell than others, each is unique and provides raw insight as to what has made an individual who they are. From life changing experiences to the bumps along the road -these moments are equivalent to small building blocks that help create one's character. Through it all, strength and wisdom are always acquired, whether the experience is good or bad. A new door opens and looking back becomes a learning experience, instead of a painful memory. This is my story, one I have never shared on the blog before but today is as good as any other.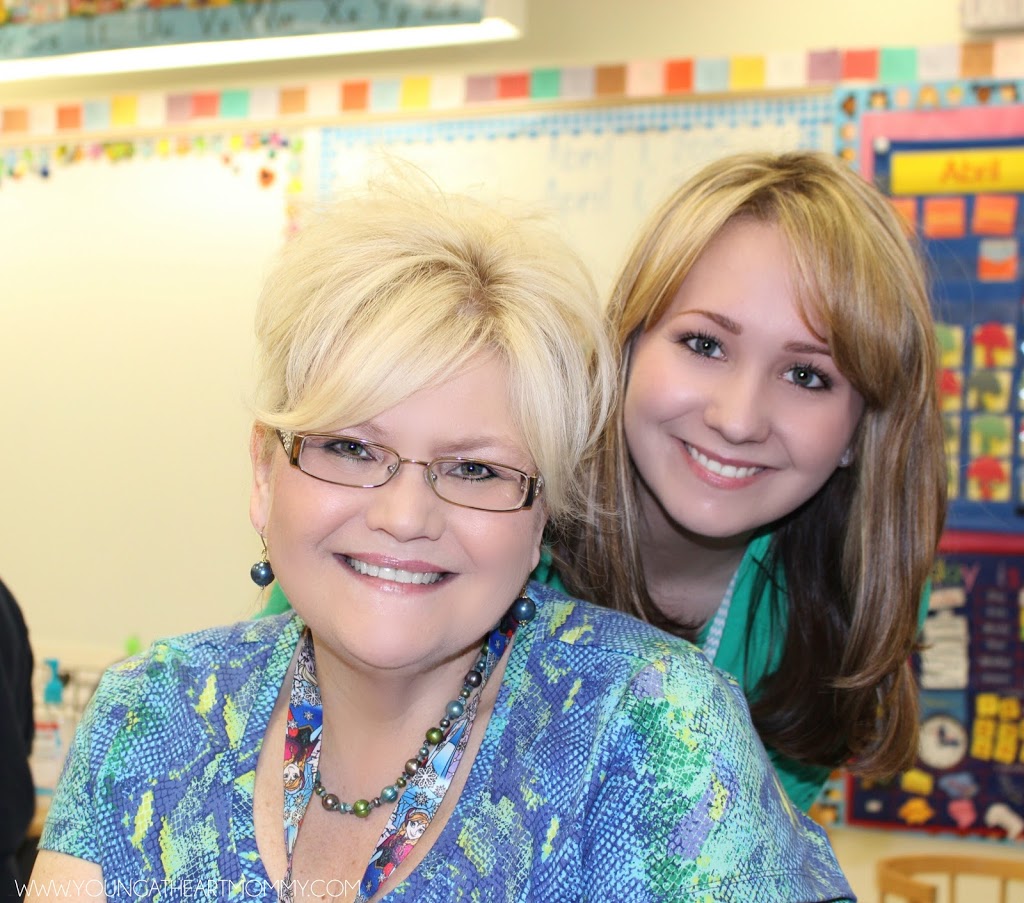 Six years ago I never imagined I would be packing my bags and heading back to Florida to finalize my divorce. I was 24 years old at the time and Toodie had just celebrated her first birthday. Life was about to change in a major way. We moved back in with my mother who had been more than eager to wake up every morning to the sight of her most precious granddaughter and I was pretty happy to be back too. While I fell in love with Colorado and the beautiful snow-capped mountains, it wasn't my forever home. I expected the transition to be difficult, emotionally and physically. It was. It was the most challenging time of my life and without my mom by my side, I wouldn't have been able to get through it. She isn't just my mother. She is my confidant, best friend, and shoulder to lean on. The love I have for her cannot be measured, defined, or compared because it is endless.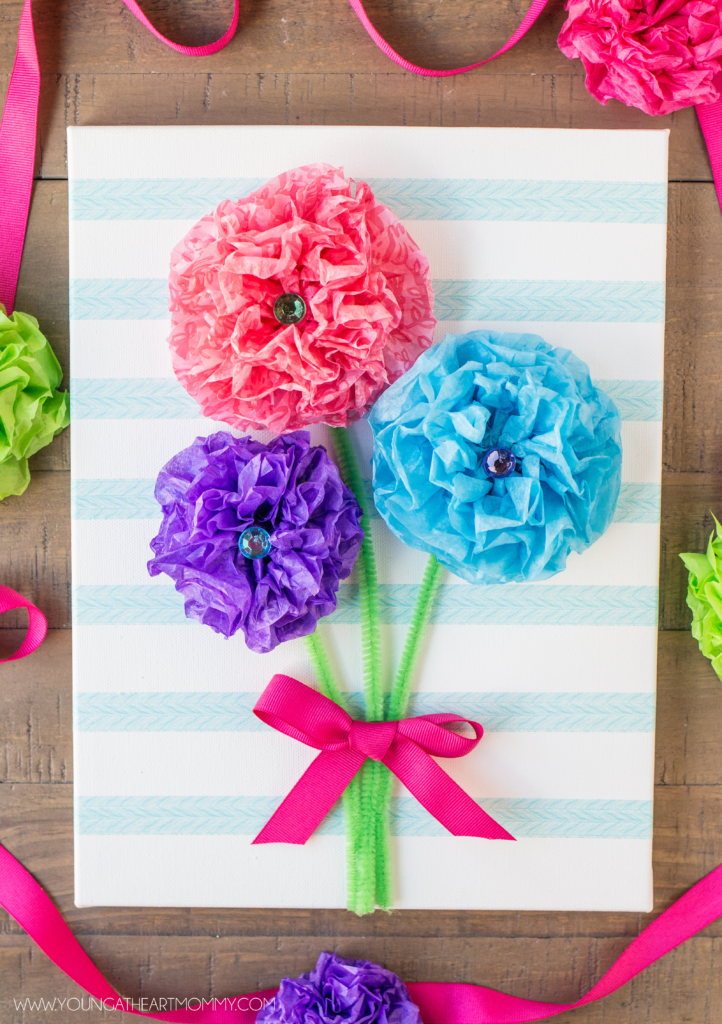 With Mother's Day a week away, I really wanted to create a unique gift to present my mom with. So, what do you get someone who has everything? Something personal, from heart, and made with love. In addition to being a devoted mother and grandmother, my mom absolutely loves to spend her free time decorating the house. I knew this Tissue Paper Flower Bouquet Canvas would be perfect to spruce up her space with springtime cheer. The colorful flowers and made from tissue paper and the canvas itself is decorated with pastel washi tape. Super simple! This is such an easy project to do and you can even involve your kiddos in the process if they have a gift to give to grandma or another special mom in their lives.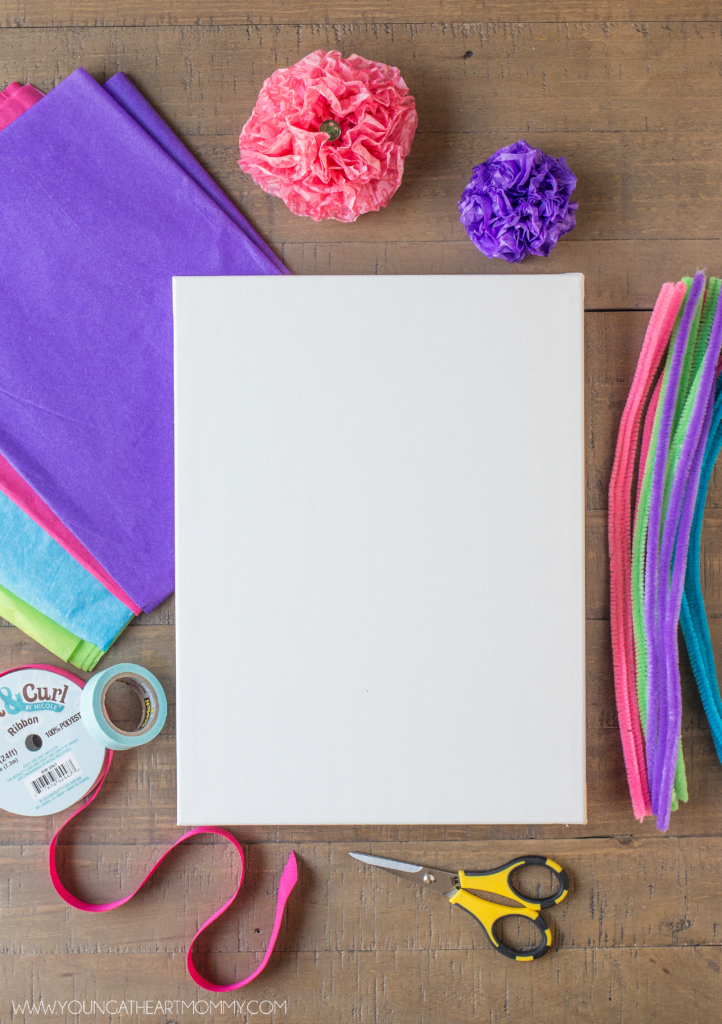 Here is what you'll need to get started:
9 x 12 white canvas

various colors of tissue paper

washi tape

green pipe cleaners

hot glue gun

ruler (optional)

ribbon
Directions:
1. Begin by decorating your canvas with washi tape. Place down strips of the tape in a horizontal pattern, leaving spaces in between. If you are using more than one color or pattern make sure to alternate each piece as your place it down onto the canvas.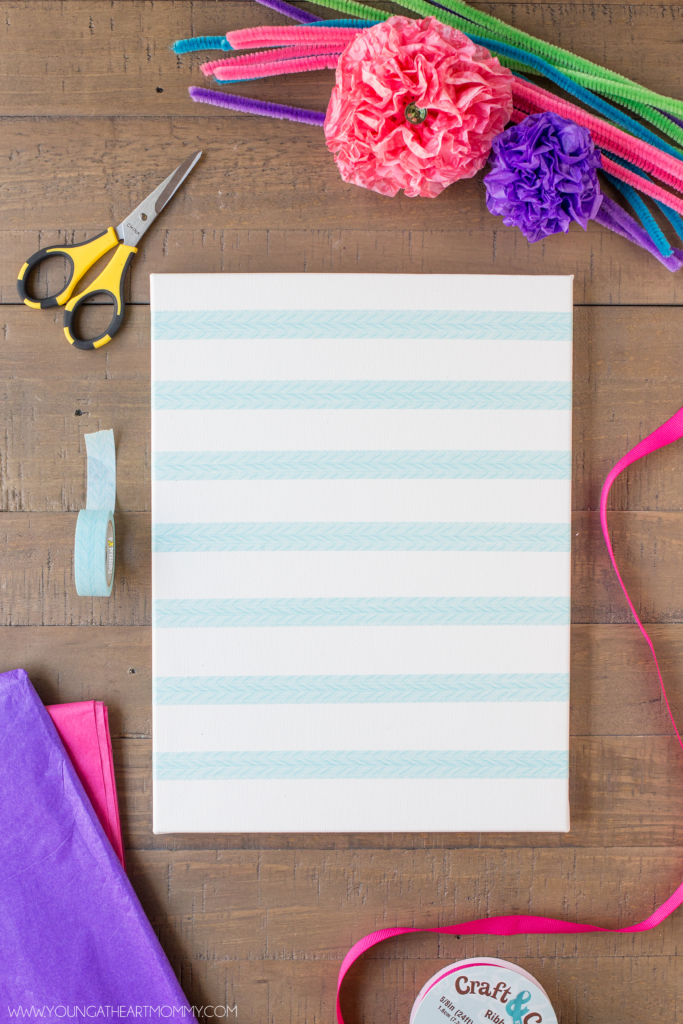 2. Now it's time to make the tissue paper flowers. Cut the tissue paper into 4 inch squares or smaller, depending on what size you want your flowers to be. Feel free to make different sizes and shapes for contrast. Each flower should contain 5-6 squares. The more sheets used, the fuller the flower will be.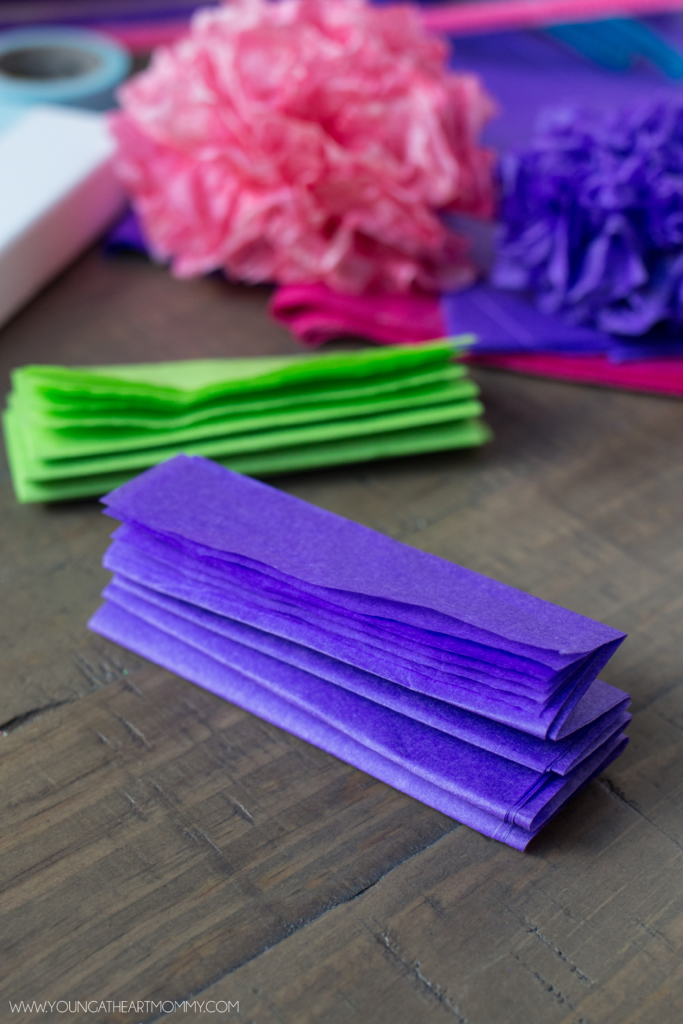 3. Stack tissue squares together and starting from the bottom, fold accordion-style. The folds should be around 1/2 an inch. The smaller your flowers are, the more you will able to fit in your bouquet.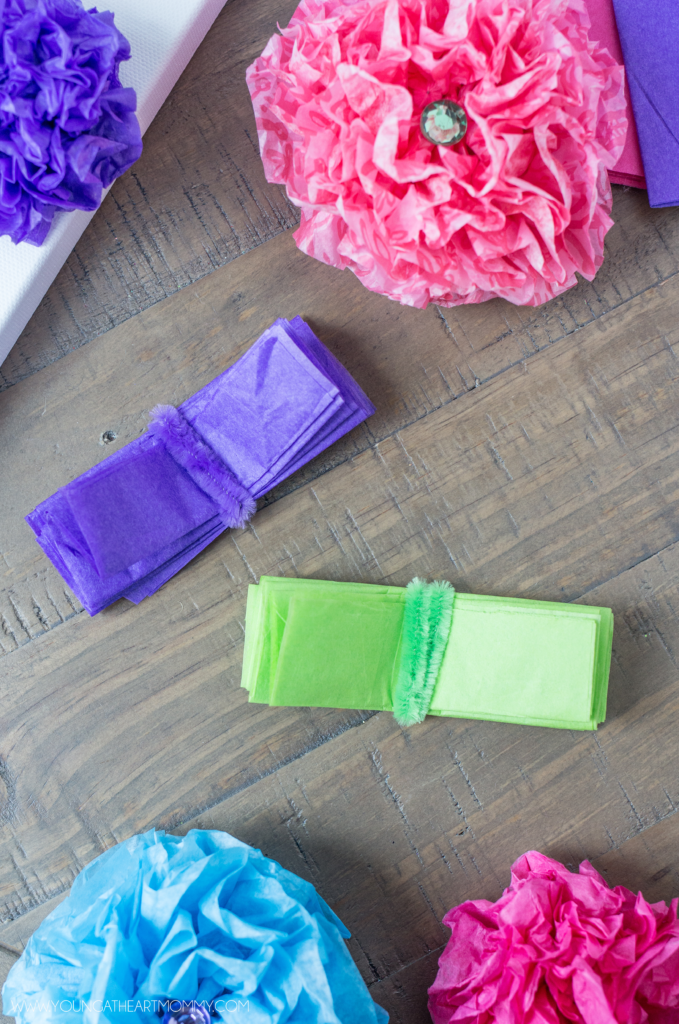 4. Wrap a piece pipe cleaner around the center and tie in the middle. Twist and secure to ensure that tissue will stay held together. You can leave the edges as is, square, or trim them to create different flower styles. Rounding the edges will form pedals while using the scissors to cut 1 inch slits will make a fringe.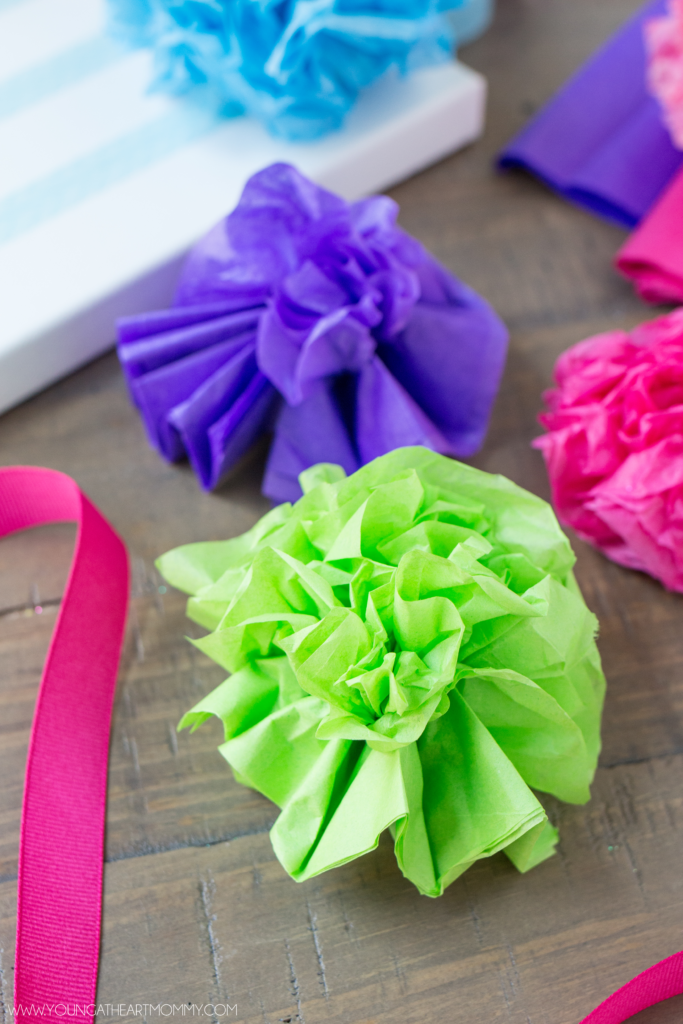 5. Carefully unfold each side of the flower and separate the layers of tissue paper. Fluff the petals as you go but be careful not to cause any rips or tears. Add gems in the centers for a touch of spring sparkle.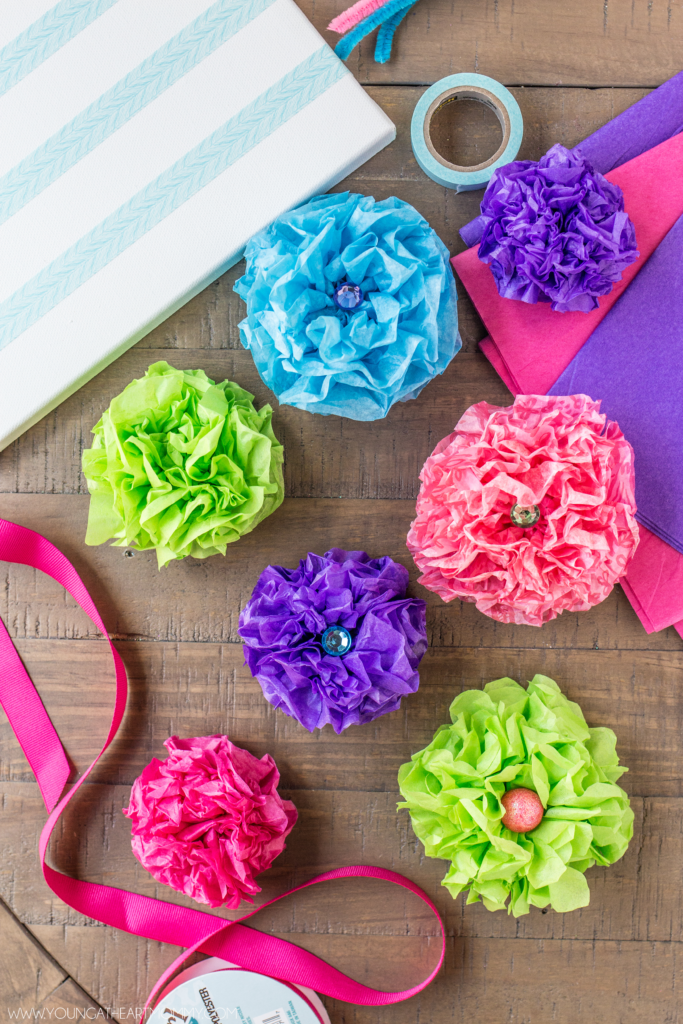 6. Use a hot glue gun to attach flowers and green pipe cleaner stems to canvas.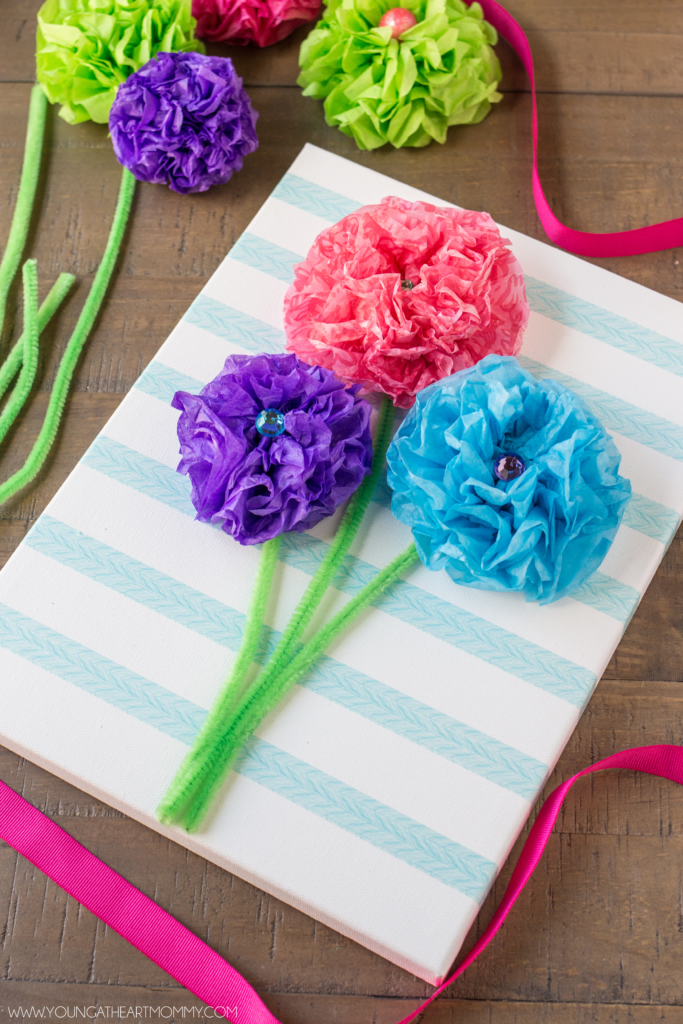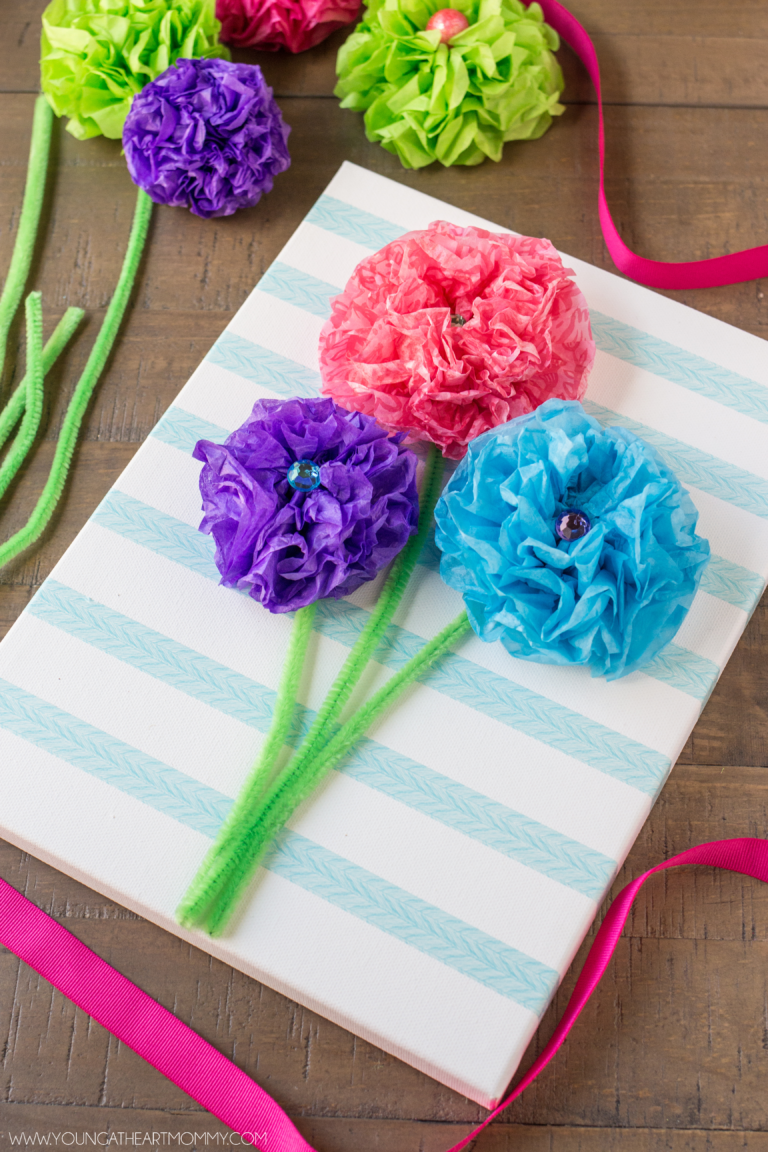 7. Finish off with a pretty pink bow in the center of your gathered stems.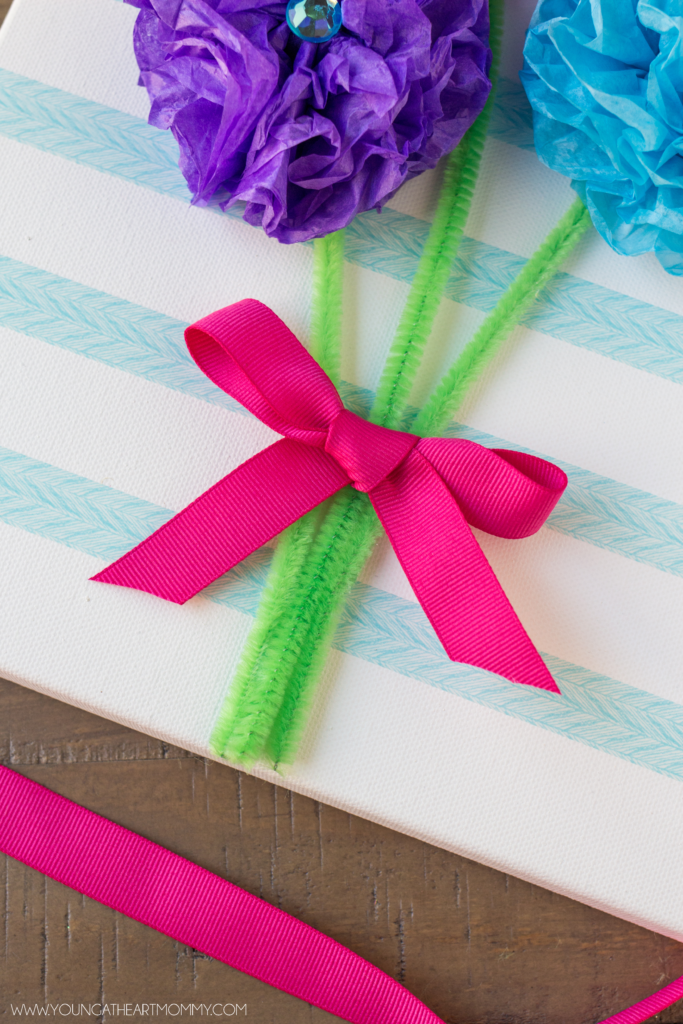 Every mom loves a bouquet of beautiful blooming flowers!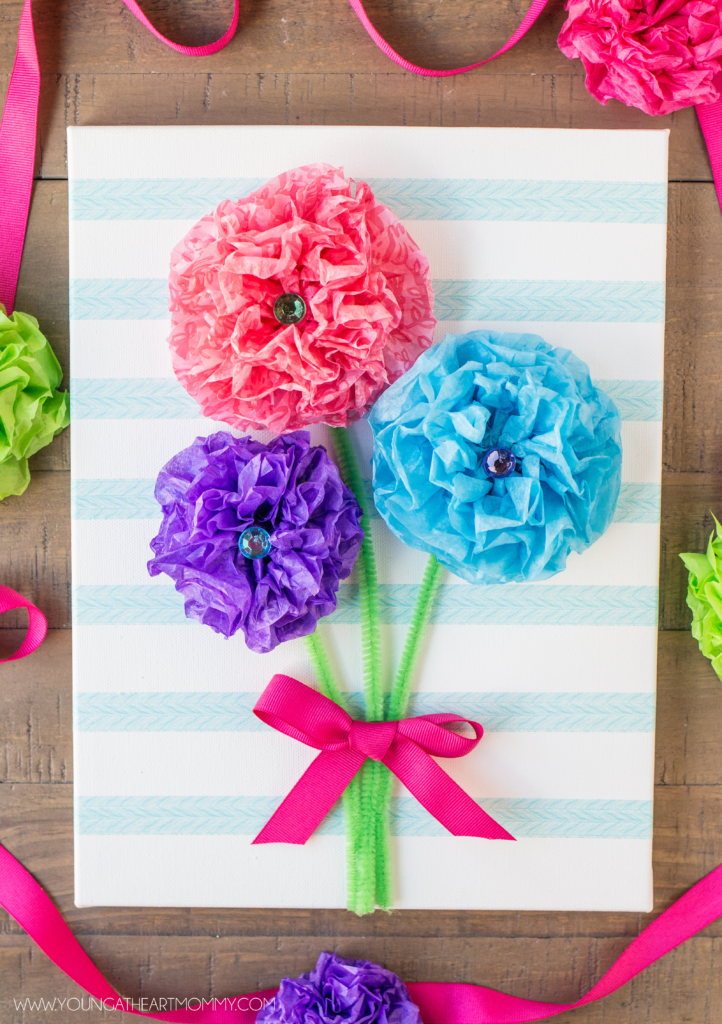 How do you add a personal touch to your Mothers' Day gifts?