This is a sponsored post on behalf of Pfizer Consumer Healthcare. The information, and gift card have been provided Pfizer Consumer Healthcare. All thoughts and reviews are my own. #SickJustGotReal #AMomCanDream
Mommy-hood is truly a balancing act full of ups, downs, and unexpected moments that leave us saying, "I didn't sign up for this!" From monitoring fevers until the wee hours of morning to the common cold that seems to last for weeks, we are on call 24/7 to tend to our little ones. Does this sound like your regular routine? You're not alone! These things happen and sometimes when you least expect it.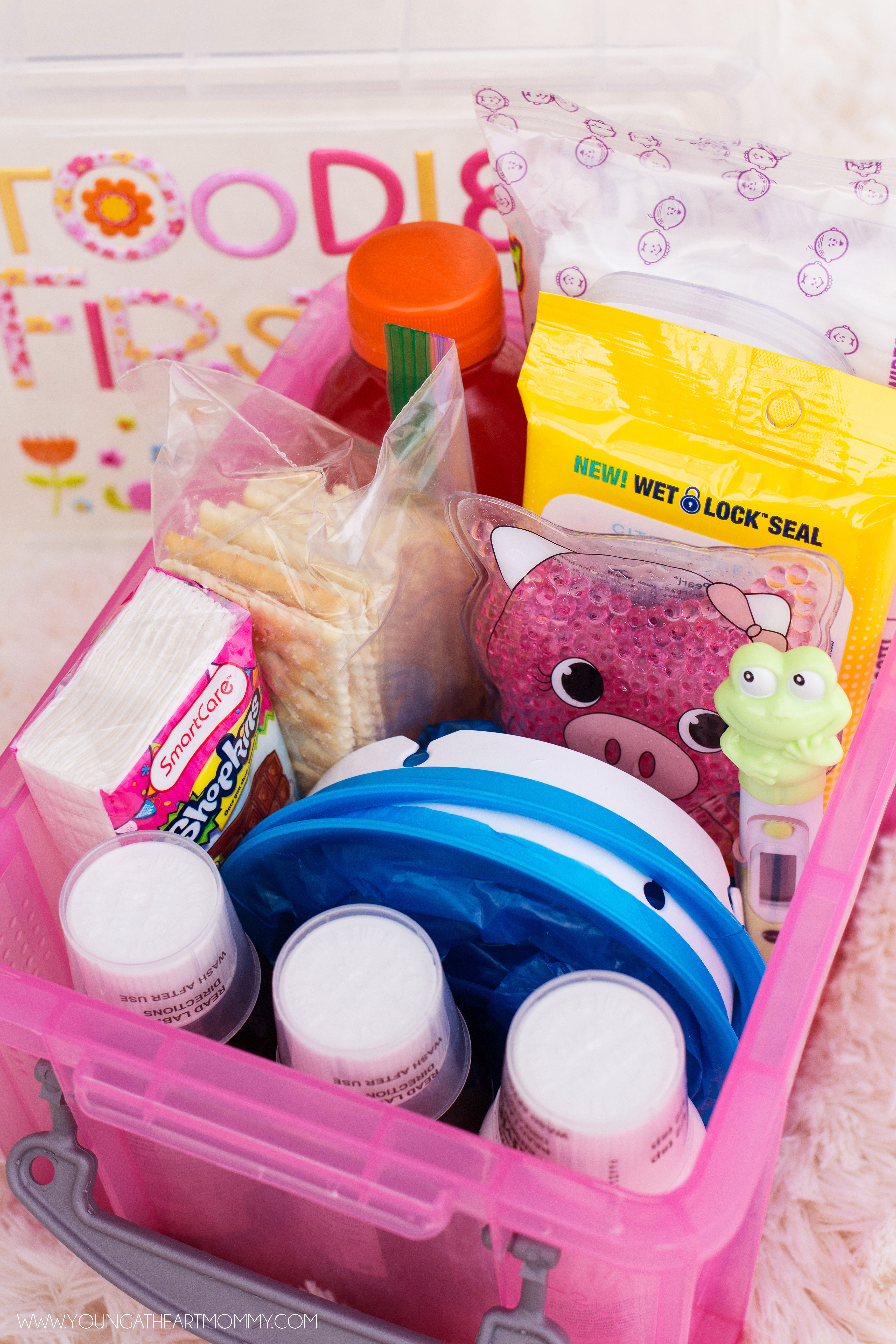 Have you ever been on a spontaneous vacation with your family, one in which you planned only days before? You know, those random "in the moment" getaways that make you feel like your being adventurous. That's the boat I'm currently sailing in after booking a random trip in only 20 minutes with about 10 of those being actual "planning." This is unusual for us because we are a family that prepares ahead and dissects every single detail of a trip beforehand- weather, location, hotel reviews, itineraries, activities, restaurants, and any other vital component of going out of town. The one thing I ALWAYS tend to forget? The struggle of traveling with a sick child. We've all been there and since it's already happened to us once, I have made sure that we have a road trip first aid kit on hand this time around.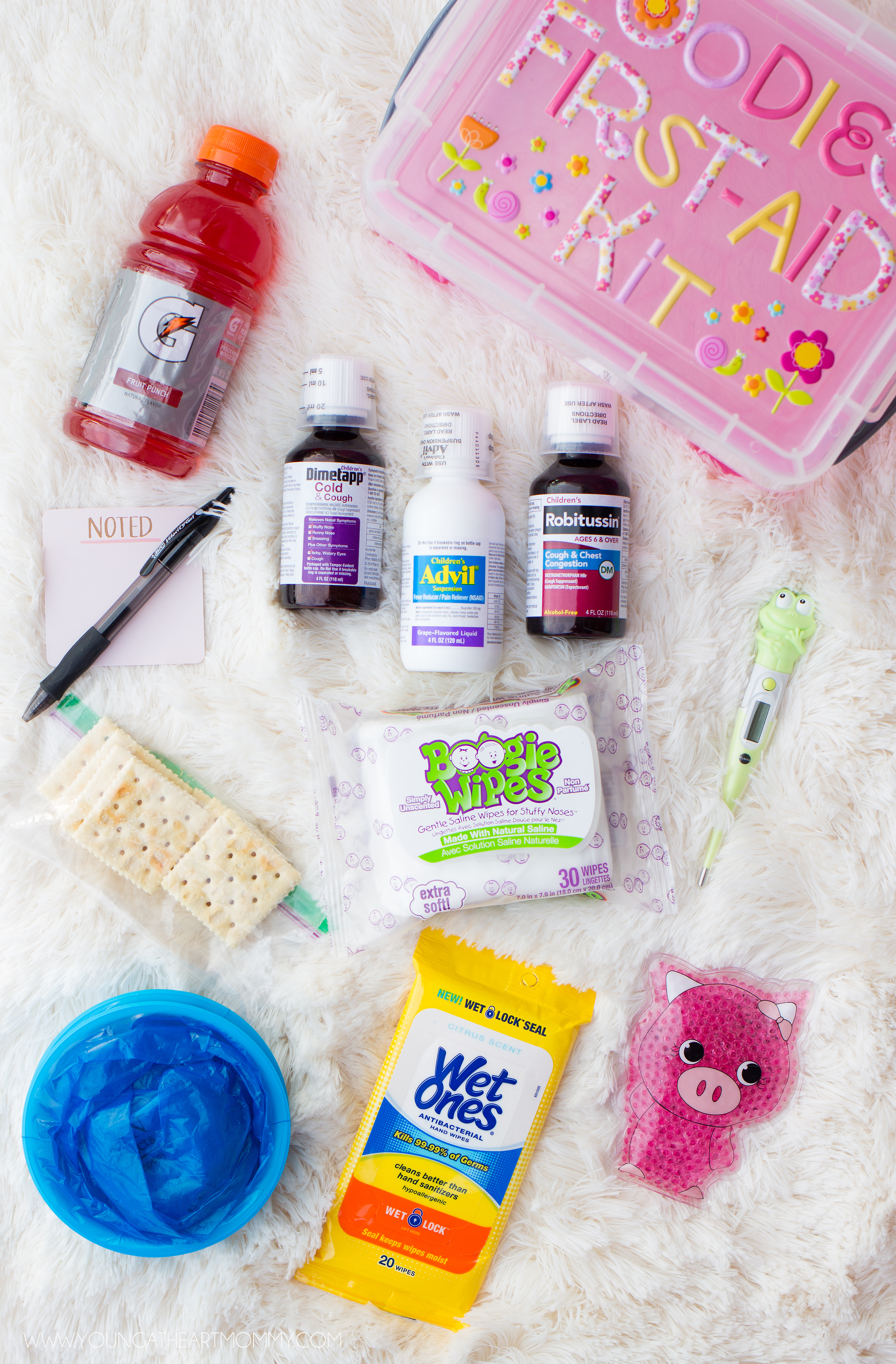 Here is what you will find in my Road Trip First Aid Kit designed for the little humans in our lives, also known as the germ magnets:
Medication: prescribed or over the counter, it is crucial that all medication be up to date. Our kit always contains Children's Advil® Grape, Children's Robitussin®, and Dimetapp® Cold & Cough.
Small notepad & pen: helpful in keeping track of what time medications are given along with the dosage. Yes, we all have phones to enter these things but sometimes a good old fashioned piece of paper comes in handy.
Barf bags: never leave home without them. As a parent of a child that suffers from car sickness, I always have at least one of these on hand. They're durable and easy for children to hold themselves.
Cold Pack: can provide c00ling comfort to the forehead or back of neck if child becomes warm.
Tissues:  for sniffles, sneezes, and wiping those relentless runny noses that ooze with boogies.
Boogie Wipes: moist wipes that are gentle on tender noses and made with saline to soothe. They are very soft and dissolve what I like to call, the "crusties." They're an equal alternative to saline spray, which my daughter HATES.
Disinfectant Wipes: because germs and cootie bugs spread like wildfire. Wipes are an easy way to clean hands, surface areas, and anything that your little one touches or puts in their mouth.
Thermometer: knowing your child's exact temperature is helpful in knowing what medications they need, if any. It's important to stay on top of a fever, especially if you're on the road.
Gatorade or Water: sick kit staples for hydration.
Crackers: easy on the tummy and a terrific way to get a little bit of food into them if they are under the weather. Crackers can also be used to settle a queasy stomach.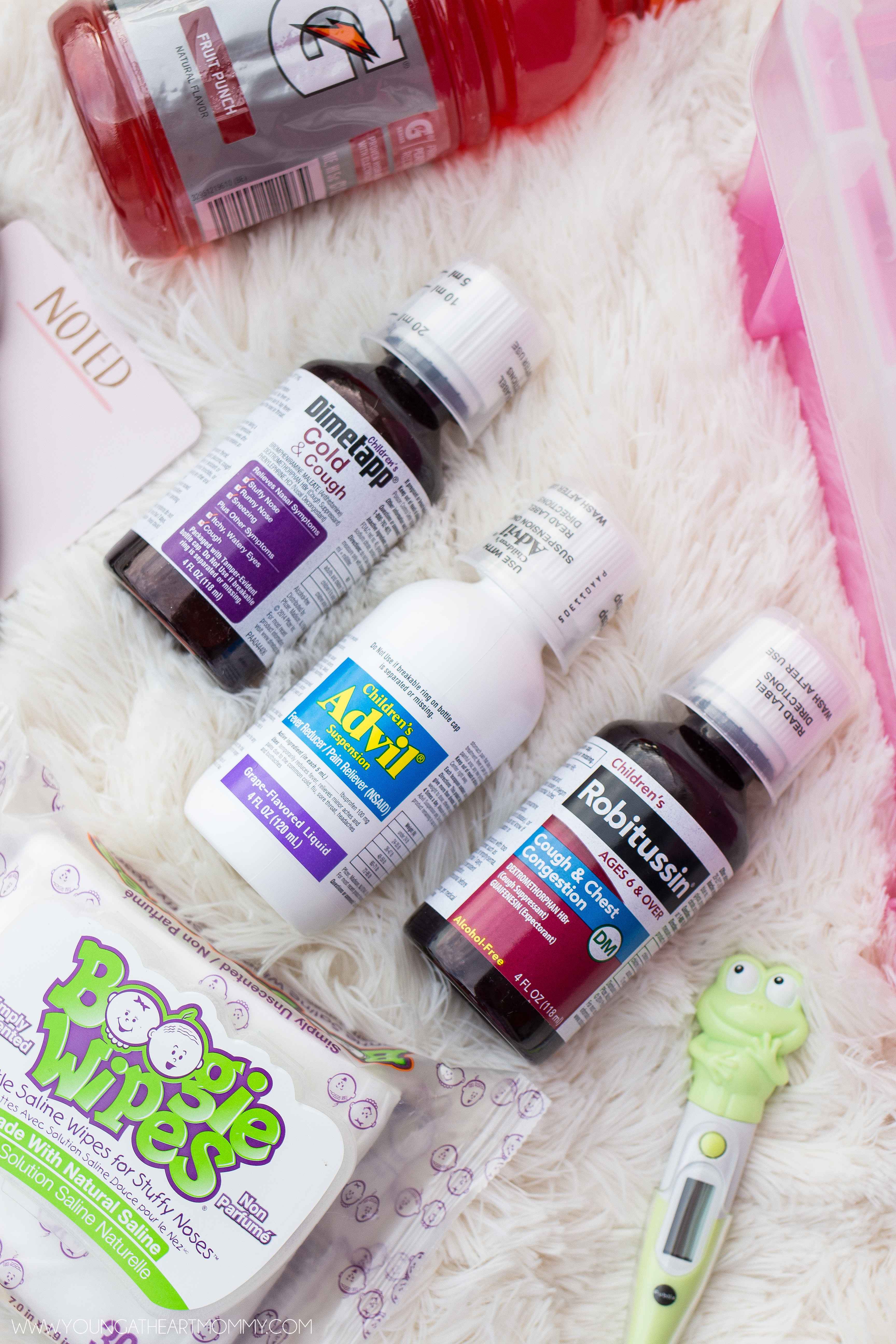 If you get into my car at any given time and see this kit placed snuggly in the backseat, be aware that Sick just got real™! The pediatric brands of Pfizer Consumer Healthcare understand how hard it can be to have a child that is feeling under the weather. That's why we always make sure to have Children's Advil®, Children's Robitussin®, and Dimetapp® in our kit at all times. We've all been there and while it's not easy, it's almost a right of passage for all parents. This video demonstrates the true struggle we all experience!
Want to get started creating a Road Trip First Aid Kit for your kids? Summer is quickly approaching and for many of us that means new adventures await! Enter below to win a $25 gift card to stock up on the essentials.