This is a sponsored post on behalf of FabFitFun and Bloggin' Mamas. All opinions are my own. #FabFitFunMamas #FabFitFun
Spring is the season for welcoming change, transformation, inspiration, and fabulous finds delivered right to your doorstep! Last week I received my FabFitFun Spring Box and as always, it's packed with many hand-selected goodies to get me through the next few months before summer's arrival. From packaging to presentation, this box is full of high quality picks that never fail to impress.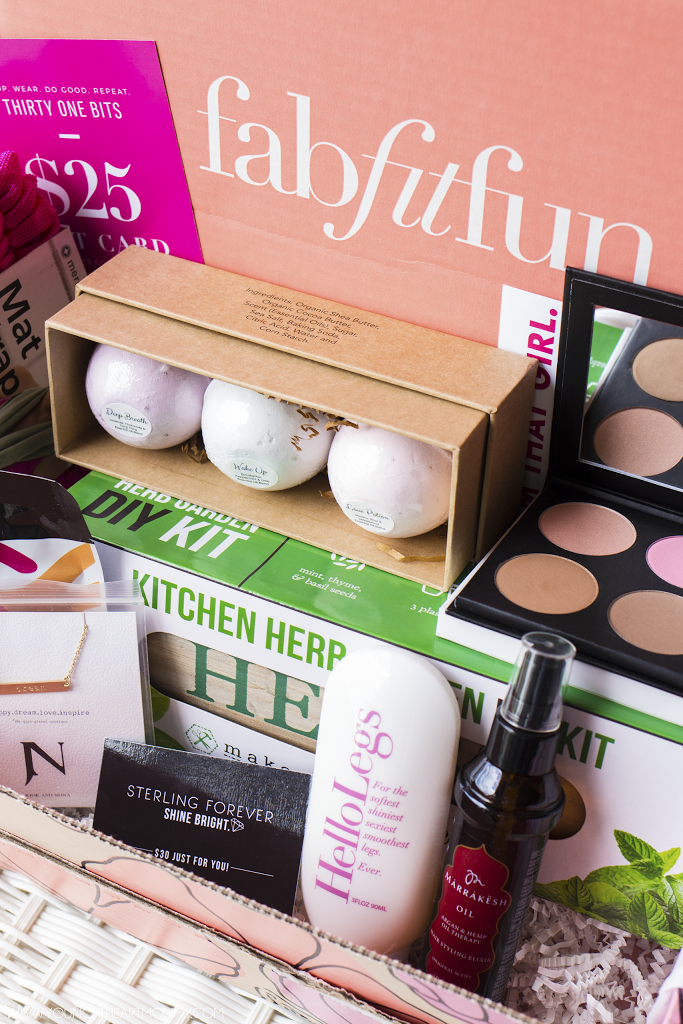 FabFitFun is celebrating their THIRD birthday this spring and they have partnered with an amazing non profit organization known as I Am That Girl. This community is all about turning self-doubt into self-love by creating a support system for girls to express themselves and be who they are. What a wonderful cause to celebrate. Fab Fit Fun transferred this positive energy into their spring box by adding full-sized items that  can be used to nurture your mind, body, and soul!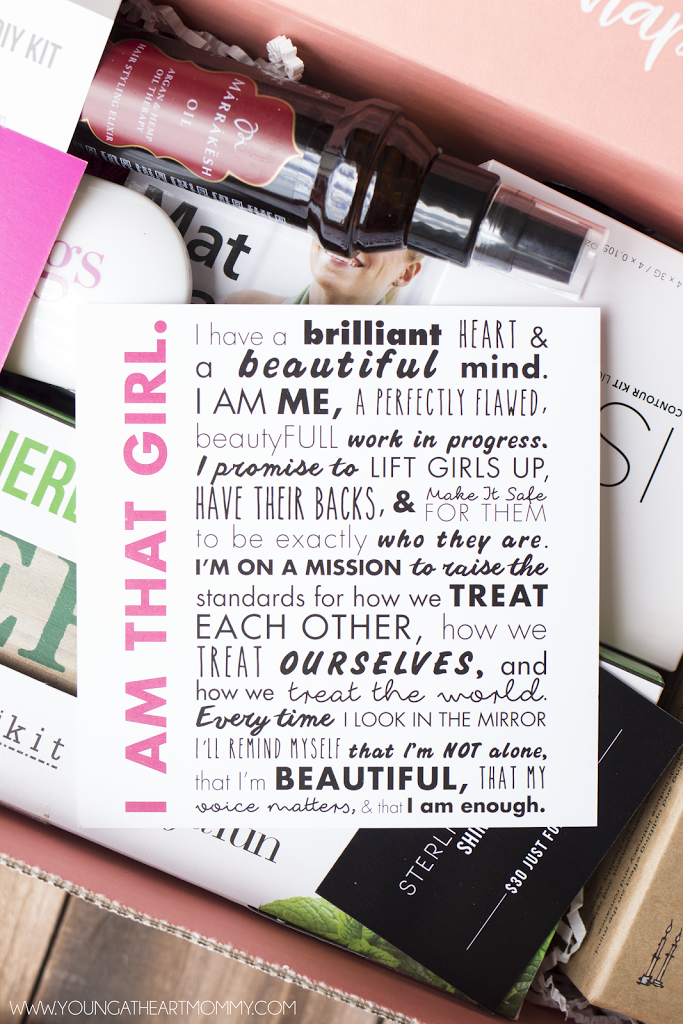 The Spring Box came with eight full sized products and two gift cards – $25 to 31 Bits and $30 to Sterling Forever.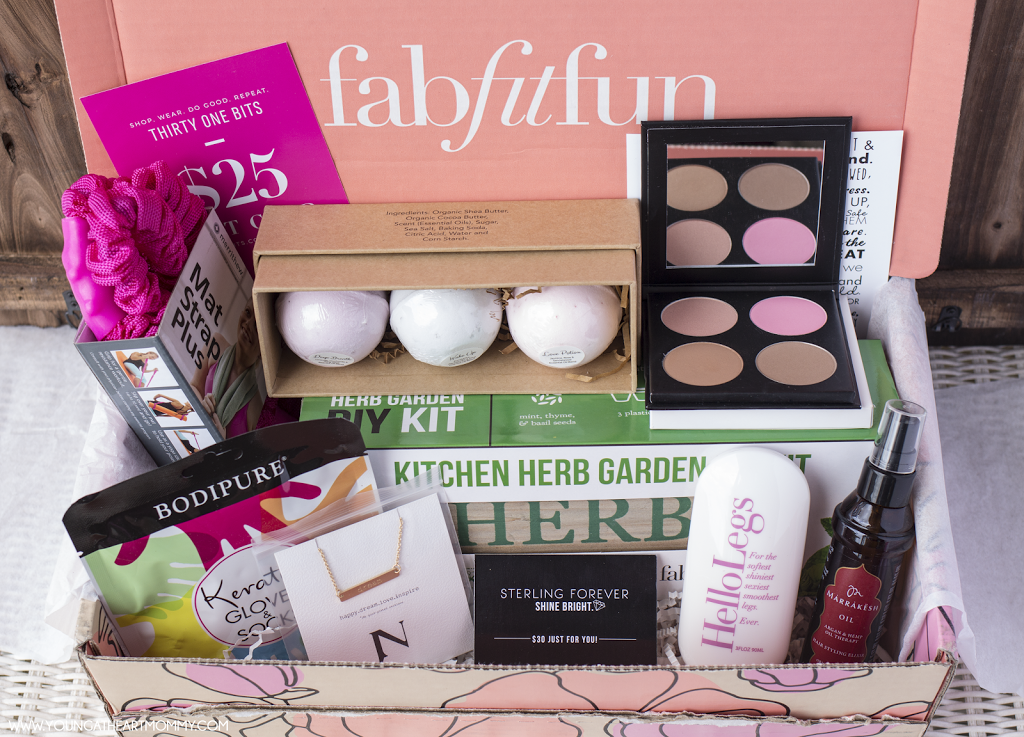 Herb Garden by MakersKit (Retail: $35)- Prior to receiving my box I did a little bit of snooping around for sneak peeks and I was super excited to see this included. This kit gives you everything needed to grow thyme, mint, and basil right at home. I've always wanted to give this a shot and can't wait to get started. I will probably include Toodie in the process because she loves planting, gardening, and putting her green thumb to good use.
Bath Bomb Trinity by Jus D'Amour (Retail: $28)- Just what one needs to kick back and relax after a long day of mommy-hood. These bath bombs are the "bomb" and since they're made with essential oils, your skin is left feeling super soft after a warm bath. I am a major bath bomb junkie so I was pleased to see three of these! They smell SO good and definitely set the mood for a relaxing rest afterwards.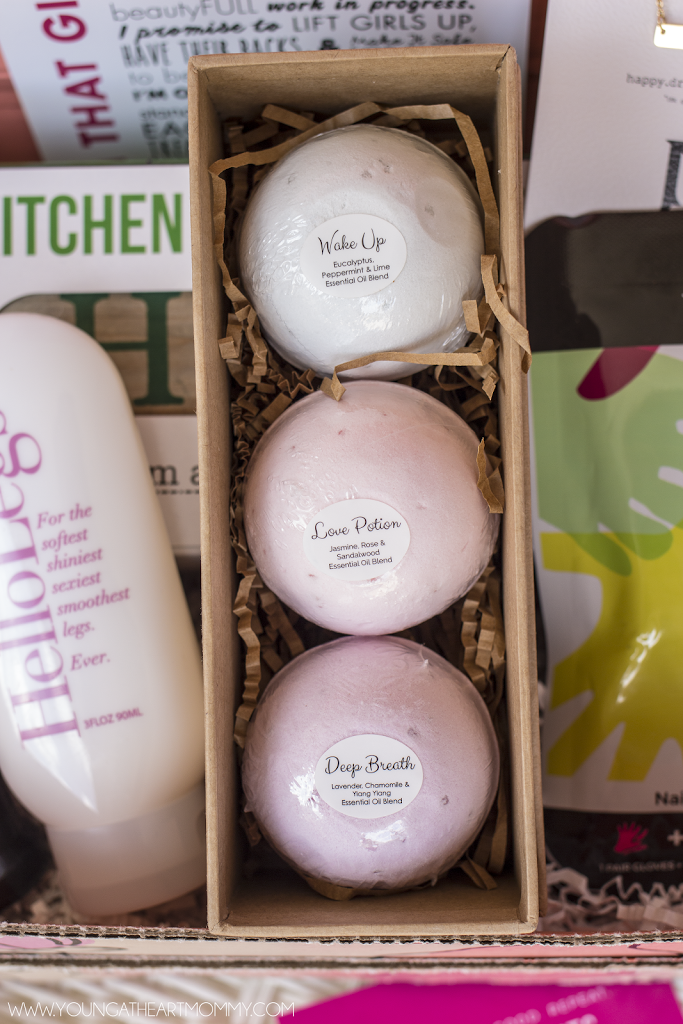 Countour Kit by ISH (Retail: $32)- As a pale chick, contouring scares me. It really does. I'm trying to get the hang of it but it's going to take some time. Rome wasn't built in a day and I can't seem to locate my cheek bones. True story! Huge plus that the colors are all bendable and work with my skin tone. Love the highlight and hopelessly devoted to learning how to use the whole kit to its full potential.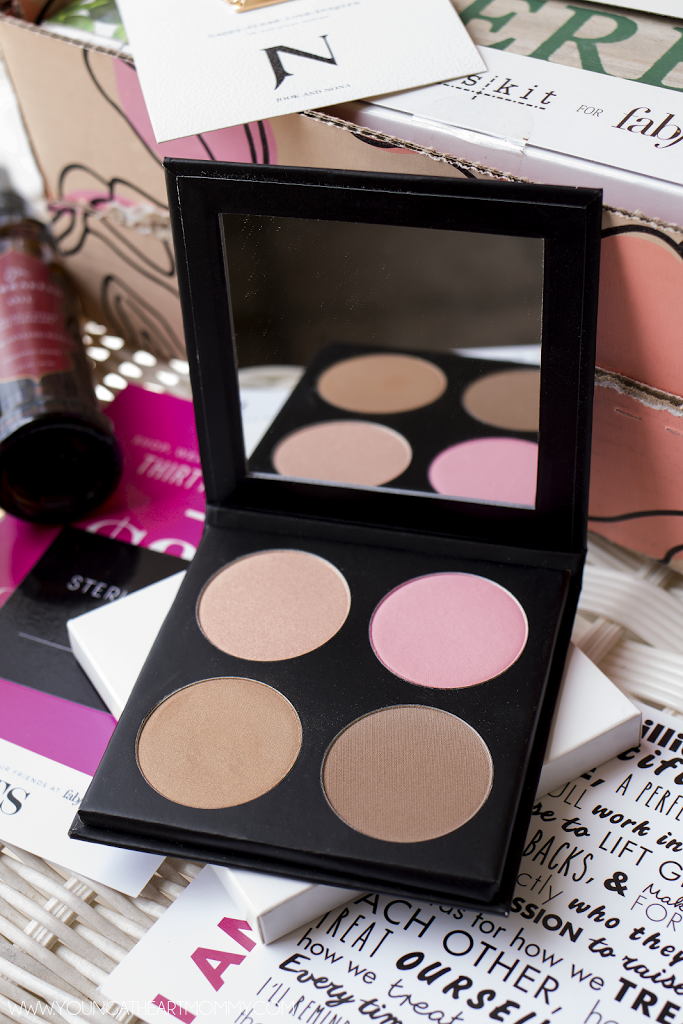 Keretin Gloves & Socks (Retail: $9.98)- Sometimes you have to treat yourself to a spa session at home and this duo gives you the easiest mani-pedi treatment ever! I can't wait to give this a try during the week. My nails need a little extra TLC right now.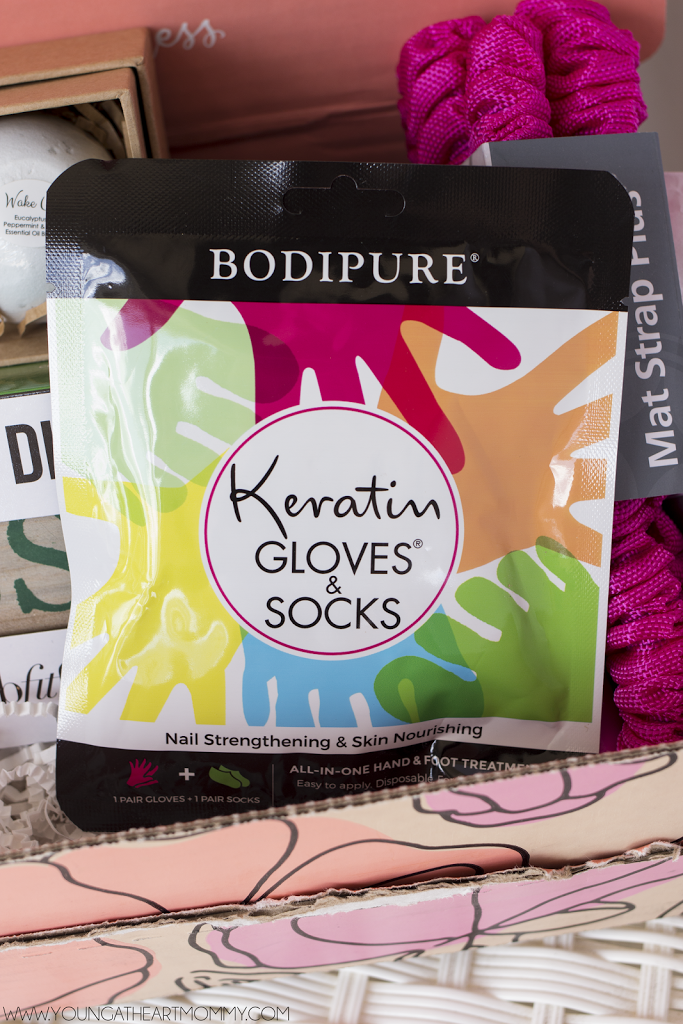 Tag Necklace by Jook & Nona (Retail: $65)- this dainty necklace is so pretty in person. I love that it's feminine and can be layered with other pieces.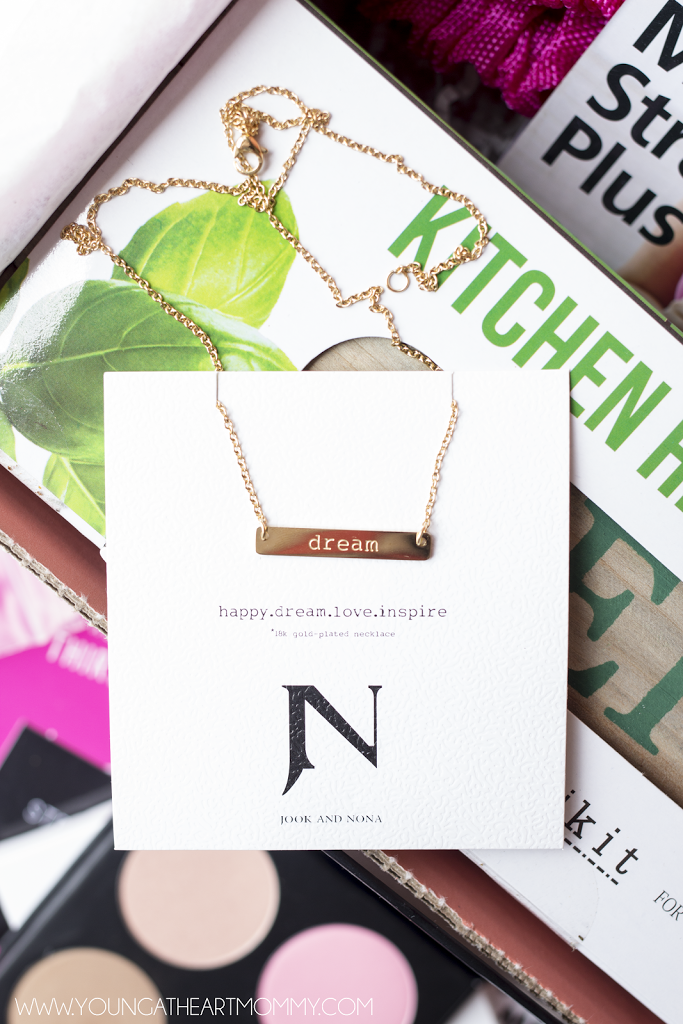 Shaving Emulation Lotion by HelloLegs (Retail: $19.95)- This was the first thing I tried from the spring box and I fell in love immediately. What a huge difference compared to using shaving gel. The combination of lotion and cream make shaving effortless. I don't think I will ever go back!
Argan & Hemp Oil Therapy by Marrakesh (Retail: $22.99)- This stuff is pure magic. I have been using it on my hair every morning after I get out of the shower. I put a small amount in the palm of my hand and run it through the ends, where it tends to get dry. It has made such a huge difference in reducing frizz and leaving my locks silky smooth.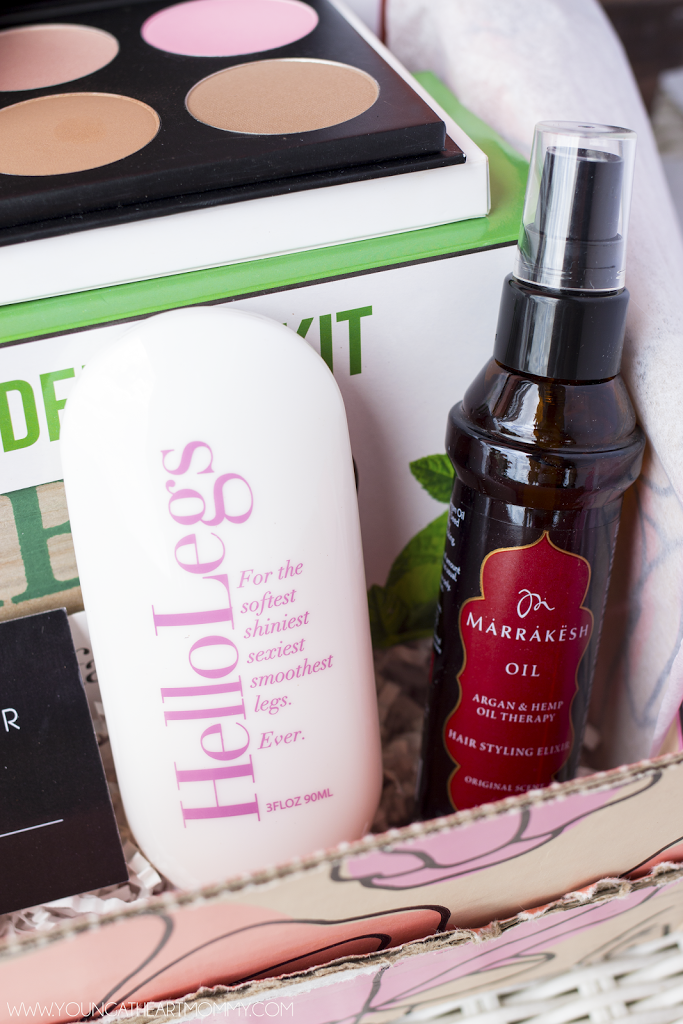 Yoga Mat Strap by Merrithew (Retail: $14.99)- This can be used as a resistance cord for strength training during yoga practice or as an alternative to a mat bag. I have never personally done yoga but this gives me the motivation to try!   
The Fab Fit Fun Spring Box did not disappoint. I am very pleased with all of the hand picked goodies they packed in there this season. Each box costs $49.99 but you are receiving over $200 in products which is an incredible deal. This month's box was valued at $282! You can save $10 on your box with the promo code YOUNG at checkout.    
Have you tried Fab Fit Fun?  
What's your favorite monthly subscription service?