This shop has been compensated by Collective Bias, Inc. and its advertiser. All opinions are mine alone. #SaveYourMemories #CollectiveBias
Give a gift that matters this season with a personalized Wrapping Paper Christmas Tree Canvas!
As we transition into the most wonderful time of year I am already counting the days until I can crack open the Christmas bins bursting at the seams with all-things seasonal and sparkly. From baking cookies for Santa to decorating the tree, tis' the season for magical moments with those closest to us. Some may call it crazy but I really do enjoy every aspect of the holidays, even the beautiful madness found in waking up before the sun rises to shop till I drop for the perfect gifts. This time of year can be hectic as is but finding that perfect gift for everyone on our list can prove to be a challenge. For the friend or family member who has everything I try to make the season merrier with a personalized present that will leave a lasting impression.
Presents made with love are the best kind because the receiver can see how much time, effort, and thoughtfulness you took in creating it. This Wrapping Paper Christmas Tree Canvas is the gift that keeps on giving, especially with the adorable photo ornaments it's decorated with. The holidays gives us all an excuse to sift through the craft closet and break out the glue gun. Tap into your inner creativity and make something one-of-a-kind for someone you care for. The HP Deskjet 3632 All-In-One Printer/Copier/Scanner makes it beyond easy to do so.
Printing fond memories and special moments for holiday crafts is painless with this printer. Not to mention, I found it at Walmart in the electronics section for under $50 because it happened to be on rollback. Such a steal! It's white, sleek, and set-up took me less than five minutes. I had it up and running immediately because no software is required. All I had to do was download and login to the HP All-In-One Remote app to get started. I love the simplicity and also how quick the printing process is due its WiFi capabilities. In a matter of minutes I was connected through my wireless network and began printing photos to decorate my Christmas tree canvas. The photo ornaments really do tie it all together.
Motherhood has made me a compulsive picture taker which means I never lack a pool of photos to choose from. I am always the one behind the camera which has allowed me to capture so many special moments of my daughter, friends, family, and pets. As a result my cell phone is overflowing with hundreds of pictures I haven't gotten around to printing. Not that I need an excuse, but this holiday project is giving me the nudge I need to do so. A picture is truly worth a thousand words. It has the ability to tell a unique story, share a special memory, and foster fuzzy feelings of a cherished experience we don't want to forget.
Now let's get started on the canvas itself. Here is what you will need.

Materials:
11x

1

4 traditional white can

vas

3-5 rolls of various holiday themed wrapping paper

green, red, and gold glittered

card stock or paper

small

metal

gold star

cork gift tag or brown card stock (for

trunk)

photo paper

scissors

2

"

circle hole pun

ch

hot glue gun
Directions:
Begin with a blank canvas, literally! Gather your materials and make sure that you have at least 3-4 rolls of holiday paper within a similar color scheme. These will be used to build the tree itself. Jewels, sequins, and stickers are also optional for additional decorations.
First, use a hot glue gun to attach the tree's trunk to the bottom center of the canvas. I used a gift tag made of cork material because it resembled real wood but brown card stock can serve the same purpose.
To create the tree's layers you will need to cut out various sizes and lengths of wrapping paper. The bottom layers should be the longest. As you cut them I suggest using a ruler and leaving a half an inch in length between each piece so that they begin to get smaller and smaller as you move up the tree. Remember to cut each layer from a new roll of wrapping paper so each has a different pattern than the last. Once you have all of the patterns on your canvas you can start over again and repeat until you reach the very top. If possible, purchase paper with the cutting lines or a grid because it makes it ten times easier to measure each layer accurately.
Once your layer is cut, roll it up until it looks like a scroll. Make sure it isn't too tight because you want the tree to look full and not thin. Once rolled up to your liking, use a small piece of tape to secure it. This will not show once it is attached to the canvas.
Use a hot glue gun to secure paper rolls to the canvas and begin forming your tree. Put a generous line of glue on the bottom of the roll, where the tape is, and place down gently. Add a small amount of the glue in between the rolls so there isn't any white space showing. Once you do this, mini clothespins should be attached to both ends to hold the layers together until glue has dried.
Attach a gold or silver star to the top of your tree.
Print your favorite pictures onto photo paper. The HP app actually lets you re-size them which makes it super easy to customize. Once printed, I used my 2" circle punch to create the photo ornaments.
To add a little bit of sparkle I attached them to glittered card stock before adding them to the tree. Stagger the ornaments as your please and add extra jewels to the different layers.
Looking for even more fun ways to incorporate your printer into holiday projects? Print out this cute Christmas Tree Jigsaw Puzzle for the kids! You can find the HP Deskjet 3632 printer in the electronics department at your nearest Walmart.

Happy crafting! What kind of personalized gifts are you making for friends and family this season?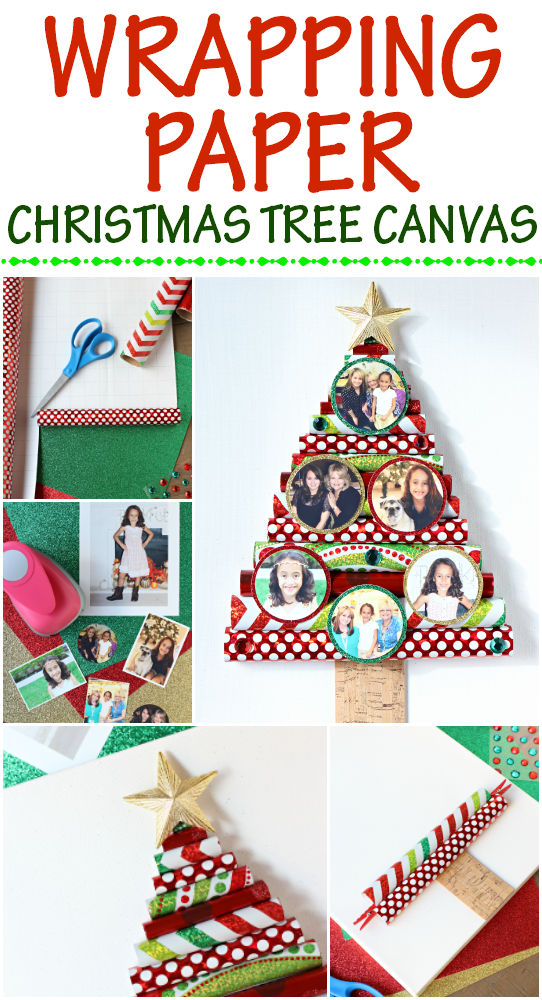 Save
Save