The PEEPS® and PEEPS & COMPANY® products, information, and additional gift pack have been provided by PEEPS® and PEEPS & COMPANY®.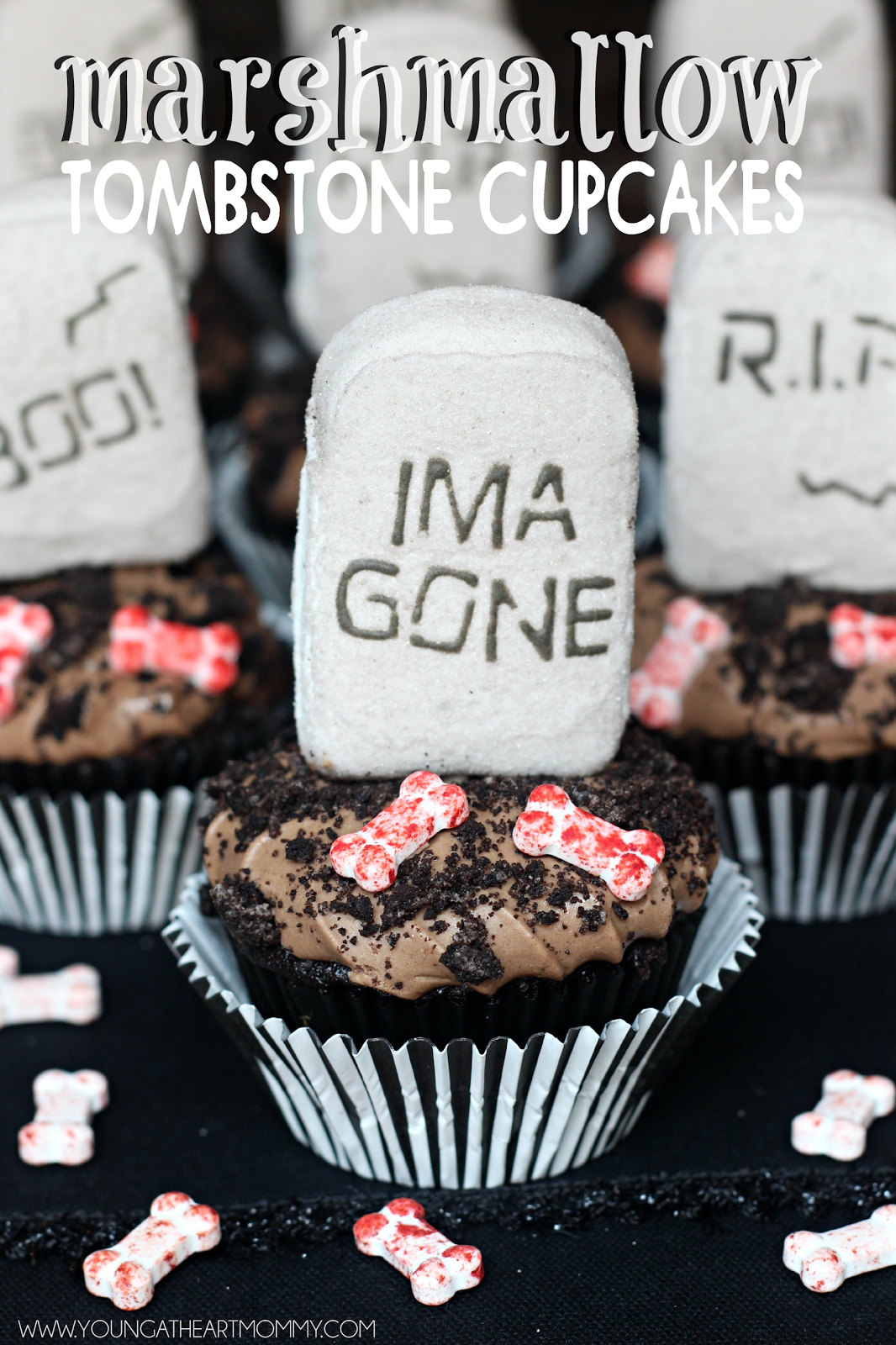 Halloween is right around the corner and it's hard to not get excited when stores are already stocking their costumes, candies, and creepy decorations. With 30 days of opportunities to conjure up potions and sweets, these Marshmallow Tombstone Cupcakes are just one way to welcome the spookiest time of year. Before you know it you will have little sugar filled kiddos knocking on your door looking for a surprise to be tossed into their bags. I hope you have your candy bowl ready and stocked with favorites like Mike and Ike® Mummy/Vampire Mix, Hot Tamales® , Goldenberg's® Peanut Chews, and PEEPS® Halloween Marshmallow Mini Chicks. These frighteningly fun goodies are sure to be gobbled up quickly by those little ghoulies.

A long night of candy distribution and watching scary movie marathons wouldn't be the same without a secret stash of PEEPS® to nibble on. If you're smart you'll toss a few packs in the freezer for an extra chilly treat to help keep your sanity!
This Halloween PEEPS® has released a variety of new products along with their classic ghosts, pumpkins, and cats. Last week I was sent a jumbo box full of them! From their marshmallow tombstones to the delightful Candy Corn Flavored Chicks Dipped in White Fudge– you don't want to miss out on these.
PEEPS® Chocolate Mousse Flavored Marshmallow Cats

PEEPS® Marshmallow Ghosts

PEEPS® Marshmallow Pumpkins

PEEPS® Milk Chocolate Dipped Marshmallow Orange Chicks

*NEW* PEEPS® Tombstones
*NEW* PEEPS® Pumpkin Spice Flavored Chicks Dipped in White Fudge
*NEW* PEEPS® Caramel Apple Flavored Chicks Dipped in Caramel Fudge
*NEW* PEEPS® Candy Corn Flavored Chicks Dipped in White Fudge
PEEPS® have always been a holiday staple in my home, especially since they always have fun flavors and seasonal shapes available. I love using them to spruce up cupcakes and create marshmallow kabobs for Toodie's lunchbox. There truly is nothing like a PEEPS® marshmallow. They're soft, fluffy, and covered in a thin layer or sweet sugar crystals. It's equivalent to biting into an airy cloud, or so I imagine! Delicious and addicting, I don't think anyone can eat just one. I know I sure can't which is why I incorporated them into my first Halloween cupcakes of the year.
Ingredients:
1 box of chocolate cake mix

4 cups of powdered sugar

8 oz. softened cream cheese

1/4 cup salted butter

1/4 cup cocoa powder

1 tsp. vanilla extract

PEEPS® Tombstones

crushed OREO cookies

candy bones

Directions:
1. Preheat oven to 350 degrees and prepare cake mix according to the directions provided on the box. Using a cupcake or muffin tin, fill cupcake liners about half way with batter. Pop in the oven for 15-20 minutes. Remove and allow to cool.

2. Begin preparing buttercream frosting by beating butter and cream cheese in a large stand mixer on medium speed. Continue to beat until creamy. Add in vanilla, cocoa powder, and 1 cup of powdered sugar at a time. Once ingredients are combined well, reduce speed and transfer to a piping bag.
3. Frost each cupcake and sprinkle on crushed OREO cookies to resemble dirt.
4. Attach tombstone marshmallows to cake pop sticks and carefully place in the center of each cupcake. Scatter candy bones on frosting.
These Marshmallow Tombstone Cupcakes are topped with rich chocolate buttercream, candy bones, crushed OREO cookies, and a tombstone marshmallow to create an edible graveyard that kids will love to bite into.
Right now through 10/31/15 you can save 30% off your next PEEPS & COMPANY® purchase, no minimum required. Use the discount code HALLOWPEEPS15 at checkout.
Want to win a PEEPS® Halloween Prize Pack of your own? Enter below and one lucky reader will receive a sinisterly sweet box of goodies on their doorstep. This giveaway is open to U.S residents only per the request of the sponsor.