This #VillainDescendants shop has been compensated by Collective Bias, Inc. and its advertiser. All opinions are mine alone. #CollectiveBias
Feeling villainous? Make a batch of Sinisterly Sweet Maleficent Cupcakes topped with edible chocolate headdresses to fit right into the new Disney Descendants movie.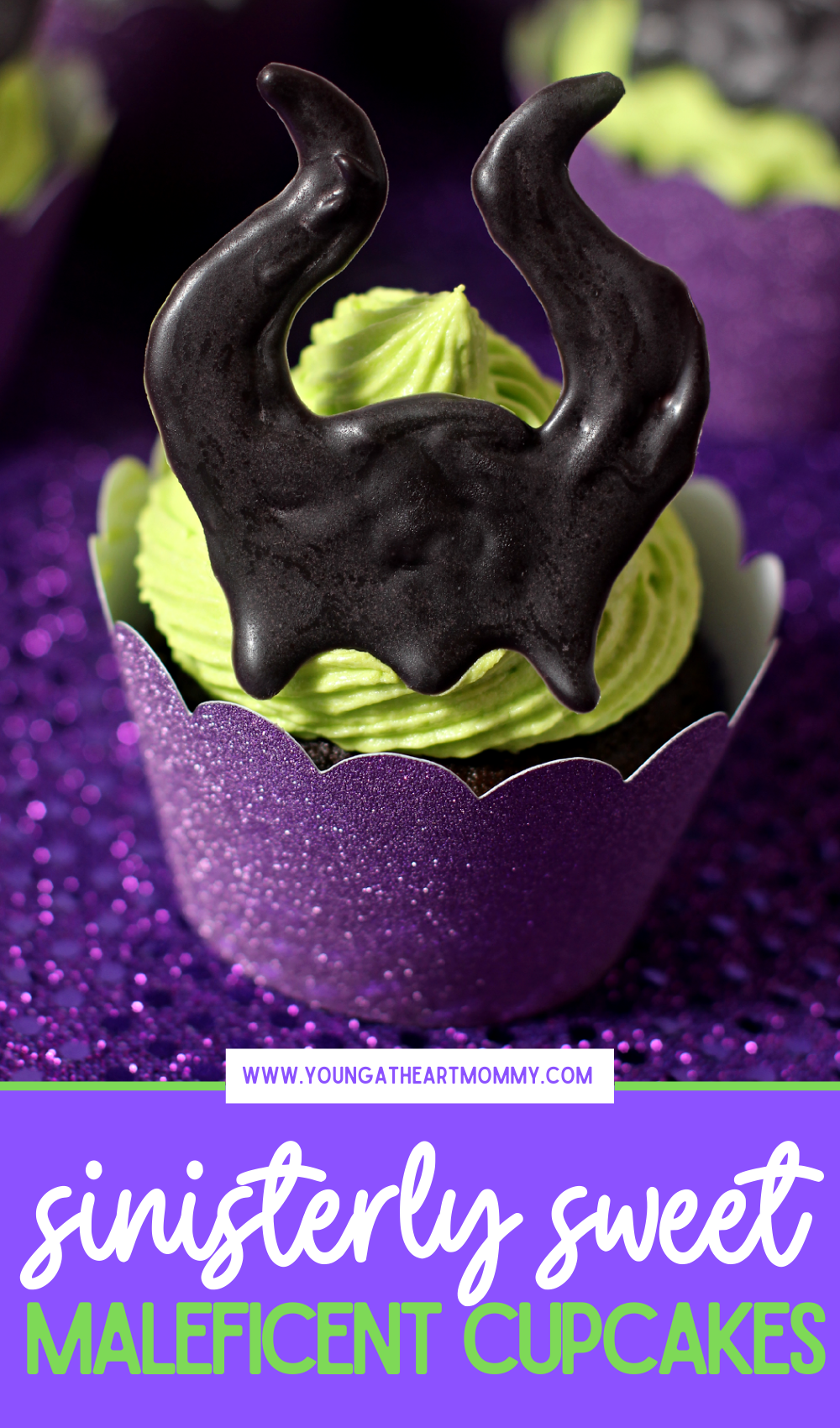 Whether you are an adult or child, everyone has a favorite Disney movie featuring an iconic hero who saves the day and a malicious villain to make their life miserable. These classic animated films tell the story of a princess, her beloved kingdom, a brave prince, and a struggle to escape the evil clutches of a sinister spirit who doesn't believe in happy endings. This is how you keep a movie interesting! It's natural that we develop a fondness for the princess and her prince charming that's always willing to go to great lengths to become a hero.
But what about the Disney villains that are left in the dust-cursed, loathed, and feared by all? Even in a world where good triumphs over evil, those villains we are taught to hate have a story and wicked spawn of their own. In the Disney Channel Original Movie, Descendants, we get to meet the exiled children of the those we despise the most!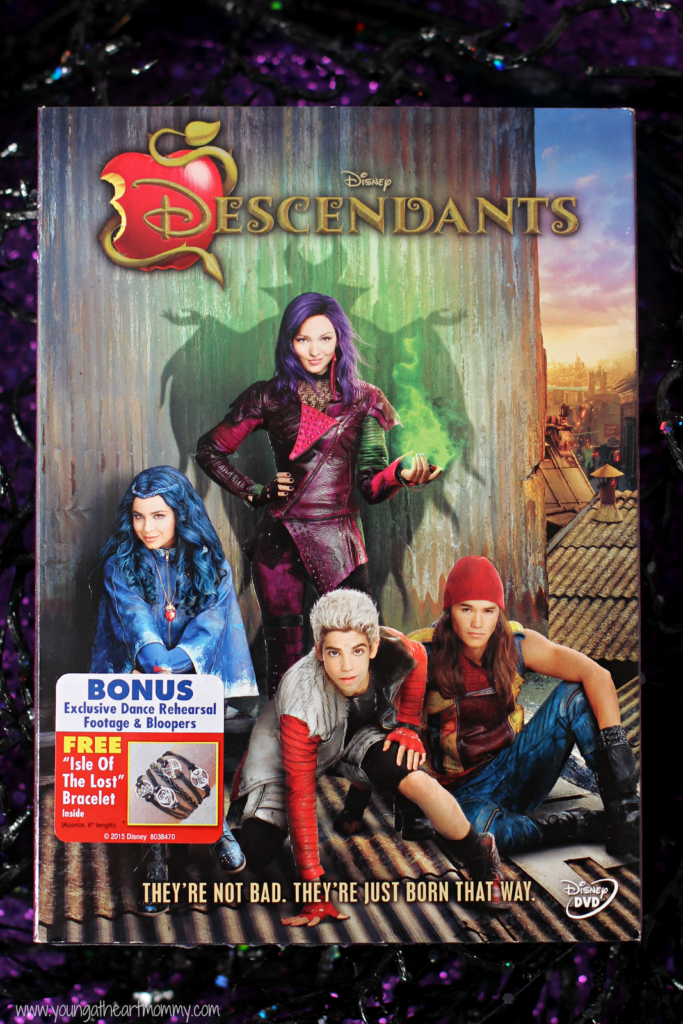 DISNEY DESCENDANTS
"Disney's Descendants" tells the story of four children spawned from the most despised villains in history- Jafar, Cruella De Vil, Maleficent, and The Evil Queen. We follow their journey from being banished at the Isle Of The Lost to attending prep school at the Kingdom of Auradon. On a mission guided by their parents to take over the kingdom, they learn exactly what it's like to live on the other side of evil. Are they all so rotten to the core after all? You'll have to watch and find out!
After watching the premier on the Disney channel July 31st I ran out and picked up the "Descendants" movie and soundtrack at Walmart as soon as it was available. My daughter and I really enjoyed the movie along with the upbeat songs. In fact, the soundtrack has been looping in my car ever since. I think Toodie is puzzled that I know more words than she does. I can't help it! The songs are so fun and catchy. As most Disney movies do, this one also had a lesson to be learned and one that we can all benefit from-you create your own destiny. Even evil can be overcome by good.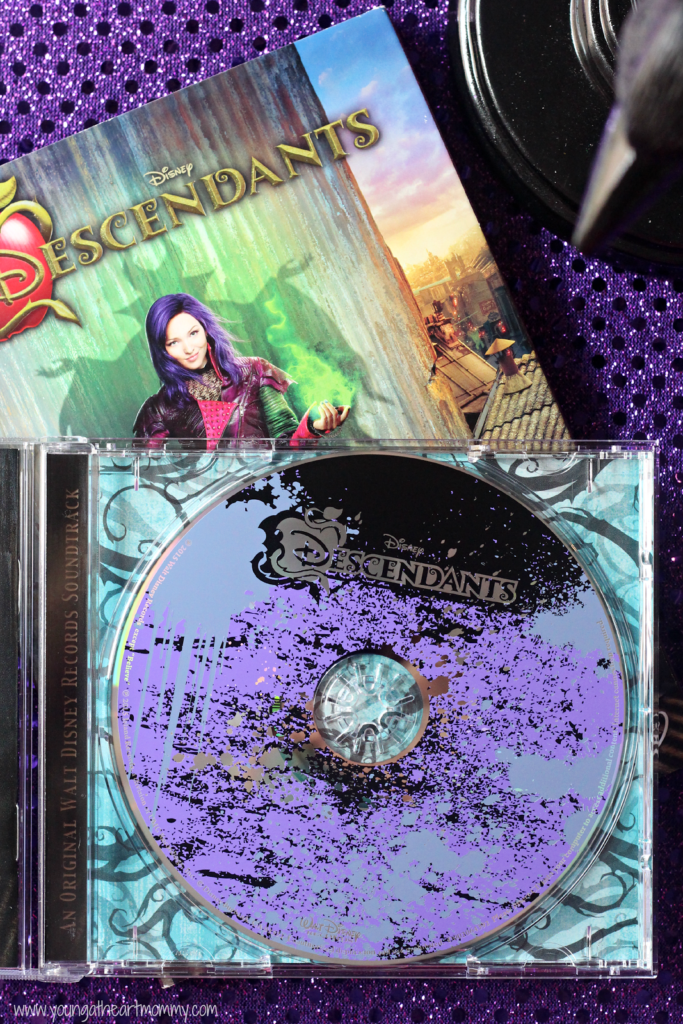 MALEFICENT CUPCAKES
We loved "Descendants" so much that we watched it again this past weekend with friends. What better way to have a "Descendants" watch party at home than with these Sinisterly Sweet Maleficent Cupcakes? Even the horns are edible!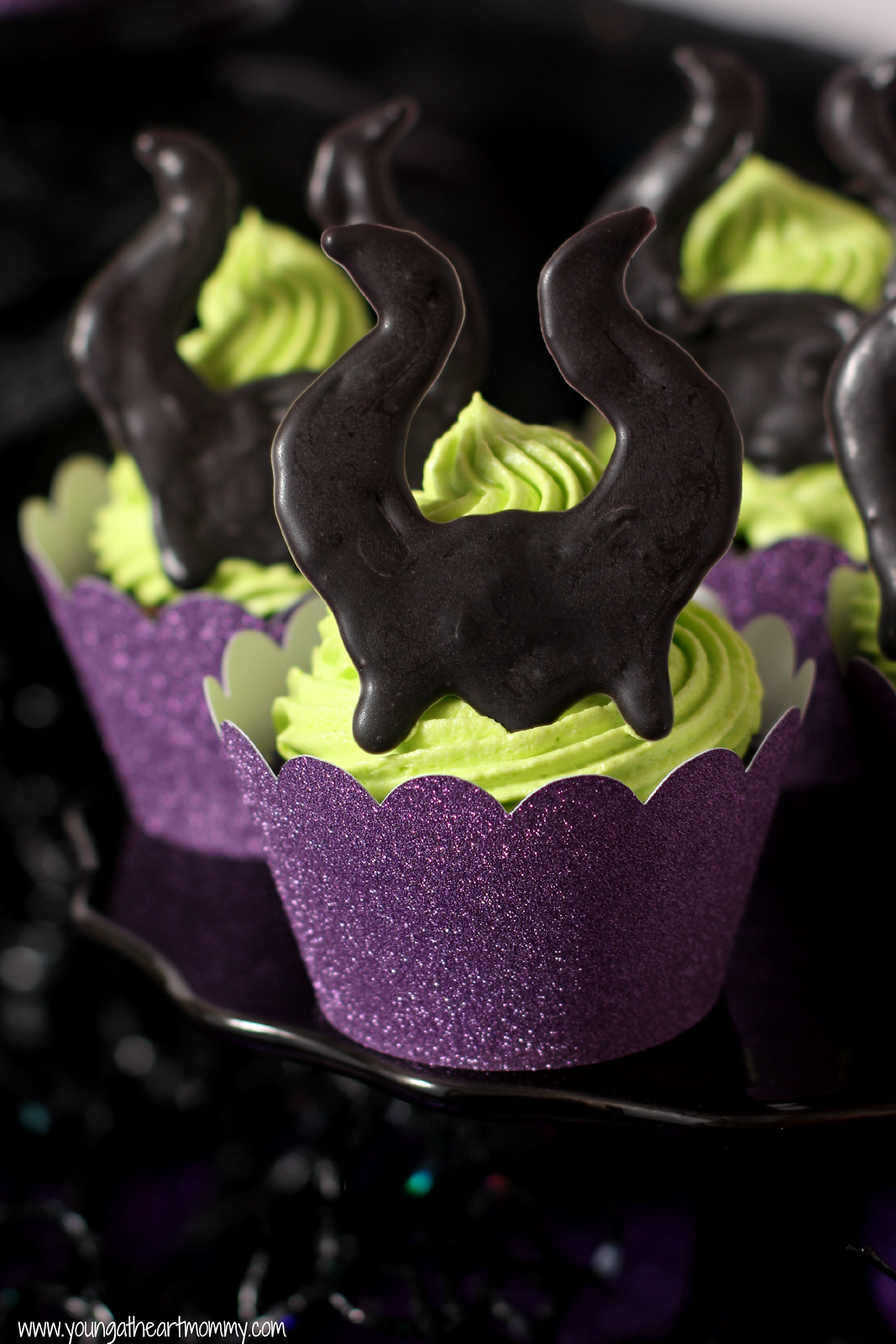 Ingredients:
1 box of chocolate cake mix

4 1/2 cups confectioner's sugar

1 1/2 cups of water

1/2 cup vegetable oil

3 eggs

1 stick salted butter

8 oz. softened cream cheese (1 stick)

2 1/2 tsp. vanilla extract

lime green gel food coloring

black Wilton Candy Melts
Directions:
1. Preheat oven to 350 degrees. Fill muffin/cupcake pan with liners.
2. Prepare buttercream in a large stand mixer and beat butter on medium speed until soft. Add in your cream cheese and vanilla. Continue to beat until well blended. Add in 1 cup of confectioner's sugar at a time, beating on low speed until all four cups have been mixed in. Squeeze gel food coloring in, about 5-6 drops. Beat until color is evenly distributed and buttercream is a bright lime green color. Transfer frosting to a piping bag with a large tip and place in the refrigerator until you are ready to use.

3. Use a boxed cake mix to prepare cupcakes according to the instructions on the back of the package. Combine eggs, water, oil, and mix- beat until blended. Fill cupcake liners with batter and bake for 20-25 minutes. Remove and allow to cool.
3. While cooling, melt chocolate candy in 60 second intervals until creamy. Use a disposable decorating bag with a thin piping nozzle to trace Maleficent's headdress and horns onto wax paper.
Place in the refrigerator for 5-10 minutes and they will pop right off when hardened.

4. Pipe frosting on top of cupcakes. Make sure to leave a small peak so that your decoration will have something to hold onto.

5. Attach chocolate headdress to the front of each cupcake and enjoy this sinfully sweet treat!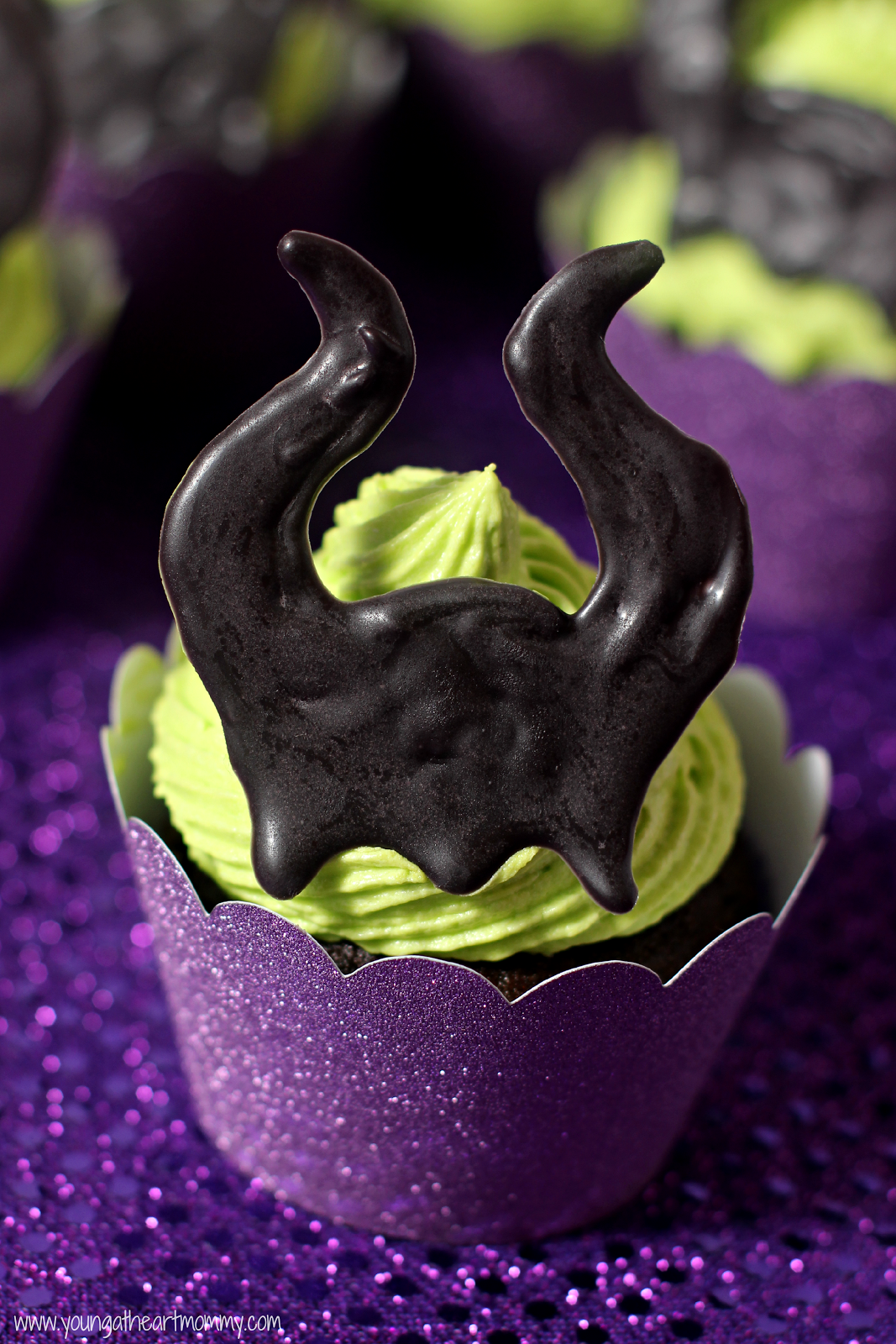 You can pick up "Descendants" and the original soundtrack at your nearest Walmart displayed with other new releases. If you love Disney as much as I do then this is a must-have in your collection.