I participated in a Blog Blast on behalf of Influence Central for Johnson & Johnson and Target. I received a promotional item to thank me for my participation.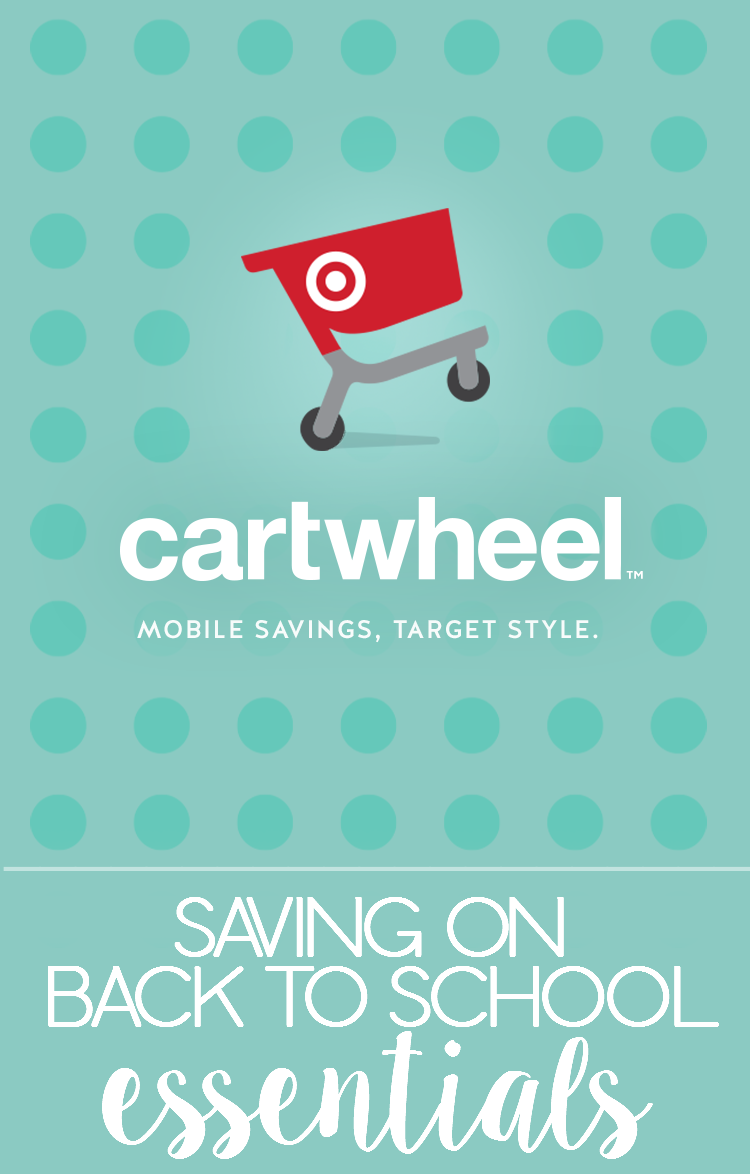 By now most of us have at least attempted to tackle our back to school shopping list. Usually this lengthy checklist includes everything from uniforms to classroom supplies. This year I put on my good pair of sneakers, checked my list twice, and skimmed through the Target Cartwheel App before heading out for a day of shopping. This mobile savings app comes in handy this time of year because who doesn't like to stretch their dollar? I sure do!

When it comes to back-to-school shopping, I am able to skip the clipping of coupons by using the promotions and discounts right from my phone. This makes the process of saving money much easier and well worth it! I can't remember the last time I had to carry around an envelope full of paper coupons and rebates. What's even better is that I get to shop at one of my favorite stores while putting money back into my pocket. Truth be told, the money I save gets recycled right back into the store because if you know me then you MUST know I practically live at Target. Guilty as charged.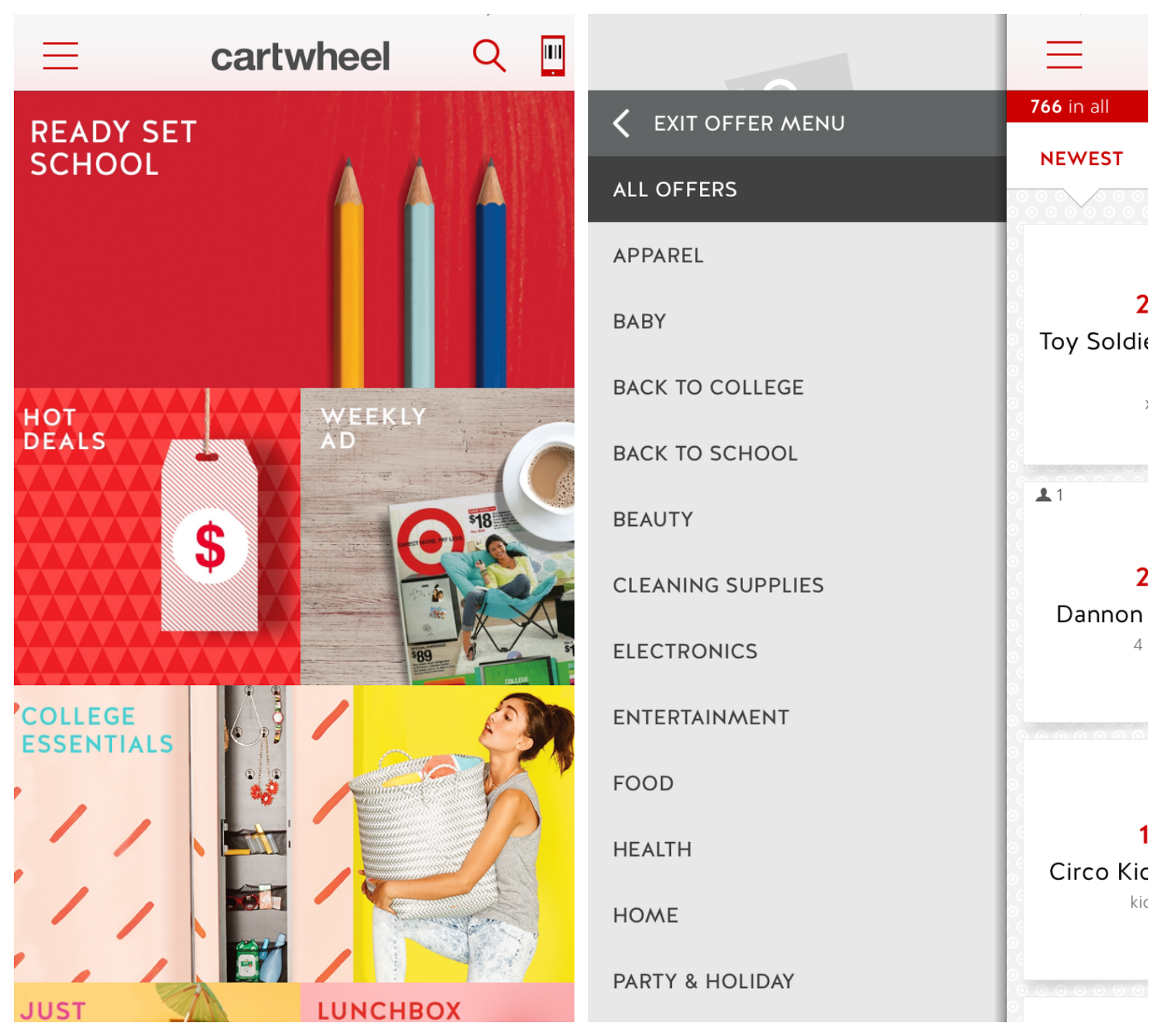 The Target Cartwheel App can be downloaded right on your phone prior to or during shopping. Each week there are new sales featured along with the latest ad and hot deals. You can also browse by department to view specific items on sale. If you see a coupon you plan on utilizing add it to your unique barcode before heading to the register. This barcode is scanned by the sales associate at checkout and will automatically apply your savings. You can add up to 16 coupons at a time and even if you don't use them that day, the savings will remain until the deal is expired. Pretty easy, huh?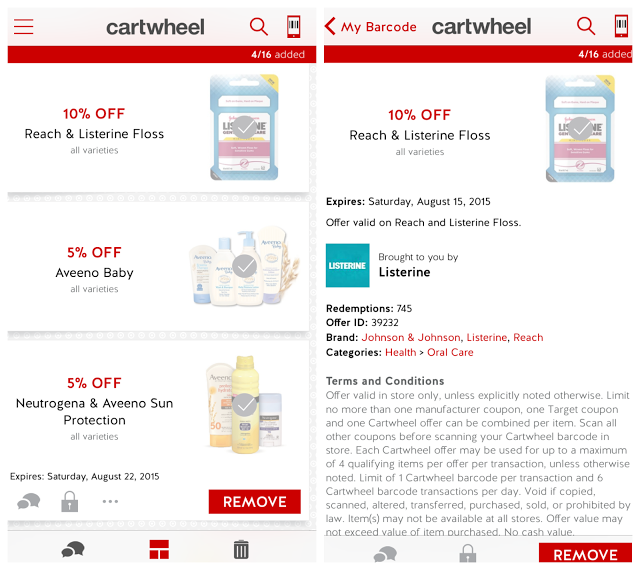 In addition to traditional supplies I was also able to save on other essentials using the Target Cartwheel app. This included the "everyday" items we use in getting back to our back-to-school routine. Target has become a one stop shop for my families' favorites like AVEENO® Daily Moisturizing Body Wash and Johnson & Johnson Baby Bedtime Moisture Wash. I also picked up the tried and true AVEENO® Daily Moisturizing Sheer Hydration Lotion because it's been a go-to during the summer time. It's hard to find a lotion that hydrates without leaving a sticky residue behind. We love this stuff! It's super moisturizing and keeps our skin soft all day. Another "must-have" is the LISTERINE® Cool Mint™ Floss which is now a staple because it removes all of the icky plaque that brushing simply can't reach. Toodie & I both use this day and night.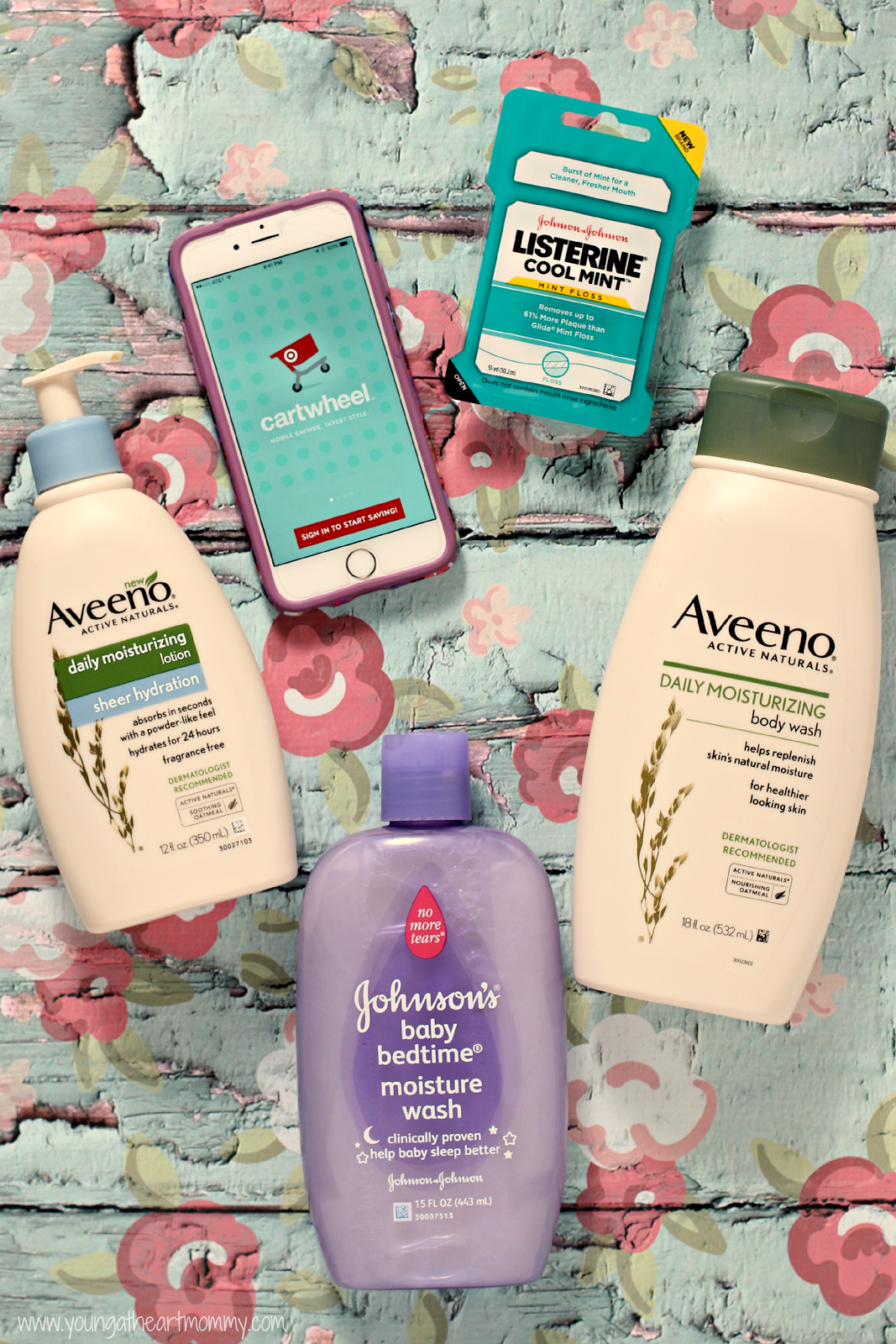 Now through 8/15 you can take advantage of these promotions with Cartwheel by Target:
Desitin 5% off

Johnsons Baby 5% off

Aveeno Baby 5% off

Neutrogena Cosmetics 10% off

Neutrogena FSC 5% off

Listerine Floss 10% off

Hand & Body Lotion- Neutrogena 5% off

Hand & Body Lotion- Aveeno 5% off

Sun- Neutrogena & Aveeno 5% off
You can download the Target Cartwheel App through the Apple and Android store. Whether you are a new or current user be sure to follow along on Twitter and Facebook for updates.
If you're ready to go Back to School with J&J at Target then enter to win an $100 Target e-gift card below!