This #The7thMinion #CollectiveBias shop has been compensated by Collective Bias, Inc. and its advertiser. All opinions are mine alone.
This Despicable Me Minion Munchies Snack Mix is sweet, salty, and loaded with yummy treats for your next family movie night!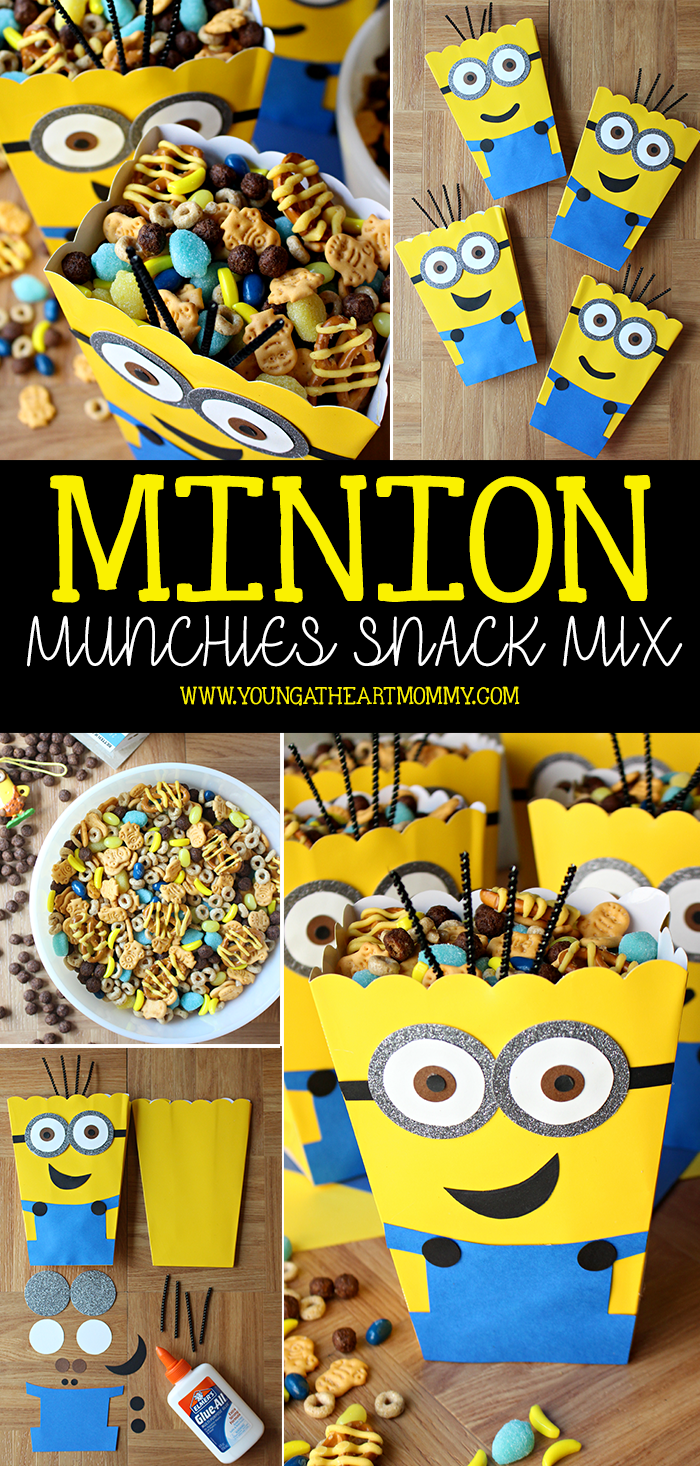 I think it's fair to say that every child enjoys a big bowl of cereal, especially when it's sprinkled with sweet marshmallows or encrusted in a sugary coating. When I was younger the only way my mother could get me to go grocery shopping with her was if I was able to pick out a box to call my own. Truth be told, I only ever went for the ones that included a special toy or mail-in coupon to get a little trinket delivered to my door in 8 to 10 weeks. Even if I didn't particularly love the cereal itself, the toy was all I cared about because there was nothing better than the thrill of digging through the box to find a hidden treasure. When I wasn't picking all of the marshmallows out of my Lucky Charms I was strategically planning how I could salvage the mangled box that I ripped open as soon as walked in the door. Let's just say there were quite a few boxes of stale cereal hidden in the pantry before anyone noticed.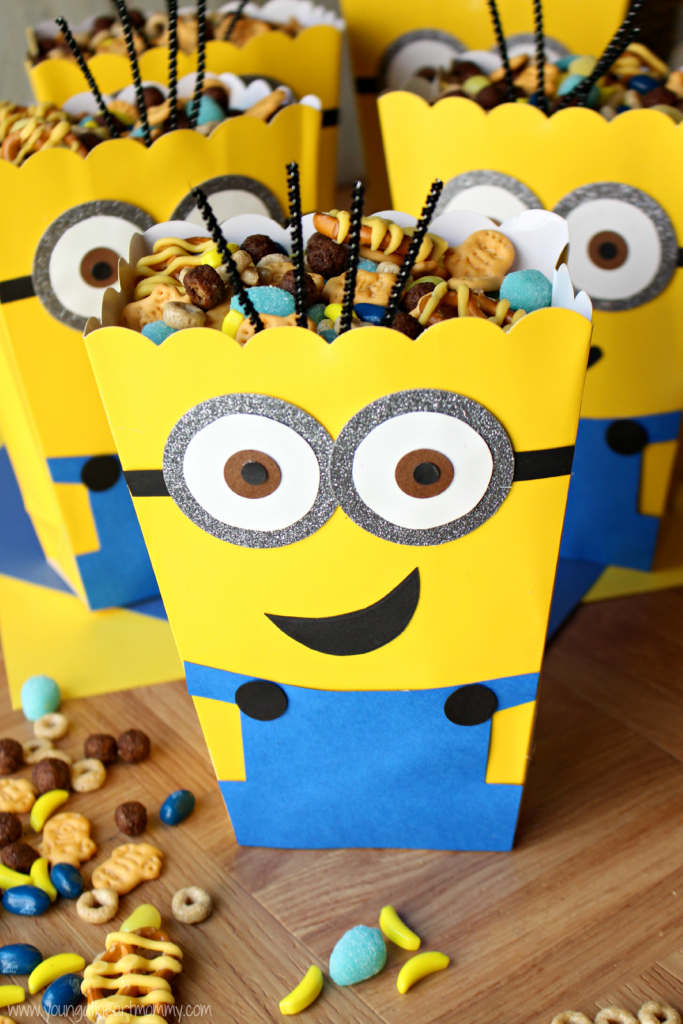 As a kid at heart I was thrilled to learn that I could find specially marked boxes of General Mills cereal at Walmart that included the one of the seven exclusive mini Minions. The hunt is on to find the 7th Minion! With the new movie coming out in a few short weeks, those goofy yellow creatures are loved by many and still ridiculously adorable. After throwing a huge Minions bash for Toodie's graduating Kindergarten class and seeing the previews several times a day, we are over the moon excited for opening night. We'll be there wearing our minion gear and have a bag of homemade Minion Munchies in hand.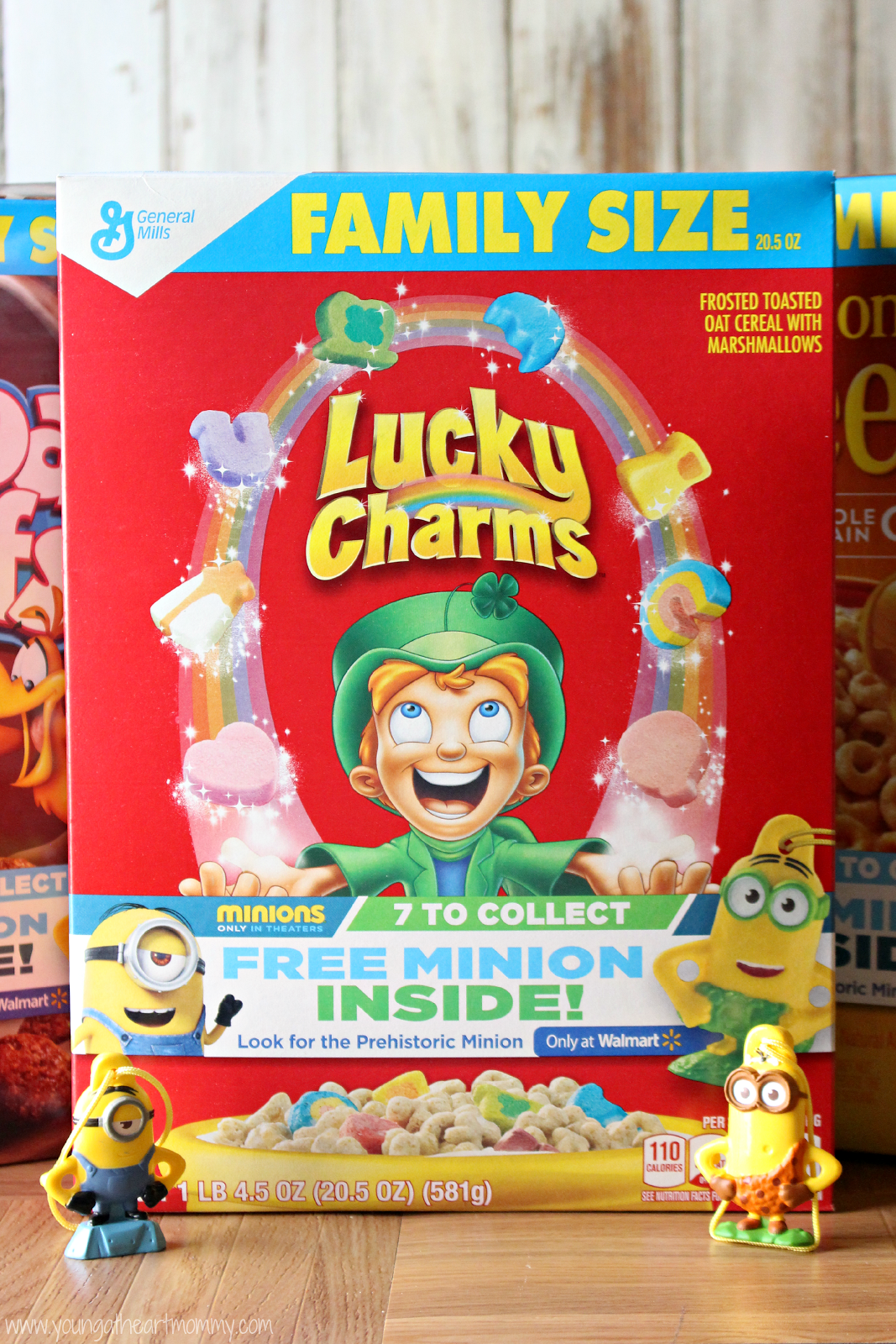 If your child is a fan of the Minions then you may want to make a big batch of this for family movie night or to take to the theater. This treat includes both sweet and salty snacks. It's easy to make and can be customized with your favorite cereals or candies. Sure, we all love popcorn but a movie themed munch is so much more fun to nibble on while watching the big screen. Sweet, salty, and sour- all of my favorites!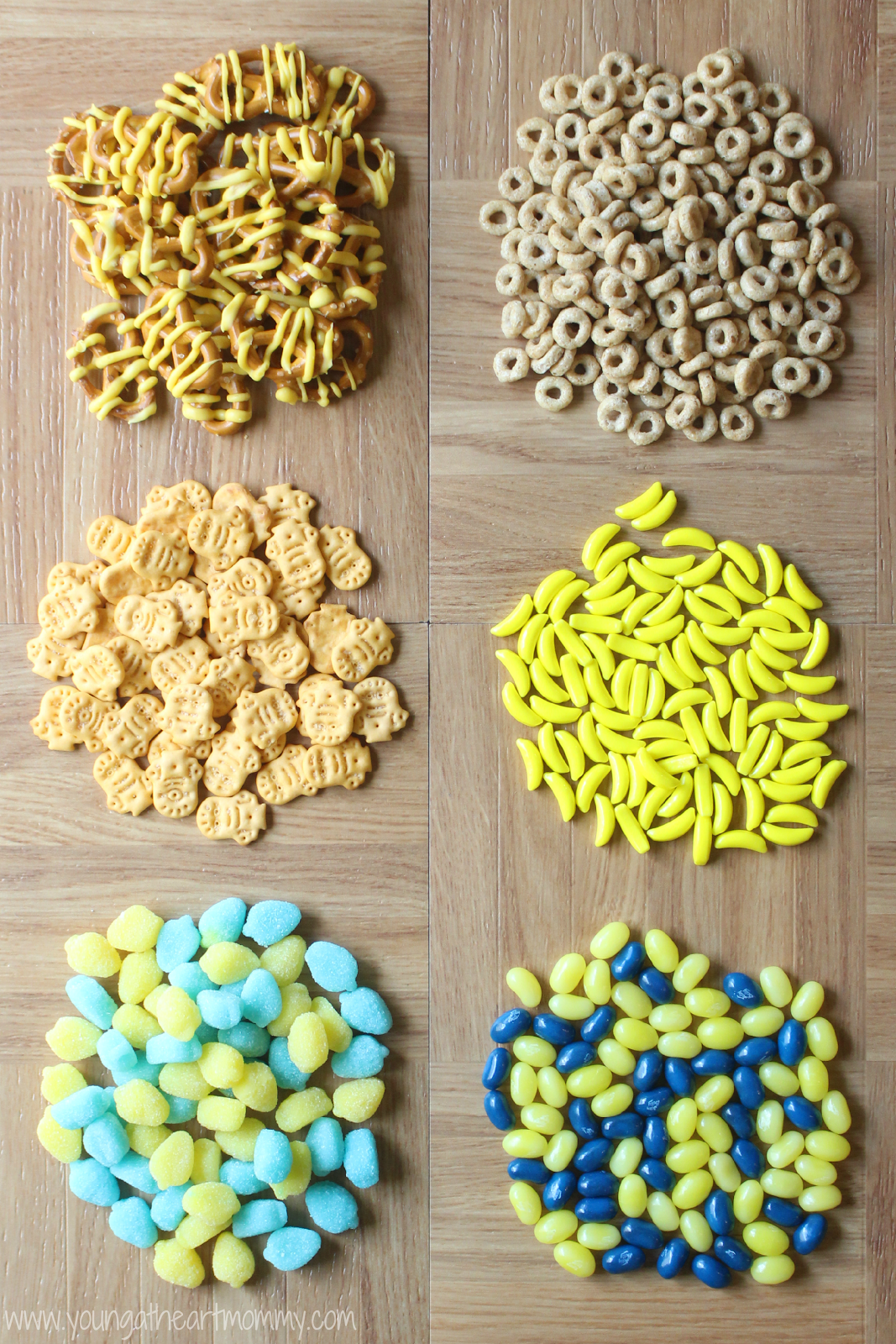 Ingredients:
Honey Nut Cheerios

Cocoa Puffs

Mini Minion shaped cheese crackers

Yellow and blue jelly beans

Sour Minion gummy candy

Chocolate striped pretzels

Candy bananas

Optional add-ins: marshmallows, popcorn, or banana chips
Directions:
Combine all ingredients in a large bowl and carefully mix together until each scoop has an even about of treats to be served.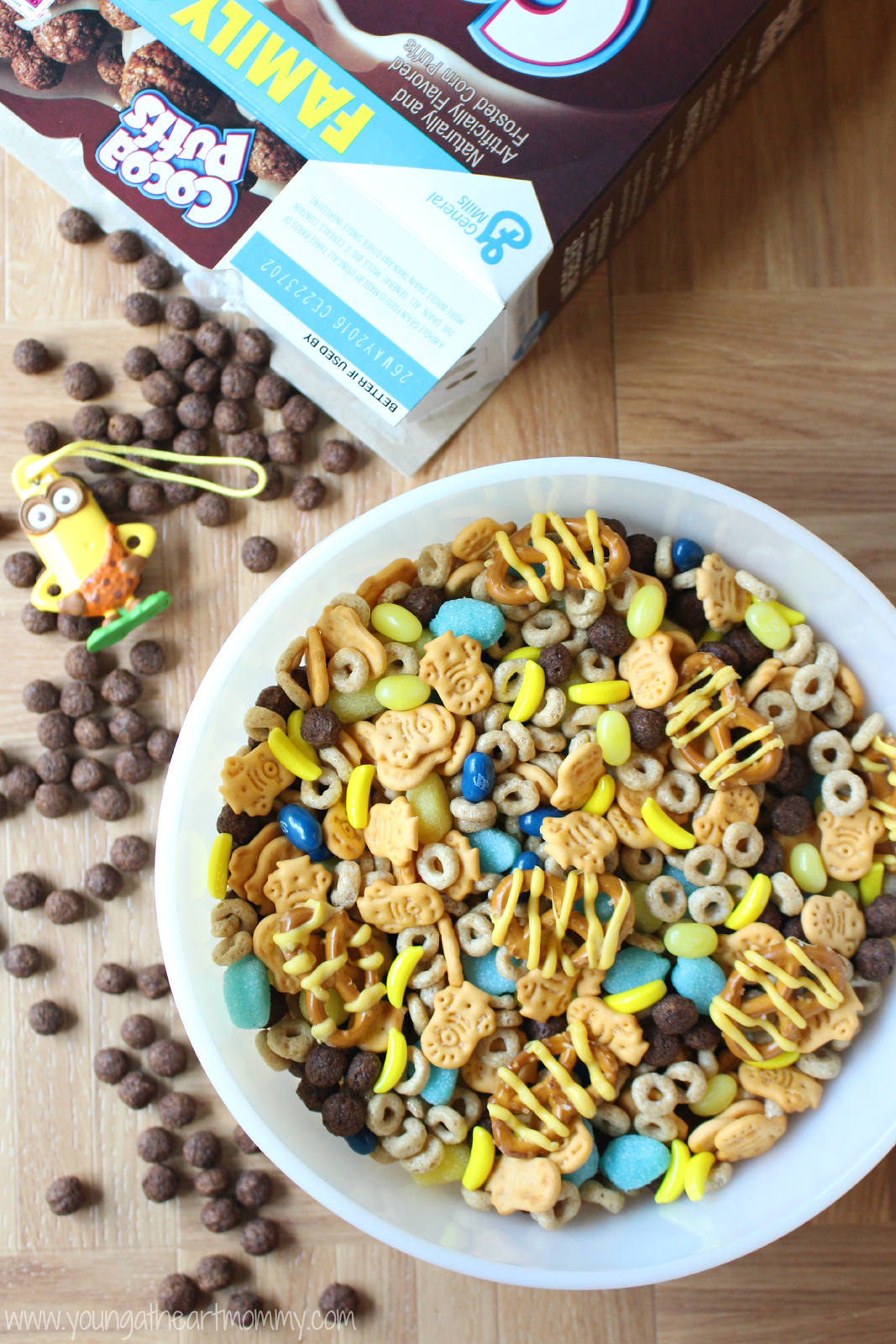 Speaking of fun, I can't imagine a better way to serve this munch other than in these cute snack bags.
Transform plain yellow popcorn boxes into charming Minions by using colored card stock and pipe cleaners. You don't need much to create these little guys and you can also add a few extra touches to give them personality.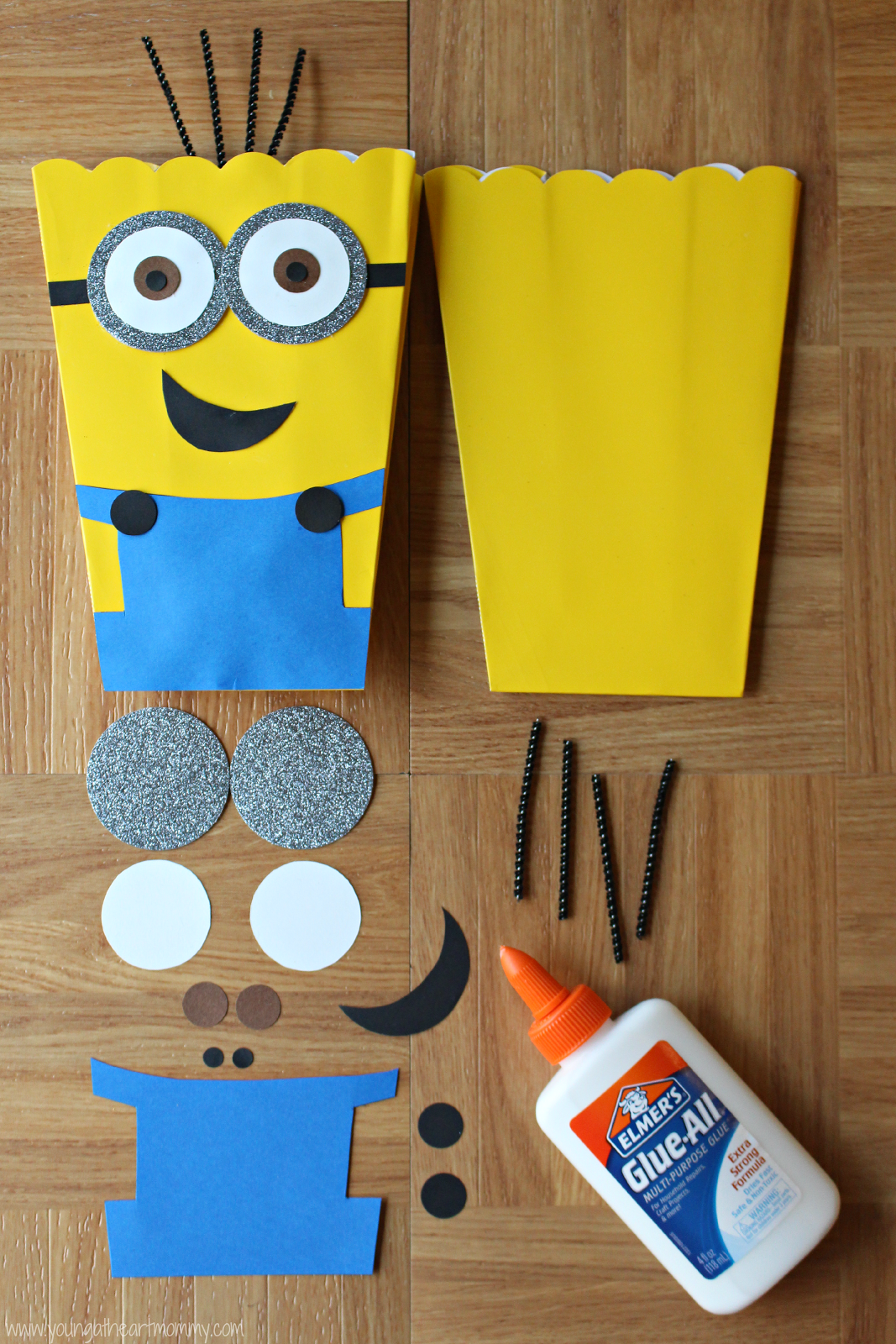 Begin by cutting all of your pieces from colored or glittered card stock. If you have a 2" circle punch it's the ideal size for the goggles. I used glittered card stock but you can also substitute this with canning jar lids if you are able to find the appropriate size. The rest of the parts are cut from colored paper and glued on. For the hair, pipe cleaners should be glued on the inside flap of the box and completely dry before filling with the munch.
Tip: if this is created as a child friendly project, traditional tacky glue should be used. If you are creating these without the assistance of a child I do recommend using a hot glue gun. It will make the process of adhering the paper and the pipe cleaners much easier. It dries faster and you don't have to worry about the edges pulling up while drying.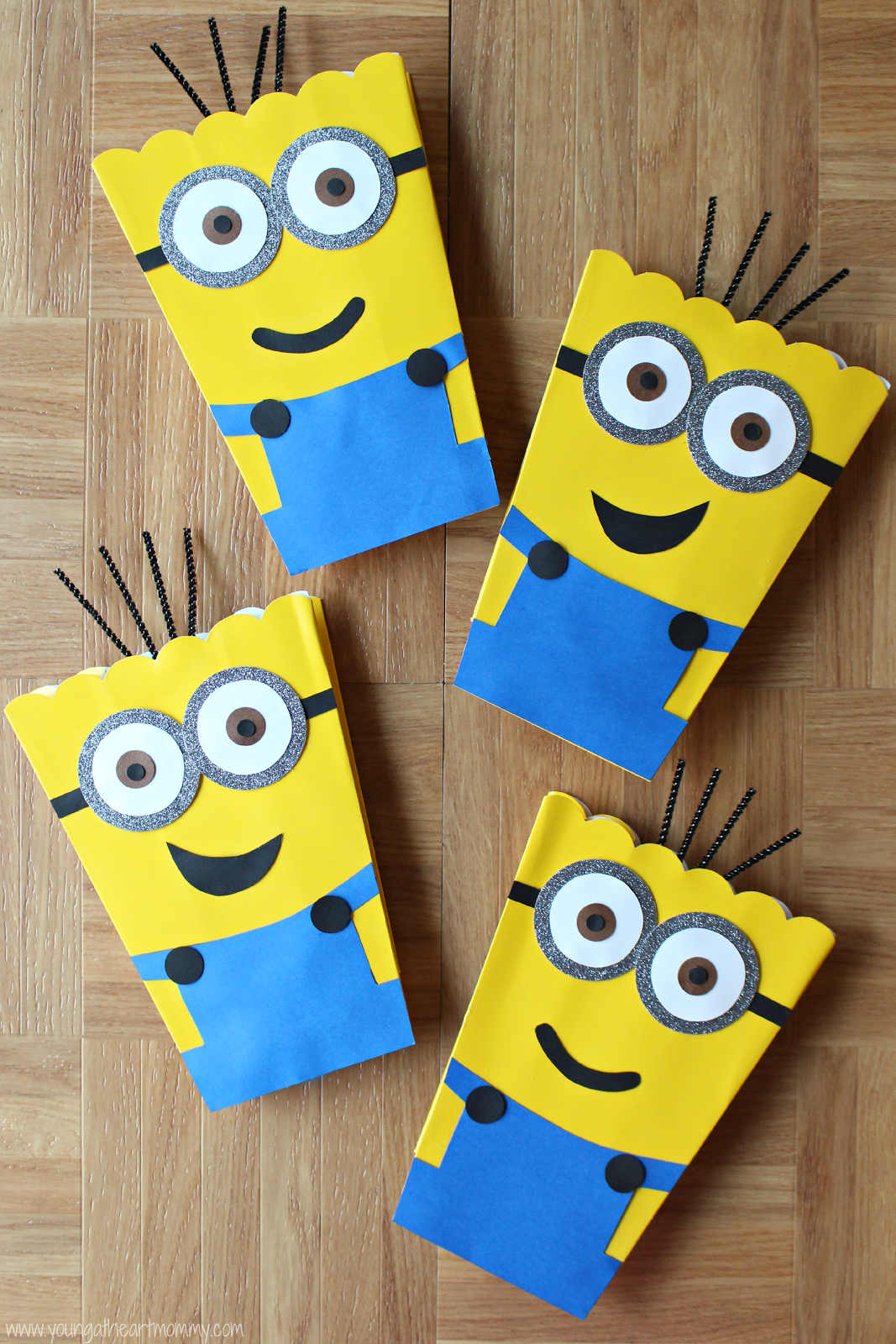 Ready to make some munch of your own? Start by grabbing the specially marked boxes of cereal that can only be found at your nearest Walmart. You can hunt for the 7th Minion in Honey Nut Cheerios, Cocoa Puffs, Cinnamon Toast Crunch, Lucky Charms, Reese's Puffs, Trix, and Golden Grahams.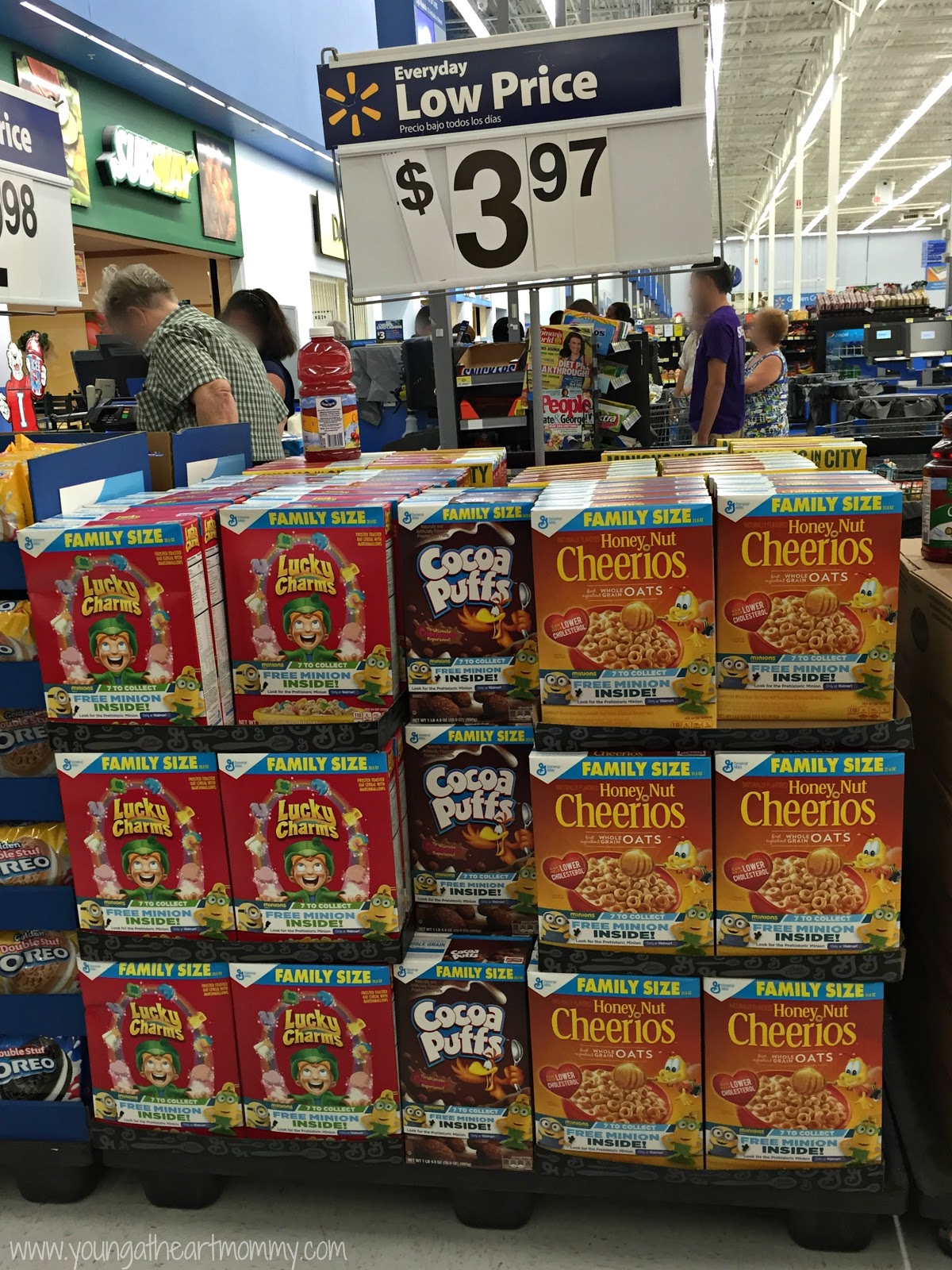 Which twinkie shaped creature are you hoping to find in your box of cereal?