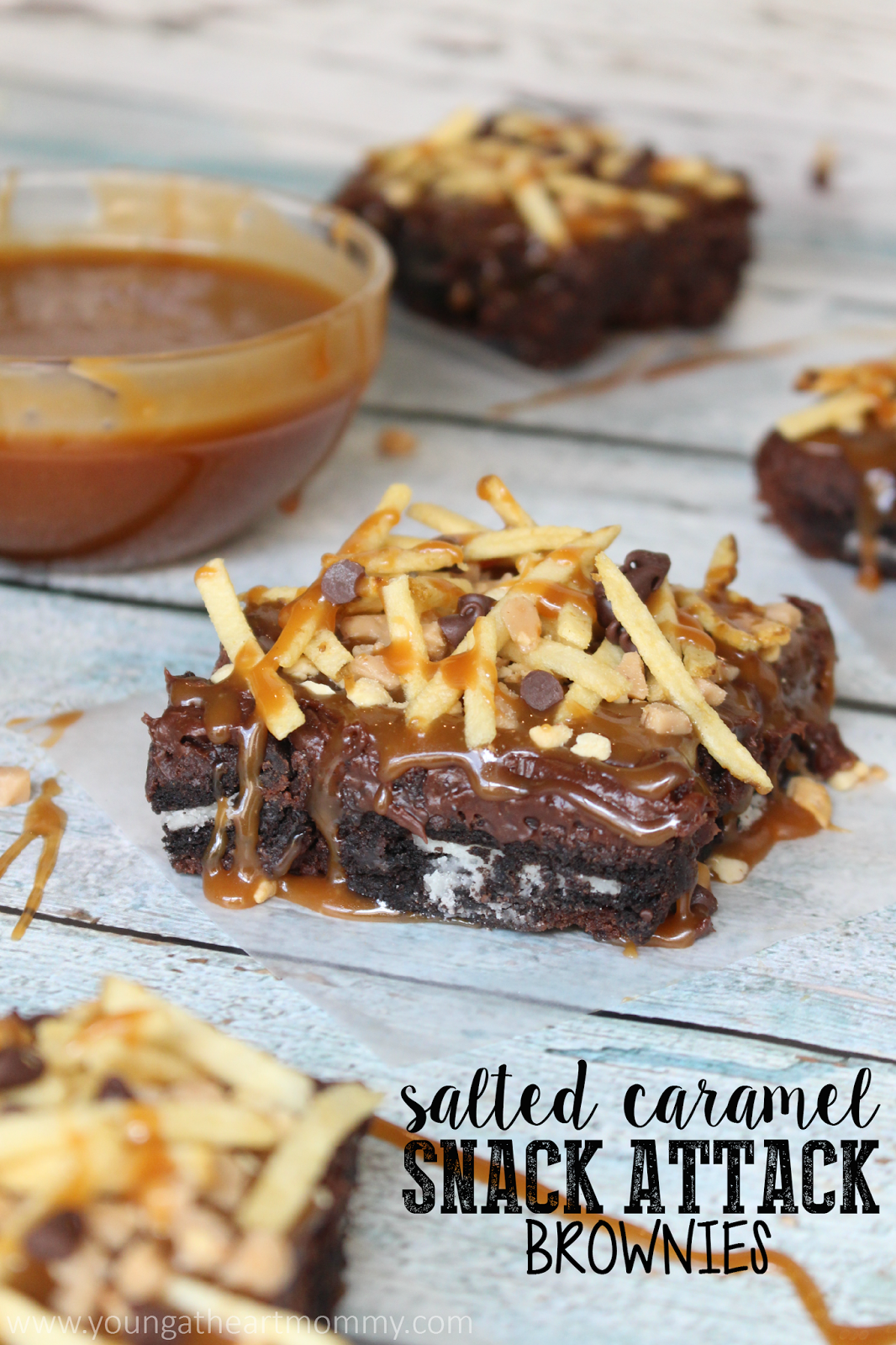 I'm a sucker for sweet and salty desserts, nothing new. They are easily my favorite thing to create and consume even though I have been trying REALLY hard to behave myself lately. With the exception of a small piece of pie on Easter I have been sugar-sober for over a month now. That's a long time for someone that enjoys baking weekly and has a sweet tooth that could kill. I have still been actively working on my "baking bucket list" checklist and today I finally made salted caramel sauce from scratch. What took me so long? This stuff is incredible! Sweet, salty, creamy, and gooey – now that's inspiration. Easily a future addiction.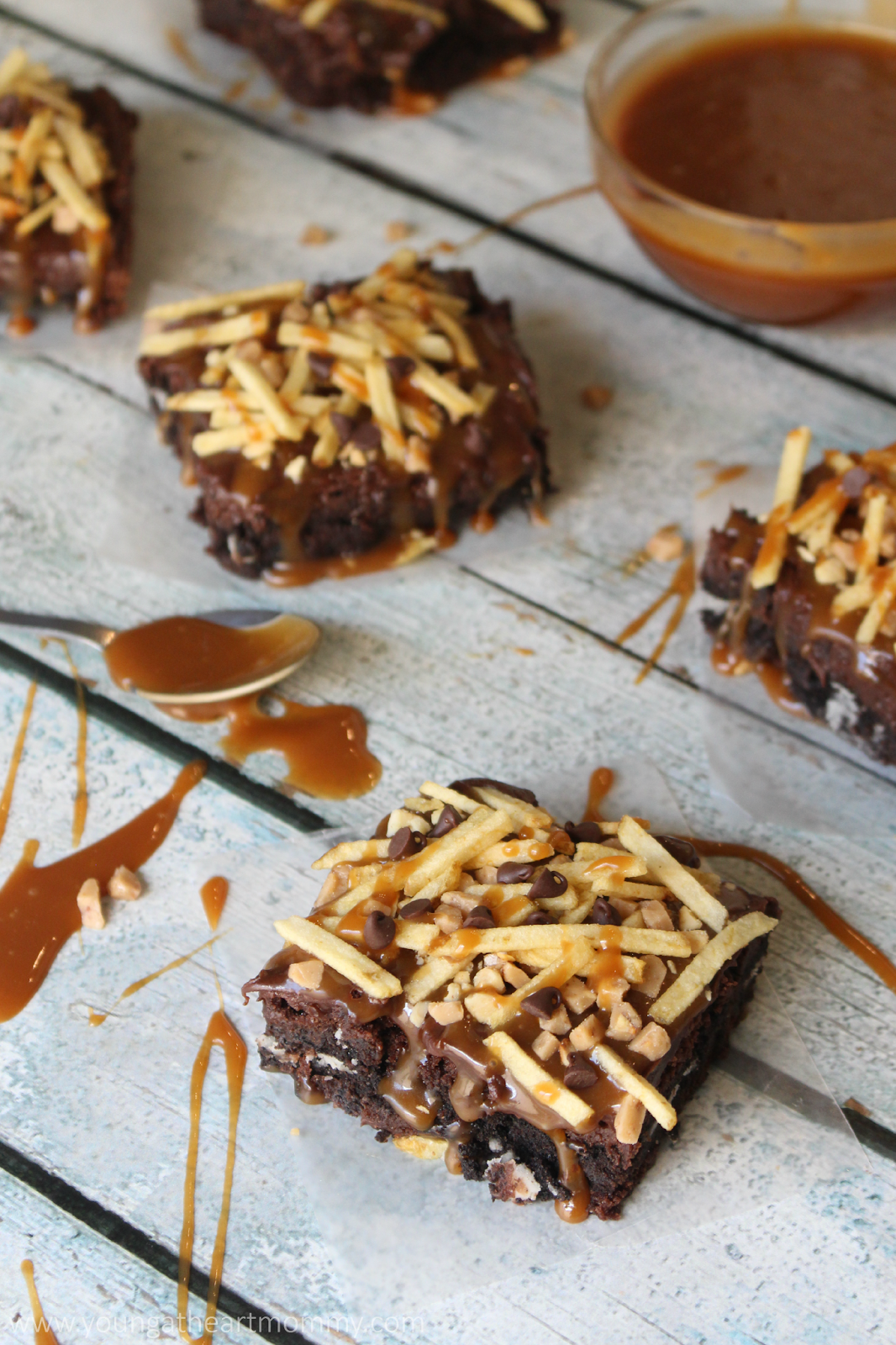 Taking a break from my cupcake rampage I decided to make a big batch of brownies to showcase this sinful sauce. These weren't just any brownies though. Basic brownies aren't my style but ones loaded with my favorite snacks are. As a former snacker one of the most difficult choices to make while rummaging through the pantry is what to nibble on. You know the feeling, being indecisive and wanting to taste a little of everything but can't settle on which one will satisfy your cravings. Yep these brownies are for you guys. They aren't called "SNACK ATTACK" brownies for nothing. They're stuffed with Oreo cookies and topped with potato chip sticks, toffee pieces, peanuts, chocolate chips, AND that delicious salted caramel sauce I mentioned earlier.
I can't wait for you to make these too!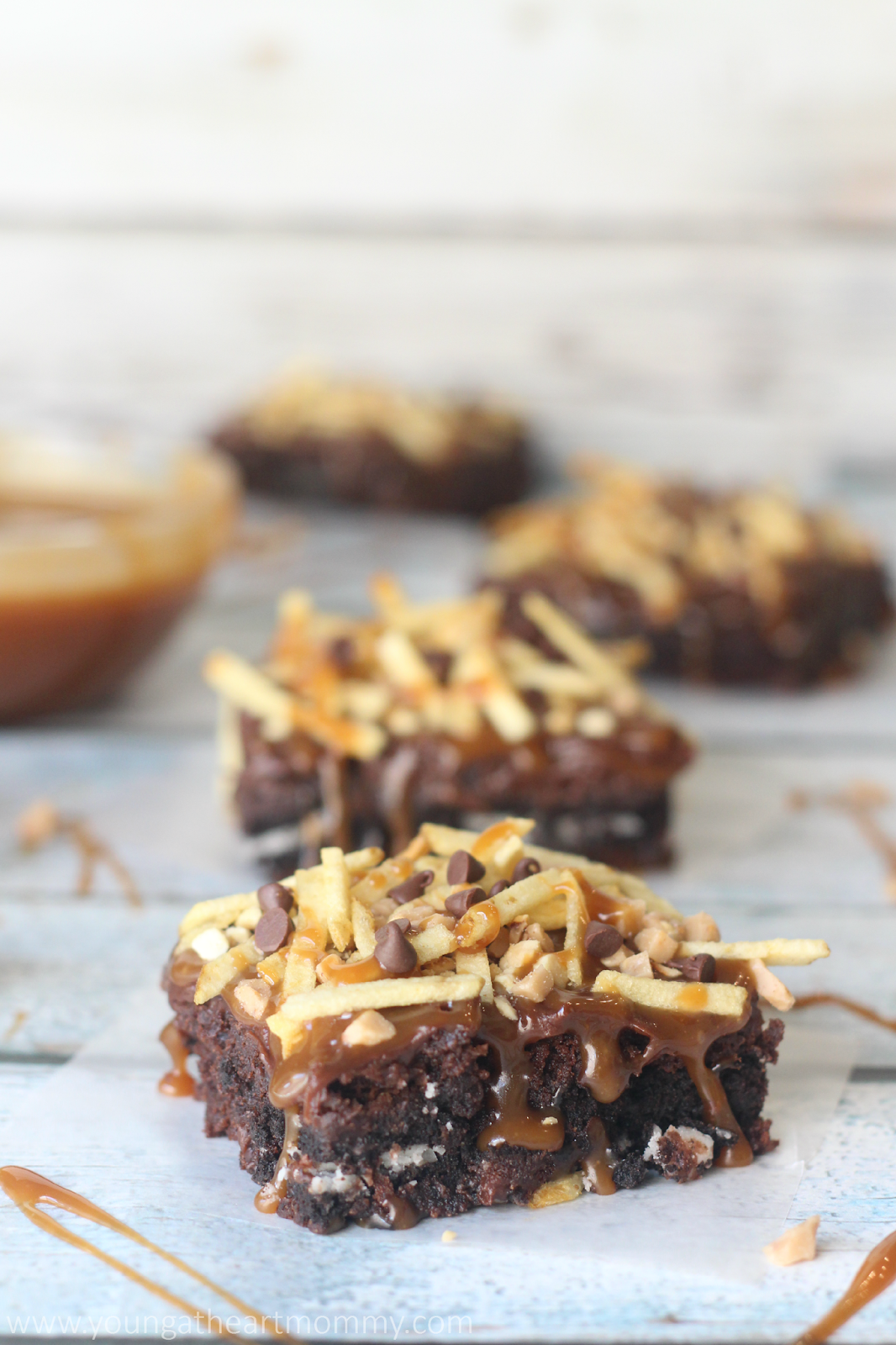 1 cup of sugar

1/2 cup heavy whipping cream

6 tbsp. salted butter cut into smaller pieces

1 tsp. Fleur de Sel or sea salt flakes
Directions:
1. Heat sugar in medium sauce pan on medium heat, stirring continuously with a rubber spatula.
2. As the pan gets warmer the sugar will begin to form into clumps. Keep stirring until completely melted and a thick amber colored liquid is left behind. Do not allow to sit in pan as it will burn easily. Stir constantly.
3. Add chunks of butter one at a time, stirring after each. Mixture will come to a boil as each piece is added so make sure to do this slowly to avoid getting hurt.
4. Once butter and sugar are combined, carefully pour in the whipping cream little by little. This will also cause it to boil and rise. Allow the mixture to boil for 1 minute and then remove from the burner.
5. Add in the sea salt and stir. Allow to cool before using or store in an air tight container in the refrigerator for later use.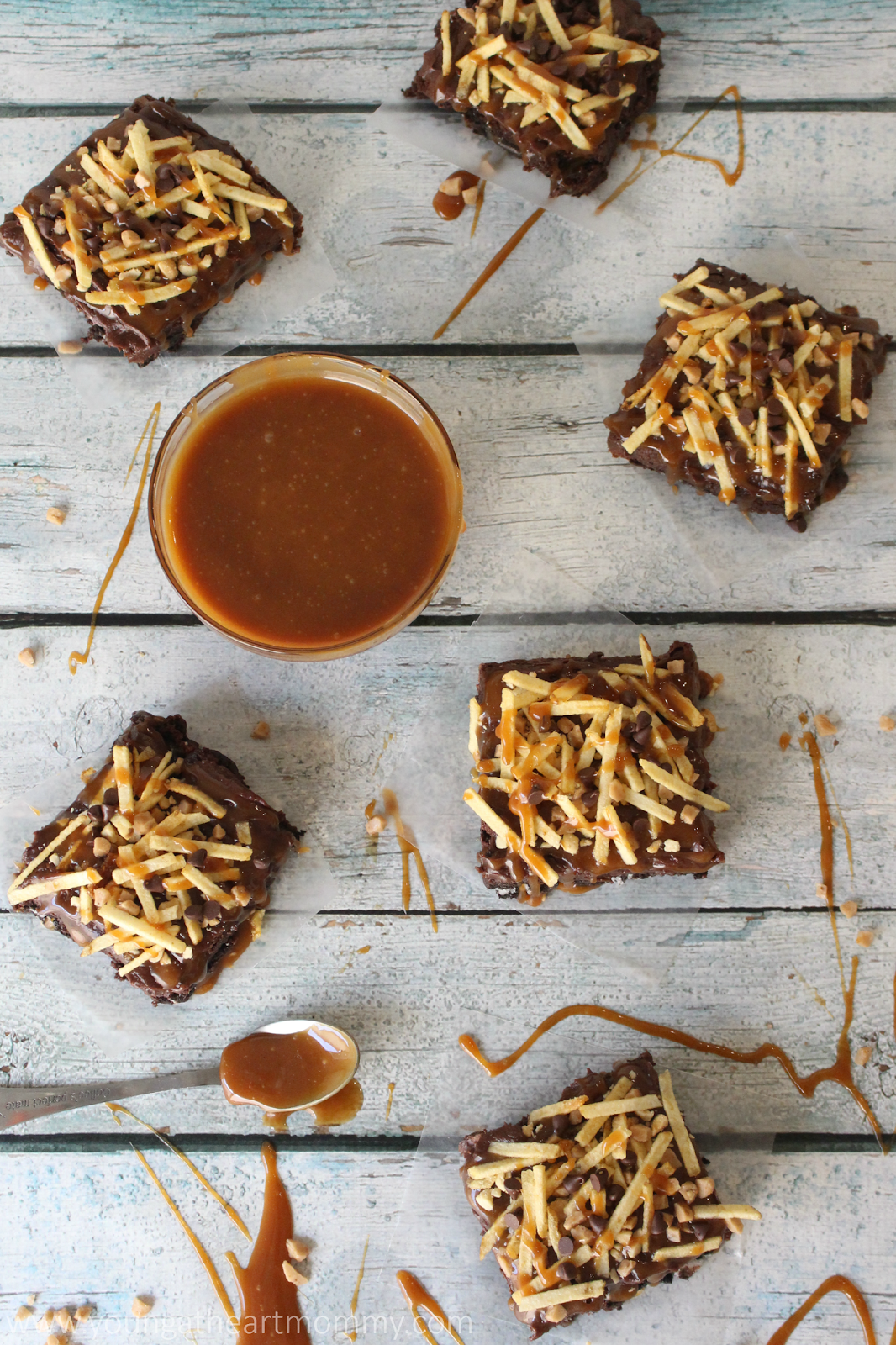 Ingredients:
1 box of brownie mix

1 container of chocolate frosting

1 package of Oreo cookies

1/2 cup salted caramel sauce

crushed salted peanuts

mini chocolate chips

potato chip sticks

toffee pieces
Directions:
1. Preheat oven to 350 degrees. Prepare brownie mix according to directions given on box. Coat a 9X13 glass baking dish with cooking spray.
2. Pour half of the batter in and then line dish with Oreos, side by side. Pour the remaining batter over the cookies.
3. Bake for 25-30 minutes, or until brownies are cooked through.
4. Remove from oven and allow to cool completely.
5. Spread chocolate frosting on top of brownies then drizzle a generous amount of salted caramel sauce on top as well.
6. Sprinkle on the crushed peanuts, toffee pieces, and potato chip sticks. Lightly drizzle caramel sauce onto this later. Then add mini chocolate chips.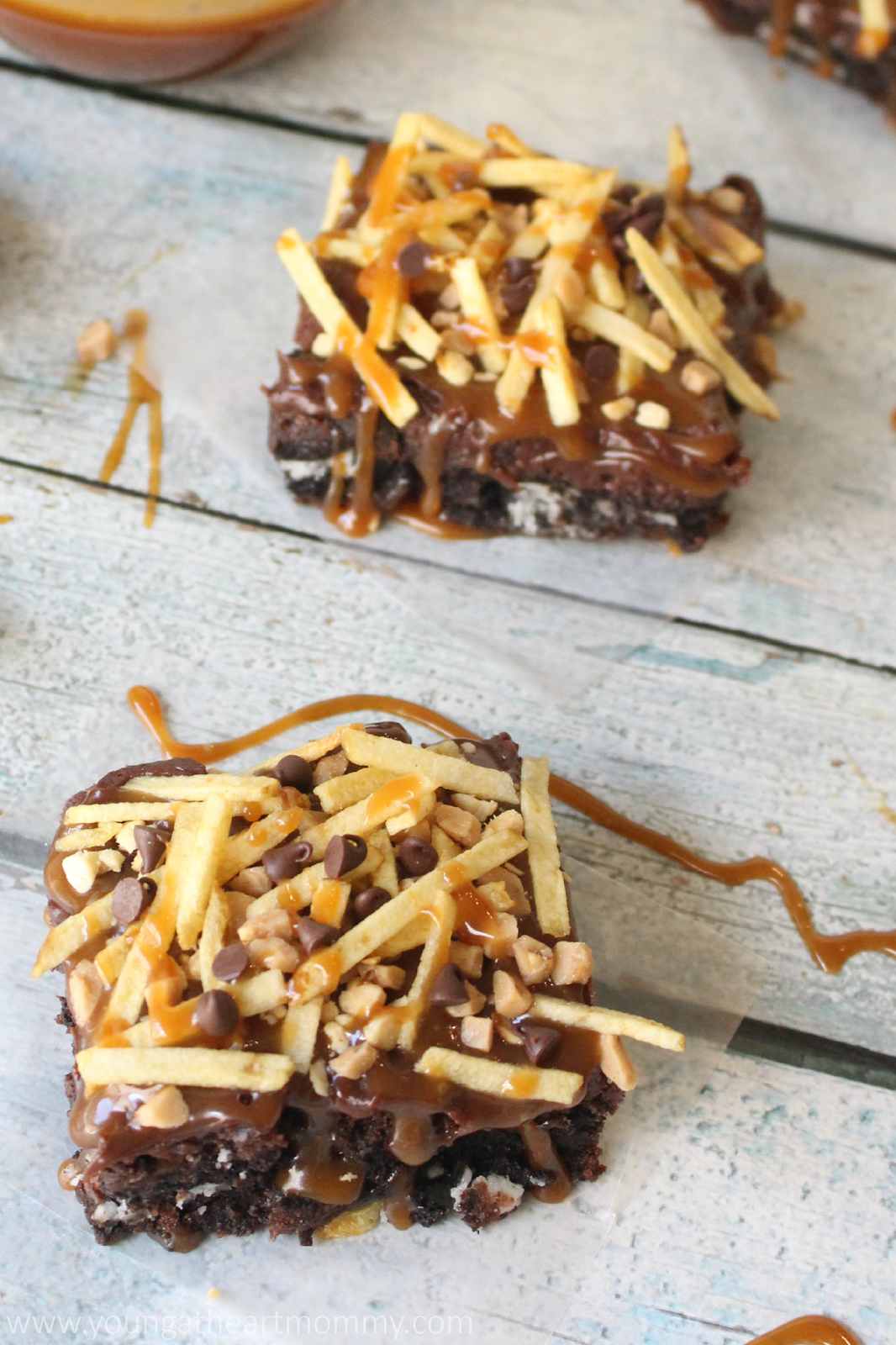 What are your favorite ingredients to make a batch of brownies out of this world?