Cream Cheese and Cookie Butter Monkey Bread is ooey, gooey, and oh so delicious!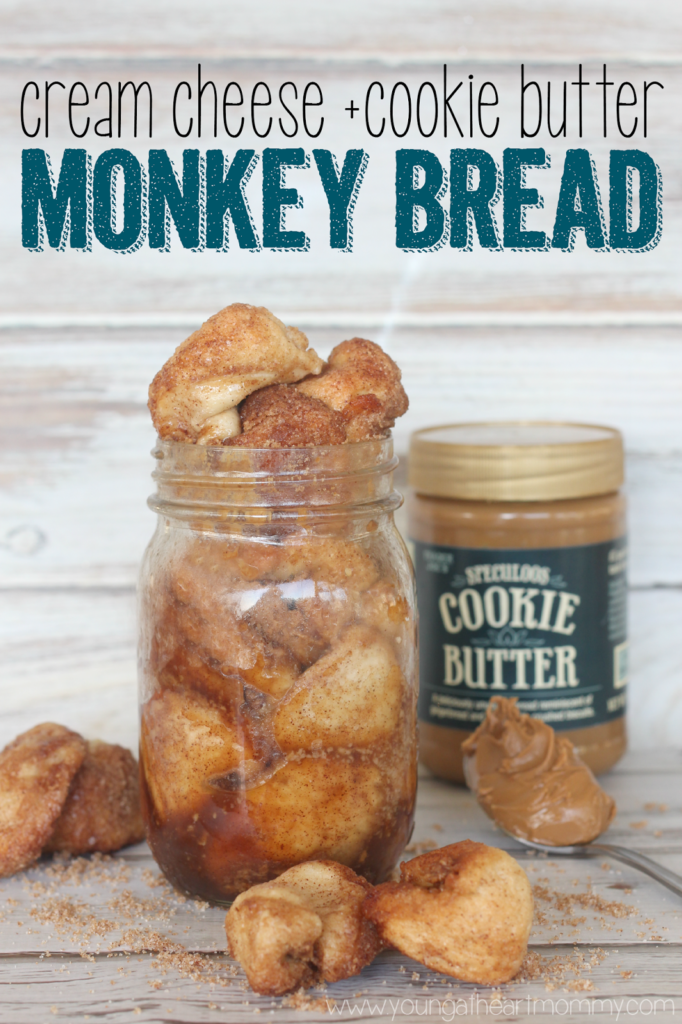 I've had a love for mason jars for quite some time now. The idea of serving individual desserts in cute little glass jars is even more appealing. These glass jars aren't just for layered salads and homemade jam anymore. They have become to the perfect vessel for sweet treats and yummy goodies. Monkey Bread in a mason jar? Yes please. Monkey Bread stuffed with cream cheese AND cookie butter? Even better.
After visiting Trader Joe's for the first time back in October I knew that I had to incorporate their famous cookie butter into some sort of recipe. I wasn't exactly sure what to make but that unopened jar of creamy cookie spread was staring at me the entire winter break. Cookie butter frosted cupcakes? Boring. Cookie butter stuffed cookies? Not in the mood. Eating it straight off the spoon is acceptable but it didn't take long to discover that it tastes even better inside pieces of sweet gooey monkey bread.
If that's not enough to get your "cookie butter" fix try melting a little extra to drizzle on top!

Ingredients:
8 oz. mason jars (recipe makes 4 servings)

8 oz. package of cream cheese

2 packages of refrigerated biscuits (10 biscuits each)

4 tbsp. butter (melted)

2 tsp. ground cinnamon

1 cup light brown sugar

1 cup white sugar

cookie butter
Directions:
1. Preheat oven to 350 degrees and lightly spray the inside of the mason jars with cooking spray. Place jars in a deep sided baking tray or on a cookie sheet with raised edges.

2. In medium sized bowl whisk together sugars and cinnamon. Cut biscuits into quarters. Flatten each piece of dough and fill with about 1 tsp. of cream cheese and 1 tsp. of cookie butter. Fold up and pinch edges to seal in filling. Smooth out and form into a ball.

3. Melt butter in small dish and dip each stuffed dough ball in, making sure all sides are covered. Toss pieces in sugar and cinnamon mixture until completely coated. Place about 16 pieces inside each mason jar. Stack until you reach the rim of the jar.

4. Line jars on baking sheet and put into the oven for 15-20 minutes or until monkey bread is golden brown and the sugar is bubbling.

5. Remove and allow to cool before serving. Enjoy as is or with a drizzle of icing on top!