Disclosure: I was provided with a Mystery Chocolate Box in exchange for an honest review.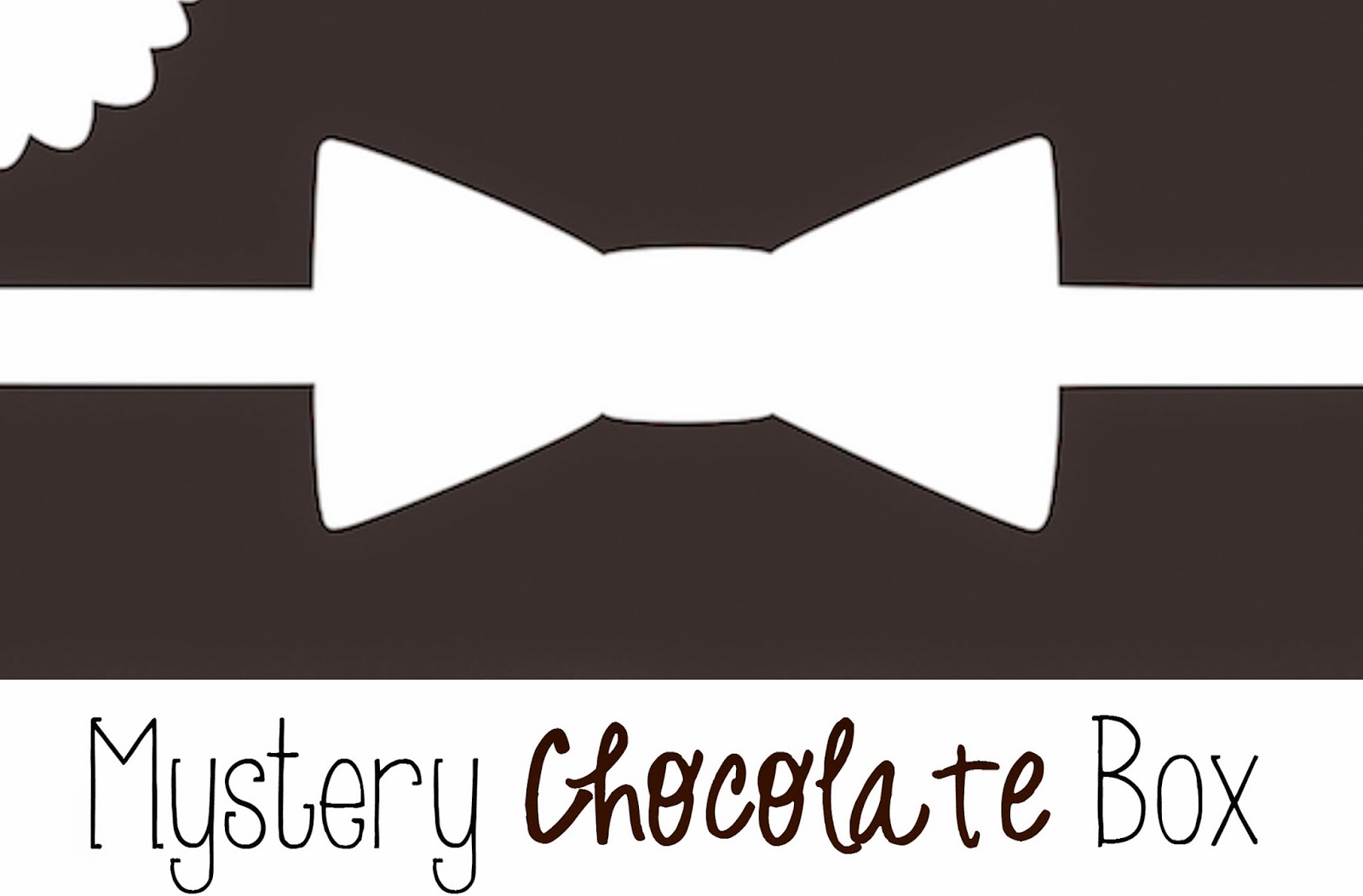 Over the past few years there has been a boost in the popularity of monthly subscription boxes. I have seen boxes for woman, men, children, geeks, craftistas, and even pets. I was recently given the opportunity to learn more about a new and very sweet way to sample chocolate from the comfort of your home each month. The Mystery Chocolate Box is like many of the other subscription programs in which you pay a fee each month and receive a box of goodies in return.

The Mystery Chocolate Box provides you with three delicious chocolate bars in each box. They have not been altered, only hand selected for your enjoyment. You may notice that the candy bars do not include their original wrapping. The foil remains but around each there is a specially marked wrapper labeled A, B, and C. They are identified by these letters so you can taste, test, and guess which each chocolate bar is based on flavor and sight alone. This may be the sweetest game you have ever played and if you guess correctly there are prizes available.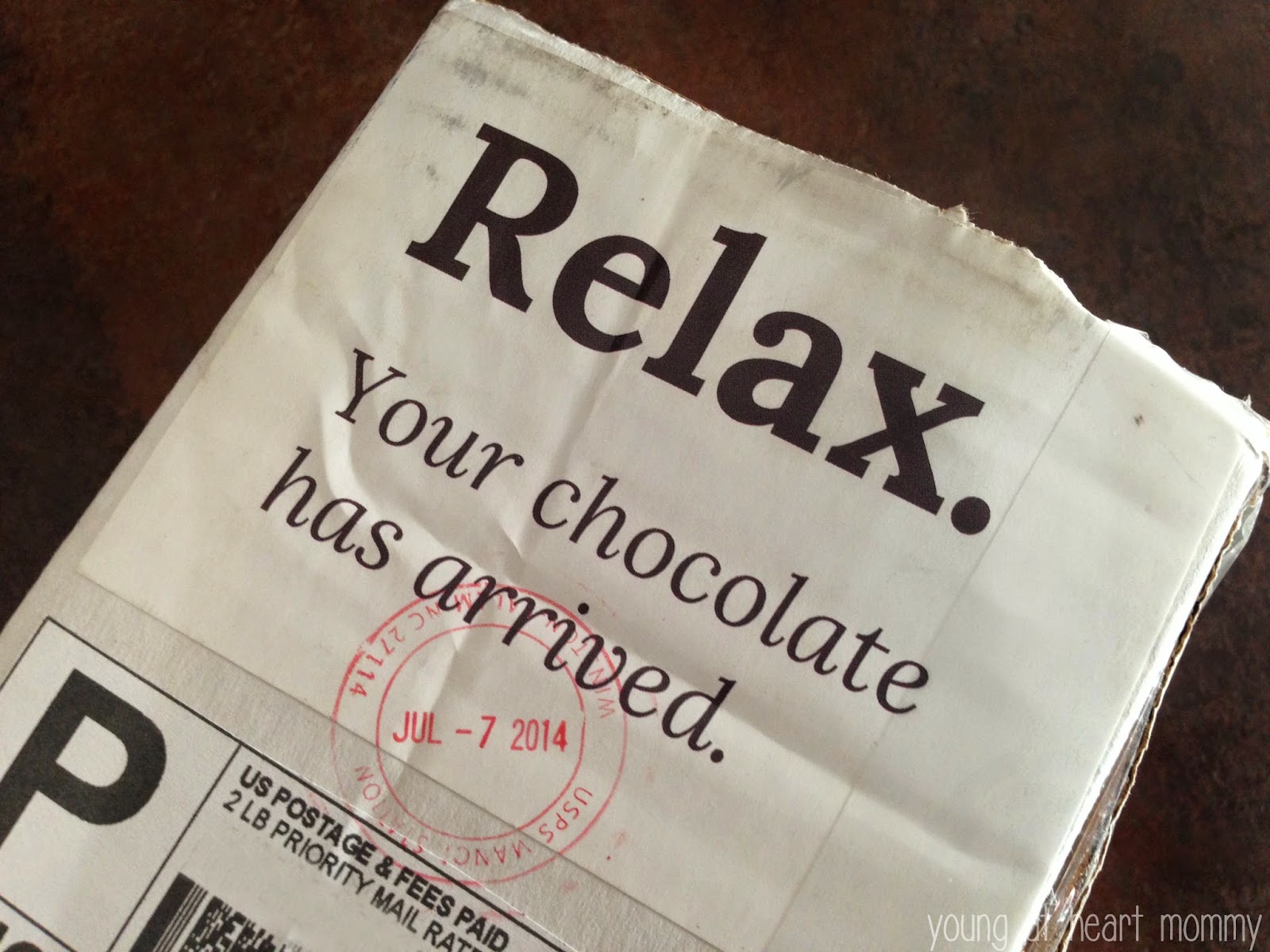 The box is shipped via USPS Priority Mail and only takes a few days to arrive. For those of you living in the heat and humidity you do not have to worry about your chocolate arriving melted. Each package includes ice packs to ensure your bars stay cool. Even if slightly melted they can be stuck in the refrigerator as it will not affect the taste. You will also find allergy information and what each bar contains to avoid any unwanted reactions.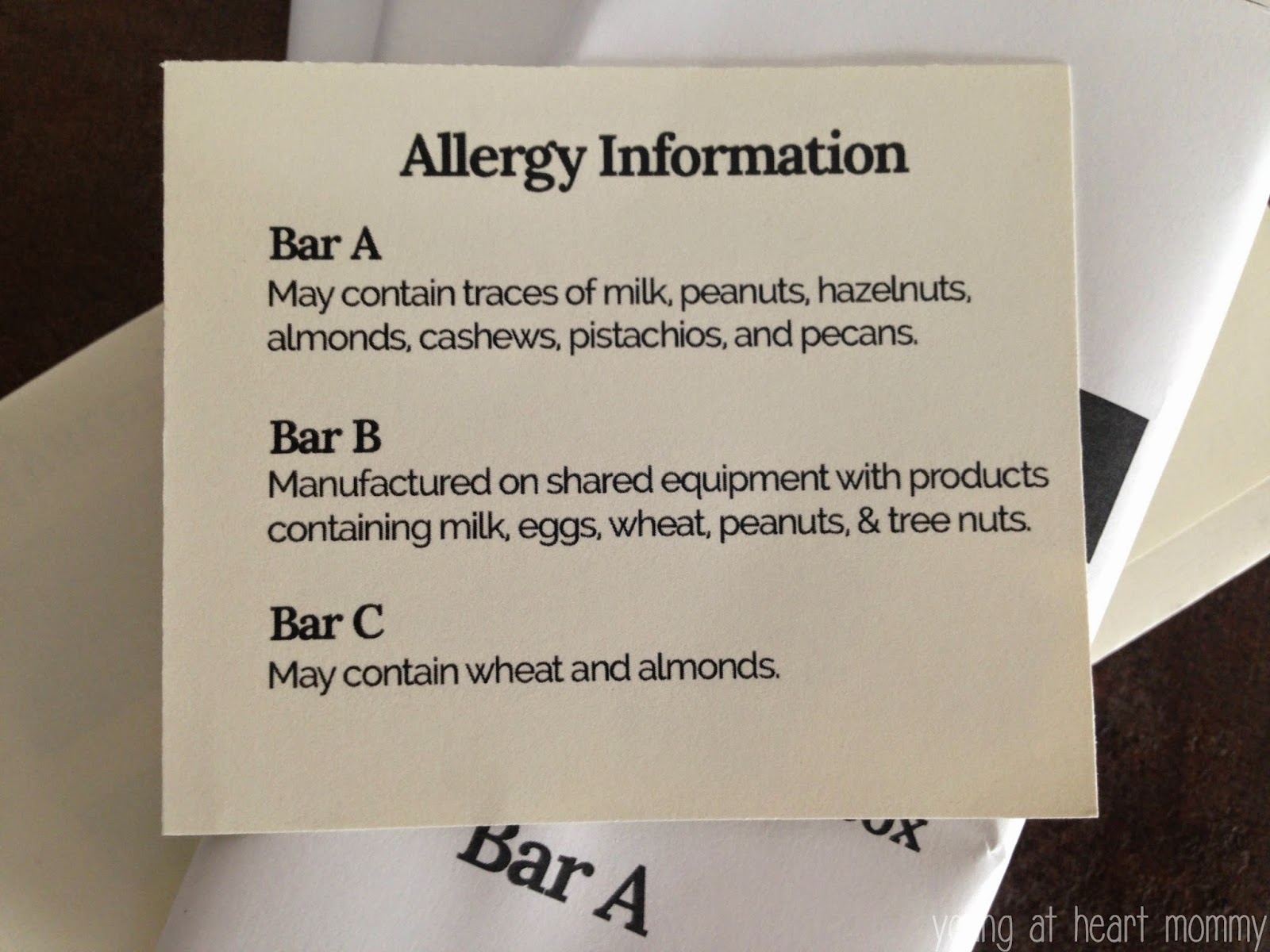 A tasting card is also included so you can write down any flavor notes and also your guesses. Here are the clues for all three bars I received in my box:
Bar A contains dark chocolate with 1 other flavor.
Bar B contains dark chocolate with 1 other flavor.
Bar C contains milk chocolate with 1 other flavor.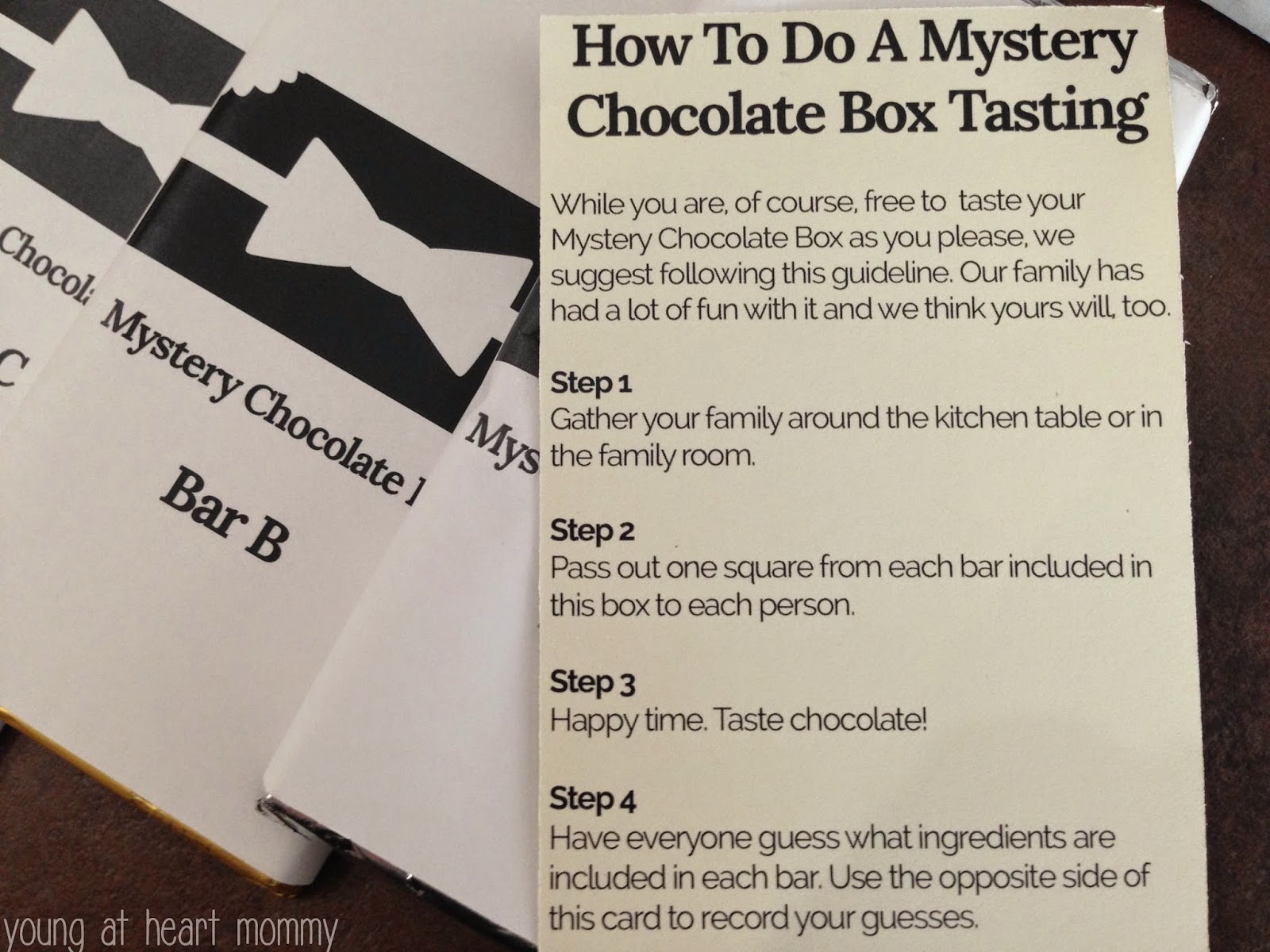 After my taste test I had a few guesses about each bar with a definite favorite of the three.
Bar A: This was dark and awfully bitter with a crunch. I honestly don't have a guess for this one because I would never eat it again! It wasn't the most popular of the three. I will have to come back later if I can figure it out.
Bar C: My favorite of the three. This one didn't last very long! I know it is a gourmet chocolate bar by New Tree and it's definitely milk chocolate with a hint of spice. My guess is New Tree Cinnamon Milk Chocolate Bar.
Once the taste test is done you are able to submit your guesses on the Mystery Chocolate Box site for a chance to win a prize. The identities of the bars are revealed at the end of the month.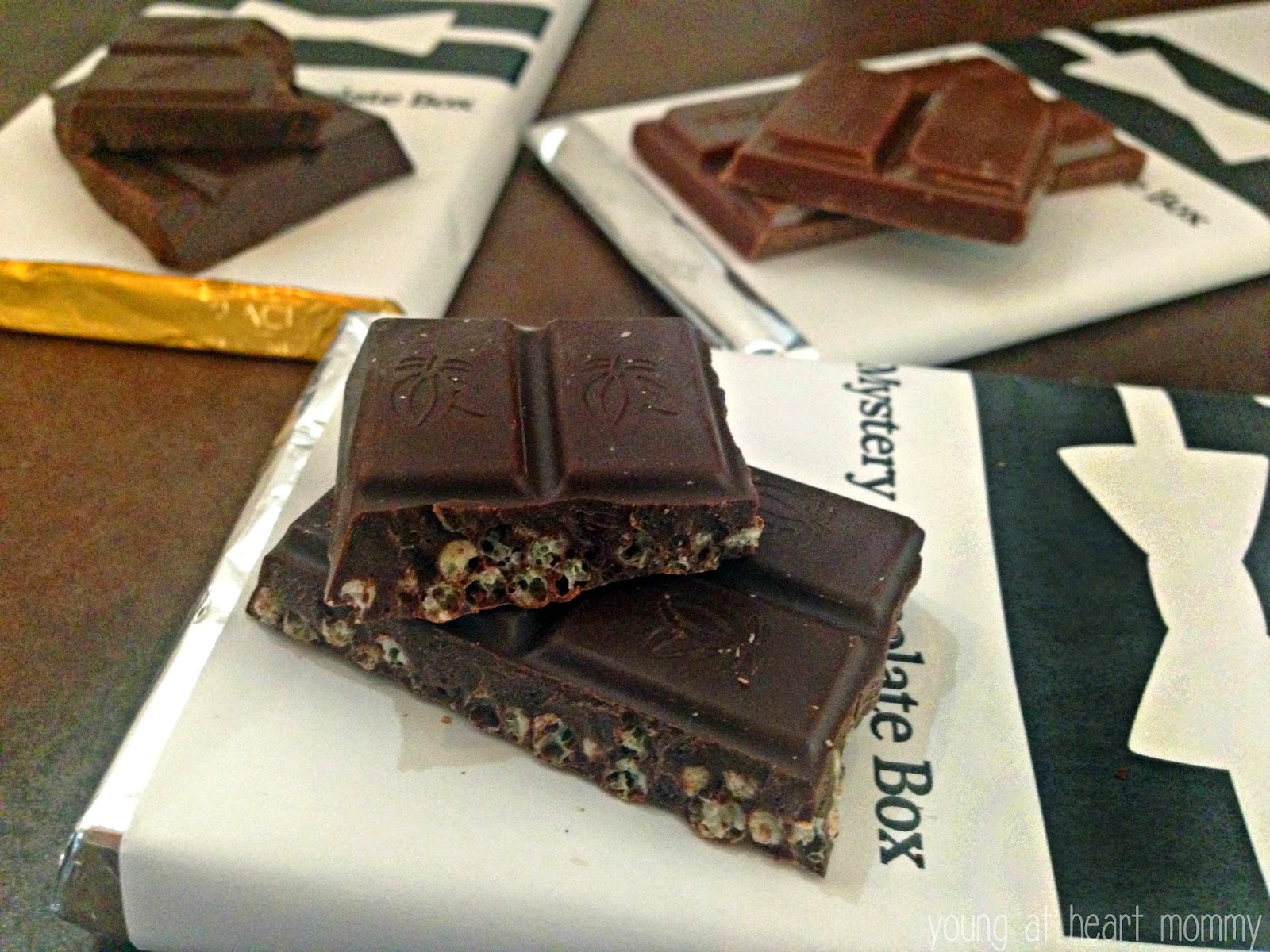 For $17.95 + shipping a month the Mystery Chocolate Box is a great way to sample gourmet chocolates at home. Keep in mind that these are not the typical candy bars you would find at the grocery store. They are all made of high quality ingredients, some organic. I personally enjoyed the process and the taste testing. I was introduced to new brands and am determined to find out what that delicious mystery Bar C is! This box provides a unique experience for those who love chocolate or have a sweet tooth, like myself.

You can get more information on the Mystery Chocolate Box on their website. Also, connect with them on Facebook & Twitter for more fun!