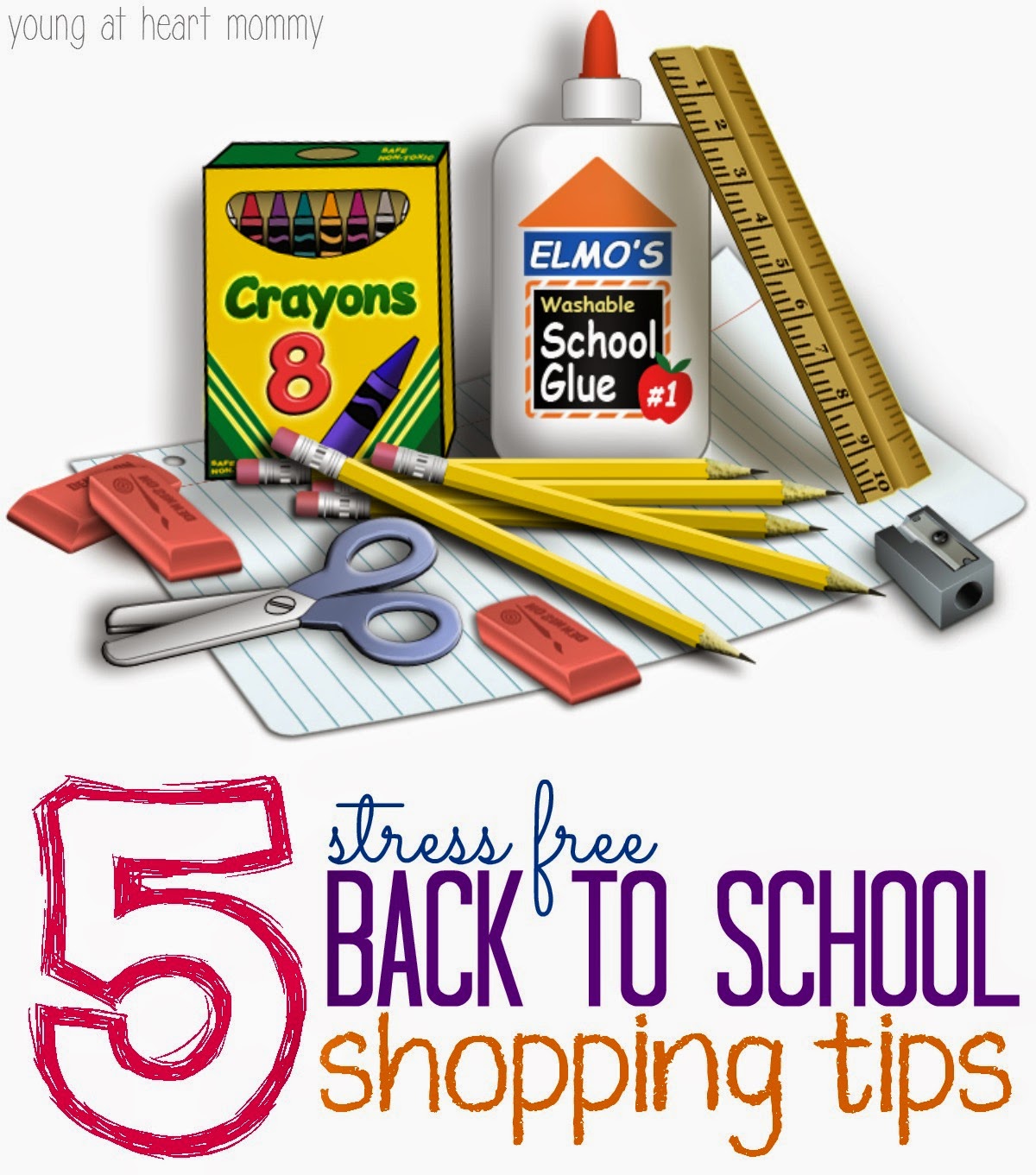 This is the first year that I will be participating in full blown back to school shopping and honestly it kind of excites me. I know other parents are reading this and thinking, "Are you OUT of your mind, it's horrible!" Toodie is entering Kindergarten in a few weeks and I don't know whether I should be excited for her or frightened because my little girl is growing faster than I ever imagined. When I was little I loved the idea of back to school shopping because it meant new clothes, supplies, and a cool backpack. Toodie has started to get excited also and has been active in picking out what she will need for her big day and new year!


I did a lot preparing before I headed out shopping this year, given it was my first and I have heard the crowds get a little insane out there. Based on my experience I came up with 5 Stress Free Back To School Shopping Tips that helped me and I am sure they will help you to. I promise they will make this aspect of your life much easier if followed!
1. "The List": Every school has a list of supplies organized by grade level. You can pick this up from the school itself or find it at most stores including Walmart, Staples, Office Depot, Office Max, and many others. This is your life line so do not lose it! It's also smart to have it on you at all times because you never know when you will find a great sale while shopping. Start early, buy a little at a time, and ALWAYS mark off what you have already purchased. This will help you avoid a surplus of 250 highlighters sitting in your garage.
2. Tax Free Week: Take advantage! This doesn't mean do your shopping at the last minute. Split it in half and try and get most of your supplies while the deals are hot. This is the perfect time to save money on clothing, books, computers, supplies, & school related items. The taxes add up and you can use the extra money to buy even more. In Florida tax free week is from August 1-3 but each participating state has a different schedule.
3. Buy In Bulk: There are a few staple items and supplies you will find on every list for every grade and for every school. These are things like loose leaf paper, pencils, folders, and notebooks. Since you know your child will be using them throughout the year and probably their whole school career, buy in bulk. You tend to save more when you do this and you know the supplies will not be going to waste because they are universal items. This is going to save you from having to make unnecessary trips to the store when your child runs out or misplaces something.

4. Shop At Home: Back to school shopping can get expensive and sometimes a few of the things you need are already in your house. Before heading out to tackle the supply list, look and see what you have. Look around for an unused folders, notebooks, pencils, highlighters, and anything else that is gently used. These can all be utilized during the year and may save you a few dollars. Don't buy something you really don't need!

5. Shop Around & Compare: There are SO many stores participating in back to school sales that it would be silly to buy everything you need after visiting only one of them. Be smart and shop around. Compare prices, deals, and sales. Browse the internet and flyers to see what stores are offering and when. Don't feel pressured to by everything at once. Buy some here and some there so you can really get the best value.


Happy Back To School shopping! Have you scored any incredible deals so far this year?