Disclosure: This is a sponsored post on behalf of Global Influence.
When I was growing up sports were always a huge part of my life. My grandfather used to take me to all of the Florida Marlin's baseball games and to this day we remain Dolphin's season ticket holders. While I spent many years cheering from the sidelines at the the baseball and football games, I soon developed a passion for soccer as I entered high school. Kicking the ball around, being part of an organized team, and having the wind blow in your hair as you dashed to score a goal was beyond exciting. To this day I regret not trying out for the soccer team. Instead I moved my focus to cheerleading which was an interest that quickly faded away!

I may not have become a soccer star myself but I sure do enjoy the game and watching it. The World Cup is just as exciting today as it was when I first watched it years ago. Of course you must know I am rooting for the big U.S of A. There is nothing better than seeing your team score a goal.. even if it is with their stomach! GO Clint Dempsey! It's definitely an exciting moment for all fans. I can't wait for Tuesday and to see who our next opponent will be. Will it be Belgium? Maybe even Russia. Soon we will know!
This summer join Degree Men and Walgreens in celebrating, supporting, and cheering on U.S. Soccer. I bet you didn't know that the Official Deodorant of U.S. Soccer is Degree? They're ready to reward loyal fans who Do:More with a great offer. Between 6/29–7/5 stop by Walgreens and you can get 1,000 Balance Rewards points by purchasing 2 Degree Men Deodorant products. Help that smelly soccer player in your life freshen up and DO MORE!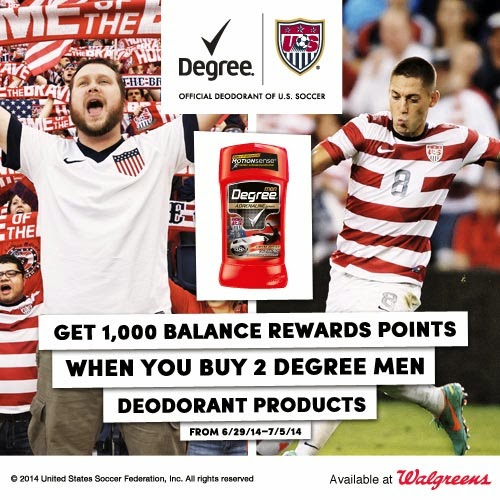 Do: More because Degree and your team won't let you down!
Degree wants you to Do More this Summer and try Degree with new and improved MOTIONSENSE
™

. This is the only antiperspirant that releases extra protection when you are moving and active. This product has been developed to meet different demands for men and women, responding to your body to keep you feeling confident and cool for up to 48 hours.
Before heading out to pick up your Degree with improved
MOTIONSENSE™ make sure you are a Balance Rewards member. This is the only way to take advantage of this great promotion. Joining is free and you can do so in store and online!