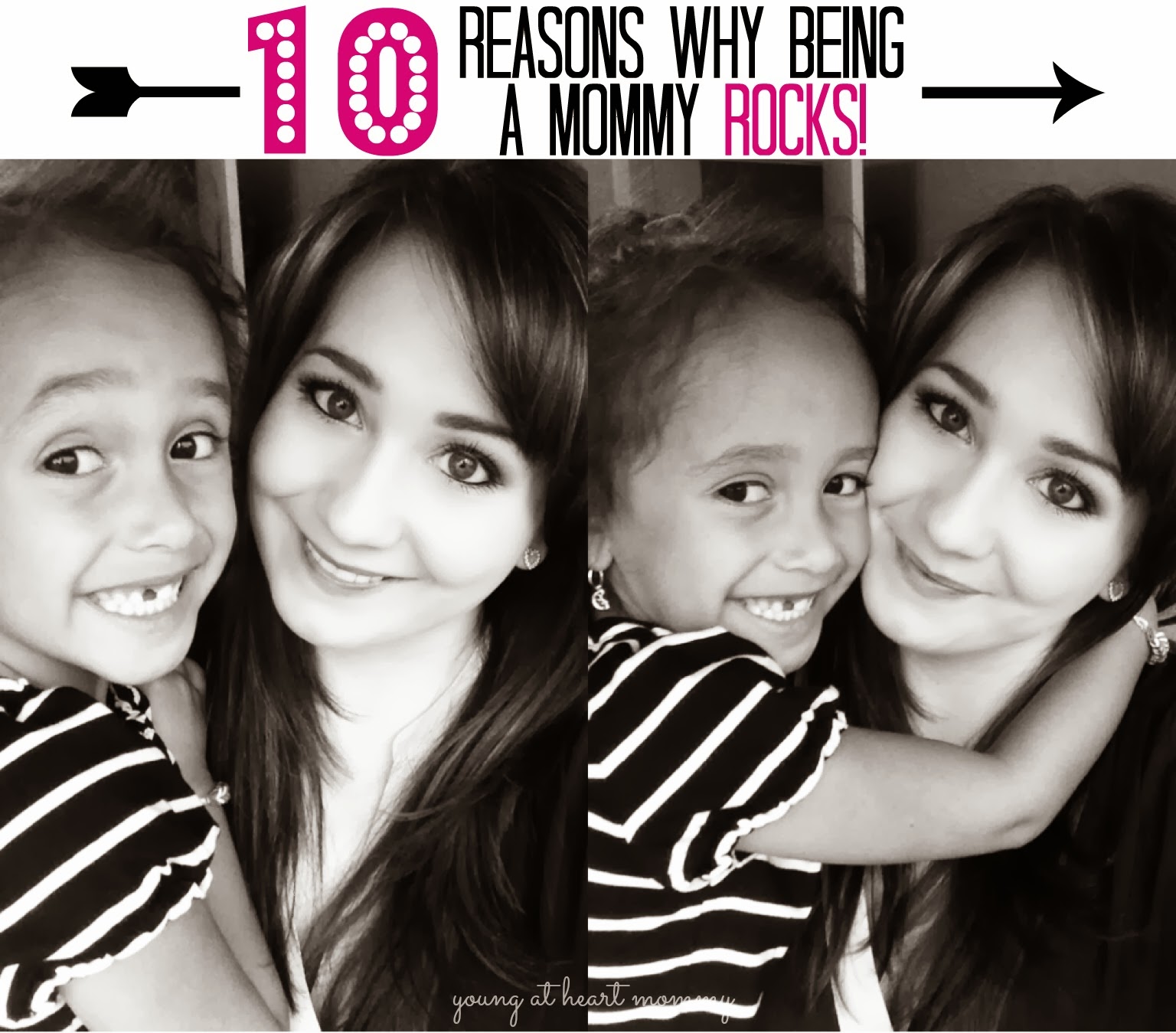 The other night I was laying in bed with Toodie snuggled up next to me watching a movie on the iPad. I cuddled up close to her and put my arm around her as she giggled and drifted off into a world of My Little Pony. I closed my eyes for a few minutes to rest and was woken suddenly by a soft kiss on my forehead. Naturally, I opened my eyes and saw Toodie smiling at me. She took her hand and stroked my cheek. In her soft sweet little voice she said, "Mommy, I just love you so much. You are the greatest mommy in the world. I love you." My heart melted and in this moment I reminded myself how thankful I am to be a "mommy" and to have such a wonderful child that gives me unconditional love on a daily basis. Being a mom is special. It's one of those jobs not everyone understands but if you do, then you know how unique it is. Inspired by love I came up with the 10 reasons why I think being a mommy rocks!



1. Hugs & kisses are always FREE! Have you ever walked in the door from a long day at work or running errands and been greeted by your child with endless waves of affection? The love from a child is something very special. It's unique and unlike any other. The days that I am away I cannot wait to get home and feel those little arms wrapped around my neck. It assures me that she missed me just as much as I missed her!
2. Being reminded of what is most important in life. Being a mommy completely changed my prospective on my priorities, interests, goals, and life in general. The day I found out that I was pregnant I knew that being a mother would be more than a responsibility but a passion. Almost five years later and I cannot imagine doing anything but packing lunches, running bubbles baths, wiping tears, and reading bedtime stories snuggled under the blankets.
3. The freedom to be silly, weird, and goofy. Your child doesn't judge you when you are having a bad hair day, put on socks that don't match, step in dog poop, or burn dinner. They love you anyway! In fact, they will probably get a load of giggles. Toodie is the biggest goofball I know and I am proud to say she gets it from ME.
4. Relive your childhood. No one really wants to grow up. At some point we all wish we could snap our fingers and go back to when we were kids. Being a mommy gets us as close as we can to a time machine! I love being able to play board games, make crafts, bake goodies, dress Barbies, and build forts with every pillow we can find. It reminds me that even as as adult I can have fun even if it's in the simplest form.
5. Two words: Disney movies! Not only do you get to watch your favorite Disney movies over and over and over again, but you also get to expand your current collection. Toodie has a growing heap of Disney films, many of which I had never seen prior. Who doesn't love a classic? I actually love movie nights, popcorn, and watching Cinderella dance her little heart out at the ball.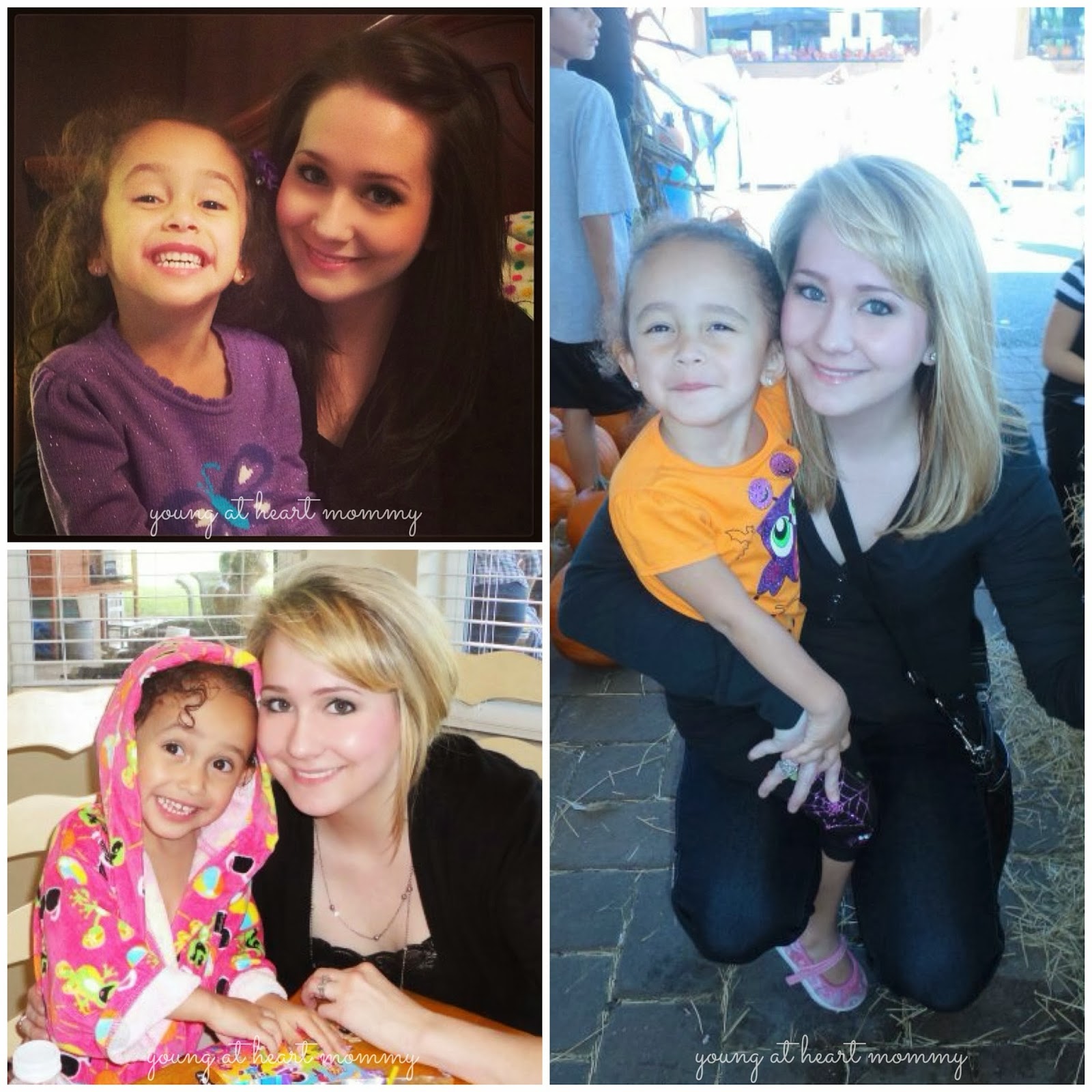 6. My daughter makes me proud. Besides the life lessons that I have already begun to teach her, Toodie is becoming her own person. She's sweet, kind, thoughtful, and cares about others. The other day Papa got a cut on his finger and Toodie felt so TERRIBLE about it that she cleaned his boo-boo with a wipe and stuck a Barbie band-aid on top. A small act of kindness is only a stepping stone to the person she will grow up to be, an awesome one at that!

7. I live with my cuddle buddy. Sometimes I just want to get in bed, turn on the TV, and cuddle. Fortunate for me, so does my kid! She is so much like mommy in this sense. Our kids make the BEST cuddle partners. They may squirm and we may end up losing half of our bed space, but there is nothing better than their snuggles.

8. You aren't expected to be perfect. You're not and that's perfectly okay. They know we aren't and it doesn't change their opinion of us at all. They love us, imperfections and all. You can be yourself and most importantly, encourage them to be who they are too. Being a parent isn't easy and we all have our days. But always remember to remind yourself that you are doing a great job.

9. My child makes me happy. I don't care what kind of day I am having. It could be the worst. When I get home and see my daughter's eyes light up with joy it makes all the bad disappear. I enjoy watching her experience things for the first time, learn, explore, smile, laugh, play, and share everything with me. It reminds me that this incredible kid is mine!

10. The little things matter most. Our children watch everything we do. They copy us. They learn from us. They are smaller versions of us! I have the opportunity to shape my tiny darling into a person destined for greatness. As a parent I am here to give her guidance, support, and praise. What we may see as "small" may mean the world to them. Hugs, kisses, compliments, silly moments, laughs, and one on one time are all cherished. After all, they do look up to us and this means we have the power to shower them with the love they deserve. Everyday I feel lucky and blessed to be a mommy. This is one important job!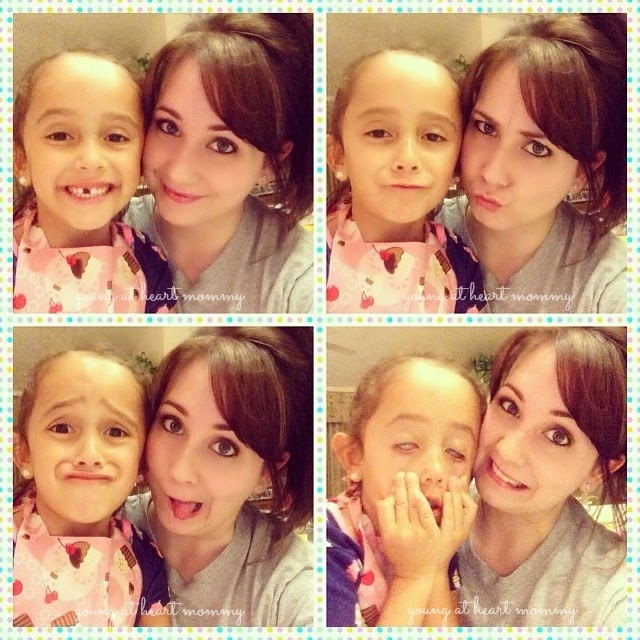 Being a mommy ROCKS and don't you forget it!