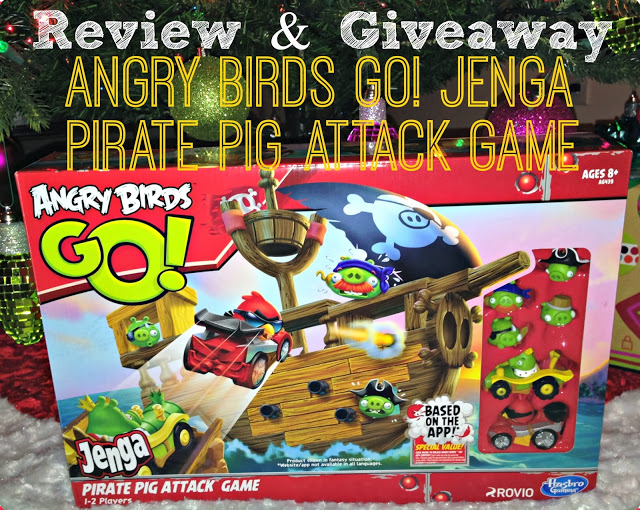 It's no mystery that over the years Hasbro has released some of the most popular games played by families all over the world. From Monopoly to Trouble, you are bound to find at least one of these in every gamers collection. With the Angry Bird craze in full throttle, Hasbro has combined this addicting game with one of it's own classics. Angry Birds GO! Jenga Pirate Pig Attack Game takes the traditional game of Jenga and creates a new experience for players.

This game is fun for all ages and the whole family can enjoy a little competitive action if you decide to play on teams. It;s designed for two but you can easily take turns to add more players. This game does a good job of bringing the popular Angry Birds phone application to life. You are able to create your own pirate ship and choose from seven little characters who are meant to knock it down. The pirate ship is a little difficult to put together and keep in tact. But with help from an adult I can see older children really enjoying this game. Players are encouraged to knock down pieces of the ship by using the ramps, cannons, and cars. Oh, Angry Birds too of course! Even though Toodie is younger than the age recommended she had a blast flinging the birds on to the pirate ship and watching it break into pieces. This is a great edition to any family's game collection.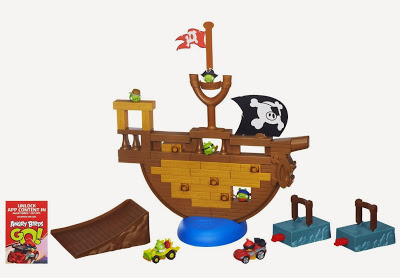 ANGRY BIRDS™ GO! JENGA® PIRATE PIG ATTACK™ GAME
Set sail as you battle pirate pigs in the new ANGRY BIRDS GO! JENGA PIRATE PIG ATTACK GAME. Race head to head against your rival to destroy the pirate ship! Slingshot your kart down the slope to capture the victory flag and take down the pirate pigs. Players can also unlock ANGRY BIRDS GO! in-app content with a special code in each pack.
(Age: 8+; Players: 1-2; Approximate Retail Price: $29.99, Available: Now)
If you or someone in your family is an Angry Birds fanatic I have a great giveaway for you. Upon entering the giveaway below one lucky reader will win their own Angry Birds GO! Jenga Pirate Pig Attatck Game courtesy of Hasbro.
Disclosure: I received this game from Hasbro in exchange for my honest opinions and to provide a giveaway for my readers. All thoughts are my own.