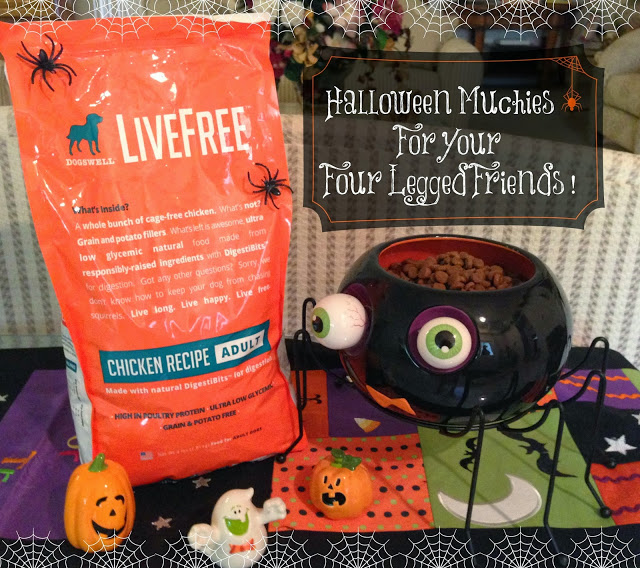 Halloween is a short month away. I have a feeling the next four weeks are going to speed by too. Most of us are preparing our children's costumes, making goodie bags for school, and creating fun festive recipes to start the holiday off right. While you may have all of those things in order, did you remember your furry friend? This year make a conscious effort to treat your pet with a spooky snack on the big night. After all, who doesn't take their dog out this time of year? It's the one day we have an excuse to dress them up in ridiculous costumes and show them off to neighbors. Well at least that's what WE do! I can't say Chloe & Sam are big fans of that whole process but they do enjoy the constant flow of company at the house. As long as they have something of their own to snack on, the barking is kept to a minimum and little tails are waggin'.

This October I already have a tasty treat prepared for them. Dogswell LIVEFREE Chicken Recipe is packed with flavor, protein, and delicious cage free chicken. What doesn't it have? Grain and potato fillers which my little Chloe is highly allergic to. You already know that's a huge plus on my list. I try to give both of my dogs the same food but at times it can be impossible. With LIVEFREE I don't have to worry about Chloe venturing over to Sam's bowl for a few extra bites.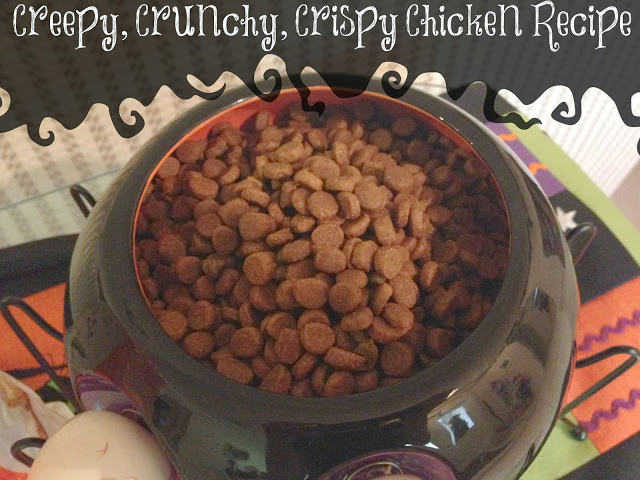 Regardless of how many legs we have, two or four, a body needs nutrition to keep it strong and healthy. This is why it's our job as owners to make sure our pets get the best food with top of the line ingredients. LIVEFREE is a holistic line of ultra low glycemic, grain and potato free food. It also includes what they call "Digestibits" which contain a blend of pumpkin, eggs, probiotics, and 11 antioxidant rich fruits a veggies to promote digestive health. It's a healthy alternative for your pet but it also contains so many different components for appealing flavor. My two pups loved it! Before I could even put it into their bowls they were scarfing down the little pieces of kibble I had dropped when first opening the bag.

For a detailed explanation on how the brand sets itself apart from others, you can take a look at the infographic below taken from their website. It gives you a good idea of what the company stands for and how confident they are in their products! They really do care about what our pets are eating which is very refreshing to see.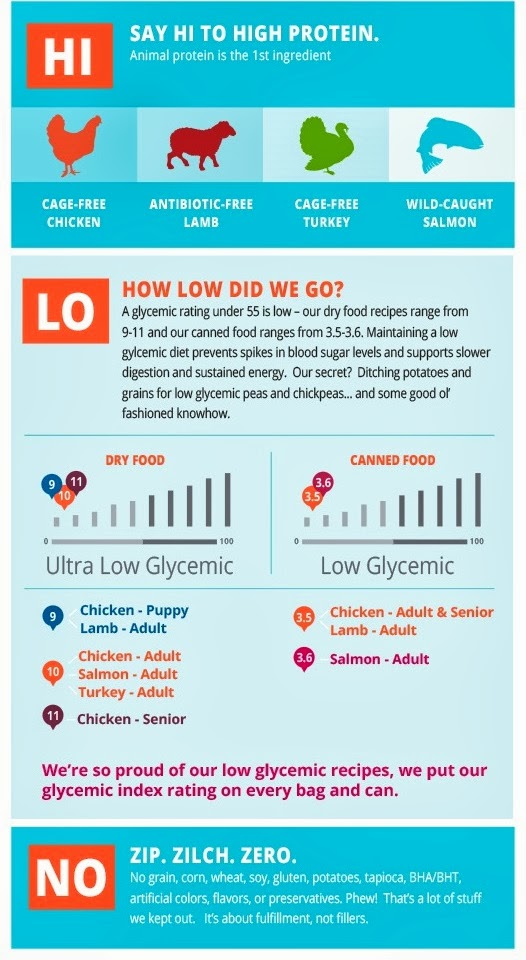 For more information on Dogswell LIVEFREE you can visit their official website. Here you will find a more in depth look at what makes their food so special and how it will promote good health in your four legged friend. Get social and follow along with the brand on Twitter and Facebook for updates, promotions, and product launches. This Halloween make sure you don't forget about your furry companions! With Dogswell LIVEFREE formula you can keep them energized and happy for those long nights of trick-or-treating with the family.