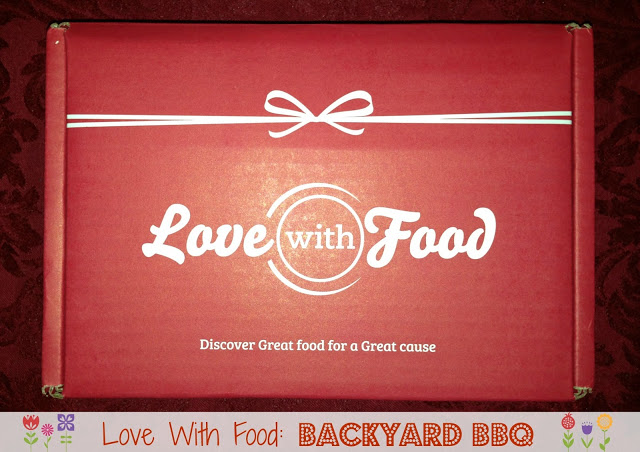 My mailbox was full today, I mean stuffed. There wasn't anything overly exciting, a lot of junky magazines and random statements. But tucked in the very back was a red package with my name on it. It was… dun dun dun dun.. my LOVE WITH FOOD box! I wasn't expecting its arrival but it sure did make my Saturday. I've tried my fair share of monthly subscription boxes, and I admit I do have a short list of favorites. This being one of them! With that being said, I had to show my "love" for my Love With Food Box. It's just THAT awesome. Take a look for yourself.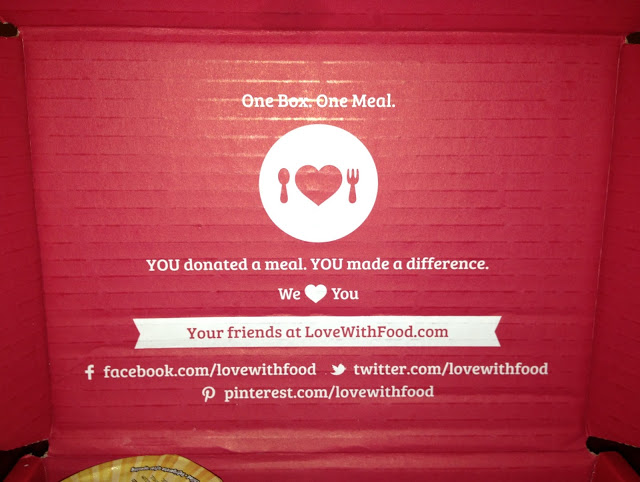 For the month of August the theme is titled "Backyard BBQ" and it couldn't have come at a better time. It's still Summer time here in South Florida and hotter than ever. I think it's accurate to say it's pretty much Summer all year around. We never get cold weather! This box and it's contents made me love this time of year, regardless of the never ending heat.
Here is a run down of each and every yummy treat that I found inside my Love With Food box:
All Natural Spice Rub: From Dizzy Pig BBQ Co., this flavorful rub pairs well with ribs, burgers, and chicken.
Sea Salt Potato Chips: From Good Boy Organics, these backed organic potato snacks are crunchy and GMO free.
All Natural Salsa: From El Pinto, this salsa is made in New Mexico, containing a touch of heat from chiles and jalapenos.

Original Creamy Praline: From Aunt Sally's, New Orleans favorite praline is studded with Louisiana pecans smothered in fudge coating.

Amsterdam Waffle Cookie: From Rip van Wafers, two thin waffle cookies are filled with a rich caramel sauce.
Snapea Crisps: From Harvest Snaps, these simply baked snacks have a smooth and mild flavor of fresh peas.
Sugar-Free Fresh Mints: From Project 7, these mints are very special. For each tube enjoyed, they will plant a fruit tree. Pretty cool and an added perk!
Crunches: From Sahale Snacks, this mixture contains dried cranberries, roasted almond slices, and sesame seeds that are lightly glazed with orange blossom honey.


My goodness that was one long list!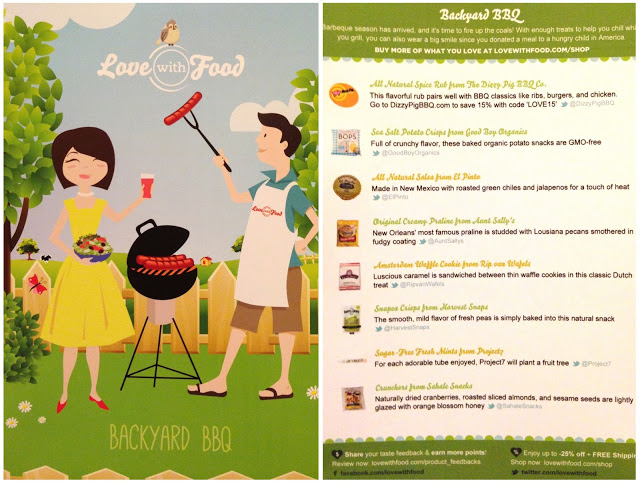 There are so many delicious snacks in this month's box. I wasn't surprised because the very first box I received, in July, blew me away! When I pulled it out of my mailbox it was so full that it looked as though it may burst right open. The box may appear tiny in size but they always seem to do a good job of packing it full. Even Toodie was excited when she saw this pretty red package, begging me to open it and reveal what was inside. With big eyes she skimmed over the snacks, waiting for me to begin the taste testing! I love that we get to experience different treats and goodies together. I have even found nutritious snacks that she enjoys, replacing the unhealthy ones in our pantry. That's a WIN for both of us!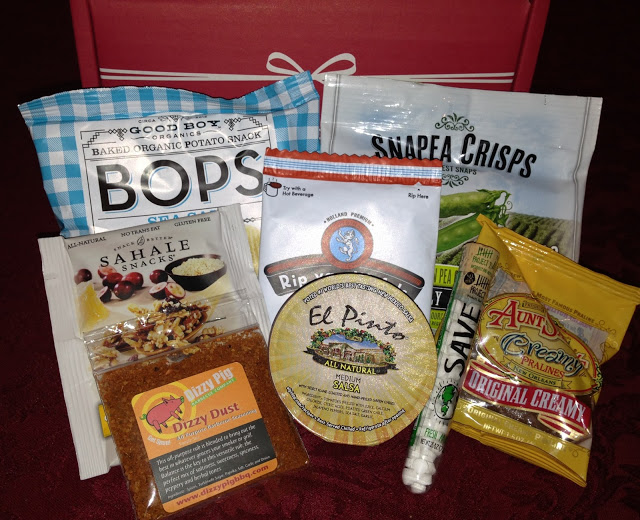 Right now you can take advantage of a $5 OFF promotion by entering "TTFRIEND" at checkout. This makes your first box only $5! For more information on the Love With Food box, visit their website here. You can also connect by liking them on Facebook and following along on Twitter. This may be my first review of this awesome box, but I have a feeling it won't be my last. Stay tuned for more of my unique snack discoveries. If you are already a current subscriber I would love to know your thoughts! Are you lovin' it as much as I am?
Disclosure: This post has not been sponsored but contains refferal links. All opinions and photos are my own!