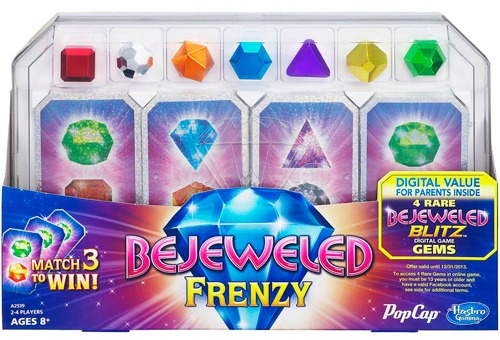 Family Game Night is a routine and tradition that many families have acquired over the years. It's a time for playing, laughing, and enjoying each others company as we compete for the title of "winner!" While every family has a different version of game night, there is one name that is present and popular for all of us. Hasbro is the creator and perfectionist of some of the most popular board games in the world. Growing up with Monopoly, Trouble, and Sorry… I couldn't imagine my childhood with Hasbro in it! Could you?
Hasbro has stepped it up a notch and recently released BEJEWELED Frenzy. This interactive card game has brought the digital world of BEJEWELED to life. Similar to the online version, the object of the game is to collapse matching cards by collecting identical gems. There are also boost gems that allow you to earn bonus points. The player with the highest stack wins! It is a competitive game that will challenge you and keep you coming back for more. This game is appropriate for children ages 8+ and 2-4 players can play at a time. If you are looking for something new to play during your next Family Game Night, look no further! BEJEWELED Frenzy will entertain children and adults of all ages.
This board game also includes a digital value for both parents and children. With permission, your child can go online and redeem 4 additional rare digital game gems. You are responsible for any fees but the extra gems are optional and not necessary for game play. This game is a fun alternative to the digital entertainment Bejeweled offers online. As a full blown Bejeweled Blitz addict, I almost lost it when I saw they were releasing the board game version of the popular online game I often play through Facebook. I even have the application on my phone! It's one of those games you just cannot stop playing and when you do, you are still thinking of strategies to achieve the greatest score possible. You can play BEJEWELED Frenzy with your whole family on game night or even pack it up on the go for travel. The slim plastic casing keeps the pieces organized and in place. There is nothing worse than losing the pieces to one of your favorite games! Thanks to Hasbro, you won't have to worry about misplacing any gems or cards this time around.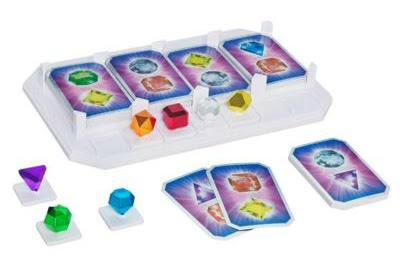 Age: 8+; Players: 2-4; Available: Spring 2013; Approximate Retail Price: $14.99
"It's a sparkly flurry of a card game as kids race to match gems and build the largest stack of cards in Hasbro's BEJEWELED Frenzy game. Kids will love competing with their friends to collapse their stack, collect Boost Gems and score the most points to win! The game comes with a link to redeem four Rare Gems to be used in the Bejeweled Blitz online game. Mobile device not included. To access the digital features, you must be 13 years or older and have a valid Facebook account. Additional terms and conditions apply to digital features offer."

If you would like the chance to win a BEJEWELED Frenzy game of your own, please enter through the rafflecopter form below. This giveaway is open to U.S residents only and the winner will have 48 hours to respond to my email with their shipping information. Happy gaming and good luck Young At Heart Mommy readers!
Disclosure: I was provided with the Bejeweled Frenzy game to facilitate this post. I will not be compensated and all opinions are my own!