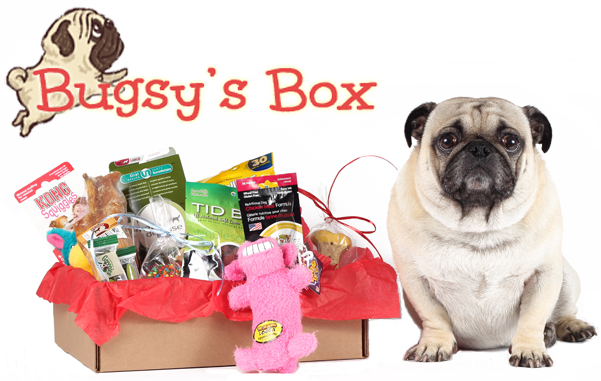 The month of April is finally finished and I couldn't be happier to see the first day of May. With my schedule being so hectic this past month, I haven't had the time to pamper my four legged friends like normal. A monthly package of pooch friendly surprises arrived on my doorstep just in time. After finding pairs of socks and underwear in the dog beds, I knew we were in desperate need of some exciting new treats or toys. I recently discovered another monthly subscription program geared towards man's best friend, Bugsy's Box! The first thing I noticed about this service was their adorable little mascot, three year old Bugsy. He is a pug just like my little Chloe Marie and boy is he cute.

So what exactly is in this Bugsy's Box? Each Bugsy's Box includes 5 to 7 items which are a variety of high quality, hand picked, well reviewed dog treats, toys, care items, healthy supplements, accessories and more surprises such as coupons which are often included as a bonus. For $29 each month, an owner can purchase a box catered towards their friend. Each item within the box will be size appropriate for your dog. Once I opened my box I revealed a collection of treats and toys that both of my dogs could enjoy, even though they are complete opposites. One is big, one is little. They are constantly fighting over toys and most of the time Sam is trying to steal Chloe's smaller toys. With that being said, I was relieved to see things that they could both have separately.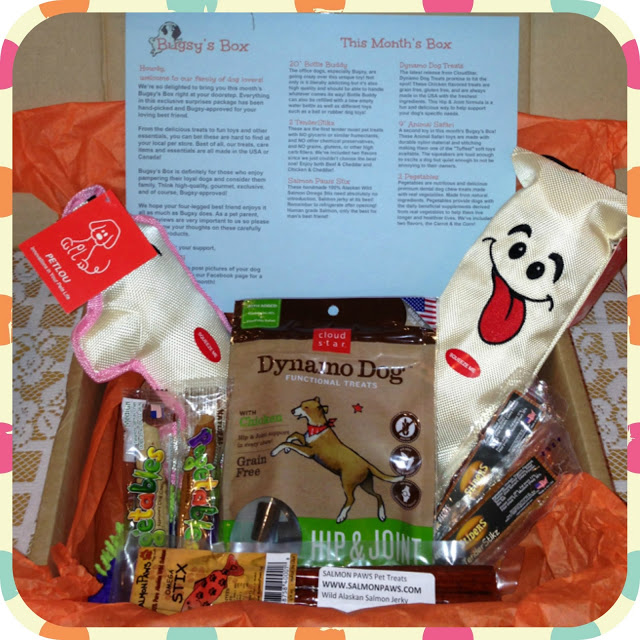 This month's box contained six different items that I had never heard of or tried. That's the wonderful thing about these subscription programs for not only the pet but the owners as well. They introduce you to new pet friendly products but also allow you to try them before you buy them. If you find something your pet really enjoys, you can go purchase it again and again! Take a look below for my thoughts and more information on treats and toys my doggies got to get their paws on first hand.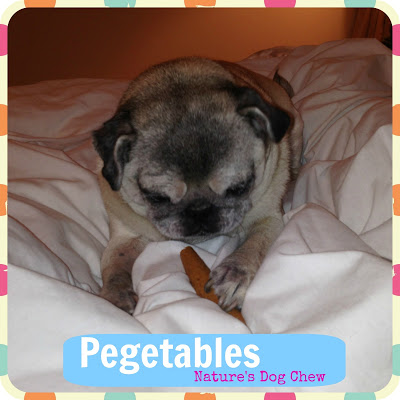 Pegetables: Nutritious and delicious premium dental dog chew treats that are made with real vegetables, including carrots! They are made with all natural ingredients and provide your pup with beneficial supplements derived from real vegetables. Inside our Bugsy Box were two flavors, Carrot & Corn. The Corn flavored Pegetable looks exactly like a mini corn on the cob. It has a bumpy texture and small ridges that help to reduce plaque and tartar. Chloe couldn't wait for me to open these little guys up! She ate the Carrot first and within 5 minutes it was completely devoured. Since these treats are medium sized, they are perfect for smaller dogs like her. I also like that they are
fortified with antioxidants, vitamins, minerals, essential fatty acids, protein, fiber, calcium, and vitamins A, B, C, D, & E. With that being said, I know my dogs are getting a healthy treat that is also tasty.
Tender

Stikx

: These treat sticks come in two different flavors, Beef & Cheddar and Chicken & Cheddar. They are the first moist pet treats withou

t

glycerin, chemical preservatives, grains,

glutens

, or carb fillers. Sam REALLY liked these.

He didn't even

make time to "chew" the treat. Instead he sniffed and swallowed making it nearly impossible to capture the moment on camera! I guess that means he enjoyed them, huh

?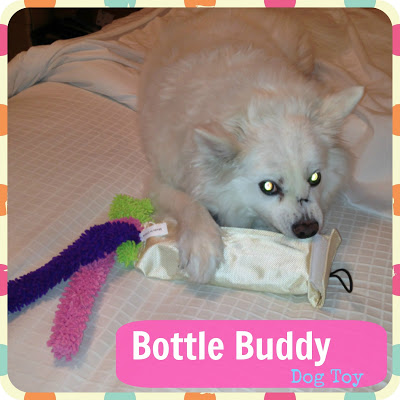 20′ Bottle Buddy: The Bottle Buddy is a reusable toy that brings upon entertainment, joy, and hours of play! By placing an empty water bottle inside, it makes loud crinkling noises every time your dog plays. You can even put a ball or any other rubber dog toy inside. My oldest dog Sam really went to town on this one. The plastic bottle made the toy more exciting and at one point I thought he was going to tear it apart in excitement! The Bottle Buddy is very durable and well made, preventing any tearing or ripping during rough play. It made it through several days so far, which only means it will be lasting around here for quite some time!
9′ Animal Safari: These toys are made with a durable nylon material and stitching, making them the toughest soft toy on the market. The squeakers are loud enough to excite your pup but also quiet enough to not irritate owners. This toy was given to Chloe because she is smaller and it was the ideal size for her. She carried it to her bed right away and burrowed it under her blanket. She tends to hide things from Sam, and this was one treasure she didn't want to share!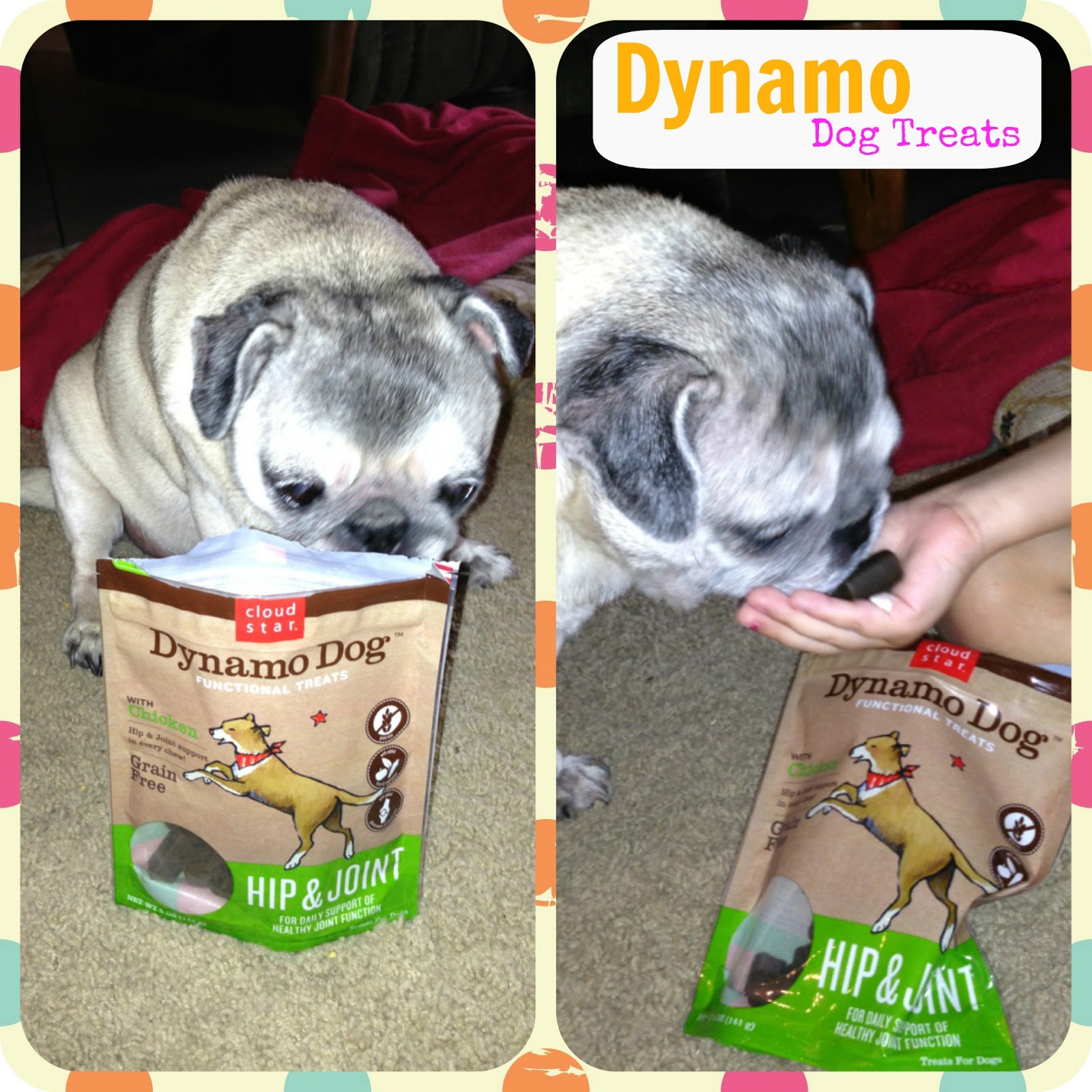 Dynamo Dog Treats: These are the latest release from Cloudstar and these Chicken flavored treats promise to hit the spot! They are grain free, gluten free, and are made in the USA from fresh natural ingredients. They also contain a Hip & Joint formula to help support your dog's specific needs. I love that these treats do not contain any grain and are safe to give to my little pug. As you may remember from previous posts featuring Chloe, she is highly allergic to products that contain wheat and grain. It can be hard to find a treat that she likes that is also free of these ingredients. These must have been extra tasty because even after two, her little nose was nuzzled inside the bag searching for more.
Salmon Paws Stix: These are comparable to Salmon jerky and handmade from 100% Alaskan Wild Salmon. I have never purchased or seen this kind of dog treat at the store. It was just as new to me as it was to my dogs. They do contain high levels of omega 3 and omega 6 fatty acids which help to maintain healthy skin and coat. Both doggies liked these very much. I think they were refreshed by this unique treat. It's much more different than what they are usually given.

Bugsy's Box is nothing short of amazing. It is one of the best monthly pet subscription boxes I have came across. The variety is impressive and the personalization to your pet's size is just an added benefit. As an owner I am aware that I spend the same amount of money each month when I go to a pet store to buy treats and toys. The Bugsy Box makes that ordeal easy and effortless for someone as busy as me! They send everything I need right to my door and I get to learn about new products while my dogs experience them. If you are interested in Bugys's Box, visit their website and take a look around. You can also stay in touch via Facebook or send Bugsy a tweet on Twitter!
Disclosure: I was provided with a Bugsy Box to facilitate this review. All opinions are my own!