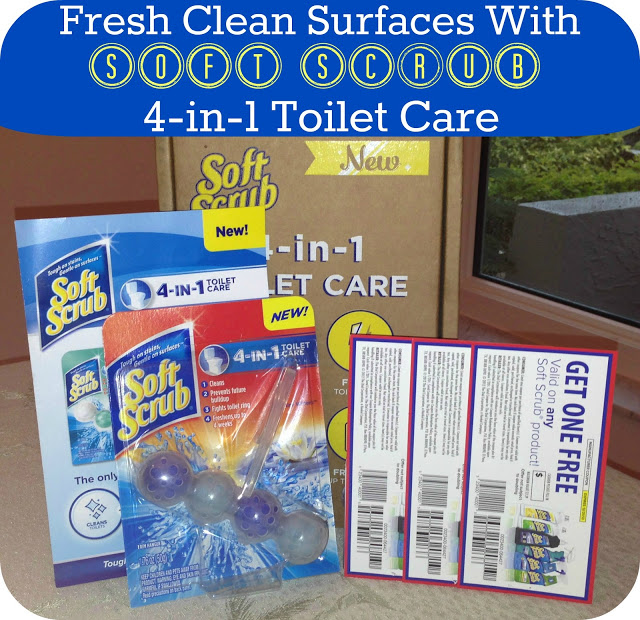 I think it's fair to say that one of the hardest areas to keep clean in any home is the dreaded bathroom. I can easily overlook having to wipe the counters down, mop the tile, and even scrub that pesky ring around the tub. But when it comes to the toilet, the germy germs living inside make my skin crawl! In the past I have primarily used liquid cleaners and foam sprays to get rid of the bacteria and gunk that gets caught in the toilet bowl and upper ring. As I am not familiar with a clip on hanger, I was very excited to try a new product released by Soft Scrub. The 4-in-1 Toilet Care is designed to clean several times, after each and every flush. This saves times and also keeps you from having to scrub the toilet on a daily basis.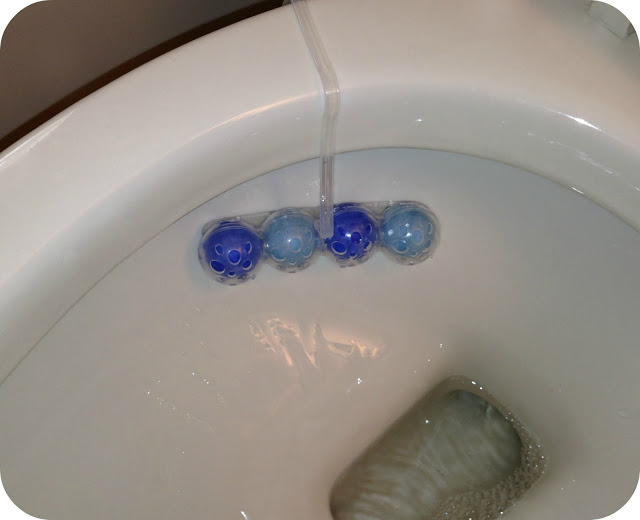 Soft Scrub 4-in-1 Toilet Care is what I like to call a "Jack Of All Trades." This is because it doesn't only deliver one benefit or perform a single action. It does several things to keep your toilet clean, smelling fresh, and ring-free. It stays in place while cleaning your toilet, prevents future buildup, fights icky toilet rings, and freshens for up to 4 weeks. If that isn't enough, it also comes in 2 different fragrances: Alpine Fresh with Bleach and Sapphire Waters without bleach. Due to its advanced design, the product clips comfortably onto the outside rim of your toilet. Once the seat is placed down over the piece, it is barely noticeable. It also fits very snug so you don't have to worry about it loosening or falling off when it comes time to flush. Each strip consists of four small cleanser balls trapped with a plastic cage to keep them in place. This allows water to activate the cleaner with each flush. Being a person that has never used a toilet hanger, I have to say I am very pleased with this product. It has kept our toilet smelling fresh and also prevented build up in our front bathroom, which has the most traffic. Once the cleansing balls dissolve you can toss the plastic piece into the trash and replace it with a new one. You can find the Soft Scrub 4-in-1 Toilet Care packs at Walmart for less than $2.00!

Soft Scrub is hosting another sweepstakes to celebrate the release of the new Soft Scrub 4-in-1 Toilet Care. As always, there will be several winners and great prizes! One very lucky Grand Prize winner will receive $1,000 while 250 second place winners will get to try 4-in-1 Toilet Care for themselves. This contest is running through April 26th so there is plenty of time to

get your daily entries in.
For another chance to win a Soft Scrub 4-in-1 Toilet Care you can enter below through the rafflecopter form. I am giving away THREE free product coupons to my read

ers.
Disclosure: The Soft Scrub brand provided me with a sample of Soft Scrub 4 in 1 Toilet Care in exchange for a product review. However, all opinions expressed are my own.